10 Swimming Holes in North Carolina
* Disclosure: This post may contain affiliate links, which means we may receive a commission if you click a link and book something (there is never any extra cost to you for using these links).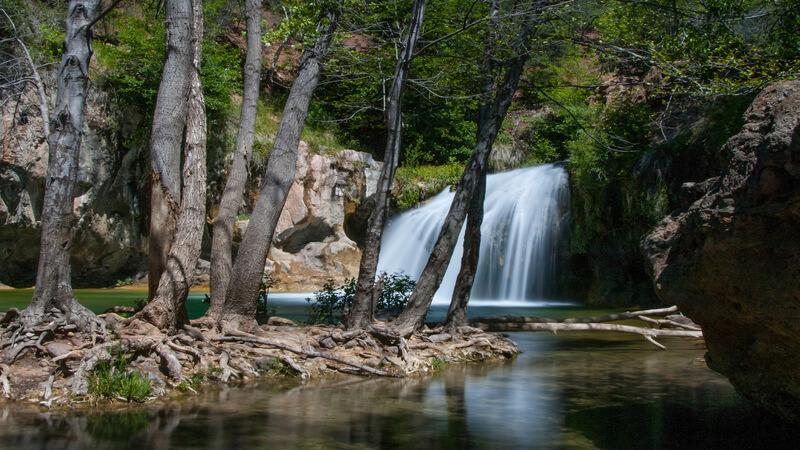 Image Source: Flickr.com
Summer is close, and as the temperature begins to rise, people around the world begin to plan their vacations to hills and beaches to cool off; while on the other hand, some other travel freaks look out for something offbeat: swimming holes. With exhilarating swims and extraordinary views, the swimming holes in North Carolina become an epitome of natural beauty. For those who have been itching for a unique experience, these swimming holes in North Carolina offer glittering turquoise water, vibrant greenery, and fairytale-like views.
So, get your paper and pen ready, and list down these wonderful swimming holes in NC. (Make sure that you learn to swim as soon as possible as you won't be able to resist taking a dip into these "enchanting water bodies"!)
1. Skinny Dip Falls, Pisgah National Forest, Canton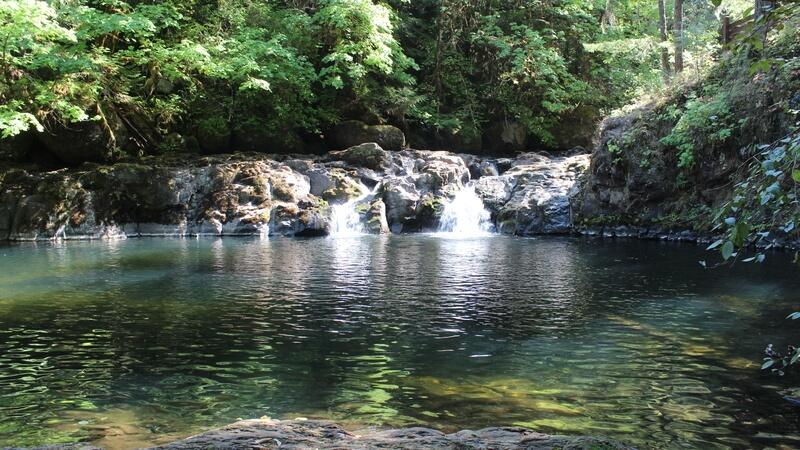 Image Source: Wikimedia Commons
Skinny Dip Falls is, indeed, one of the best soaking spots in North Carolina. Located on the Blue Ridge Parkway, this swimming hole is a part of the incredible Pisgah National Forest. With cascading waters and refreshing pools, Skinny Dip Falls makes everyone take a dip until their skin gets soaked with the magical waters of the fall. The high rock outcroppings around the fall are the best places to jump off. Skinny Dip Falls is also close to the famous Sliding Rock and you can head to the waterfalls of Graveyard Field from here.
To reach here, park your vehicles at the Looking Glass Rock overlook and take a short hike to the waterfall. Don't forget to bring your cameras to capture the breathtaking waterfall.
2. Sliding Rock, Pisgah National Forest, Pisgah Forest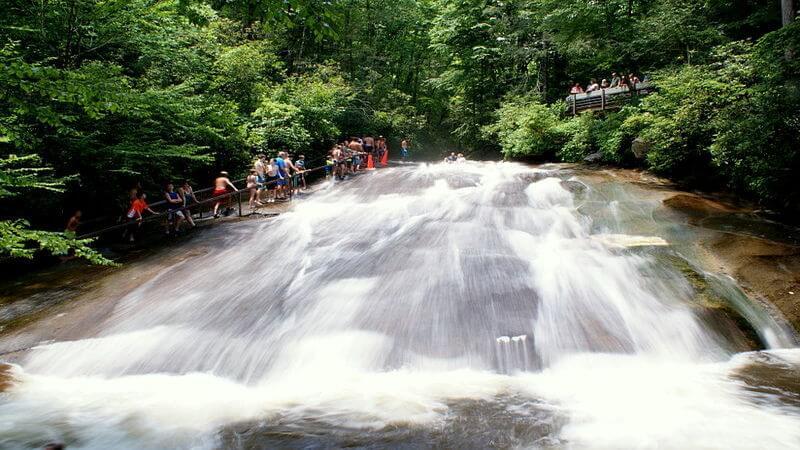 Image Source: Wikimedia Commons
"Sliding Rock", as the name suggests, is the place where thousands of children and adults slip and slide down the waterfall. While some make a splash in the eight-foot-deep pool, other wait for their turn in a row, enjoying the stunning beauty this swimming hole offers. Being one of the best swimming holes in North Carolina, Sliding Rock is a favorite stop in Pisgah National Forest. This natural slide is located about eight miles from Brevard. With eleven thousand gallons of water flowing down the rocks every single minute, trying some strokes become challenging here.
While this place is open all year round, summer is the favorite season to many. Children under the age of 6 are charged nothing. There are enough lifeguards and changing rooms around. Lovely place to take kids!
Check Out: Cheap Summer Vacations in USA
3. Jump Off Rock, Nantahala River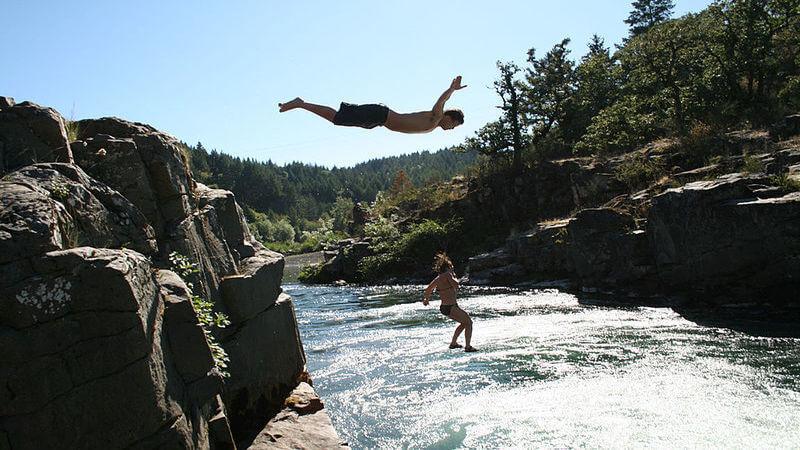 Image Source: Wikimedia Commons
It's really difficult to resist dipping the toes into the icy water of Nantahala River after jumping off from the "Jump Off Rock". An ideal place for river rafting and floating, Jump Off Rock is the favorite spot to many adventurers. Jump Off Rocks are located on the Nantahala River close to the Nantahala Outdoor Center and Nantahala river beach. The rocks can be climbed easily. So, park your raft, climb up the giant rocks, and take a plunge into the water below. The natural slides of the water will take you to the Cashier Sliding Rock which is another phase of the sliding paradise.
4. Hooker Falls, Dupont State Forest, Cedar Mountain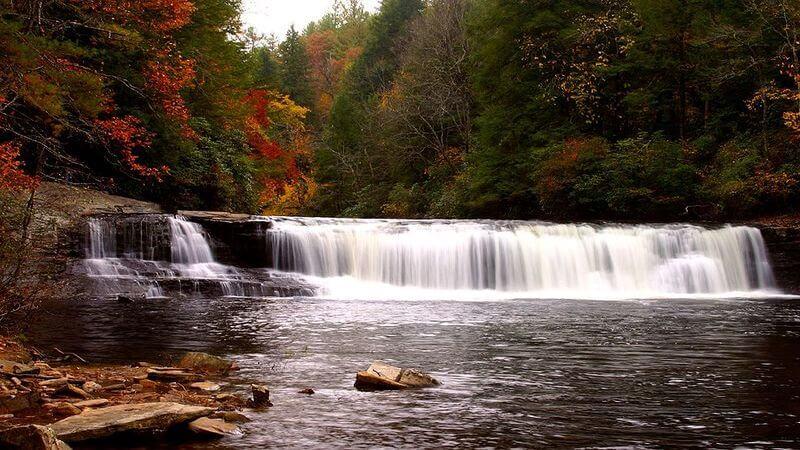 Image Source: Wikimedia Commons
Are you an enthusiastic photographer who loves to capture the wild beauty of nature in his camera? Even if you are not, trust me, you will be once you are at Hooker Falls. This picturesque spot is more than just a swimming hole. The magical beauty of Hooker Falls makes it a one of the most favorite summer destinations in North Carolina. This 14-foot waterfall located in the DuPont State Forest and is the fourth in the list of falls on Little River located here after Bridal Veil Falls, then High Falls, Triple Falls. The waterfall's wide drop into the pool makes it perfect for swimming. On the other hand, as the current is not quite strong, the pool is safe for children too.
5. Lake Lure, Town of Lake Lure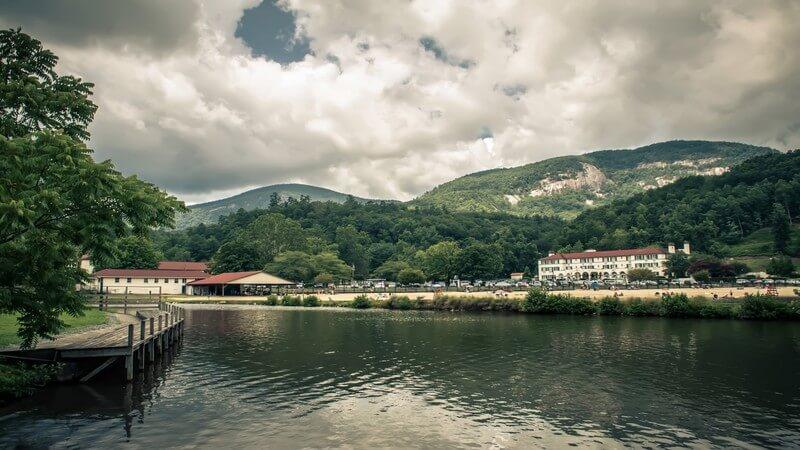 Image Source: publicdomainpictures.net
A tranquil morning on the waters of Lake Lure is something that will make you forget all your worries behind. The azure water, sandy beach, mind-boggling views of the mountains are enough to take you on a tour of a natural heaven. Lake Lure is located in the Town of Lake Lure near Chimney Rock. Begin your hike over the trails around the lake, and cool off in the lake in afternoon. A day in summer can never be so perfect! Lake Lure is also known as one of the most beautiful man-made lakes in North Carolina. There are plenty of shopping corners and restaurants in the village of Chimney Rock nearby. Lake Lure Beach and Water Park is another fun for kids!
6. White Lake, Town of White Lake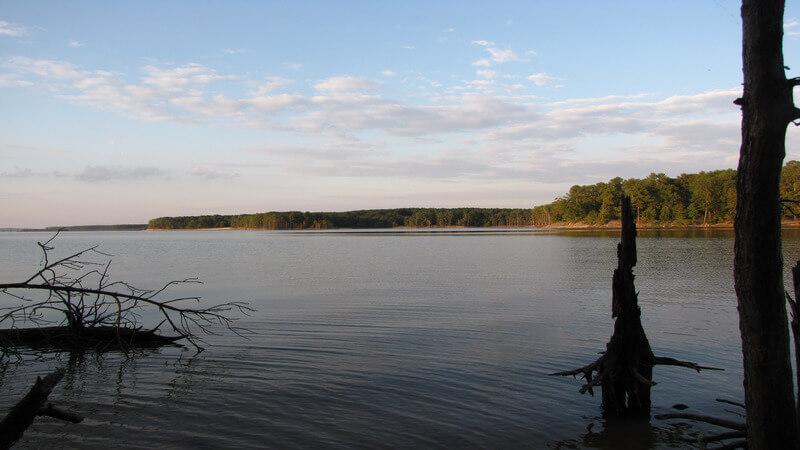 Image Source: Flickr.com
The picturesque views and a plethora of activities that this lake offers are the reason why thousands of visitors come here on their summer vacation. An ideal place for a family holiday, White Lake in NC offers swimming, boating, and skiing in its calm waters. The water goes as deep as fifteen feet. The crystal-clear water and presence of white sand are the reason behind its name: White Lake. The cypress trees that surround the White Lake beach provide it a refreshing look. As the lake is free from any kind of tides and currents, it is often referred as "Nation's safest beach".
7. Elk River Falls, Pisgah National Forest, Elk Park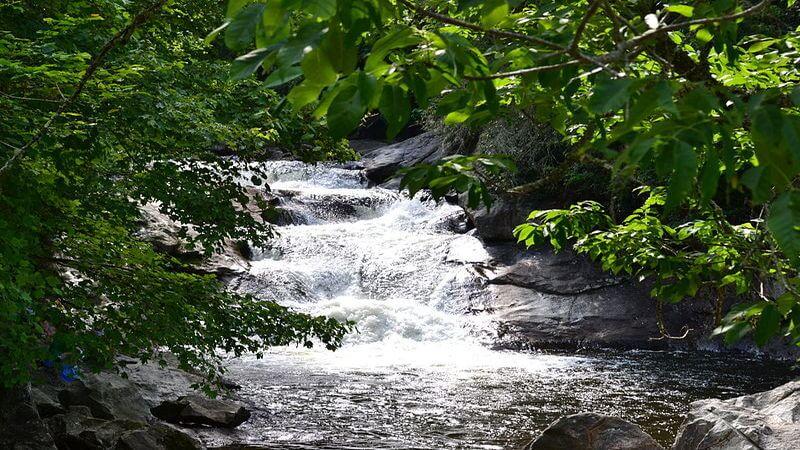 Image Source: Wikimedia Commons
Most popular for cliff jumping, Elk River Falls is one of the interesting swimming holes in NC. The spectacular swimming hole that rests beneath the fall is extremely large and safe. Therefore, this is one of the busiest natural swimming pool during summer months. Located in North Carolina border area, the sandy beaches that lead to the beautiful Elk River Falls are great places to spend an entire day relaxing. This oval-shaped pool is a popular stop for swimming and resting on the rocks. But remember that you should avoid getting into the water over the waterfall as the currents are stronger there and could be dangerous. There are plenty of small hikes from the pool that you would like to explore.
8. The Quarry at Carrigan Farms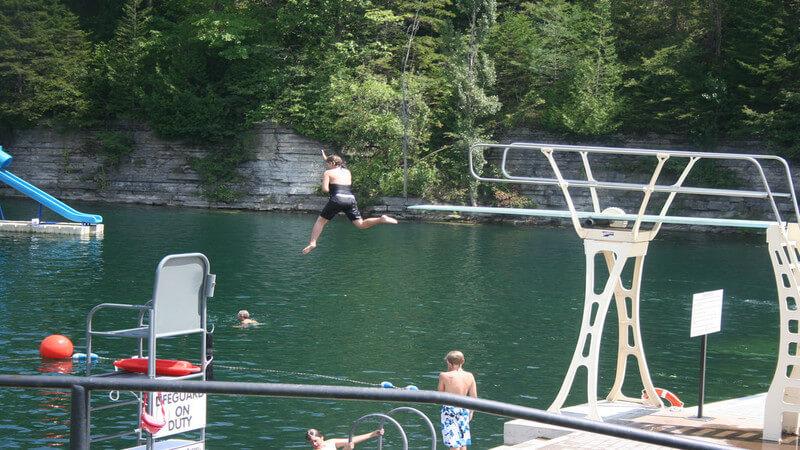 Image Source: Flickr.com
The Quarry at Carrigan Farms is one of the secret swimming holes in North Carolina. This hidden treasure is located in Mooresville and has a depth of 25 feet. This swimming hole was once a granite quarry, and even today, you will find it guarded by granite cliffs. Jump from these cliffs and splash into the calm, cool, and azure waters of the Quarry, and the magical water of the pool will wash away all your despair. If you are coming here with kids, do bring life jackets or get them on rent as the water here is quite deep.
Must Read:
9. Midnight Hole, Great Smoky Mountain National Park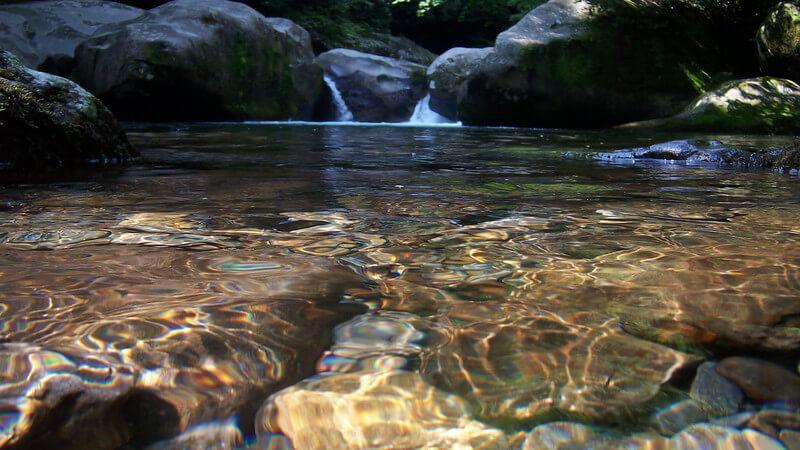 Image Source: Flickr.com
This dazzling swimming hole is located below a 6-foot ravishing waterfall. Surrounded by a large amount of rocks and woods that give it a "midnight" look even on a sunny afternoon, Midnight Hole is a popular swimming destination in North Carolina. The water in the pool is shallow and hence, kids can also enjoy swimming here without being afraid. Midnight Hole is a part of Big Creek Trail and Smoky Mountain National Park. Apart from taking a deep plunge into the water, you can also meditate upon the sound of waterfall sitting on the rock. The tranquility of the place will refresh your mind and soul.
10. Lake Glenville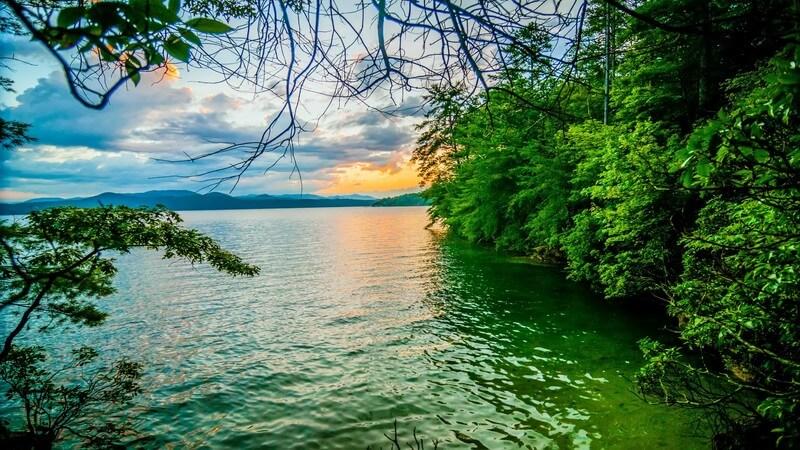 Image Source: publicdomainpictures.net
The turquoise water of Lake Glenville is just perfect for swimming, fishing, and canoeing. If you are on your tour of North Carolina, plan for a camping at Lake Glenville with friends or family and explore the hidden trails and waterfalls around. For this, you will get enough boat rentals on the spot. Located 8 miles from Cashiers, North Carolina, Lake Glenville offers various activities to the children and adults equally to have fun with water. As you explore its beautiful landscape, you will hear the roaring sound of the High Falls nearby.
Nothing can ever beat the childlike allure of splashing around in the gorgeous swimming holes of North Carolina. They not only offer one-of-a-kind experience but also develop a "deeper" connection with nature. So, get your swimsuit ready and make your summer vacations fantastic by taking a dip in these marvelous swimming holes.
Ditch the mundane! Hit the road with your dream travel itinerary. Start Planning today!
You May Also Like To Read:
Best Lakes in Texas for the Adventurers