15 Best Family Resorts In Hawaii
* Disclosure: This post may contain affiliate links, which means we may receive a commission if you click a link and book something (there is never any extra cost to you for using these links).
The sugary sand beach, the salty smell of the sea and the laid back attitude - all these work like a magical aura and makes Hawaii a tropical paradise for America. However, the preconceived notion about Hawaii is, this place is haven for surfers, party lovers and honeymooners. Hawaii has now become a paradise for keiki (children). If you ask me which Hawaiian Islands is the best for kids, I would say all of them. Maui, Oahu, KauaI or the Big Island - each have changed the age old belief about the Hawaiian Islands. The resorts have gone beyond high chairs and have added up many fun features to make the place exciting to stay for a family. And we all know that vacation is not only about enjoying the destination, but also about the place where you are going to stay.
Hence, to make the work easy for you, Triphobo has come up with a list of best Hawaiian resorts for families that will make you pack your bags and head off for a family vacation to Hawaii.
1. Grand Wailea, A Waldorf Astoria Resort
Lavish resort with finely decorated rooms that are appropriately done to impress families, especially kids!
Highlighted feature: Water features in the open-air lobby and the Camp Grande that is filled with games, PlayStation, fooseball tables and so on.

Photo by Grand Wailea
2. Best Western The Plaza Hotel
The Best Western The Plaza Hotel is one of the chosen accommodations for many in Honolulu. Children can benefit from not getting bored traveling too far from the airport and a huge swimming pool guarded with lifeguards!
Highlighted feature: A fabulous pool where children can have a gala time and proximity to the airport

Image Source: Booking.com
3. Napili Kai Beach Club
Moving on a limited budget? This beach club has perfect condominiums to accommodate your big family.
Highlighted feature: On-site restaurant having a special menu for kids and the eclectic shops.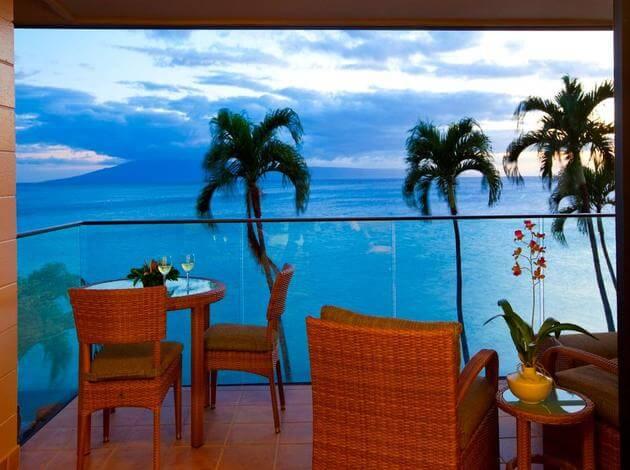 Photo by Napili Kai Beach Club
4. Four Seasons Resort Hualalai (Big Island)
Absolutely different from the typical crowded, noisy kids friendly ambience that so-called family resorts otherwise have. Situated on one of the best beaches of Hawaii, this resort is perfect for enjoying body boarding and paddle boarding.
Highlighted feature: The free kids club where your kids can enjoy games

Photo by Four Seasons Resort Hualalai
5. Hilton Hawaiian Village, Waikiki
The largest resort in Hawaii, packed with different amenities to entertain families and probably offers maximum opportunities as compared to any other properties on Oahu, Maui.
Highlighted feature: Dozens of species like parrots and penguins on the ground and the rich coral reef protected waters at the beach.

Photo by WPPilot
6. Paradise Bay Resort, Kaneohe
Escape from the hustling city, plunge into the resorts pool and enjoy the stunning view of the Koolau Mountain Range in one of the best family resorts in hawaii.
Highlighted feature: A floating sun lounge, a poolside hot tub and the occasional events

Photo by Paradise Bay Resort
7. Sheraton Waikiki (Oahu)
A playground for all ages, that's what visitors often say about this resort. With kids friendly on-site restaurants, the resort has earned popularity among younger groups.
Highlighted feature: Infinity pool for grownups, Helumoa pool complex for kids, freshwater pools, water slides and an interactive fountain.

8. Marriotts Ko Olina Beach Club, Oahu
How about enjoying some water activities with kids! Marriotts Ko Onlina Beach club let you enjoy snorkeling and swimming in their artificial lagoon without getting pushed by the impatient crowd.
Highlighted feature snorkel boats and sunset cruise, four man-made lagoons and poolside MAZE huts.

Photo by Marriotts Ko Olina Beach Club
9. Hapuna Beach Prince Hotel (Big Island)
Nestled on one of the stunning beaches of the Big Island takes off you worry about your kids. You dont need to look after your kid when you are here. The hotel offers food to your kids across the resort without any charge.
You may also read - Best Vacations for Families With Toddlers
Highlighted feature free golf for kids (ages 6-17) and many other fun activities exclusively for kids.

Photo by Lifescience Resources Hawaii
10. Hyatt Regency Maui Resort and Spa
When you are in Hyatt Regency, you will never run out fun activities. As far as children are concerned Hawaiian-themed kids activities are there to keep them entertained.
Highlighted feature kayaking, snorkeling and windsurfing lessons for adults and kids alike

Photo by Maui Hyatt
11. Grand Hyatt Kauai Resort & Spa
A glance into this lavish resort will prove the fact that their sole concern is to keep their little visitors happy. And when your kid is happy, you are saved from facing their tantrums.
Highlighted feature Camp Hyatt where kids are taught about Hawaiian culture. Something you will definitely want your kid to know.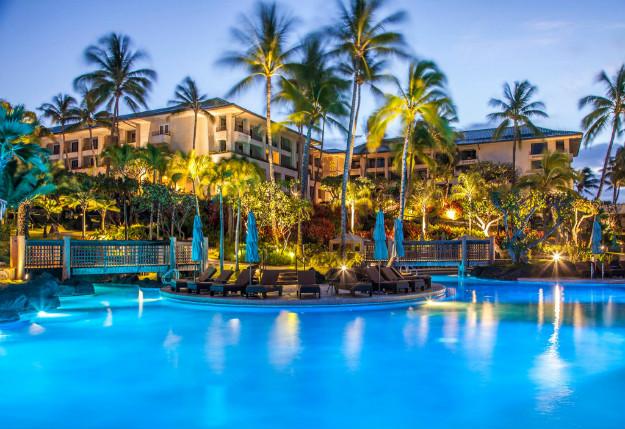 Photo by Youtube
12. Waikiki Parc Hotel (Oahu)
Overcrowded resort is not your thing? This classy hotel with spacious room at the best price let you enjoy a comfortable stay during your trip to Hawaii.
Highlighted feature the hotel offers a complete guide for visitors about what to do and not to do in Hawaii.

Photo by Waikiki Parc
13. Four Seasons Resort at Manele Bay (Lanai)
Settled right on the cliff above Manele Bay, the resort has the perfect blend of classy and friendly ambience for families.
Highlighted feature the rich protect coral reefs perfect for enjoy snorkeling; for kids, activities like tennis, horseback riding and family hiking.

Photo by Fourseasons
14. Four Seasons Resort at Wailea (Maui)
A little den for kids! Filled with fun activities for kids, the resort is perfect to enjoy a nice vacation with family. Moreover, the resort is small enough where you can keep eye on your little ones while they enjoy themselves.
Highlighted feature pool area is filled with waterfalls and waterslides

Photo by Mark Goebel
15. Hilton Waikoloa Village (Big Island)
The friendliest resort in Kailua-Kona, it is often referred as Disneyland by its little visitors. With large pool areas and variety of on-site dining options, this resort is perfect to taste the flavor of the Hawaiian Islands.
Highlighted feature a tram and canal boats that let you take a tour across the property.

Photo by Youtube
Have we missed out any names? If so, feel free to add up in your list and make your Hawaiian trip a memorable one for your little bundle of joy.