15 Romantic Getaways In North Carolina
SHRADDHANVITA TIWARI
UPDATED Aug 17, 2018
81 Views

Image Source: Flickr.com
Who doesn't love this quote by Nicholas Sparks! I'm fond of reading Nicholas Sparks' novels, and nobody else can ever feel and describe "romance" the way he does. And you know what's special about all Nicholas Sparks novels? Be it A Walk to Remember, Nights in Rodanthe, Message in a Bottle, At First Sight, or True Believer, most of the novels are set in North Carolina. So, it becomes quite clear that North Carolina must have something magical that makes it a favorite location for romance. The sun-bleached Atlantic coast, densely wooded Appalachian Mountains, and the diverse landscape of North Carolina makes it one of the best destinations for a romantic vacation. If you are craving for a romantic getaway with your loved one in in this southeastern state of U.S., check out our list of 15 romantic getaways in North Carolina for a magical escape.
1. Crystal Coast: Pristine beaches for pristine love

With hundreds of events and activities, this coastal paradise stretched over 85 miles tops the list of the most romantic places in North Carolina. Crystal Coast is famous for its iconic beaches, local delicacies, breathtaking views, and adventures. With "Banker ponies", as the main residents of the coast, horseback riding on the pristine beaches of Crystal Coast with your significant other appears absolutely enchanting. You will also get an opportunity to meet the albino sea turtles in Aquarium at Pine Knoll Shores. Catch the wild horses participating in the race or gaze at the beautiful Cape Lookout Lighthouse holding hands of your partner, Crystal Coast is heaven for people in love.
What's Special: Want to do something special for your loved one? Take them to the North Carolina Seafood Festival and gorge on the local taste.
2. McGill Rose Garden, Charlotte: Plan a "rosy" picnic for you two

Image Source: publicdomainpictures.net
Often referred as a "living work of art", McGill Rose Garden is located in the intimate urban setting of Charlotte in North Carolina. This hidden gem of Charlotte also serves as a wedding venue as it provides a perfect romantic ambiance. The idea of the garden, itself, is a beautiful epitome of love. It was started by Helen McGill in memory of her beloved husband Henry McGill. Amid the industrial streets of Charlotte, Helen planted plenty of rose trees spreading the fragrance of love. The garden is spread over two acres boasting a wide variety of roses. Mid-May is the best time to come here as you can witness the roses in full bloom. Imagine a walk through the roses with your significant other. Isn't it an idyllic idea of romance?
What's Special: Don't forget to visit the community area where the local artists display their structural art.
3. Winston-Salem: the city of romance

Image Source: publicdomainpictures.net
Strolling through the lush vineyards, tasting the old wine, and watching the picturesque sunset hand-in hand with your partner is something you will remember for a lifetime. Nestled in the breathtaking valleys of Yadkin, the city of Winston-Salem becomes one of the best honeymoon destinations in North Carolina. As you step into the romance-filled vacation in Winston-Salem, you will realize that each corner of this phenomenal city is full of love. While walking on the cobblestone sideways of the city, go for a romantic dinner in "The Tavern". Take a tour of the Old Salem Museum and Gardens and head to the Quanto Basta Italian Eatery & Wine Bar for a wonderful party.
What's special: Listen to the love story of the Reynolds in the Reynolda House Museum of American Art and marvel at its collection of artistic masterpieces.
4. Durham: the "tastiest town" in the south

Image Source: Wikimedia Commons
Although the city of Durham is known for its technological assets and learning environment, it is also one of the best places in North Carolina for a romantic vacation. Being one of the Triangle cities (Raleigh, Chapel Hill and Durham), Durham is popular among travelers. The countless number of bars and restaurants, exotic spas, and charming streets make Durham a perfect place to hang out for romantic partners. Enjoy delicious sweets and coffee in Scratch Bakery or take a romantic walk on the bridges of Sarah P. Duke Gardens, you and your partner will fall in love with Durham.
What's Special: Explore the wonderful bars and restaurants around American Tobacco District, and enjoy a cocktail in Bar Virgile.
Must Read:
5. Raleigh: where romance is an art

Image Source: goodfreephotos.com
Famous for its 19th century Greek style building, this Capital city of North Carolina is home to many romantic attractions. You can begin your romantic vacation here by tasting the old wine amidst the vineyards of Chatham Hill Winery or Hinnant Family Vineyards & Winery. If you are in Raleigh, even your afternoons will never be boring. Take your partner to the Escazu Artisan Chocolates to experience a lengthy "dessert tasting" session and then head to the Herons Restaurant for the seasonal culinary delight. The North Carolina Museum of Art is the place where you will find love in various art forms. In addition to this, a romantic dinner at the Victorian villa of Second Empire is a must.
What's Special: Wanna try something unique? Hop on the Raleigh Rickshaw and take an open-air tour of the city.
6. Chapel Hill: stroll through the landscaped gardens

Image Source: goodfreephotos.com
Gorge on the Carolina cuisine, take a "romance package", or take a tour of the museums in Chapel Hill, and you will understand why it is favorite to most couples looking for honeymoon destinations in North Carolina. Home to the famous TOPO Vodka, Carolina Whiskey and Piedmont Gin, Chapel Hill is also a great place for all the wine and vodka lovers. The perfectly manicured gardens of North Carolina Botanical Garden are ideal for a romantic walk. Want to taste the special culinary items of Chapel Hill? Then head to Southern Season with your loved one.
What's Special: Celebrate your love at the Lover's Loop, Lover's Leap Lookout and the romantic stone Lover's Chair!
7. Wilmington: plan a special date

Image Source: Wikimedia Commons
If you are looking for a romantic escape in NC, Wilmington is the perfect place. You can celebrate the romantic moments by taking your sweetheart on a romantic stroll on the serene beaches of Wilmington. But don't make this "beach trip" a usual one! Before visiting the beach, go on a ride over the swing bridge at Topsail, and trust me, your sweetheart will fall in love with you again. That's not enough? Then a ferry ride to Masonboro will surely be impressive. The Fourth Friday Gallery Walk is also a must-try that allows you to marvel at the most wonderful artistic masterpieces while sipping some wine. Want romance in water? Take a cruise on the Cape Fear River.
What's Special: A romantic trip to Wilmington is incomplete without enjoying Wilmington's Riverwalk watching the most spectacular sunset on earth.
8. The Blue Ridge Mountains: love under the stars

Most of the western part of North Carolina is dominated by the Blue Ridge Mountains. The blue tint of the mountains makes the atmosphere totally enchanting for the love birds. Plenty of hiking trails and mind-boggling waterfalls make this place look like a romantic paradise. Asheville is the base for exploring the Blue Ridge Mountains. For most of the couples, Fall is the favorite season to visit the mountains as the place is flooded with wildflowers and becomes the most colorful canvas.
What's Special: If you want to see the best of the Blue Ridge Mountains, take your loved one on the romantic loop drive that includes the Blue Ridge Parkway and the famous Pisgah National Forest.
9. Great Smoky Mountains National Park: hike, camp, and experience

Image Source: Wikimedia Commons
When the President Franklin Roosevelt visited this place, he said, "There are trees here that stood before our forefathers ever came to this continent; there are brooks that still run as clear as on the day the first pioneer cupped his hand and drank from them." So, if you belong to the couples who find solace in the lap of nature, you should keep this place in your bucket list. With an abundance of wildflowers, diverse wildlife, and picturesque sites, Great Smoky Mountains National Park provides a perfect ambiance for a romantic vacation. Plan for a picnic with your significant other at Grotto, Laurel, Abrams, Rainbow, or Mingo waterfall, and your love will surely strengthen.
What's Special: Camping, birdwatching, hiking, and horseback riding are some of the best things to do here.
10. Hatteras Island: the lighthouse gazing

Image Source: Flickr.com
What defines the best romantic destination? It's the place where two of you can be far away from the madding crowd, with no worries, and none to disturb your quality time together. If your definition of romance includes this, Hatteras Island is the perfect place for you. Take your romance to a complete new level in the heart of the wild beaches of Hatteras Island. With sand dunes and sea oats, Hatteras is home to some of the best beaches in North Carolina and hence is one of the favorite romantic destinations for couples.
What's Special: Learn to harness the wind on a kiteboard or take lessons in leisure on paddleboards with your loved one.
Must Read:
11. Mile High Swinging Bridge: a Carolina gem

Image Source: Wikimedia Commons
Placed in 1952, Mile High Swinging Bridge is the perfect place to enjoy 360-degree spectacular views from the Grandfather Mountain. A walk over the bridge with your partner will not only be romantic but also be one of a kind. This walk will also allow you to explore the natural treasures of the place. Wouldn't you like to spot squirrels, songbirds, cougars, red tailed deer, black bears, bald eagles, and other wild animals? Here, you would also like to visit the Grandfather Mountain Nature Museum which is home to the largest emerald ever found in North America.
What's Special: Stop at the fudge shop located here to taste the famous pumpkin pie and peppermint fudge.
12. Roanoke Island: the romantic sunset

Image Source: Flickr.com
Visit in Roanoke Island with your significant other, and you will never want to go back to the hustle and bustle of life. The serenity and calm that this beautiful island provides is just unmatched. No matter what you are looking for, a rejuvenating relaxation or an adrenaline rush, at Roanoke Island, you will find everything. The most famous activity here is watching the sunset from the decks of a Jet boat. You can enjoy the island's quaint beauty in many forms. Go for a boardwalk, go fishing, kayaking, boating, scuba diving, or do yoga on the beach, a trip to Roanoke Island will surely be memorable to you. You will also get some wonderful all-inclusive resorts and honeymoon packages here.
What's Special: Don't forget to visit North Carolina Aquarium, Roanoke Island Festival Park, and The Elizabethan Gardens.
13. Corolla: go boutique shopping

Image Source: Flickr.com
For a romantic getaway, the village of Corolla located on the Outer Banks of North Carolina is another great option. The village is home to the historic Corolla Park and the wild horses that wander on its pristine beaches. The lush greenery and tranquil atmosphere of Corolla are the reason why it has been a favorite destination to many wealthy families who have built their bungalows here. Currituck Beach Lighthouse is one of the most famous attractions here.
What's Special: You know what Corolla's latest craze is? It's Stand-Up Paddle Boarding. Try when here.
14. Bryson City: small town romance

Image Source: Wikimedia Commons
If you really want to elope from the noisy crowd with your loved one, come to Bryson City. With a close proximity to the Great Smoky Mountains National Park, Bryson City is a small town where you can experience the simplicity at its best. Surrounded by beautiful waterfalls, streams, and lakes Bryson city is the place where you will find a lot of things to do. The stunning views of the lush green valley provide the town a relaxing atmosphere.
What's Special: Explore your adventurous side with your partner and try the outdoor activities such as hiking, biking, camping, hunting, rafting, and kayaking in the deep creek of the town.
15. Nags Head: the romantic beach town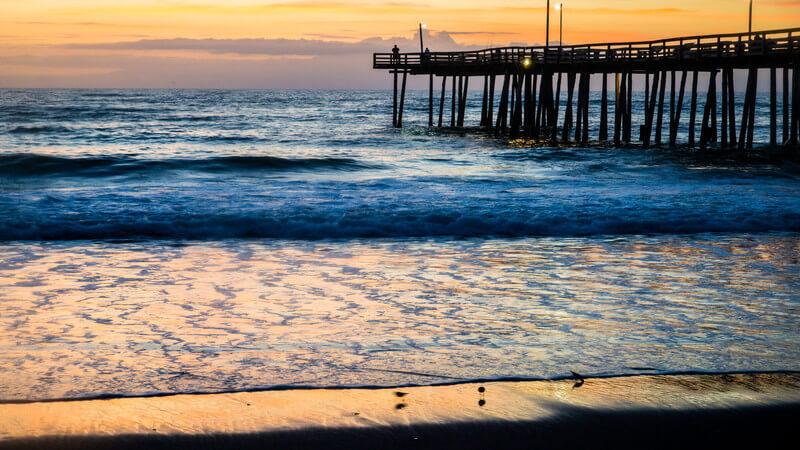 Image Source: Flickr.com
Known for its beautiful beaches and sand dunes, Nag's Head is a town in the Dare County of North Carolina. Although the origin of its name is not very clear, there is a famous folklore behind its name. It says that the mules or horses (nags) would have lights hung on their heads by nefarious wreckers in order to trick the ships into running aground and then loot the ships of their valuables. Therefore, this beach town is known as "Nags Head". You will find many hotels and resorts in the town for a romantic stay.
What's Special: Stay in one of the oceanfront mansions and take your romance to new heights!
We all want little romance in life and North Carolina is the best place to get romantic! Love is in the air, and these beautiful places in North Carolina, with their relaxing beachside and breathtaking scenery are perfect for a romantic getaway.
Have Fun in Planning a Trip!
Choose the best travel planner find the easiest way to plan your next holiday!