The Best Hidden Bars in London to Get Drunk In!
* Disclosure: This post may contain affiliate links, which means we may receive a commission if you click a link and book something (there is never any extra cost to you for using these links).
So you're in London and wish for an evening out drinking, but you also want something different from the regular bar scene? Fear not! We give you a list of 17 of London's best hidden bars, that will appeal to your brains, finding them, as much as your taste buds, once you sip the sumptious cocktail concoctions these bars have to offer.
Quickly plan a trip to London to find these hidden gems with our easy-to-use Itinerary Planner!
1. Experimental Cocktail Club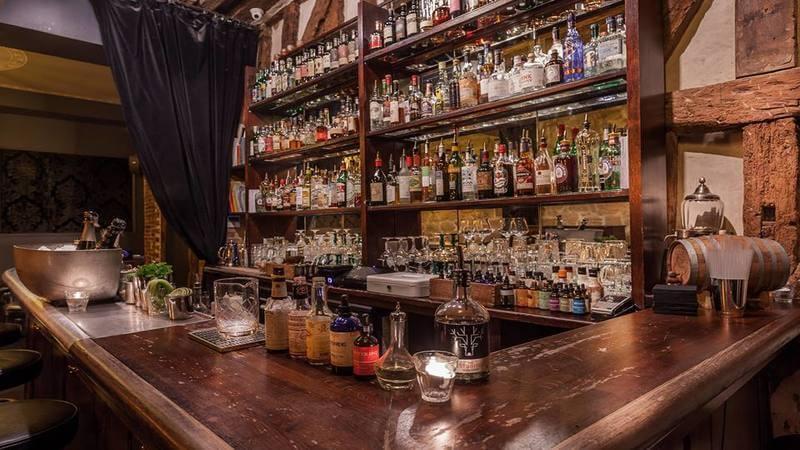 Image Source: Facebook.com
The Hideout: 13 Gerrard St, Chinatown, London, W1D 5PS
Why get drunk here: Not an easy place to find, and the battered door will make the task harder for you. And if you do find it, it will need some sweet-talking to let the not-so-sweet doorman let you in. But once in, you will get the opportunity of tasting concoctions beyond your regular Cosmopolitans and Martinis. Open till 3 AM, the leather lounges, low lighting and Parisian charm, makes this a perfect bar for special occasions.
Pick your Poison: Smoke That Rhino
2. Mayor of Scaredy Cat Town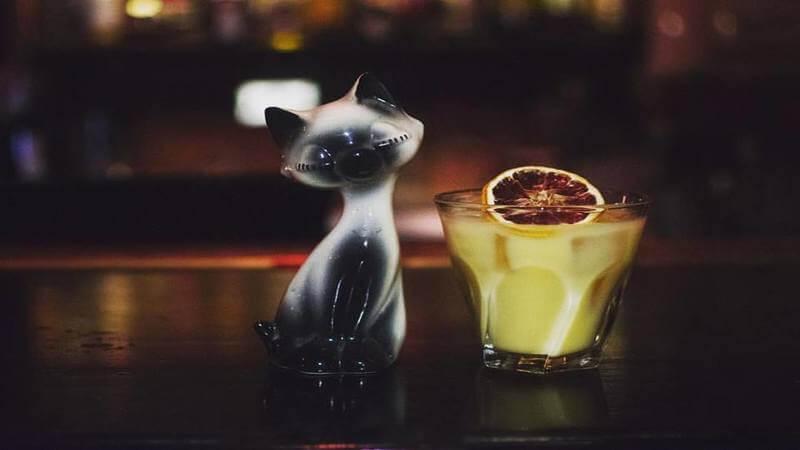 Image Source: Facebook.com
The Hideout: 12-16 Artillery Ln, London, E1 7LS
Why get drunk here: To get into Narnia, you have to walk through a cupboard; to get into Mayor of Scaredy Town, you just walk through a Smeg fridge. Located beneath The Breakfast Club, you need to say the magic words, 'I'm here to see the mayor', and you will gain entry into this secret speakeasy. The unique cocktails are as fun as the ambience itself, with low lighting and comic book posters adorning the brick and wood walls. And to end the night on a fun note, you get to exit from My Little Pony toilets.
Pick your Poison: Pear Cardamom Sidecar
3. Cellar Door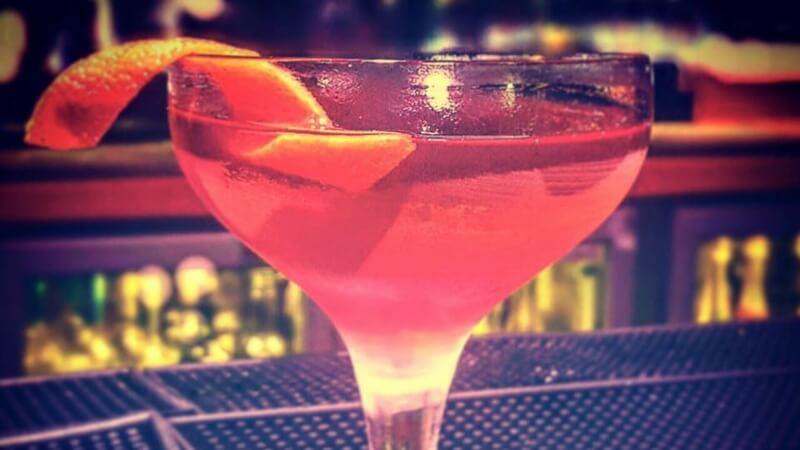 Image Source: Facebook.com
The Hideout: Zero Aldwych, London, WC2E 7DN
Why get drunk here: With live acts and your requested music playing out of jukeboxes, this former public toilet in Aldwych, is a perfect bar for music lovers. While the place seems too cosy, it is big enough for 60 people to fit in comfortably. Open till 1 AM, this bar has free entry, and renowned to have some of the sexiest loos in the country.
Pick your Poison: Dita von Tease
4. Happiness Forgets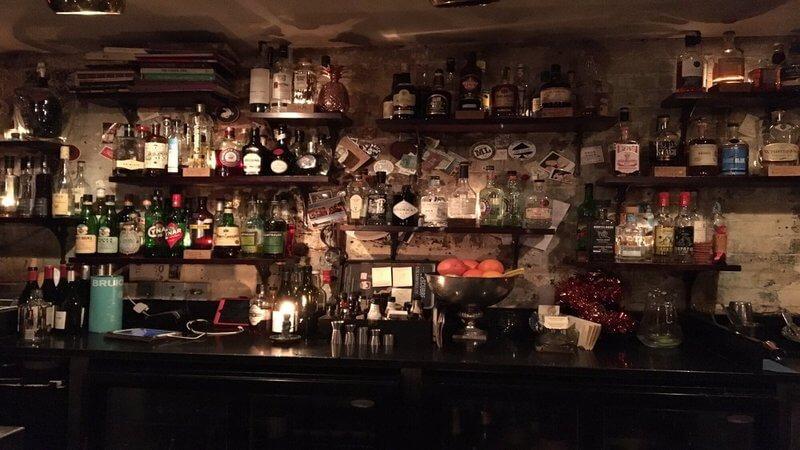 Image Source: Yelp.co.uk
The Hideout: 8-9 Hoxton Square, London, N1 6NU
Why get drunk here: For pocket-friendly and innovative cocktails, this place is the one you should head to. While the decor has a New-York flavour, the drinks at Happiness Forgets take inspiration from different parts of the world. The laid-back vibe of the bar, is a perfect setup for an intimate date.
Pick your Poison: Perfect Storm
5. Barts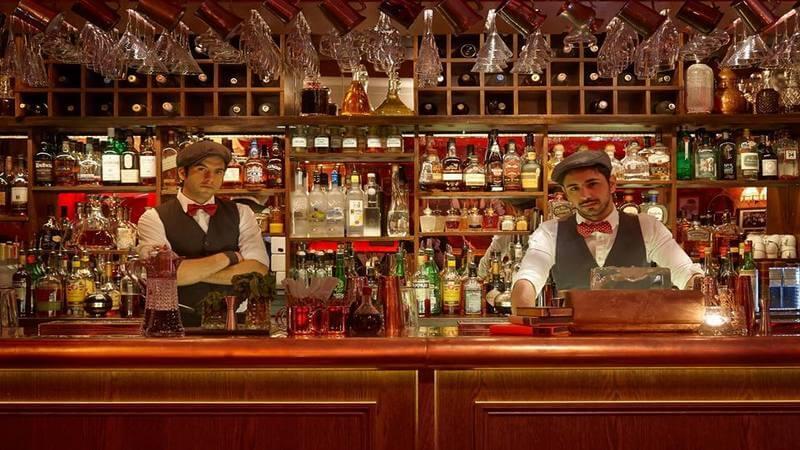 Image Source: Facebook.com
The Hideout: Chelsea Cloisters, 87 Sloane Ave, London, SW3 3DW
Why get drunk here: So getting into this bar is no big deal. Find a flat in Chelsea Cloisters that has a Mickey Mouse wallpaper, ring the bell and pray that the bartenders think you look good enough through the peephole, to let you in. As per "legend", Barts was set in the 1920's prohibition-era run by Chicago gangsters settled in London. The cocktail menu is as eccentric as the containers the drinkls are served in, viz., cigar boxes, vintage teapots and teacups. The walls are decorated with antique yet quirky ornaments, that make this quite a fun place to spend you evening at.
Pick your Poison: Abstinence cocktail
Not in London to visit these coolest bar? See and do more in the city using London trip planner. Get ready for the fun!
6. Callooh Callay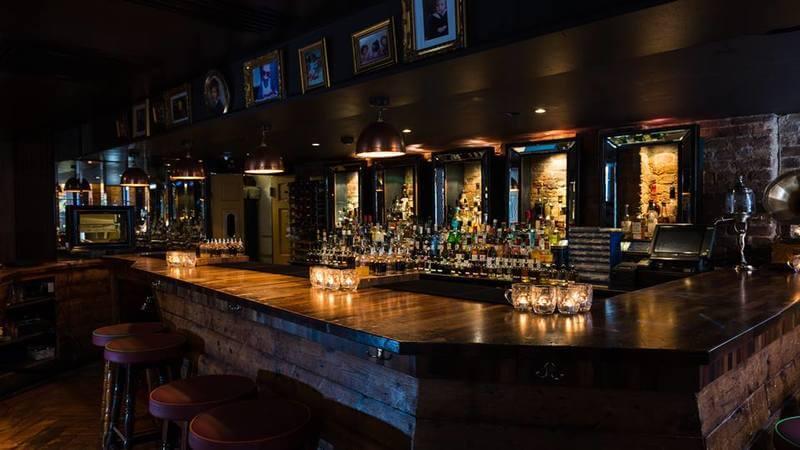 Image Source: Facebook.com
The Hideout: 65 Rivington St, London, EC2A 3AY
Why get drunk here: So, this is indeed Narnia for cocktail lovers! Walk through a cupboard of the award winning Callooh Callay, into their hidden bar, The Jubjub. This ever changing hidden bar will have a new bartender, cocktail menu, pop-up theme and 4-digit code, every set period of time. So, if you want a new experience each time you check in here, make sure you time yourself accordingly.
Pick your Poison: The Johnnie Refresher
Drunk much? Need a room for the night? Check out where to stay at TripHobo Hotels
7. Evans & Peels Detective Agency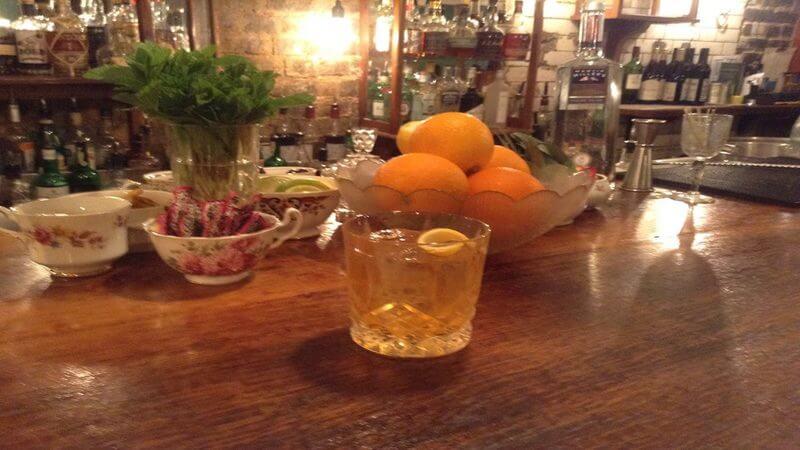 Image Source: Facebook.com
The Hideout: 310C Earls Court Road, London, SW5 9BA
Why get drunk here: Bringing secrecy to West London, the Evans & Peels Detective Agency is definitely a must-visit for cocktail lovers. Walk through their hidden entrance of this theme-bar, into the 30's style office of 'The Detective'. Play your cards well and you will be given entry into the hidden bar behind the bookshelf. Order your drinks in a hushed whisper and your booze will be served in brown paper bags. For those who'd like a flair of drama added to your evening, this place is totally meant for you.
Pick your Poison: The burnt-end infused Bloody Mary
8. Portside Parlour
The Hideout: 14 Rivington St, London, EC2A 3DU
Why get drunk here: Pulling a flush to enter may not be the most preferred way for a bar, but for gaining entry into this hidden gem of a bar, you might as well do that. Widely known for stocking 50 different rums, the rum cocktails are pretty creative here. The decor is colonial era-styled, with dark leather and wood fixtures. Quite a classy place to walk in to from a loo.
Pick your Poison: The Old Fashioned Rum
9. The Little Yellow Door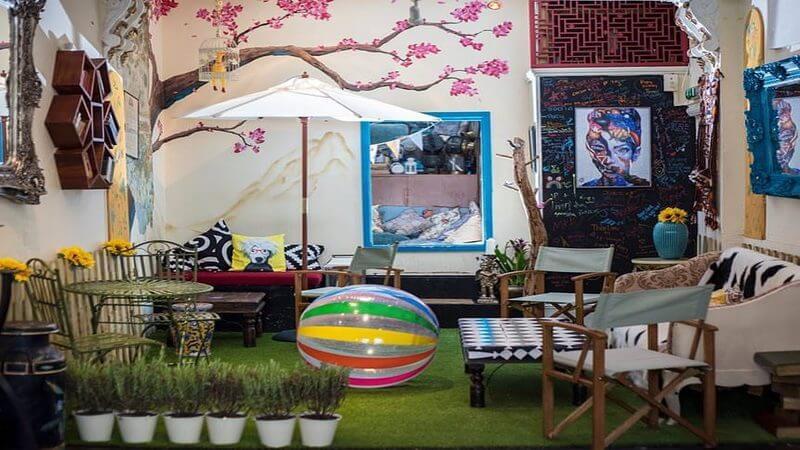 Image Source: Facebook.com
The Hideout: 68 Notting Hill Gate, London, W11 3HT
Why get drunk here: Welcome to the best house party in London! That is exactly what stepping into this secret West London cocktail bar, set up in a flat, will feel like. With classic rock playing in the background, movies projected on the walls, CDs strewn about everywhere and posters from your youth, the place will feel like house party from the 90s. With the creators of this pop-up bar obsessed with movies, the cocktails are all named with references to their favourite films. And the delicious food, makes a killer combination, with the cocktails and ambience. A cool place to hang out with your pals.
Pick your Poison: My Name Is Earl
10. BYOC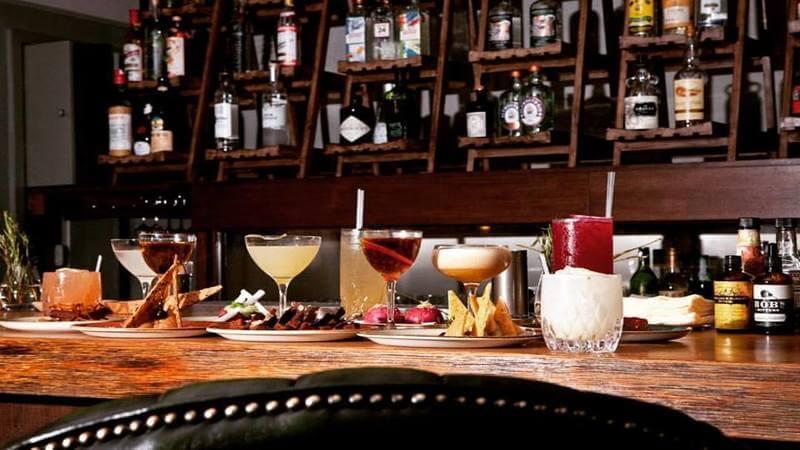 Image Source: Facebook.com
The Hideout: Underneath Juice Club, 28 Bedfordbury, London, WC2N 4RB
Why get drunk here: In case you're wondering, BYOC stands for 'Bring Your Own Cocktail'. And that's precisely what you do here, since you bring your own choice of alcohol and the mixologists will transform them up to some unique and delicious cocktails. Hidden under The Juice Club, his tiny bar makes a perfect place for dates or small groups.
Pick your Poison: Bring along a 40% proof spirit
11. Discount Suit Company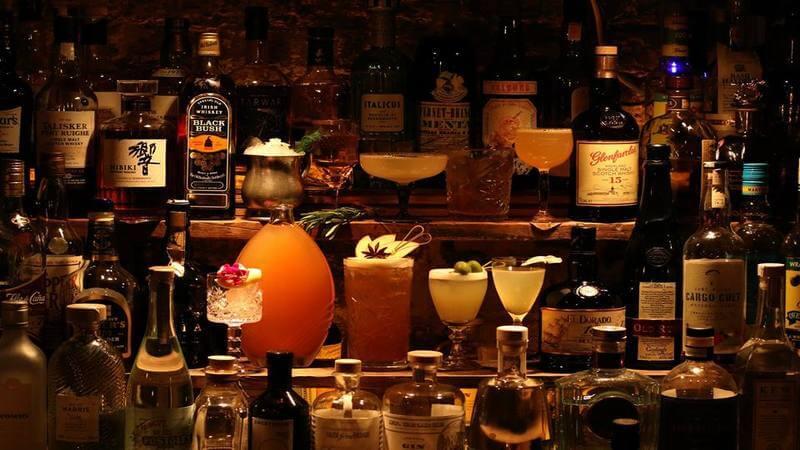 Image Source: Facebook.com
The Hideout: 29A Wentworth St, London, E1 7TB
Why get drunk here: What looks like an abandoned tailor's workshop on Petticoat Lane, is actually home to one of London's latest addition to the underground bar scene. Located at the basement of the tailor's stock room, the Discount Suit Company has some amazing cocktails to offer, along with mouth-watering cheese platters and excellent music.
Pick your Poison: Goldfish Bathtub
Till these bars open, check out the other things to do in London!
12. The King of Ladies Man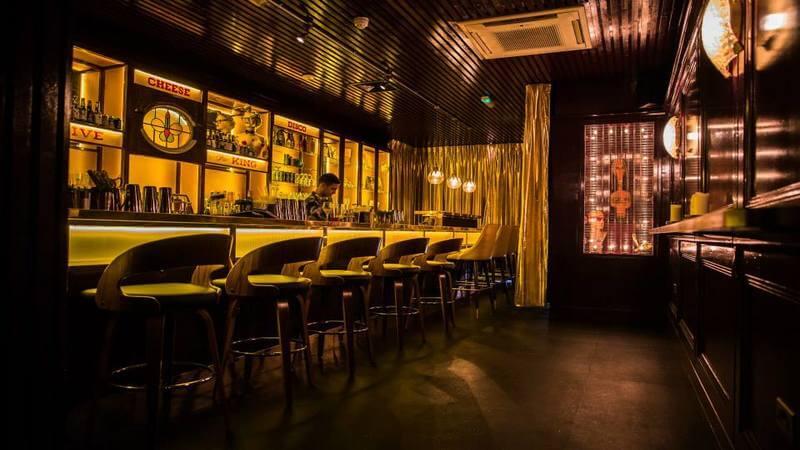 Image Source: Facebook.com
The Hideout: 5-9 Battersea Rise, London, SW11 1HG
Why get drunk here: The Breakfast Club surely loves to have bars hidden within itself. After walking through the SMEG fridge, it is now time to head towards the laundrette and slide a wall, to walk into this 70s style cocktail bar with a very retro feel to it. The booze induced brunch is a must try here.
Pick your Poison: Mr. Miyagi
13. Purl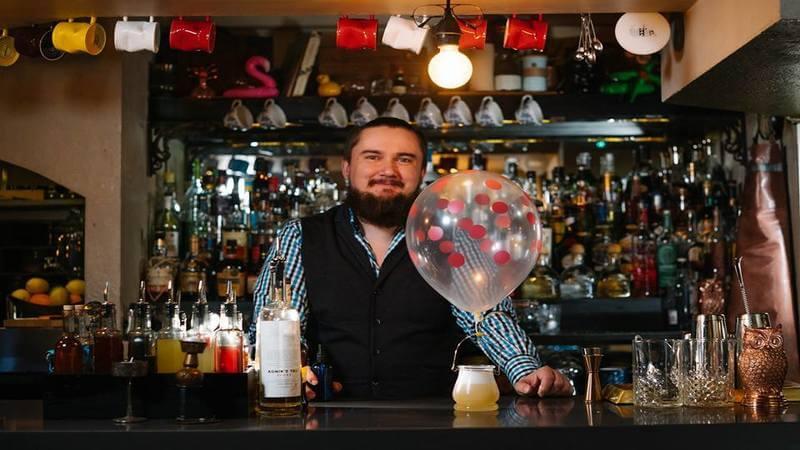 Image Source: Facebook.com
The Hideout: 50-54 Blandford St, London, W1U 7HX
Why get drunk here: Known for it's classy yet experimental concoctions, Purl is surely on a different notch. Get in by saying out loud their password, 'hair of dog', and experience decadence as the mixologists create magical potions using science. A treat for all your senses with the liquid nitrogen induced foggy atmosphere with a whiff of the aromas from the drinks and food.
Pick your Poison: Purl
14. Rev JW Simpson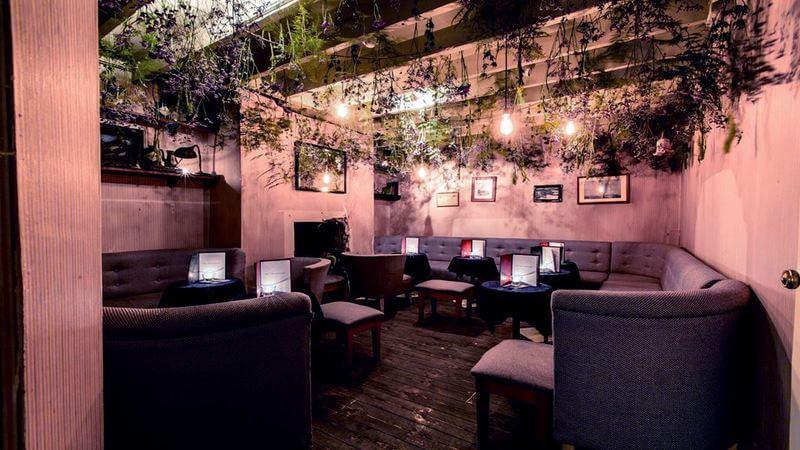 Image Source: Facebook.com
The Hideout: 32 Goodge St, London, W1T 2QJ
Why get drunk here: Walking down Goodge Street, you will come across a house with a blue sign with Rev JW Simpson's name on it and the time period he stayed there. The candles placed on either side of the door will help you find your way through to this hidden bar that looks exactly like the reverend's old place. This bar boasts of some easy on the pocket cocktails that are equally yummy, with a dim lighting to add in to the mood.
Pick your Poison: Laird's Old Fashioned
15. Communion Bar
The Hideout: 29-33 Camberwell Church Street, London, SE5 8TR
Why get drunk here: With stained glass that could give any cathedral a run for its decor, this eclectic bar supposedly pays its homage to the 'sacred beverage' and 'holy elixir'. With the cocktails being dedicated to the different aspects of South London, the Communion Bar is definitely one-of-a-kind, in terms of ambience and drinks.
Pick your Poison: Black Rice Old Fashioned
16. The Shop NW10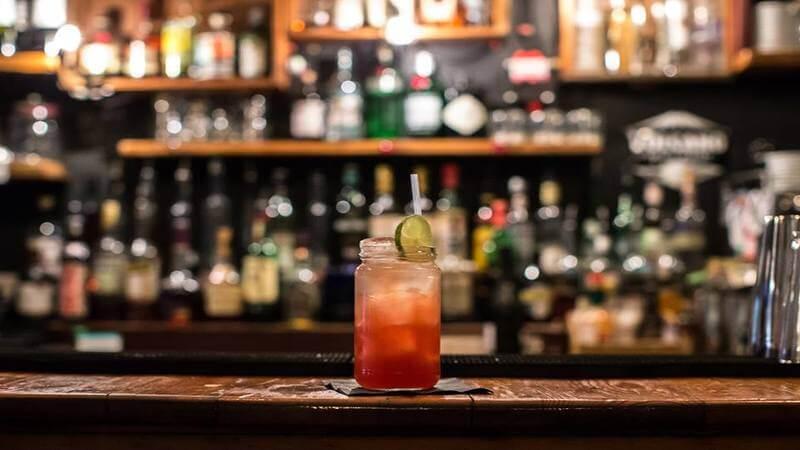 Image Source: Facebook.com
The Hideout: 75 Chamberlayne Rd, London, NW10 3ND
Why get drunk here: Imagine a cocktail bar where you can not only buy drinks, but also the fixtures. Except for the roof, walls and the bar itself, everything in The Shop is up for sale. Order some cocktails from the bar and be sure to be served in their signature milk bottles or jam jars. Head to this unique cocktail bar for much more than just drinks.
Pick your Poison: Once Loved
17. Danger of Death
The Hideout: 202 Brick Lane, London
Why get drunk here: First you see an antique store from outside, then you step in to a pizza joint, go further down, by the toilets, reach an electrical cupboard and press the switches in a specific patter to open the door to an uber-cool bar. This hidden bar offers you the best 20 cocktails you will ever have. And if you go through all of their 20 cocktails, they will reward you with a £50 bar tab. Also, get through each of their four by-the-bottle spirits, and have your next bottles on them. Not a bad deal at all!
Pick your Poison: The Black Russian
18. WC - Wine & Charcuterie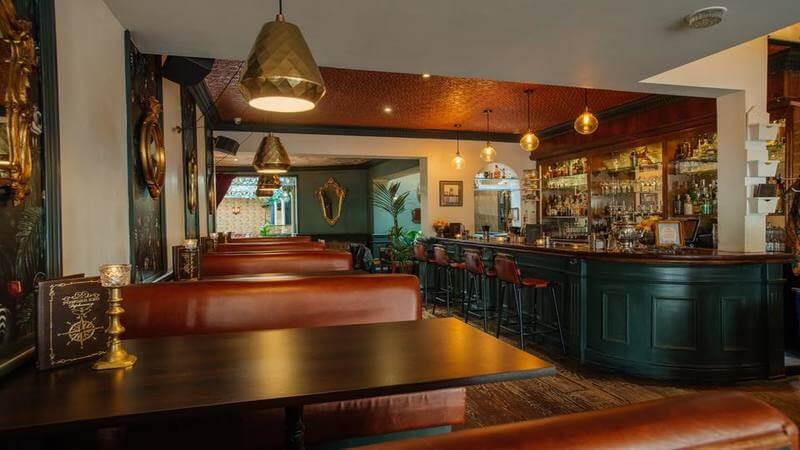 Image Source: Facebook.com
The Hideout: SW4 7AA London, United Kingdom
Why get drunk here: The clock strikes 6 PM, and suddenly 'London's most infamous toilet' under Clapham Common's tube station transforms. The 'WC' which used to stand for Water Closet, now stands for Wine & Charcuterie. There's a code to the toilet door, so don't expect to get in for free. But once inside, you will find that the place lives up to its name with a fantastic range of white and red wines, along with many sparkling ones. The place is dimly lit, adding into the cosiness you will feel on stepping inside. This place will make wine snobs have tears of happiness in their eyes. The food is also to die for. Quite an interesting find in an abandoned toilet!
Pick your Poison: The entire wine range
Now that you have the names, good luck finding them!
You may also like:
7 Most Popular Celebrity Spotting Restaurants In London
10 Best Cheap Eat Outs in London