New Age Travel Hacks To Travel Smart This 2017
UPDATED Apr 11, 2018
12.2K Views

Image source: youtube
Travel is the core entertainment of life, but the procedure and general chores that accompany the adventure of the journey may sometimes add to the negatives on the trip. They are usually time consuming and mood dropping. Here are some travel hacks you can probably use to make your vacation more or less hassle free and easy.
1. Book Smart

Image source: Wikipedia
Did you know that the stuff you surf online is monitored by travel websites? By doing this they can identify your likes and assume your next booking. Flight and hotel charges are then hiked to get the most out of their loyal customers. Shame! Clear your browsing history, cache, cookies so they cannot track you while you book. Make sure you know these hacks to get cheapest flight tickets.
2. Dress Smart

Image source: Wikipedia
Of course you don't want those moisture smelly clothes on your trip. Nor do you want those ugly creases that make your attire nothing but shabby. Fold your clothes well and place a tissue between them. This saves them from getting creased and also acts as a moisture absorbent a best travel hack for your trip.
3. Pack Smart

Image source: flickr/matito
Keep the collars of your shirt crisp by rolling a belt and placing it in your shirt collar. On the other hand, this travel hack also saves you space.
4. Roll It Up

Image source: youtube
To save space in your suitcase this travel hack must helps you, roll your clothes and pack them. You can pack more clothes than you usually could in the fold and pack system.
Also Read:
Honeymoon packing list for bride
Tropical honeymoon packing list
5. Hello Innovation

Image source: amazon
Jewelry can remain unharmed if you put them in a capsule box. Hair pins can be stored in tic tac containers to prevent breakage. Use straws to pack shampoo, conditioner, face wash and other products. Burn their edges to seal them.
6. You Could Try This too

Image source: Youtube
Use a binder clip to save your razor of damage. You could also roll headphones around the binder clip to avoid those unwanted tangles. Wrap your shoes in a shower cap to keep it from dirtying your clothes. Use a napkin as a soap pouch and stuff underwear in your shoes.
7. If the Airport is Smart, You are Smarter

Image source: commonswikipedia
Airports don't let you carry water in. so carry an empty bottle and refill it once you're in to avoid wasting money on buying water. Read few more Airport hacks that work to make your flight journey super easy!
8. Pick Wisely

Image source: Wikipedia
While booking a seat choose one window seat and one aisle seat. Just in case no one books the seat in between you have the whole line to yourselves. If someone books, you could ask the person to shift so you could sit beside your partner through the journey.
An even smarter travel tip to travel far and smart is by planning a trip with TripHobo Trip planner. You create a plan; we'll make it a memorable journey.
9. Never Run Out of Charge

Image source: commons.wikipedia
Just in case you've forgotten your charger plug, use the USB cable and connect it to the television in the flight or hotel room to charge your phone or other device. Get hold of these cool travel chargers to make life easier!!
10. Carry a Power Strip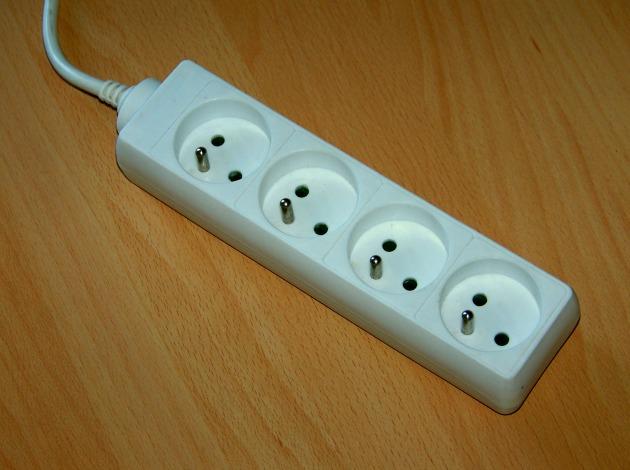 Image source: commons.wikipedia
Charge like a king. There's never enough of charge points! But with your compact power strip, you'll never run out of them. Charge one, charge two, charge them all. You've truly come prepared!
11. Save Money

Image source: torange
Booking last minute usually saves you a lot of cash. Airlines tend to slash their rates last minute just so that they sell. Grab it! Patience is virtue and this time it's worth it!
12. Google It

Image source: pexels
Sometimes you spend a fortune just to use the hotel Wi-Fi. Google the Wi-Fi password instead and guess what? You're now using the Wi-Fi for free. Travel forums usually reveal these passwords.
13. Go Click Click

Image source: commonswikipedia
Parking your car at the airport? Maybe you may not remember where you parked when you return. Take a pic of the place and surroundings where you park so it becomes easy to identify to spot later. Do read these interesting iPhone Photography Tips.
14. Just Because You're the Responsible One

Image source: pixabay
Just in case you misplace your bags when abroad, you don't feel like an alien or an illegal immigrant in the new country. Email important files to yourself which include identity proof documents. So in case of a mishap like this, you're still safe.
15. ATM's are the New Trend

Image source: Wikipedia
Currency exchanges are a waste of time and money. Trust your bank instead. Use an ATM card to get the local currency in a different country or simply swipe wherever you go. Knowing how to carry money while traveling will help you to avoid an unwanted situation.
16. Departure Zone Sounds Better

Image source: Wikipedia
On arrival zone is usually packed for public transport. Escape to the departure zone to get home quick. They're comparatively cheaper and more susceptible to bargaining. Although this may not be possible at every airport, try your luck. If it works it saves you ample time and money.
17. You Know it All

Image source: Wikipedia
Don't give anyone the impression that you don't know thing about the place you're travelling to. Learn a few common phrases of the local language if possible. Pretend that you know it all- the places, the language (although partially), and mostly everything about the place. The locals may try to fleece you otherwise. Know what are the gravest travel mistakes to avoid to have a hassle-free trip!
18. Opps! That Might Just Break

Image source: commons.wikipedia
Put a fragile sticker on your luggage. What happens by doing that? Your luggage is taken extra care of and it arrives first in most cases.
19. Arrive in Style

Image source: commons.wikipedia
In a zillion look alike bags, identifying which one is yours may be tough. Give your bag a dressy appearance or add some color to it so it stands out in a bunch of similar.
20. The Extras

Image source: flickr/jesús_gorriti
Pack extra bags in your luggage. They tend to come handy. While you souvenir shop of when you need a trash bag, these extra bags always come to your rescue.
21. Navigate While Offline with Google Maps

Image source: flickr/johan_larsson
By clicking on " OK maps" you can map the route of your journey even after going off line. Wow! Sounds more like free internet to me.
The aforementioned 21 travel hacks can come handy anywhere. Travel far travel smart.
You May Also Like:
7 Travel Mistakes That Add Fun To Your Travel
How To Choose Your Travel Destination