3 Indian Women Travel from Delhi To London by Road!
* Disclosure: This post may contain affiliate links, which means we may receive a commission if you click a link and book something (there is never any extra cost to you for using these links).
''If you can dream it you can do it"- Walt Disney
The Dream:

A 15 year long dream just came true for 3 passionate and dedicated women. Meet three best friends- Nidhi Tiwari, Rashmi Koppar and Dr. Soumya Goyal. Their dream was to go on an epic roadtrip across different nations and it just came true thanks to Mahindra First Choice Wheels.
They had always dreamt of this roadtrip but somehow, it never manifested into reality for 15 years. Finally, having found a range of sponsors, they kick-started their ambitious adventure from Delhi in the month of July 2015.

The Team:

The team was led by Nidhi Tiwari. She is an experienced off road driver and an outdoor educator. An Army wife and the mother of two, she loves high altitude and long distance driving.
Rashmi Koppar is an educationalist. She is a hotel management professor and a mother of one. An adventure sports lover, she is also an amateur long-distance driver.
Dr. Soumya Goyal is a physical therapist who works at MS Ramaiah Hospital. This doting mother of two is a passionate traveller. Apart from her profession, she also runs an outdoor biking gear company.
Plan a Dream Trip to London with London Itinerary 4 Days
The Journey:

Taking a sabbatical from their respective jobs, the three drove through many gorgeous nations and immensely beautiful locales. There were days when they drove close to 600 kilometres a day and days where they were stuck in towns due to natural calamities. The countries they covered included India, Myanmar, China, Kyrgyzstan, Uzbekistan, Kazakhstan, Russia, Ukraine, Finland, Czech Republic, Poland, Germany, France, Belgium and finally England. Coincidently, the Mahindra Scorpio car that the women drove happened to be the first Indian vehicle to cross the Arctic Circle.
Discover every best thing you need to see in a city. Plan a trip with TripHobo and customize your dream vacation!
The Route:

Day 1 to 7: Distance: 2,403 kilometres: Delhi-Kanpur- Siliguri - Guwahati-Imphal-Moreh/ Tamu border point, Myanmar-Monywa

Day 8 to 14: Distance: 1,903 kilometres: Monywa-Mandalay-Lhasio-Muse-Ruili-Dali-Xichang-Chengdu

Day 15 to 21: Distance: 3,520 kilometres: Chengdu-Ruoergai-Xining-Jiayuguan-Hami-Turpan-Kuerle

Day 22 to 28: Distance: 1,964 kilometres: Kuerle-Akesu-Kashgar-Sary Tash, Kyrgyzstan-Osh-Tashkent-Samarkhand-Bukhara


Day 29 to 35: Distance: 2,352 kilometres: Bukhara-Khiva-Nukus, Khazakistan-Beyneu-Atyrau-Astrakhan, Russia-Volvograd

Day 36 to 42: Distance: 2,589 kilometres: Volvograd-Kamensk-Kharkiv-Kiev, Ukraine-Lviv-Karkow, Poland-Prague, Czech Republic

Day 43 to 54: Distance: 1,269 kilometres: Prague-Frankfurt, Germany-Brussels, Belgium-London, UK
The Memories:

The three inspiring women and their epic journey is part of a social initiative called 'Women Beyond Boundaries'. A unique and fabulous concept, it brings together women who love driving. Their aim is to enable women to take up long distance driving and off roading.
Said Rashmi Koppar in an interview, ''The first thing we did while entering every country was to buy a local SIM card. However, we couldn't book accommodations in advance as our schedule kept changing." Added Dr. Soumya, ''It was only in India and England that we spoke in English. In the other countries, we used sign language and Google translator."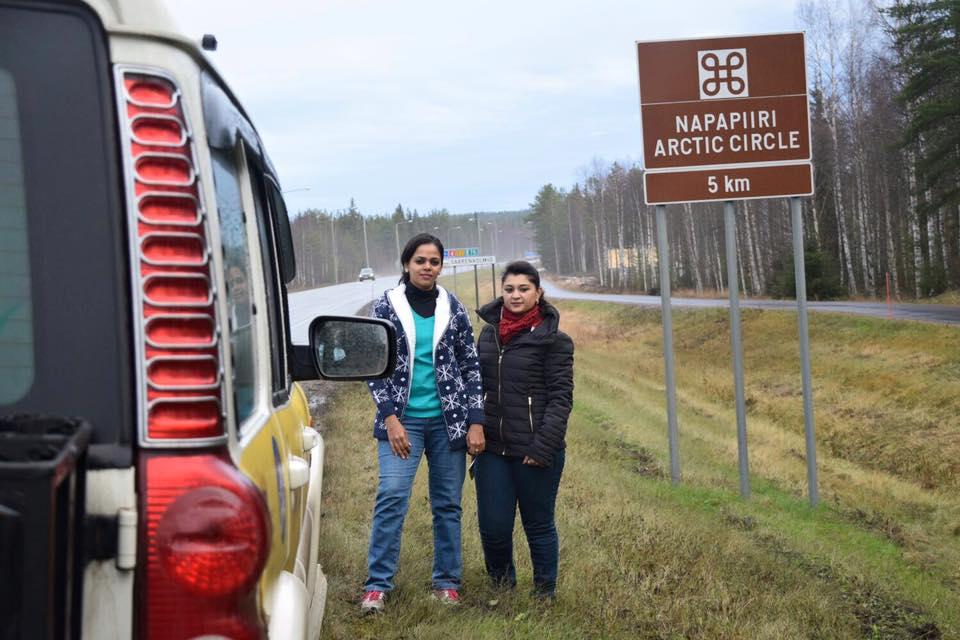 Rashmi shared an interesting experience, ''When we were stuck due to a landslide in Manipur, the locals offered to help us. We trusted them and stayed with their families and also got to taste home-cooked Manipuri food. The trip reinforced my faith in human goodness."
The Sponsors:

The entire trip was sponsored by The Ministry of Youth Affairs and Sports, The Ministry of External Affairs, Mahindra First Choice Wheels, @Round Table India Area 6, Lenovo India, Via.com, MS Ramaiah Memorial Hospital, Tea Trails India, Social Empowerment by Empowering Women SEEW and a few other sponsors.

Dr. Soumya Goyal said in an interview, ''We wanted to tell the women of the world that such expeditions are possible and that there was nothing to be scared of. We avoided driving late at night, instead, spent evenings exploring the cities. In fact, we didn't find a single woman driving on the highway till we reached Europe."
Fall in love with the London Dreams by planning a trip to London , and explore this dynamic city of United Kingdom!
News Source: The Outdoor Journal, The Times of India and Daily Bhaskar
All images were sourced from Women Beyond Boundaries on Facebook.
You may also like:
Moksha Jetley On Bike Ride From Kanyakumari To Leh