Activities To Chill Out With Friends In India
UPDATED Jul 31, 2018
6.8K Views
Exciting weekend hang outs can be the most desirable thing that one can ask for. With lives getting busier and tougher, meeting your friends can be really difficult. To make out the most of your time with the friends that you have caught hold on, there are certain activities that can simply make you relive your childhood memories. These are 14 new gen activities that you can check out during your weekend:
1. Relive Childhood Memories at Theme Parks

Image source: adlabsimagica
Where: Adlabs Imagica between Pune and Mumbai, Wonderla in Bangalore, Kingdom Of Dreams in Delhi NCR, Essel World and Water Kingdom in Mumbai
Visiting those amusement parks with your friends can be an awesome experience. You can become a child again and make fun while your friend dreads to take that ride. India has very good amusement parks where you can go during your weekends.
2. Find Your Way Out in Escape rooms

Image source: escaperoom
Where: Mystery Rooms in Delhi and Gurgaon, Clue Hunt Bandra in Mumbai
One of the latest trends that can catch hold of your fancy, making your way out of the puzzled locations can be a real fun. Definitely one of the activities that can be enjoyed together with friends!
You will definetly enjoy these weekend trips from Delhi within 200 kms
3. Shoot at Paintballs

Image source: skirmish
Where: The Paintball Co in Gurgaon, Headrush in Mumbai, The paintball arena in Bangalore
Paintball is a combination of the childhood games "tag" and "hide & seek", but is much more challenging and sophisticated. Although there are many different game formats, typically a group of players will divide into two teams to play "capture the flag." The number of players on each team can vary from one or two, five or seven or ten, to over 1,000 on a side, limited only by the size of the playing field. Definitely an activity to chill out with friends during weekends. Wow, I am looking forward to this!
4. Pump Up your Adrenaline with River Rafting

Image source: flamingoadventures
Where: Rishikesh, Kolad, places near Bangalore
Touching the waves of water gushing down from the hills can be a thrilling experience, unparalleled and unimaginable. And it becomes more beautiful if done with friends!
Also Read: 8 River Rafting Destinations Near Bangalore
5. Get Virtual at Gaming Arcades

Image source: inmotiongaming
Where: wonderfunky in Pune, Games Gizmos Plus in Bangalore, Glued Entertainment in Noida near Delhi
If you have a good group of friends who are into computer gaming, then why not go to some of these awesome gaming parlours wherein you can play all your action games on a bigger screens and better setups. One of the easiest and fun things to do with friends on weekend.
6. Shoot with Laserguns at Laser Tag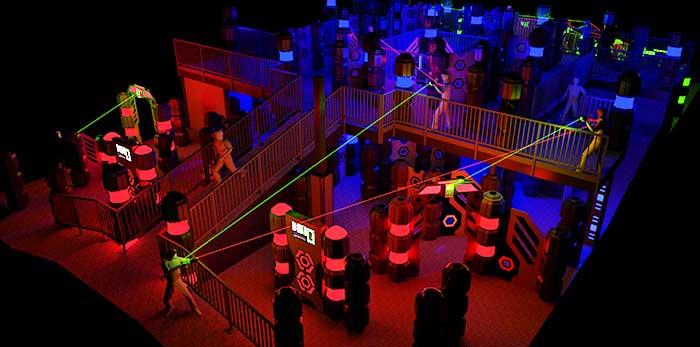 Image source: pixhder.com
Where: Laser Republic Laser Tag in Bangalore, Lazer Ops in Hyderabad
Again a trending activity that has become a rage for youngsters! Laser tag is a team where players attempt to score points by tagging targets, typically with a hand-held infrared-emitting targeting device.
7. Vroom! Go Karting!
Where: Smaash in Mumbai, Downtown racing in Pune, Runway 9 in Hyderabad, 32nd Milestone in Gurgaon, F9 Go Karting in Delhi NCR
You must have rode many a times with your friends on bikes and cars. This time try go karting! Available in most of the big cities in India, it has become a popular sport.
8. Be Stylish while Playing Billiards

Image source: wall.alpha.coders
Where: Northern Snooker in Delhi, Extreme Sports Association in Bangalore, Green Top Billerds in Mumbai
You can look both stylish as well as sophisticated while playing this. Trying out new techniques to pocket a ball whilst teasing your friends for using the helping stick can be a great weekend activity.
9. Aim your mark with Bowling
Where: bluo ambience mall in Delhi, Amoeba phoenix mall in Mumbai, Down Under in Chennai
Striking your aims with balls can turn into an exhilarating activity if done with friends. You will have to put your collars up as your friends say Wow to each successful strike that you make.
10. Visit those Glittery Casinos

Image source: casinocashjourney
Where: Casino Royale in Goa, Floating Casino Carnival in Panaji
Casinos are a great place where you can catch up with your friends and socialize. Fun, money and lots of excitement is what defines them.
11. Go Camping

Image source: desktopnexus.co
Where: Rishikesh, Jaisalmer, Anjuna in Goa, Nainital
Leave your cell phones, computers, laptops, TVs and every other electronic device possible while you go for camping with your friends. This way you can interact better, solve your fueds and relive your friendship.
Also Read: 5 Best Camping Destinations In India
12. Go on those spontaneous Short Road trips

Image source: gallerily
Where: Delhi- Chandigarh highway, Pune Mumbai expressway, Jaipur to Jaisalmer, Bangalore to Munnar
Embarking on those short road trips during weekends with your friends can relive the college days. Fight, love or abuse- this is the way you can have an ultimate fun!
Also Read: 13 Short Roadtrips in India that You Must Experience Atleast Once in Your Lifetime!
13. Bring that singer out at Karaoke Bars

Image source: 123rf.com
Where: Harry's Karaoke Lounge bar in Delhi, Merlins Bar in Mumbai, Banana Beach Bar in Bangalore
Leave that couch and get hold of mic to inspire that singer in you! Don't forget that its just your friend who can listen to your bad notes even while he is laughing at them!
Also Read: Top 10 Places For Karaoke Nights in Delhi
14. Read your favorites at Book Cafes

Image source: outlookindia
Where: Kitaab Khana in Mumbai, Leaping windows in Bangalore, Book café Ssong in Pune, Literati in Goa, Books and Brew Café in Chandigarh
This activity will be for groups who love to read! Reading your favorite books with friends who can understand the discussions can be the most satisfying experience ever!
So which activity would you like to try with your friends this weekend?
You may also like to read:
10 Reasons Why Men Would Like to Travel with Their Guy Gang
Extreme Activities to Enjoy On Your Next Brocation
Weekend Destinations in India