Best Places for Adventure Activities In and Around Los Angeles
UPDATED Aug 20, 2018
3.2K Views
There's something about Los Angeles that makes you want to live large. Like your life was some cool advertisement for adventure. It's a nice image to craft. Every major city does it, and it gives local tourism a nice fillip. A sensible and down-to-earth metropolis knows to play to its strengths. It takes stock of the weather, the landscape, and the economy and then it accordingly promotes a handful of specialised activities best suited to that region.
LA thinks those cities are wimps. LA doesn't think they're being imaginative enough or trying hard enough. LA is going to show them how it really is - that anything falling short of teeth-grinding, stomach-clenching and nail-biting fun just isn't worth it. LA goes overboard in everything. It's Hollywood rubbing off on the city. Seriously, we're not overselling this. Just look at the following list of adventure activities in and around Los Angeles! Any one or three of the following activities could be reasonably found in any major metro but when ALL of them turn up, you know a place is trying too hard.
And gosh darn it, it is succeeding!
1. Climb A Rock Wall at Rockreation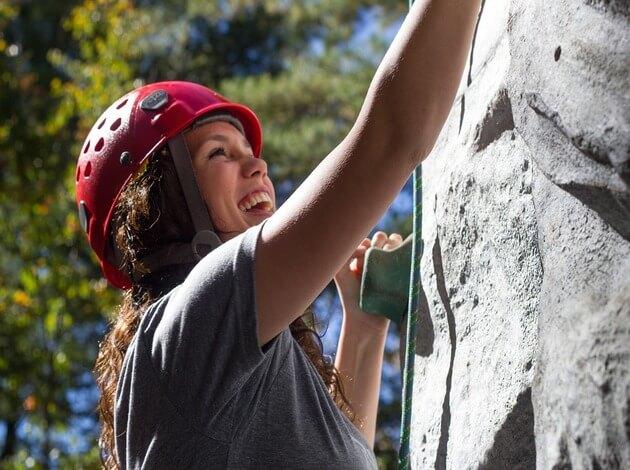 Just because you're a novice doesn't make this an easy wall to climb. It just means it is less impossible than the real rock wall experiences. It's a low angle wall, and you'll be well instructed on equipment, anchoring, signalling, techniques and rappelling before you're allowed to take it on. Perhaps not as thrilling as other adventure activities in Los Angeles on this list, but no pushover either.
2. Zipline through Canopies
Sure, ziplines are par for the course. If you've done them two or three times, you've done them all. And if you really believe that you're a silly-dilly who's going to miss out on one of the best adventures in its category in the country - 55 miles an hour, 300 feet off the ground, close to a historic logging site in the Angeles National Forest. Not so silly now, eh?
3. Indoor Skydiving at iFLY Hollywood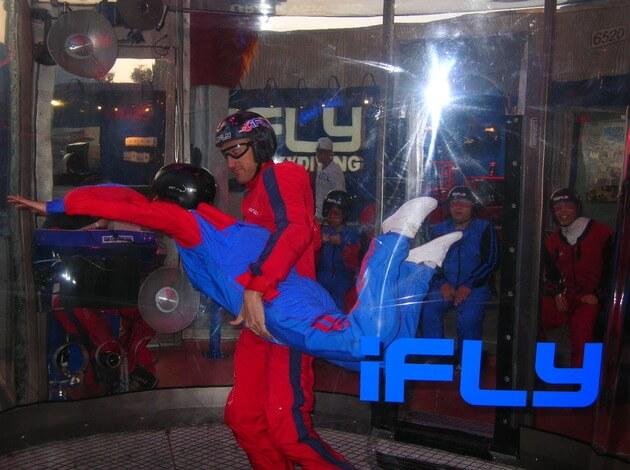 When you're done snarling about how ironic the name of this activity is, just take a moment and reflect on the upside. Being suspended in the air by a vertical wind tunnel means no airplane costs. Risk of death by parachute failure and/or stupidity is vastly reduced. Safe skydiving training for when you might take on the real stuff later. If you're nice to your instructor, they might even help you pick up some free-fall tricks like flips and rolls.
4. Hang Glide with Tandem Hang Gliding
Spend a practice session with a pilot. Learn his rules. And then launch into the sky at 3500 feet for fifteen minutes of soaring through the tranquil and lush landscapes of Connecticut River Valley. Once you've got the hang of staying in the air, the instructor will hand over the control of the flight to you! The best times to fly are in the morning and the evening.
5. Bungee at the Bridge to Nowhere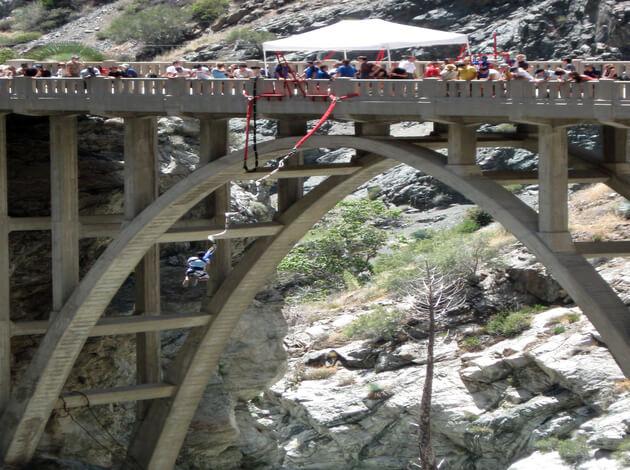 At the end of a hike through Angeles National Forest, in the middle of the Sheep Mountain Wilderness is a mysterious abandoned bridge. No roads lead to it, the result of an abandoned highway project in the 1930s. Below, the powerful San Gabriel River rushes through the canyon. And you'll be leaping off the bridge, free falling for the river for a hundred feet in this beautiful, thrilling adventure. Hook up with a group like the Southern California Bungy Jumping or Bungee America.
6. Race A Sports Car At The Auto Club Speedway
What's your poison? Mustangs or BMWs? Porche, Audi, Nissan? Something Italian maybe - Ferraris and Lamborghinis? Or do you want to ditch all this flashy amateur posturing because nothing could possibly compare to an actual NASCAR experience. Still not hardcore enough for you? Then get your butts into a sleek dragster and shut up! we know what you like.
7. Fly A Jetpack at Newport Beach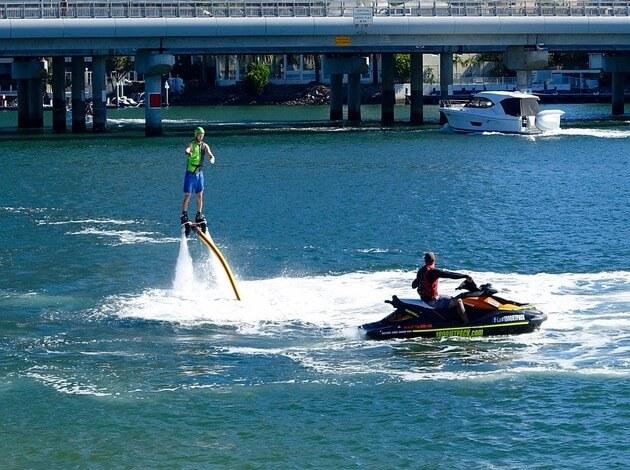 To be fair, this isn't full Iron Man feels. More like a hybrid between Ironman and Aquaman. You'll be taken into the water for anywhere between 20-60 minutes of jet-packing. When the boat starts to move, the awesome-cool booster strapped to your back will blow water downwards, shooting you high into the sky. After you've mastered the basics, the experts may even show you how to pull off a few cool stunts.
8. Meet A Great White Shark at Isla Guadalupe
What the heck? I can't even! I know right? Why would anyone even want to?? To be fair, these dudes get so much flak in pop-fiction, it's easy to forget that when they're swallowing you whole, it's not personal. GWS's aren't serial killers, just serial snackers. You have to go some hundreds of kilometres south into the Pacific Ocean, down into Mexican waters. But it's worth it to drop inside a dive cage and see one of nature's perfect specimens up close.
There ARE other activities. Dirt bike rallies are popular in the city. Los Angeles Balloon Rides are the best case of hot air possible. Soaring academy will send you shooting through the skies in a sleek glider plane.
Seriously, LA, give it a break already.