Oregon Adventure Bucket List : Pick The Best!
* Disclosure: This post may contain affiliate links, which means we may receive a commission if you click a link and book something (there is never any extra cost to you for using these links).
An incredible melange of diverse terrains intertwisted with ecology and natural beauty that take you aback, Oregon, nestled in the dynamic Pacific Northwest has lured every being inclined towards vivid adventures. One of the best outdoor playgrounds you will ever come across elsewhere, Oregon is full of heterogenous activities. While the most popular ones are fishing, hiking, and skiing, you cannot miss how big kite boarding is here, owing to the popularity of Lincoln City Kite Festival.
Whether you have the itch to cliff jump in the deepest of lakes in the United States, hike the Columbia River Gorge National Scenic Area's waterfalls or just sit back and enjoy one of the most scenic drives through contrasting topography, Oregon is an absolute winner when it comes to adventure! Check out these 12 adventures in Oregon you've got to tick off your bucket list now. Bear in mind that some of these may demand a particular skill set or professional guides.
1. Trillium Lake and its feats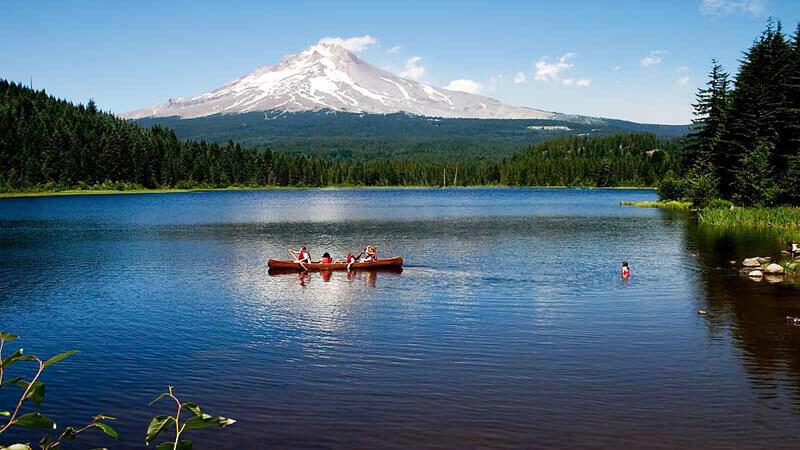 Image Source: Wikimedia Commons
One of the most sought-after things to do in Portland, the Trillium Lake offers copious activities to awaken the adventurer in you. A brilliant place to hang out with your family, friends or partners, this lake is full of scrumptious delights, you could make dinner out of! Indeed, fishing is one of the most undertaken leisure adventure here. Kayaking against the glorious backdrop of Mt Hood during the setting sun, follows. We suggest camping here at night for waking up to the astounding reflections of Mt Hood!
2. Hike up Three Sisters Wilderness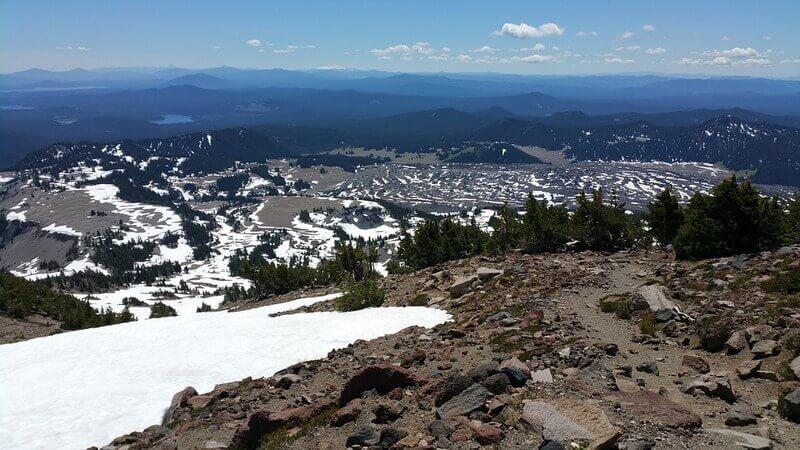 Image Source: Pixabay.com
What is not to love about this part of the fabulous Pacific Crest Trail?! Sprawling across a whopping 240 miles the Three Sisters Wilderness' trails offers you opportunities to camp, fish and hike up its ridges resulted by the region's glacial and volcanic activity. While the trail is accessible all year around, it is in the summers that you get to some gorgeously vibrant flora and fauna. June and July has a lot of mosquitoes, in case you are planning around that time. If you manage to get a permit pass to the Sisters Ranger Stations or McKenzie, you can also get to explore the beautiful Obsidian Area.
3. Sail in a hot air balloon amidst the Willamette Valley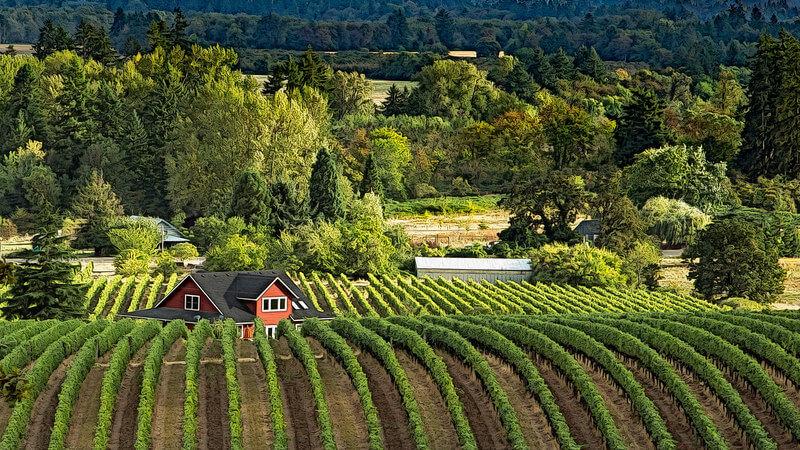 Image Source: Sheila Sund/flickr.com
If sailing at an altitude with views of some splendid vineyards, a magnificently zigzag River Willamette and the Willamette valley under, could possibly be your idea of adventure then this one's got to be on your adventure bucket list in Oregon! With several tour operators making hot air balloon ride a highlight of the adjoining region's tourism, you can look forward to a rather sophisticated experience. You can opt for a private balloon for two or the normal ones that accommodate ten people. The experience commences at the break of dawn when you get to watch everything, right from your balloon being inflated. The tour concludes with a delectable brunch.
4. Plod up the Oneonta Gorge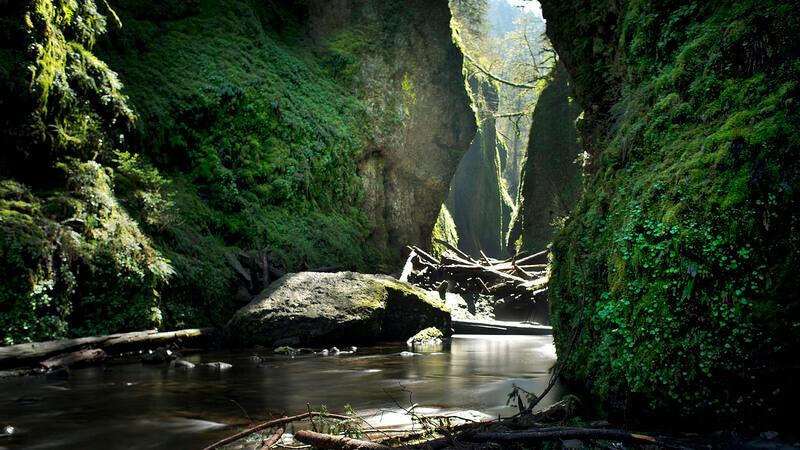 Image Source: Bill Reynolds/flickr.com
Wondering what are some adventure activities to do near Salem? The Oneonta Gorge could easily be your first choice. As if, straight out of the Discovery channel, this gorge features four waterfalls, that you can access through trail that involves a little bit of hiking and a little bit of boating through cold, chilly yet crystal clear waters. Despite being a short hike, this hike is pretty demanding on the endurance front. Complete with treading over log jams and cold water ponds, Oneonta Gorge assures to satiate your thirst for something fresh, crisp and adventurous!
Check out: Waterfall Hikes in USA
5. The Honeycombs desert trail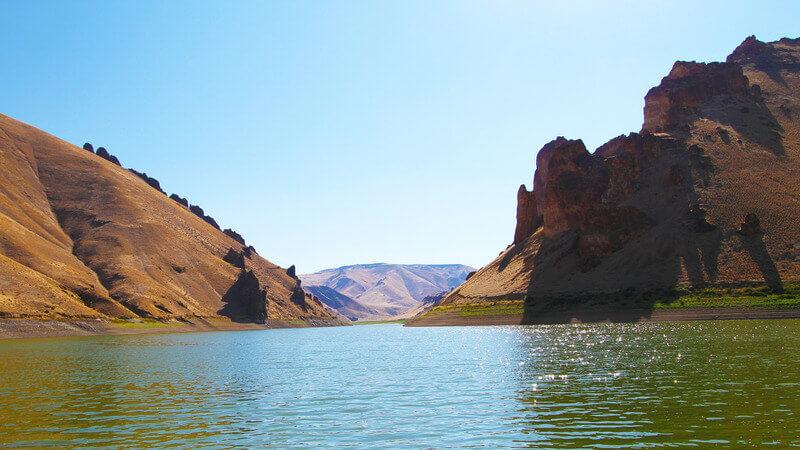 Image Source: Flickr.com
As mentioned earlier, Oregon surprises you with unexpected terrains, every now and then. The Honeycombs canyon nestled by the Owyhee Lake, only amplifies that fact further. If you are someone who can get easily bored by just one kind of summit then this is one trail you must look forward to. A combination of cattle paths, jeep rides and of course lots of climbing, the Honeycombs strive to give you a blended adventure. To reach here, you need to first hike along the Juniper Ridge for some 4-odd miles. Then you reach a 1000-foot descent full of boulder trails and spires, that finally get you to the Honeycombs. There are plenty of bouldering opportunities too here should you be interested.
6. Take a wine bike tour to the Hood River Valley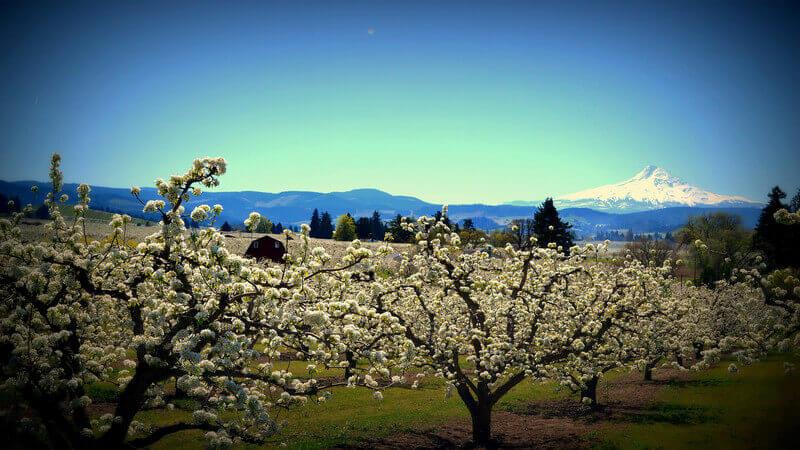 Image Source: Sarah McDevitt/flickr.com
A bike or a fruit loop, a referred to in the hood River valley is one of the most fun ways to explore this Oregon region. There are many tour operators in the region that arrange all-inclusive bike tours ascertaining you get the best of Hood River experience. It is hard to want something more, when you are riding a bike with spectacular views of the twin peaks- Washington's Mt. Adams and Oregon's Mt. Hood and some of the best wines! A result of promoting agri-tourism, this one's indeed a bestseller.
Check out: Tours and Activities in Portland
7. Go whale watching at Cape Lookout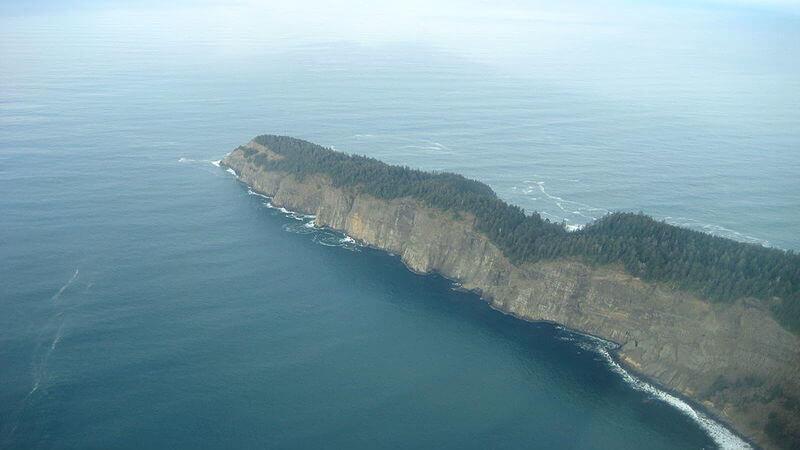 Image Source: Wikimedia Commons
Not sure if what you want more- hiking or whale watching? Head to Cape Lookout to get the best of both worlds. With a trail measuring a fabulous 4.8 miles (round-trip) this place promises a whale watching experience like no other. With zero influences of commercialization, this could perhaps be the most natural and authentic whale watching experience. Migrating grey whales are the most common ones spotted towards the end of the cape. A much rewarding experience, after a weary hike! Not to forget, some mesmeric panoramas of the Tillamook County. One of the best adventure activities in Oregon that can be carried out by anyone.
Discover: Unusual Things to do in Oregon
8. Dig deep under the Oregon's caves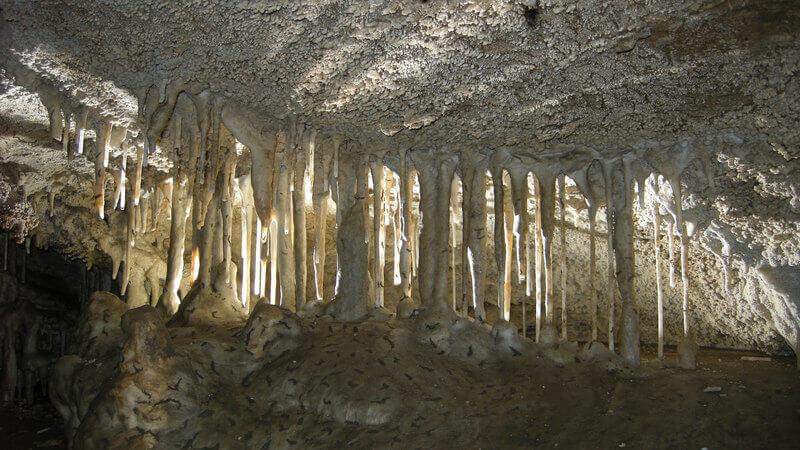 Image Source: Oregon Caves/flickr.com
If you are an archeology fanatic then the fact that there are some 400-odd underground lava tubes under the Oregon caves will make you want to get out and explore now! Recent times have seen a leap of tourism here, but only for the best. With facilities like cafes serving delicious food and luxurious chateau lodging among others, caves and lava tube are indeed getting fancy. One of the best adventures that can be enjoyed by kids as well, the Oregon caves are a superhit with adventure-loving parents. This is one adventure that is an impressive blend of adventure and education with all the guided information on calcite formations and the likes. Read more on the largest caverns in USA.
9. Mountain bike the Mckenzie river trail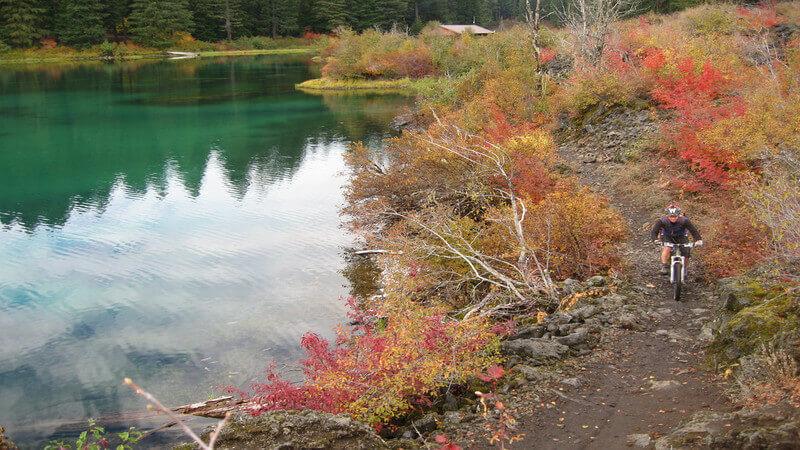 Image Source: Dave H/flickr.com
Many would agree that nothing spells adventure like mountain biking. If you were to ask any local in Oregon their go-to adventure activity, you are most likely to get this point as the answer. This 26-mile national recreation trail is not your average mountain biking trail. A dynamic mélange of sapphire pools, lava fields, cascading waterfalls and old-growth forests, is what the trail puts you through. Not the best idea, if you are not familiar with mountain biking, given the difficult level of this trail.
10. Venture the Cook's Chasm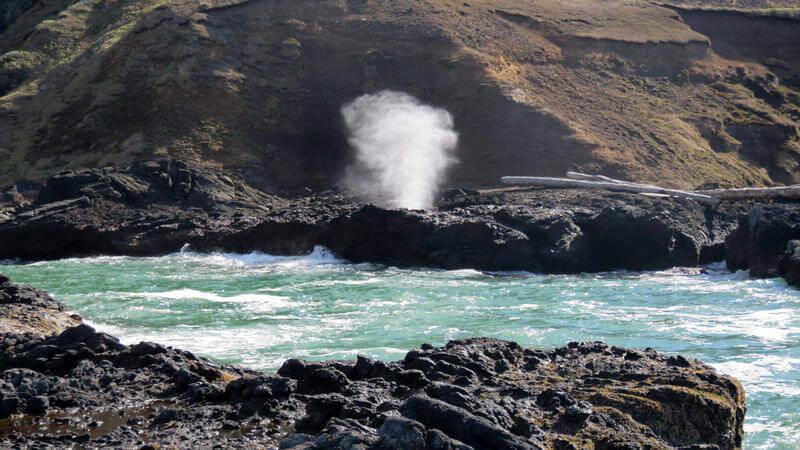 Image Source: Jeff Hollett/flickr.com
When you mention Cook's Chasm, mentioning the Thor's Well and Spouting Horn are a given. Especially something to look forward to by water-lovers, this adventure involves you treading across the coast to experience a one of its kind water spray. With an ability to spurt up more than 40 feet of water into the air, the Thor's well is one natural wonder, too hard to get over! As if the fact that a cave going inwards into the same was not enough, you have a larger-than-life fountain right in your face. The best time to clearly view this nature's wonder is around sunset when the high tide is in full swing. By far the most tried and tested adventure activities in Oregon.
11. Road trip the Oregon ghost towns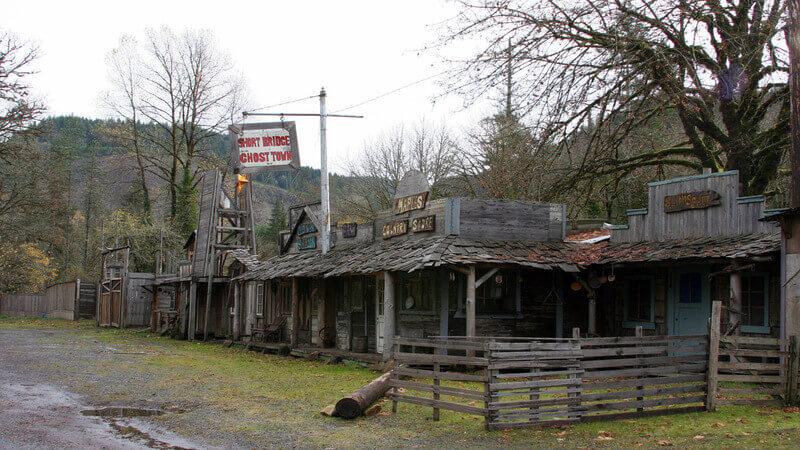 Image Source: Bruce Fingerhood/flickr.com
Before you pass this off as anything eerie, ghost towns in Oregon are simply those abandoned towns that experienced a failure in the economic activities. However, over time, these towns became a favorite spot for road trippers given the dash of adventure they came with. While Oregon leads in the number of ghost towns in the entire nation, it is the eastern region of the state that is especially stunning. Places like Shaniko, Condon, Lonerock, and Hardman can spruce up any adventure of a road trip. While some have glorious pasts of agriculture, others have fascinating tales related to occupations like wool industries, mining and more.
12. Cliff jump in crater Lake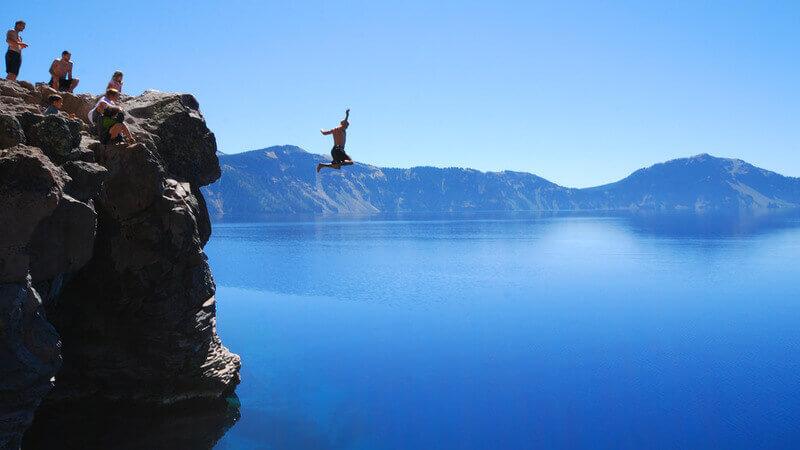 Image Source: Powderruns/flickr.com
And lastly, we have the patent on every Oregon summer bucket list- Crater lake! This is your opportunity to dive into what is the deepest lake in the United States. With a depth of 1,946 feet, the lake with its cobalt waters is too inviting to resist. Nothing too extreme, just right to evoke a sense of adventure in you. Just be ready to brave some surprisingly cold water y'all.
Have you done any of the above? Which one's next on your list? Did we miss something incredibly adventurous? Let us know in the comments sections below!