Foods of Agra - What To Eat & Where To Eat
* Disclosure: This post may contain affiliate links, which means we may receive a commission if you click a link and book something (there is never any extra cost to you for using these links).
Home to the iconic monument of Taj Mahal that symbolizes eternal love, the magically alluring city of Agra is one of the most frequented tourist destinations in India. Visited in equal numbers by Indian and International travelers for its varied array of historical attractions, Agra inspires you with its rich Mughal legacy.

So you are one of the many travelers who is here for your vacation and have explored almost all of the famous places to visit in Agra and are wondering 'What to eat & where to eat in Agra?' With the internet loaded with plenty of contradicting articles on the food culture in Agra, it can be really confusing to arrive at a choice. To relieve you of all the stress and help you in making your vacation in Agra a successful one,continue reading this article.
1. Dal Moth

Image Source: indiamart.com
Heading the list of must-try foods in Agra is Dal Moth - the traditional namkeen of Agra. Made out of fried lentils, nuts, spices, and sev, the dry snack is crispy, spicy, and on the healthier side. Take note, fitness freaks. Gorge on Dal Moth during the time of Winter to keep yourselves warm and top it off with booze! Recipe for Dal Motha is easily available online, so prepare it at home or head out to any one of the Panchhi Petha stores.
Where: New Panchhi Petha Store, 49, Taj Rd, Sadar Bazar, Agra Cantt, Idgah Colony, Agra
2. Petha

Image Source: Wikimedia Commons
Originating from the kitchens of the Mughal emperor Shah Jahan, Petha is a renowned delicacy in Agra that never goes of age. Prepared from Ash Gourd (Winter Melon), the soft, transparent candy of Petha comes in rectangular and cylindrical shapes of different flavor and colors. You can find Petha everywhere (notable stores: Panchi's, Bhimsain BaidyaNath, Pracheen Petha) and can easily survive in Agra just by eating Petha all day long!
Where: New Panchhi Petha Store, 49, Taj Rd, Sadar Bazar, Agra Cantt, Idgah Colony, Agra
3. Bedai and Jalebi

Image Source: Wikimedia Commons
Start your day 'sweet and spicy' in Agra with the most popular breakfast combo of Bedai and Jalebi. Resembling a kachori, the Agra Bedai is round, fluffy, and deep-fried before it is filled with masala. Served with a spicy potato curry, a dollop of curd, and green chilly, Bedai is hot thereby giving that fiery start to your day. Too much to handle? Sweeten your senses with crispy pieces of Jalebi dancing in a sugary syrup. Ah, a wholesome breakfast.
Where: Deviram Sweets, Pratappura Crossing, Rakabganj, Agra
Check out this Agra itinerary 3 days to explore the food scene!!
4. Chaats

Image Source: Pixabay.com
When you are talking about Agra, it is hard to keep the chaats away. While Agra is famous for its sweet - Petha, the chaats in Agra offer a whole different story. They are all spicy. Yes, Agra is not just for the sweet tooths. Make a quick stop in the stalls at Double Phatak, Sadar, and Belangunj, to get your hands at the famous chaats of Bhalla, panipuri, kachori, samosas, aloo tikka, and paneer tikka. They are totally yummy.
Where: Agra Chat House, Sadar Bazar, Agra Cantt, Idgah Colony, Agra
5. Paratha

Image Source: rambabuparatha.com
Occupying a significant place in the Mughlai cuisine is the trademark staple food of Paratha. Made with wheat flour, Parathas are a form of chapati that are stuffed with grated cauliflowers, potatoes, and carrots depending on the type of Paratha. Generally accompanied by mixed vegetables, aloo sabzi, and yogurt, Parathas are totally filling and are served as a thali. Stop by Rambabu Paratha Bhandar for the best parathas in Agra.
Where: Ram Babu Paratha Bhandar, 6/127, Belanganj, Civil Lines, Agra
While you are on food hunt don't miss out on the best souvenirs from India.
6. Modern Indian Cuisine at Pinch of Spice

Image Source: Facebook.com
Combining the traditional Indian cuisine with the European dishes is the innovative and the renowned restaurant brand, Pinch of Spice. Set right opposite the ITC Mughal Hotel, the three-floored family restaurant of Pinch of Spice offers international dishes at a fair price. Murg Boti Masala and the Paneer lababdar is a must eat at the restaurant. Head early to Pinch of Spice to find a spot inside and well, for parking too.
Where: 1076/2, Fatehabad Road, Tajganj, Agra
Price for two: ₹1,300 (approximately)
7. Unique Experience at Sheroes Hangout

Image Source: Facebook.com
As the title says it, if you are interested in a totally unique dining experience in Agra then Sheroes Hangout is the ideal place to drop by. Run by a group of Acid attack victims, you can feel the immense passion for the food right from the way, the food is served. Step in with your friends, grab a book from the shelf, order quick bites from the menu, and interact with the lovely people at Sheroes Hangout. A life changing experience.
Where: Fatehabad Road, Opposite The Gateway Hotel, Taj View Chowraha, Tajganj, Agra
Price for two: ₹400 (approximately)
8. Vegetarian Food at Shankara Vegis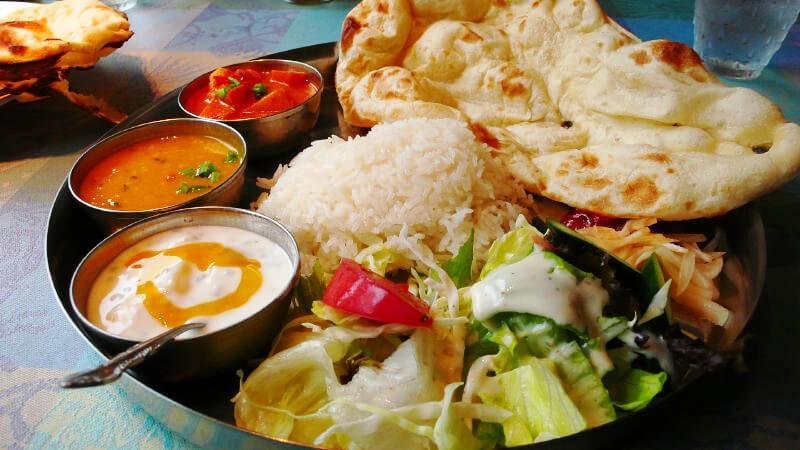 Image Source: Wikimedia Commons
So you are a vegetarian in Agra, worried if you'll get good vegetarian food? Shankara Vegis to the rescue. Situated in close proximity to the Taj Mahal, Shankara Vegis is a roof-top restaurant with beautiful views. The atmosphere inside the restaurant is informal and the ever-friendly host makes it really special. Delicious with a home-made flavor, the Thalis in Shankara Vegis are a must try. And on top of that, it is highly affordable.
Where: #3/100, Chowk Kaghzi, Near Taj Mahal South Gate, Kinari Bazar, Kaserat Bazar, Tajganj, Agra
Price for two: ₹450 (approximately)
9. Breakfast at Joney's Place

Image Source: VegaTeam/flickr.com
To go on a full exploration of all the famous tourist attractions in Agra, you need a proper breakfast that will keep you going. This is exactly where Joney's Place comes in. Compact but cozy in nature, the breakfast selection in Joney's Place will make you drool. While you are there do not miss out on Banana Lassi, Cheese and Tomato Jayfellas, and Malai Kofta. The tiny restaurant definitely packs a punch.
Where: Near South Gate, Miyan Nazir Rd, Kutta Park, Tajganj, Agra
Price for two: ₹450 (approximately)
10. Mughlai Cuisine at Jahanpanah

Image Source: Pixabay.com
A trip to Agra is incomplete without tasting the authentic Mughalai flavor. Taking about Mughalai flavor, the casual dining restaurant of Jahanpanah is one of the best places to stop by for a fulfilling lunch experience. While the restaurant sports a subtle decor, the authentic Mughlai cooked in the clay pots elevates the experience. Galawat Kebabs and Mutton Barrah are something to die for in this restaurant.
Where: E 23, Shopping Arcade, Sadar Bazaar, Agra Cantt, Agra
Price for two: ₹850 (approximately)
Already drooling but not in Agra yet? Plan a trip now and the treat your taste buds to the finest.