Air Travel Vs Train Travel Across Europe
* Disclosure: This post may contain affiliate links, which means we may receive a commission if you click a link and book something (there is never any extra cost to you for using these links).
So you are stuck while planning the itinerary for traveling within Europe and you are still weighing your options on the mode of transport that you are going to opt for traveling inside the continent on your long awaited journey. Given the close competition between the air and the rail transport within Europe over the years, arriving at a decision can really be a painful task. To give you a clear idea of both the options, we have taken some important parameters and analyzed how they change with respect to both of the transportation modes.
So here are some points that will solve your dilemma - Plane or Train to travel across Europe
Cost & Time
There is a general belief amongst people that traveling through train is always cheaper when compared to flying. But thanks to the budget air travel companies like EasyJet, Transavia, Vueling, and Ryanair, traveling through the plane is not as extravagant as you all think it is and to be honest they cost similar to what Eurostar costs and in some cases even cheaper! But remember the initial cost that you will be seeing while starting to book, changes as you proceed further through the portal.
Coming to the time taken, if you are traveling to cities that are closer to each other, traveling through train is always a better option but for cities that are separated long enough, flights come in handy. While the air time in the flights are very less compared to the trains you should also consider the time taken for checking in at the airport and all the other procedures that happen before boarding a flight.
Here is a scenario for you to see.
Paris - Amsterdam
Through Train: 3 hours 20 minutes. Cost: 108 Euros*.
Through Flight: 1 hour 30 minutes (nonstop). Cost: 31 Euros*.
Brussels - Amsterdam
Through Train: 2 hours. Cost: 53 Euros*.
Through Flight: 40 minutes (nonstop). Cost: 144 Euros*.
*All the costs mentioned above are subject to change.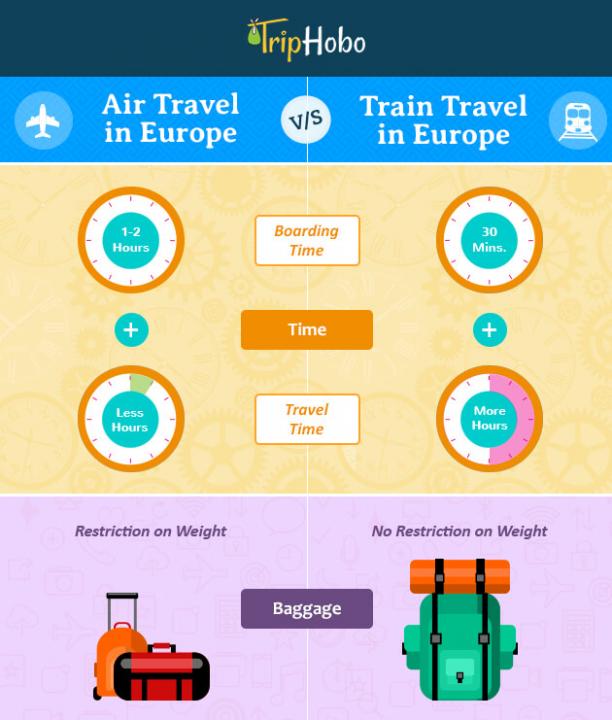 Boarding Experience
After the Brussels airport bombings in the March of 2016, security at almost all the airports in the world, especially in Europe has been tightened. With increased security, the time that takes in the airport is actually longer than usual. You have to check in at the airport at least 1-2 hours before your departure, undergo various security checkings that may include removing your shoes and placing your electronic gadgets in separate trays and endure a physical examination which for the most of the time can be a little embarrassing. But having said that more security actually means more safety, which is good.
The boarding experience in trains come with comparatively lesser hassles and fewer security checkings. You will only be asked to pass through a metal detector and your baggage will be screened using x-ray. And if you're traveling through a Standard class or a Standard premier class ticket on the train, you can check in 30 minutes prior and additionally if you have a Business premier ticket you just have to check in 10 mins before the actual boarding. So absolutely no waiting there!
For the baggage, each flight has its own restrictions and if you're traveling through a budget airline please go through the baggage info mentioned in the official website of the airline. Budget airlines usually have lesser options compared to the other airlines. Trains don't actually have any weight restrictions as such but if you are traveling through Eurostar you can carry a maximum of 2 pieces of luggage (not more than 85cms in dimension) and 1 hand luggage is allowed. Although, there are no weight restrictions, please keep in mind that you will have to carry the bags yourself.
Experience while Traveling
The main thing that most of us are concerned with while traveling is the sole experience that we get. So how does the experience vary while flying and taking a train? Only when you are traveling on a Business class or a First class ticket will you get a spacious seat with extra legroom in flights. Do not expect extra space in an economy seat, you don't have any. And as the budget airlines get filled faster, most of the time you'll be traveling fully packed. So no empty seats too!
Trains come with spacious seats and extra legroom all the time and the seats are also fully reclinable. This may be because of the fact trains are generally designed for long journeys while planes are perfected for short overhauls. And the passengers in the planes are encouraged to stay remained in their seats while in the air except while using the loo, whereas in the train you can walk around, stretch a little, and visit the observatory decks. Plus there is a restriction for using your electronic gadgets while flying which I think works best, giving you the time to be in the present.
For Food, you might actually strike a good deal while booking a flight online and end up having a free meal along with your ticket. But that is not the case in most of the flights. On general, flights have limited food options which are also on the pricey side. In the train, you have plenty of choices for food, including a buffet that comes along with the ticket and you also have bar buffet for snacks.
When it comes to offering views, both the transports fight it off neck-in-neck. From an airplane you get to see an aerial view of the entire place, a view that you have never seen before. And in the train, you can wake up to a gorgeous sunrise along the countryside and gaze at it through the window. Not to forget the fact that CO2 (Carbon dioxide) emissions are comparatively lower.
Other Factors to Consider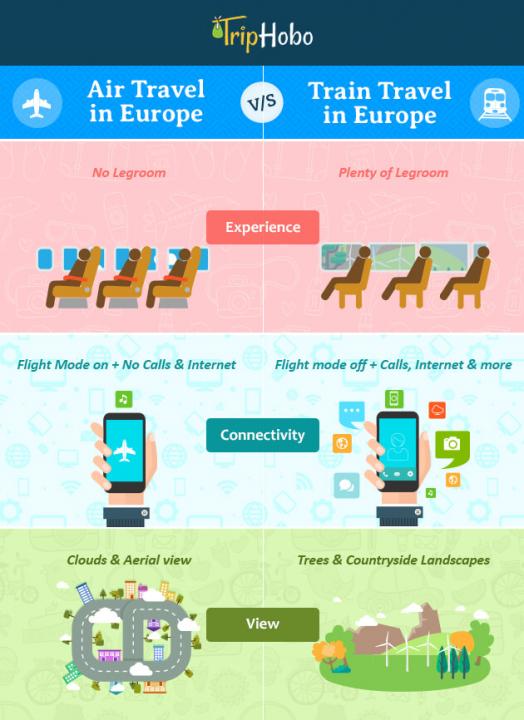 Apart from these important parameters, there are also plenty of other factors that come into play. For example, the distance and the time that is taken to reach an airport or a railway station. While most of the airports are located in the suburbs of the city, railway stations are located in the city centers and connect to the same. Plus flights follow a tight schedule, meaning - a delay in one of your flights will actually affect you boarding the linking flight, which in turn will spoil your whole plan. The same goes for the train, if you have to get down at a particular station and travel to another station to catch the other train, you will be in big stress.
As most of the budget airlines don't come with a travel agent, you are in a situation to book the tickets on your own and that too only through online. The problem in this is if anything goes wrong, it is very hard to contact the concerned person to resolve the issue.
And if you are interested in exploring plenty of cities within Europe, you could also get a Eurorail pass which again will reduce the amount you spend on travel and help you explore more for less.
Conclusion
If you are in a rush and running out of cash, traveling through plane might me the best option for you. On the flip side, if you have time and could afford a little extra, then train might be ideal for you. At the end of the day, based on the itinerary and your interest, you can choose either of the two options or you could also combine both of them to fit in your plan.
Whatever you do, just enjoy and make sure you pass on the interesting story.