15 All Inclusive Family Resorts In Caribbean Islands
* Disclosure: This post may contain affiliate links, which means we may receive a commission if you click a link and book something (there is never any extra cost to you for using these links).
While contemplating a holiday with the brood, you might not want to do anything but just be and let the feeling of oneness sink in. After all, life is good to wake up with your little one pounding at your back, getting on an adventure in the forests, or simply calling it a day playing some pool games! And what better place than the tropical heaven of Caribbean to indulge in a plethora of activities and experiences as a family. After a compilation of budgets, best amenities, facilities and irresistible deals we bring to you this list of all inclusive family resorts in Caribbean, that you've got to consider for your next family escapade.
1. Franklyn D Resort & Spa All Inclusive

PC: Booking.com
Of what looks like a colorful waterpark from an aerial view, the Franklyn D Resort & Spa All Inclusive is one of the best all inclusive family resorts in Caribbean for more reasons than one. Firstly, the fabulous water slides and play area will delight the kids, having them look forward to the days to come. The resort features beach front suites that come with a kitchen and a living room. Among all the all-inclusive constituents at this resort, the Vacation Nanny confers the mommies with a much-needed sigh of relief! In the meanwhile, a spa session at their Sea Grape Spa would be a great idea.
Get year around hotel deal with TripHobo Hotels. Book Now, Pay Later!
2. Windjammer Landing Villa Beach Resort

PC: Booking.com
When it comes to an engaging family reunion destination or resort, you can never go wrong with the Windjammer Landing Villa Beach Resort in Saint Lucia. The resort offers 175 accommodations adjoining the beach and hill. Inspired by the aesthetics of a Mediterranean village this resort boasts of six pools, five restaurants, four bars, and more. Signing up for their premium All-Inclusive Experience lets you in on facilities including unlimited food and beverages, a host of water activities including both motorized and non-motorized, along with wellness program you can enroll for. The ultimate place to relax and enjoy as you unwind!
Get year around hotel deal with TripHobo Hotels. Book Now, Pay Later!
3. Jewel Runaway Bay Beach & Golf Resort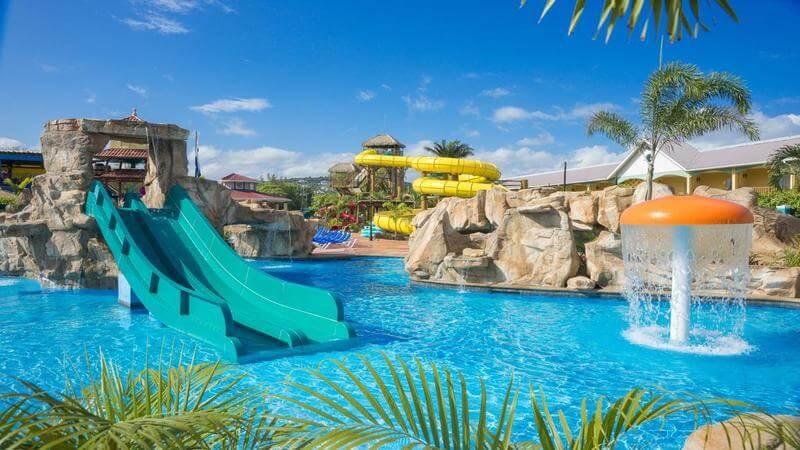 PC: Booking.com
Jamaica happens to be a go to choice for many considering a Caribbean all inclusive vacation. With so many resorts catering to various requirements, this country is effortlessly alluring. A tropical playground as it calls itself, the Jewel Runaway Bay Beach & Golf Resort is blanketed with a thick layer of vegetation yet with ample sea views from your suite. With a tag line of "everything is included", the resort also has some too-good-to-be-true deals all year around. Some of the main all-inclusive highlights of this resort include food & drinks, waterpark, entertainment, kids club and a lot more. Check out all the things to do in Jamaica this summer!
4. Royal Decameron Club Caribbean Resort



A beautiful landscape of huts and luscious environ of tropical trees and azure waters, the Royal Decameron Club Caribbean Resort is rightly considered to be one of the best all inclusive family resorts in Caribbean. An incredibly scenic drive from the Montego Bay International Airport brings you to this resort. What awaits you is a plethora of all-inclusive goodness including a great blend of indoor and outdoor activities along with food and drinks. Lots of watersports, albeit nonmotorized like kayaking, snorkeling, and windsurfing are covered in the deal. Mini diving course in the pool is another unmissable highlight of their all-inclusive program. Nightly entertainment, Ping pong, Kids activities through their kid's club are on the cards too.
5. Hard Rock Hotel & Casino Punta Cana All Inclusive

PC: Booking.com
One can never have enough family vacations, if it's an awe-inspiring place like the Punta Cana. Promising an exhilarating stay with endless entertainment and a ravishing nightlife, it is the grounds of Hard Rock Hotel & Casino Punta Cana All Inclusive that feature the biggest and best casino in the Caribbean. During the day, what's not to love of a property featuring 13 pools presenting water slides and swim-up bars, a golf course designed by ace golfer Jack Nicklaus, 9 restaurants befitting every taste, some terrific spa treatments among all goodness you could imagine!
Get year around hotel deal with TripHobo Hotels. Book Now, Pay Later!
6. Bavaro Princess All Suites Resort, Spa & Casino

PC: Booking.com
A stay in an all inclusive resort at Punta Cana's Bavaro beach is no less than an urging daydream. The Bavaro Princess All Suites Resort, Spa & Casino is here to fulfill that but with a lot more than you would expect. A 5-star property this, along with some very indulging amenities and facilities of opulence, you also get to experience the natural goodness of the sea, powdery-soft beach, and a clear blue sky! The resort possesses two pools for adults and one for kids, 9 restaurants, 11 bars, and a plethora of entertainment. You can choose from a wide range of sports like tennis, gymming among other beach and watersports, too.
7. Catalonia Punta Cana

PC: Booking.com
No words can do justice to the pristine surroundings of the Catalonia Punta Cunta. But it sure can be accoladed in words for all the facilities and amenities of its all-inclusive programs. To begin with, you are welcomed with a delicious local welcome drink, in the very chic interiors of this resort. All meals at the buffet restaurants, unlimited drinks and fresh juices at the beach bar as well as all restaurants and the disco, water activities like aqua aerobics and water volleyball, ground sports, non-motorized water sports, 1 hour Golf introduction class, one scuba diving lesson at the pool, Latin dance classes and lots more are what you can look forward to on your all-inclusive stay here.
8. Paradisus Punta Cana Resort

The main draw for the Paradisus Punta Cana Resort is its being as the "only hotel in the Caribbean with 400,000 meters of ecological gardens". Further it is the wide array of kids' activities included in the all-inclusive theme of this resort that make this one of the best Caribbean resorts for kids. Entertainment does not cease, what with a wide array of musicals, parties, workshops, live music; the list goes on! And then you even get treated as a royal with a personal butler for every guest. Indulge further by signing up for a treatment at the brilliant YHI Spa & Wellness that offers blissful therapies from all across the world. Golf-lovers can rejoice with the facility of unlimited golf and access!
9. Ocean Blue & Sand Beach Resort

With a cute layout of ice-cream colored accommodation structures, the Ocean Blue & Sand Beach Resort is an instant heartthrob. The resort's all-inclusive tariff gives you access to their Diving Center Dive It as well as the incredible Despacio Spa Centre. Given its location adjoining the paradisiacal beach you can explore the waters by undertaking various water sports. Even in the interiors, the azure theme of the natural surrounding continues with the blue and white walls and upholstery. The restaurant serves lip-smacking gourmet food from around the globe. Further, there are programs and clubs for every age group, from toddlers to teens and even adults, which feature games and other interactive activities.
Get year around hotel deal with TripHobo Hotels. Book Now, Pay Later!
10. Majestic Mirage Punta Cana

PC: Booking.com
Opened very recently in December 2016, the Majestic Mirage Punta Cana, All Suites is more of an intimate affair than its sister property of Majestic Elegance. There are lesser rooms, but don't doubt this one for being loaded with amenities and facilities. It's elegance and sophistication is most prominent in its being as an all-suite resort; each suite sprawling over a thousand square feet. Every suite comes with a jacuzzi! All-inclusive goodness constitutes of a free mini bar featuring beer, sodas, snacks and the likes, day /night entertainment theater shows, non-motorized water sports and lots of sports.
11. Grenadian by Rex Resorts

PC: Booking.com
Resembling a summer house the Grenadian by Rex Resorts is a great choice for all beach bums. A location amidst two white-sandy beaches only elevates the appeal of this Palladian-style edifice. The all-inclusive facilities have ample opportunities for all family member to indulge in some Caribbean goodness. Rexplorers is one such program that admits children aged 4-14 years old for fun activities. Additionally, there are babysitting facilities too, albeit surcharges may apply. Suites can accommodate a family of two adults and two children. Bask in the glorious outdoors by play as port or two of tennis or thrilling watersports.
12. Verandah Resort and Spa

PC: Booking.com
At the Verandah Resort and Spa look forward to some fabulous activities, delicious food and entertainment that will keep you wanting for more! The mélange of the goodness of this resort and the island of Antigua is a remarkable one that bequeaths you with a surfeit of things to do and see. A good balance of adventure and leisure, let you set the pace of your much-awaited Caribbean vacay. Its world-class amenities include a free-form pool, that also happens to be the largest on the island. What's more? There are three restaurants at the property and a spa that promises a trip to heaven!
13. Pineapple Beach Club

Cheap summer vacations are a thing of the past, with people ready to squander like never before, trends like all-inclusive resorts is indeed catching up. And why not, the convenience is certainly liberating for that extra amount you pay. While there is no dearth of all-inclusive resorts across the Caribbean archipelago, the Pineapple Beach Club at Antigua & Barbuda needs a special mention owing to its super laidback vibe. This all-inclusive resort is the go-to choice if you are looking for an authentic Caribbean experience given accommodations in the form of true-blue Caribbean-style houses. Look forward to an array of complimentary non-motorized watersports.
14. Nonsuch Bay Resort

PC: Booking.com
Utmost privacy and untouched nature is what you can vouch for at the Nonsuch Bay Resort. For families, the resort is luxurious 2-3 bedroom suites. The private beach offer activities like kayaking, snorkeling, Hobie Cat sailing and kitesurfing. If you are up for some adventure, hop on a boat and jet set to one of the five beaches owned by the resort on this island. These lie at about five-minute boat rides each. You can stroll these beaches, or simply make the most of the bars here and enjoying being a lazy beach bum. If you are a family of watersport lovers, this is the place to be!
15. Wyndham Reef Resort, Grand Cayman

PC: Booking.com
World-class snorkeling and diving along with studios and villas that come with majestic views of the ocean, are enough reasons t feature this all-inclusive gem on this list. Once you pick Wyndham Reef Resort, you can just leave your wallet behind and bask on a carefree sojourn. Tailor-made tours that bequeath you with one-on-one experiences with local culture and adventures like the Stingray City, Atlantis Submarine, Dolphin Discovery and Cayman Island helicopter rides should be a priority. The studios are tropically themed, adding to the surrealness of this amazing place. And the best part- authentic, local, organic cuisine that you can absolutely give into without any guilt!
With this list, you are certainly spoilt for choice. Go ahead, choose your pick and let us know how much you loves the Caribbean's, in our comments section below!
Check Out:
All inclusive Honeymoon resorts
Incredible Islands to Raise a Family