10 Best All Inclusive Resorts In Thailand
* Disclosure: This post may contain affiliate links, which means we may receive a commission if you click a link and book something (there is never any extra cost to you for using these links).
Given all the shopping and the attractions to catch a sight of, a vacation in Thailand can really be hectic and exhaustive. So to recover from all the fatigue and to be energized, it is essential that you stay in one of the wonderful looking resorts overlooking the tropical beaches. Incredibly warm with their service and showcasing an absolutely appetizing menu, your vacation in Thailand couldn't get any better.
To get the best out of your stay, it is ideal that you book in an all inclusive resort that will make your stay much more relaxing and easy going. Read on to get an idea of best all inclusive resorts in Thailand.
1. The Village Coconut Island Resort, Phuket

PC
Right from the name, everything in the resort of The Village Coconut Island is intriguing. Styled in a laid-back sense, the resort of Village Coconut Island greets you with the beauty of its lush green tropical gardens and not to forget its absolutely courteous staff. Located right off the east coast of the
Phuket
island, The Village Coconut Island is peaceful, unspoiled and one of the best retreats in Thailand you could ask for.
Dine and drink at the wonderful restaurants of The Tamarind and The Deli and refrain yourselves from paying, it's an all inclusive! From Spa to plenty of beach activities, The Village Coconut Island is ideal for a family vacation. Keep your kids engaged with the water slides and just relax in the serenity of nature.
Highlights: Outdoor Jacuzzi suites, Swimming pool, Spa, Water sports.
Check out the top tours and activities in Phuket
Save 5%
2. Le Meridien, Phuket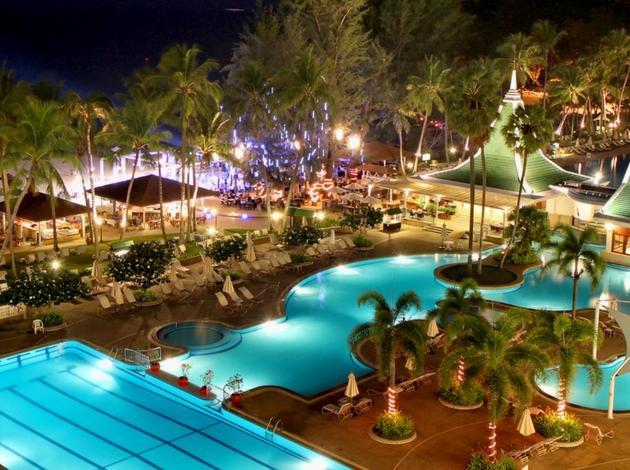 PC
Whether you're looking for a resort to stay during your business visit or with your family or to just unwind, Le Meridien in Phuket will suit your requirement perfectly. Set amidst a 40-acre foliage, Le Meridien has 6 meeting rooms, two huge-sized swimming pools, and 10 world-class restaurants that will titillate your taste buds and prove to be an excellent gastronomic journey. And the best thing about the variety is that you can dine the way you want. You have Pakarang, for music lovers that showcases live music shows in the evening. Beach BBQ, for those who love to have seafood barbecued straight out of the waters. Romantic Sunset Dinner along the shore, for well the 'Romantics' and plenty of other options.
When you are full from the food expedition, just stretch your legs and relax along the shores of the private beach. Le Meridien, Phuket also has a plenty of water sports activities and recreational options to keep your family occupied. Not to mention the spacious rooms and lavish amenities, will give you the luxury that you've been craving.
Highlights: Conference Centers, Beach Wedding option, Pool, Mini Golf, Kids Center, Spa, Restaurants & Bar.
Check Availability in this Resort
3. JW Marriott Phuket Resort & Spa

PC
Every best resort list is incomplete without the world famous, JW Marriott resort and JW Marriott Phuket Resort & Spa is no different. Set within the unparalleled natural splendor of Phuket, Marriott resort is comfortable and spacious with each rooms having a separate balcony of its own. And for the food, you will be literally spoilt for choice with 11 restaurants to choose from, with each offering a distinctive menu different from the other. Don't worry about over-eating, you have a gym to compensate for that.
Gorgeously designed decors, with an enthralling view of the Andaman sea, highlighted by an exceptional customer service, your stay at Thailand could not be any more special than this.
Highlights: Restaurants & Bar, Cooking class, Fitness center, Meeting hall, Spa, Pool.
Check Availability in this Resort
4. Katathani Phuket Beach Resort

PC
From shopping centers to cultural activities to in-house clinic to kid's club to beauty salon to fire shows to fitness center to recreational activities, Katathani Phuket Beach resort is a separate world in itself! Less than an hours drive from the Phuket International Airport, Katathani Phuket Beach resort faces the sparkling blue sea of Kata and is camouflaged by greenery. This award winning Phuket resort has six swimming pools, six restaurants, and a delightful spa, making it one of the best all inclusive resorts in Thailand, ideal for relaxing and recovering.
Styled in a contemporary Thai way, blending the sensuality of silk, sandstone, and teakwood, the accommodations in the resort are stunning and goes well with the incredible beach setting. Sit back, taste the delicacies, and enjoy your vacation in the tropical dream resort of Katathani Phuket Beach.
Highlights: Chang Noi Kid's club, Swimming pools, Shopping centers, Thai Cooking class, Indoor & Watersports.
5. Khao Lak Merlin Resort

PC
Set in the lush greens of a 16-acre tropical garden, Khao Lak Merlin resort is a colorful blend of blue on one side and green on the other side. Just a 3-minute walk from the white sand beach along the Andaman sea, Khao Lak Merlin resort has 236 rooms that are tucked away in the greenery of a forest landscape. Inspired by the Thai culture, the rooms are designed with handcrafted teak and wood that look luxurious and offer utmost privacy.
Have a bite of the seafood at the Veranda Restaurant overlooking the Andaman sea, indulge in the Asian and International cuisine at the Tropical Garden buffet restaurant and grill, and pamper yourself in the lovely Merlin spa. If you are on a honeymoon, don't think twice Khao Lak Merlin resort is the best resort to stay in.
Highlights: Children's playground, Swimming pools, Salon & Spa, Grand Ballroom, Recreation center.
6. Soneva Kiri Resort, Koh Kood Island

PC
If there is one resort that I highly recommend, it would be Soneva Kiri without a doubt. Located on the characteristic Koh Kood island famous for its untamed jungles and pristine beaches, Soneva Kiri is a back-to-nature resort that is cut-off from the external commotions of the modern world to the extent that it doesn't allow you to be bombarded with the daily news. Imagine how peaceful that would be! An ultimate barefoot luxury experience that can only be matched with its unparalleled service which starts right when you are picked up by the resort's 8-seater private plane from Bangkok.
Sing along the sweet melody of the chirping birds as you dine from up above the hanging treepods, soak yourself in the outstanding infinity pool by the villas and don't forget to watch a favorite movie of yours on the floating screen of Cinema Paradiso under the stars.
Highlights: Cinema Paradiso, Treepods, Observatory, Chocolate room and Ice cream parlor, Infinity pool, Spa.
7. Club Med, Phuket

PC
Discover the beautiful resort of Club Med along the coast of Kata, amidst the green fields and frangipani trees. Completely Asian, Club Med in Phuket is packed with fun and adventure activities for kids and family making it one of the best places to spend your vacation along with your family.
Get pampered in the serene spa of Club Med tucked away in a quiet place, fly on a trapeze, master the art of shooting arrows with precision, unleash the beast in you by taking up Thai-Boxing class, post a challenge to the head Chef by showcasing your culinary skills, awe at the acrobatic stunts performed at the nightly circus show, and catch the beautiful sunsets along the beach.
Highlights: Flying Trapeze, Golf, Scuba diving, Spa, Kid's club, Boxing and cooking class.
8. Anantara Golden Triangle Elephant Camp & Resort

Perched on a ridge in the traditional Mahout village overlooking the hills of Myanmar, Laos, and Thailand, Anantara Golden Triangle Elephant Camp & Resort is a gateway to the breathtaking nature. Get comfortable in the exquisitely designed rooms of the resort and enjoy the surpassing view of the vistas and when the early morning mists clears out you can easily spot the elephants playing along with the birds.
Popularly recognized for its on-site elephant camp, Anantara Golden Triangle Elephant camp & resort offers a unique opportunity to embrace the elephants and tame them, if you can! Visit the famed elephant camp, go elephant trekking across the natures best and proclaim your love for the majestic beasts. Anantara Golden Triangle Elephant Camp & Resort definitely offers a unique and an unforgettable experience.
Highlights: Elephant camp, Spa, Elephant yoga, Cooking class, Swimming pool.
Check Availability in This resort Now
9. Centara Grand Beach Resort, Phuket

PC
Set on the sands of the Karon beach in Phuket, Centara Grand Beach resort is styled in a classic Sino-Portuguese architecture. Backed by a green hill and a tranquil beachfront, Centara Grand Beach resort is ideally located (not too far from the town of Patong and not close either) and is one of the finest locations to go to for a romantic getaway or for a family vacation.
Enjoy the panoramic view of the Andaman sea from the tastefully furnished spacious balconies, dive in the incredibly clean pool, indulge in water sports activities like kayaking, windsurfing, and snorkeling. Dine in the resort special 'The Cove' restaurant, while keeping your family and kids busy with a pampering spa session and delightful water park.
Highlights: Ballroom, Waterpark, Spa, Swimming pool, Fitness center, Restaurant & Bar.
Check if Rooms are available for Me
10. Phulay Bay, A Ritz-Carlton Reserve

PC
As soon as you step on the luxury resort of Phulay Bay, a Ritz-Carlton reserve, you get teleported to a whole different world, a place that glows with silky white sands and the scenery of the glistening blue waters. Charmingly beautiful with its vivid landscapes and magical setting, Phulay Bay resort is designed with a blend of traditional and contemporary feel making it the best of both the worlds.
From Luxurious rooms that offer magnificent views to wonderful restaurants providing an exceptional culinary feast to plenty of resort activities to take part in, Phulay Bay resort keeps you entertained. With a distinctive touch, complemented by an excellent hospitality your stay at Phulay Bay will be nothing short of the best resort experience of your lifetime.
Highlights: Spa, Ritz Kids club, Water activities, Meeting hall, Wedding option.
10 best all inclusive resorts in thailand
I am looking for all inclusive resorts in Phuket, all alcoholic drinks and meals included in price

Answer

Reported