13 All Inclusive Resorts In India
* Disclosure: This post may contain affiliate links, which means we may receive a commission if you click a link and book something (there is never any extra cost to you for using these links).
What is an ideal holiday? It's when you can just lay daydreaming on the hammock with the sea breeze gently rocking you into a sweet slumber. Imagine if you had to worry about where you're going to get your next meal or how you're going to keep your kids entertained instead!
To avoid this hassle, your best bet would be an all inclusive resort. These resorts provide packages that take care of all your holiday needs - from food to alcohol and entertainment too. What's more, it works out to be a sweet deal most of the times and you don't have to worry about packing theplas and munchies!
Here are the best all inclusive resorts in India
1. Kumarakom Lake Resort, Kumarakom
Perched by the sleepy Vembanad Lake, Kumarakom Lake Resort is the epitome of luxury living. Undoubtedly one of the most tastefully made resorts in India, this resort marries nature and luxury in a beautiful way. With birdsong as your morning alarm and rippling sounds of the lake as your cue for meditation, you are sure to feel completely relaxed at this gorgeous destination. They offer a variety of all inclusive packages to suit all travelers. From honeymoon to ayurveda, there is a range of options to choose from. They also have an early bird discount for bookings done minimum 14 days in advance.
2. Orange County, Coorg
Tucked in the midst of a dewy 300 acre coffee plantation, Orange County is one of the most sumptuous all inclusive resorts in India. The resort is created in a sustainable fashion, keeping in mind the natural balance of man and his surroundings. Designed with the utmost luxurious experience in mind, at Orange County you feel like a part of the elements that all come together in rapturous glory. You can be assured of an idyllic holiday here, with warm hospitality and lots of R&R. The resort has tempting weekday offers for all its accommodations that include room rate, meals and guided nature activities too.
3. Prakruti Resort, Kaashid
Prakruti Resort in Kashid is spread over 100 acres of distinct scenery, offering the best luxurious beach getaway. Away from all the hustle bustle of the city, this sustainable resort provides its guests with a peaceful stay that is as close to nature as it can be. Relax in the lush green surroundings of the resort or take a wander on the white sand beach at a stone's throw away, there are many ways to rejuvenate here.
The resort offers all inclusive packages that include delicious local meals and stay at their well appointed villas.
4. Kurumba Village Resort, Conoor
A tribute to the Kurumba tribe that coexisted peacefully with nature, The Kurumba Village Resort is a spectacular revelation that is both understated yet beautiful. With unspoiled valley views and signature hospitality, Kurumba makes for an ideal escape from the harried life. Here, the invasion of man is kept to the minimum and nature does the talking, spellbinding scenery and unbelievable panoramas leave you both inspired and relaxed.
The resort offers great value packages that include everything you would need for a memorable stay room, food and natural encounters.
5. Atmantan, Pune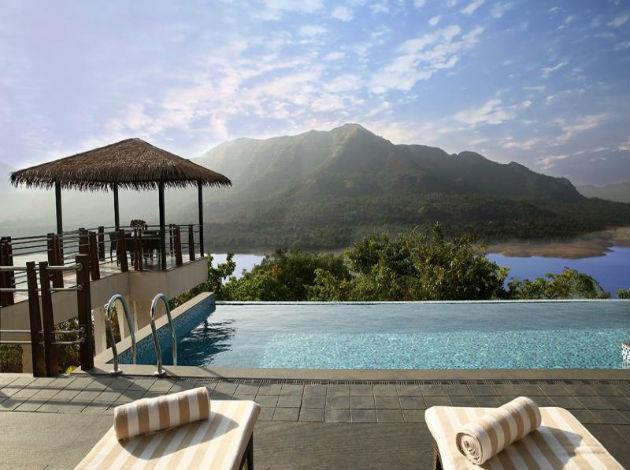 PC: atmantan.com
Offering a luxurious stay in the nestled in the crystalline Sahyadris and overlooking the blue waters of Mulshi Lake, Atmantan is an all-inclusive wellness resort in the close proximity of Pune and Mumbai. If you want to have a detox break from the fast paced city life along with holistic healing treatments that can revitalize your body and soul, Atmantan is where you should be. As you enjoy a luxurious stay in the resort, you will be pampered with therapies, spa and Yoga sessions under the guidance of experts.
Taking care of minute details including planning your itinerary and meals according to your preferences, Atmantan really knows how to create a perfectly soothing atmosphere for your stay.
You can choose from an array of packages offered by this all-inclusive resort and treat yourself with an opulent experience.
6. Vivanta by Taj, Fort Aguada, Goa
Nothing spells luxury more than an infinity pool that looks out to the ocean on one side and a fort on the other side. The Vivanta by Taj is a glorious property that is perched on a beautiful vantage point in Condolim, Goa. The resort boasts of splendid rooms and cottages that have been tastefully designed. The restaurants serve lip smacking local and international specialties.
The resort offers amazing all inclusive offers for off-season accommodation.
7. The Khyber Himalayan Resort & Spa, Gulmarg
Located at a height of 8825 feet, this resort captures the glory of Gulmarg in the perfect way. Plush interiors, jaw dropping surroundings and warm hospitality make this place a great holiday destination. With views of the world's highest golf course on one side and the snowcapped mountains on the other, your eyes are soothed by the inspiring beauty of the location. Undoubtedly one of the most picturesque places in India, the charm of Gulmarg is best experienced at this resort
The resort offers personalized all inclusive packages. Call the hotel for details.
8. Della Adventure Resorts, Lonavala
The intoxicating combination of luxury and adventure at Della Adventure Resorts has visitors come back time and again for a taste of this unique experience. An adventure park with facilities like bungee jumping, zorbing, dirt biking and zip lining, Della packs in a lot of entertainment for people of ages. Apart from this, there are luxurious rooms that are spread across three sections: the tents at Camp Della, the adventure resort and the exclusive suites that are truly a class apart. Most noteworthy of all is the presidential suite that has been designed extremely immaculately featuring 24 carat gold fixtures, custom cutlery, chroma therapy and mood lighting.
Della has a number of all inclusive offers that are running throughout the year.
9. Ahilya Fort, Maheshwar
Nowhere else can you find a more romantic setting by the holy Narmada River! Ahilya Fort is a hidden gem that is resplendent in regal glory. A hotel with just 13 rooms, here you can be assured of personalized service and royal hospitality. The rooms are all distinctively designed and combine modern comforts with heritage grandeur. The Maharaja tent is the highlight of the hotel with unobstructed views of the river and a private heated plunge pool.
Contact the hotel directly for all inclusive packages.
10. Glenburg Tea Estate, Darjeeling
This boutique hotel is set in a lush colonial tea plantation and still oozes a Victorian vibe in its ambiance. It lies on a hillock above the banks of River Rungeet overlooking the majestic Kanchenjunga mountain range. The rooms and suites are elegant and sophisticated and blend well with the beautiful surroundings. Learn the tea making process and watch how colorful butterflies and birds serenade with their surroundings at this exquisite resort that is full of character and charm.
Glenburg offers 5,6 and 7 night packages that include sightseeing, hikes, tea tours along with the accommodation and meals.
11. Wildflower Hall, Shimla
Tucked in a verdant setting and overlooking the mighty Himalayas, this hotel is the epitome of penultimate luxury in the midst of awe-worthy natural surroundings. A fairytale luxury resort indeed, Wildflower Hall is the ideal place to rekindle your romance or retreat in the lap of nature. Boasting of world class luxury, the rooms here not only have gorgeous views but also are lavishly designed. Guests can indulge in white water rafting, nature walks, heritage tours etc.
The all inclusive packages on the website offer value for money and great options all throughout the year.
12. Westin Sohna Resort and Spa, Haryana
Spread across 37 acres, Westin Sohna offers a perfect hideaway from the hectic life of a metropolis. Located at an easy distance from Gurgaon, this hotel is made with attention to detail and sophisticated design. A great weekend retreat, the hotel is famed for its luxurious rooms and warm service. The amenities include spa and fitness facilities and restaurants serving choicest specialties from around the world.
The resort runs all inclusive packages throughout the year. Check website for details.
13. Ramsukh Resorts and Spa, Mahabaleshwar
Peaceful and elegant, Ramsukh Resorts and Spa is quietly enchanting its guests with its charming locale and design. Particularly the 'Solitaire' rooms that are designed as exclusive suites offer the best amenities and comforts. From personal Jacuzzis to private swimming pools, these rooms have been tastefully done up with discerning traveller in mind. Some of the rooms have been built around a tree branch that adds to the unique experience and gives the feel of being one with nature.
There are all inclusive packages for these suites that include meals and personal housekeeping and butler service.
Planning already aren't you!? Well, you can thank us later ;)
You May like to Read:
Pre Wedding Photo Shoot Locations in India