15 Romantic Honeymoon Destinations In Asia
* Disclosure: This post may contain affiliate links, which means we may receive a commission if you click a link and book something (there is never any extra cost to you for using these links).
Bountiful and replete of experiences, the continent of Asia can be a great choice for your honeymoon. Asian continent has a lot to offer to newly wed couples to make their honeymoon a memorable one. The charismatic beaches of Indonesia, the exotic natural beauty of Sri Lanka, the dazzling urban escape at Singapore or extravagant leisure at Dubai, Asia has it all!
Unwind yourself in the cozy warmth at these romantic honeymoon destinations in Asia.
1. Bali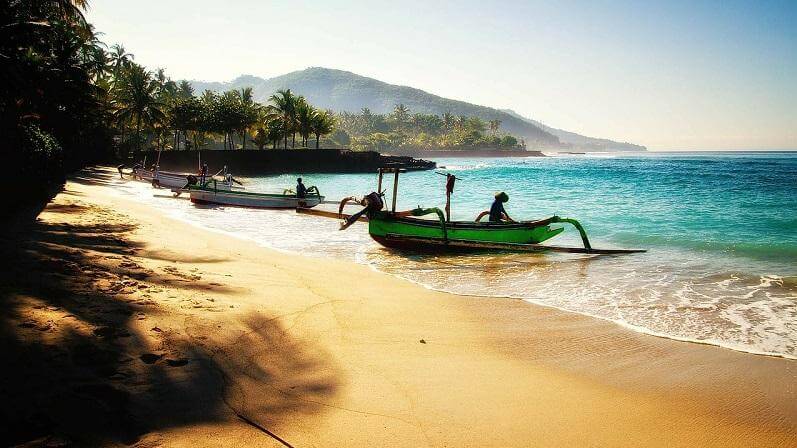 For quite a long time, Bali has been popular as budget honeymoon destinations from India for newlyweds. The idyllic beaches, colorful reefs, rice fields, and cultural villages of Bali will make your honeymoon special and romantic. Candle light dinners, amazing infinity pools, romantic beaches in Bali adds colors to your honeymoon. Read about 10 reasons to honeymoon in Bali
Attractions: Tirta Empul temple, Elephant safari experience, Romantic fun at Kuta, a beautiful beach town at the end of the Bali Island.
2. Singapore

Home to some of the best luxuries of the world. Couples enjoy romantic coastal walks and stunning views of the sea, offshore kelongs, and boats and much more. Singapore is a very beautiful and clean country. Friendly environment, natural and rich heritage in Singapore refreshes couples for sure. Beautiful infinity pools, nightlife in Singapore and awesome food options make your stay during honeymoon comfortable all round the year. Check Out this guide to a Singapore honeymoon
Attractions: Botanical gardens, The Marina Bay, Sungei Buloh wetland and The Little India
3. Malaysia

An ideal destination for couples who want to enjoy the best of luxury and want to sample some of the best brands! The wild jungle, orangutans, granite peaks, remote tribes, and modern buildings make Malaysia unique in its own way and therefore, a favorite honeymoon destination to many.
The beaches, rains forests, and exotic wildlife of Malaysia are the highlights of this beautiful country.
World's tallest twin towers -The Petronas Twin Towers, Rain forests and Genting Highlands Attractions.
4. Dubai, UAE

Dubai is one of the most visited dreamy honeymoon destinations in Asia. Spending time together at Burj Khalifa, Ferrari world, Dubai Miracle Garden and many other places in Dubai is memorable for couple. Walks together on the beaches or dessert safari makes visiting Dubai for honeymoon worth it. This glittering destination has the best blend of modern and traditional experiences all over the places you go. Checkout why Dubai is a dreamy honeymoon destination
Attractions: Burj Khalifa, Dubai Creek and Palm Islands
5. Hong Kong

Hong Kong offers the perfect blend of leisure and adventure for your honeymoon. Newly-weds can mark memorable time together by seeing "A Symphony of Lights" show. Tour to the Ocean park and Lian Gardens, Victoria Harbor to Dragon's Back and pristine beaches to glittering cities, Hong Kong is just a paradise for the newly-wed couples. Beautiful beaches, bustling markets, amazing city life, adventure destinations, nightlife and awesome food is what can make your honeymoon memorable in Hong Kong. Guide to Honeymoon in Hong Kong
Victoria peak, The Stars light show, The ocean park and Nan Lian garden
6. Maldives

Maldives is a perfect honeymoon destination to enjoy sun, sands, clear water and romantic beaches. You would like to book a honeymoon resort on the stunning white beaches of Maldives to admire the beauty of nature from your window with your significant other. Stay with your partner in floating bungalows and awesome resorts in Maldives itself makes visiting memorable. Couples can go for scuba diving, water sports and enjoy romantic walks on moon nights on beaches.
Laze away your romantic days in a hammock with your love and dive into clear waters for some underwater adventures
7. Vietnam

The beauty of Vietnam is enough to captivate any lover's heart. This is place where couples enjoy from pristine white beaches to spectacular mountain ranges making it perfect for honeymoon. Activities like Kayaking, swimming, cave exploring offer you adventure and fun time together. You can opt for cruising or enjoy spa massages and treatments. Exploring cities on a Vespa and Shopping in the markets in Vietnam is must have experience.
Cruising in Mekong Delta, Crawling via cu chi tunnels and undertake a kayaking or biking trip with the locals.
8. Phi Phi Islands, Thailand

The Phi Phi Islands would entice the couples with their pristine natural beauty and allure. The couples can swim in its clear waters and spend that quality time together and know each other well. The island is perfect for snorkel, scuba diving and water sports. Candle light dinner and couple's Spa is something you should experience together here. Couple who wants some adventure can go for Rock climbing, Hiking, shark watching tours.
Attractions: Maya Bay, Koh Phi Phi Leh, Loh Sama (Sama Bay), Pi Leh Bay, Viking Cave and Palong Bay
9. Cambodia

Cambodia has a lot offer for couples from vibrant culture to ancient relics, from marvelous architecture to the mystical temples and from dazzling nightlife to the pristine beaches. Cambodia has lovely people, amazing nature, delicious food, cultural richness. Most important thing for newly-wed couples it offers pure and utter luxury and pampering. Read more about 8 reasons why choose Cambodia for Honeymoon.
Attractions: Enthralling lakes, Angkor Wat Complex, The Bayon and much more
10. Philippines

An untapped honeymoon destination, El Nido is a gorgeous destination for those couples who want to go somewhere new. Surrounded by the Pacific Ocean, the Philippines is home to spectacular beaches, dense forests, and a rich wildlife.
Attractions: Nacpan Beach, Big Lagoon and Snake Island
11. Taiwan

Another Asian honeymoon destination, Taiwan can be an attractive honeymoon destination whose allure lies in its amalgamation of nature, modernity, and culture. Here, the couples can enjoy in hot springs resorts with lots of dramatic mountainous landscapes in the backdrop. It is also a perfect destination for honeymoon shopping, awesome street food. Adventure lovers can go trekking and hiking at Yushan Peaks.
Miaokou market, trekking and hiking at Yushan Peaks or spending a day walking under the sun at the Trails of Toroko Gorge with your partner.
12. South Korea

South Korea has a wide variety of romantic attractions, vintage castles, urban cities or lovely islands like Jeju Island. If you or your spouse loves to shop, South Korea won't disappoint you. You will love wearing traditional Hanbok which is a must experience for honeymooners in Korea. Plan a visit in night to Cheonjiyeon Waterfall for memorable time together.
Explore the art galleries & ancient architectures like Gyeongbokgung, Deoksugung and Changgyeonggung palaces hand in hand with your partner.
13. Turkey

From the ancient ruins of Ephesus to exotic beaches of Aegean Sea and plenty of adventure activities, Turkey has a lot to offer. Flying high together in hot air balloon is memorable experience for couples at Cappadocia. Couple on honeymoon enjoy authentic Turkish Bath and natural spa at Pamukkale. Turkey has dazzling night life, awesome beaches, castles, golden sand which can make honeymoon very colourful experience for you.
Romantic cave resorts in Cappadocia, the Heavenly couples spas and indulge in a steam bath together at the local thermal pools.
14. Laos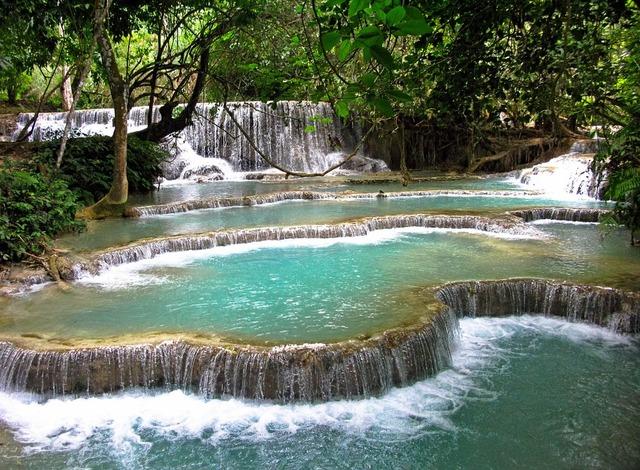 It might be a long forgotten Asian backwater, Laos merges all the romance of that South Asian destination in its folds. Indeed an ideal destination for couples who wish to commune with nature.
Visit Buddhist temples and shrines, Mysterious heritage sites and the city.
15. Sri Lanka

Sri Lanka is blessed with a long seashore, lush tea plantations, and ruins that take one back to the ancient time. Scenic beauty is its treasure, Sri Lanka is considered as one of the favorite destinations for newly wedded couples.
Romantic activity for couples: Enjoy a tranquil stay at a cosy retreat in Nuwara Eliya!
So, which of these countries in Asia would you like to visit for your romantic honeymoon? Let us know.
Frequently Asked Questions about Asian Honyemoon Destinations
Q. Where do Indians go for honeymoon?

A. Most of newly-wed couples go to Bali, Maldives, Sri Lanka, Dubai, Mauritius whichs are some of the popular destinations.

Q. What is the cheapest honeymoon destination outside India?

A. Cheapest & romantic honeymoon destinations from India are Thailand, Indonesia, Malaysia, Mauritius, Philippines, Sri Lanka, Vietnam, and Maldives. It is very important to be smart and get the best deals by comparing prices and booking at the right times.

Q. Is Dubai good for honeymoon?

A. Yes. Dubai is one of the most preferred honyemoon destination because of plethora of things it offers. Best accommodations, lot of activities, shopping options, food and convenient travel options from India. Dubai has all the things that make it one of the most romantic honeymoon destinations in Asia.

Q. Is Maldives expensive for honeymoon?

A. Yes and No. This is because the cost you will incur totally depends on what choices you make during booking. If you use smart tricks you can save a lot of money. Trick like booking hotel near beach & not the room facing the beach, selecting all-inclusive resorts, choosing right transportation modes & not booking in last hours.

Q. Which are the romantic places to visit in Turkey for honeymoon?

A. Pamukkale, Istanbul, Antalya, Marmaris, Cappadocia are some of the wonderful and romantic places in turkey which are perfect for honeymoon.