15 Romantic Honeymoon Destinations In Asia
UPDATED Dec 27, 2018
121.3K Views
Bountiful and replete of experiences, the continent of Asia can be a great choice for your honeymoon. The charismatic beaches of Indonesia, the exotic natural beauty of Sri Lanka, the dazzling urban escape at Singapore or extravagant leisure at Dubai, Asia has it all!
Here's a list of 15 Romantic Honeymoon Destinations in Asia.
1. Sri Lanka
Relatively a new honeymoon destination in Asia, a trip to Sri Lanka can take you on a journey of lush green vegetation where confessions of love find that coveted silence to be heard.
Sri Lanka is blessed with a long seashore, lush tea plantations, and ruins that take one back to the ancient time.
With all this in its treasure, Sri Lanka is considered as one of the favorite destinations for newly wedded couples.
Attractions: Adam's Peak, Serene and endless beaches
Romantic activity for couples: Enjoy a tranquil stay at a cosy retreat in Nuwara Eliya!
2. Phi Phi Islands, Thailand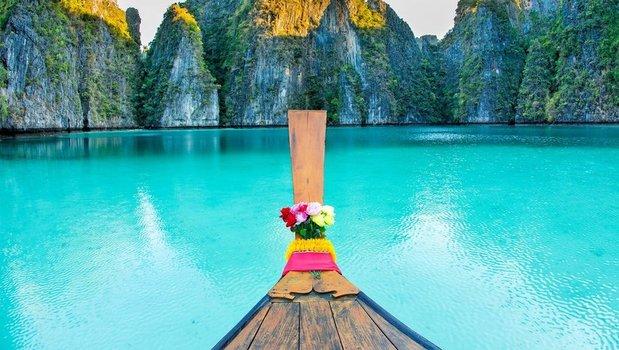 Image source: fansharewallpaper
Featured as a stunning background in the movie The Beach, the Phi Phi Islands would entice the couples with their pristine natural beauty and allure.
The couples can swim in its clear waters and spend that quality time together and know each other well.
The tropical beauty and turquoise waters of Phi Phi Island attract many travelers from around the world.
Attractions: Maya Bay, Koh Phi Phi Leh, Loh Sama (Sama Bay), Pi Leh Bay, Viking Cave and Palong Bay
Romantic activity for couples: Get a romantic photo shoot done at any one of the sandy beaches!
3. Bali, Indonesia

For quite a long time, Bali has been a coveted destination for newlyweds who have a budget on their mind.
The idyllic beaches, colorful reefs, rice fields, and cultural villages of Bali will make you stay here for a little longer and explore more about the place.
Attractions: Tirta Empul temple, Elephant safari experience, Romantic fun at Kuta, a beautiful beach town at the end of the Bali Island.
Romantic activity for couples: Hop on an Elephant Safari
4. Cambodia

Image source: maadurgawallpaper
Couples on a romantic vacation will enjoy the adventure of visiting such an exotic location just that little bit outside of your comfort zone.
But not to worry, Cambodia is home to some of the most luxurious accommodation around.
Attractions: Enthralling lakes, Angkor Wat Complex, The Bayon and much more.
Romantic activity for couples: Book a night at Song Saa Private Island
5. Singapore

Home to some of the best luxuries of the world, you can visit this country from India at not a very high cost.
Take a walk along Orchard Road and the fruit plantations dating back to the 1800s will mesmerize you forever.
Attractions: Botanical gardens, The Marina Bay, Sungei Buloh wetland and The Little India
Romantic activity for couples: Book a night at Song Saa Private Island
6. Dubai, UAE

It one of the most visited destinations for the honeymoon.
The development of this place from desert land to a glittering destination has been wonderful and therefore, this modern city, with its incredible infrastructure is a great place to be at for your after-wedding life.
Attractions: Burj Khalifa, Dubai Creek and Palm Islands
Romantic activity for couples: Enjoy a romantic dinner at Burj Al Arab
7. Vietnam

The beauty of Vietnam is enough to captivate any lover's heart.
Vietnam is undoubtedly one of the most impressive countries in Southeast Asia and perfect for your honeymoon.
Attractions: Cruising in Mekong Delta, Crawling via cu chi tunnels and undertake a kayaking or biking trip with the locals.
Romantic activity for couples: Go on a cruise ride in the Mekong Delta
Read More on: Best Honeymoon Destinations
8. Philippines

An untapped honeymoon destination, El Nido is a gorgeous destination for those couples who want to go somewhere new.
Surrounded by the Pacific Ocean, the Philippines is home to spectacular beaches, dense forests, and a rich wildlife.
Attractions: Nacpan Beach, Big Lagoon and Snake Island
Romantic activity for couples: Steal a kiss at the beach
9. Taiwan

Another Asian honeymoon destination, Taiwan can be an attractive honeymoon destination whose allure lies in its amalgamation of nature, modernity, and culture.
Here, the couples can enjoy in hot springs resorts with lots of dramatic mountainous landscapes in the backdrop.
It is also a perfect destination for honeymoon shopping.
Attractions: Miaokou market, trekking and hiking at Yushan Peaks or spending a day walking under the sun at the Trails of Toroko Gorge with your partner.
10. South Korea

Image source: newhdwallpaper
South Korea has a wide variety of romantic attractions. Jeju island in this country is amongst the most romantic honeymoons destination in Asia.
If you or your spouse loves to shop, South Korea won't disappoint you. Shop for the traditional Korean silverware, some very cutesy items to gift, beauty products, electronics, Korean vodka, Buchae-A handheld fan, or phone cases.
The choices are many from designer outlets to some awesome cheap shopping locations.
Attractions: Explore the art galleries & ancient architectures like Gyeongbokgung, Deoksugung and Changgyeonggung palaces hand in hand with your partner.
11. Hong Kong

Slightly costlier than the others, visiting Hong Kong for your honeymoon can leave you with indelible memories.
From Victoria Harbor to Dragon's Back and pristine beaches to glittering cities, Hong Kong is just a paradise for the newly-wed couples.
Attractions: Victoria peak, The Stars light show, The ocean park and Nan Lian garden
Romantic activity for couples: Watch the sun go down together from the Sky Terrace 428.
12. Turkey

From the ancient ruins of Ephesus to exotic beaches of Aegean Sea and plenty of adventure activities, Turkey has a lot to offer.
You can plan a romantic stay in one of the beautiful and cozy resorts with your better half and enjoy the best of the Turkey.
Attractions: Romantic cave resorts in Cappadocia, the Heavenly couples spas and indulge in a steam bath together at the local thermal pools.
13. Malaysia

An ideal destination for couples who want to enjoy the best of luxury and want to sample some of the best brands!
The wild jungle, orangutans, granite peaks, remote tribes, and modern buildings make Malaysia unique in its own way and therefore, a favorite honeymoon destination to many.
The beaches, rains forests, and exotic wildlife of Malaysia are the highlights of this beautiful country.
Attractions: World's tallest twin towers -The Petronas Twin Towers, Rain forests and Genting Highlands Attractions.
Romantic activity for couples: Take it a notch higher by going on a Helicopter ride over Kuala Lumpur
14. Maldives

Maldives is a perfect destination for sun, sands and beaches.
You would like to book a honeymoon resort on the stunning white beaches of Maldives to admire the beauty of nature from your window with your significant other.
Attractions: Laze away your romantic days in a hammock with your love and dive into clear waters for some underwater adventures.
Romantic activity for couples: Book a stay in a water villa and have the sea and the sun to yourself!
15. Laos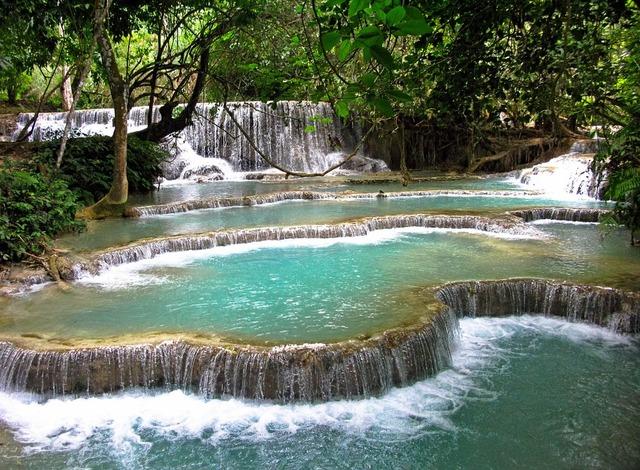 It might be a long forgotten Asian backwater, Laos merges all the romance of that South Asian destination in its folds.
Indeed an ideal destination for couples who wish to commune with nature.
Attractions: Buddhist temples and shrines, Mysterious heritage sites and the city.
Romantic activity for couples: Hike to Mount Phousi and later rewind by indulging into a couple spa therapy.
So, which of these countries in Asia would you like to visit for your romantic honeymoon? Let us know.