Top 8 Bahamas All Inclusive Honeymoon Resorts
* Disclosure: This post may contain affiliate links, which means we may receive a commission if you click a link and book something (there is never any extra cost to you for using these links).
The Americans are indeed lucky, with paradise located a mere 50 miles off the Florida coast! The Bahamas, for long have been a favorite honeymoon destination for more reasons than one. Of course, proximity being the primary one, the surreal beauty of 700 exotic islands bespeckling shimmering blue waters of the Atlantic Ocean and the perfect balmy weather, almost throughout the year draw honeymooners to this gem of the Caribbean.
The brilliant topography of endless waters, spectacular coral reefs, a few forts, and some secret islands offer you abundant opportunities of exotic adventure with your spouse. Making this experience even better are the Bahamas all-inclusive honeymoon resorts, that are also taking luxury to another level! From Love Nest Suites, gourmet dining including varieties of Robert Mondavi Twin Oaks Wines to Caribbean dance classes to oomph up the honeymoon, these all inclusive honeymoon resorts in Bahamas will make your honeymoon the perfect beginning of your new life.
1. Sandals Royal Bahamian Spa Resort & Offshore Island and its European sophistication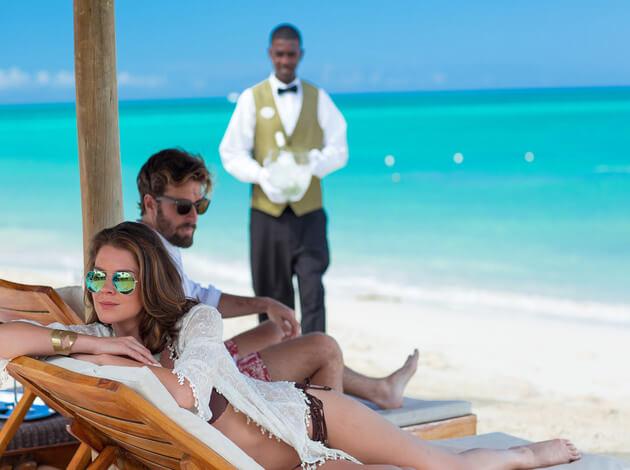 Image source: sandals.com
Sandals, the global luxury hospitability icon, certainly knows how to delightfully pamper its visitors. The Sandals Royal Bahamian Spa Resort & Offshore Island is no exception! One of the most elegant resorts of Bahamas this resort speaks class and extravagance. Featuring its own offshore island, the resort is filled with amenities, romantic adventures, and the region's finest seafood restaurant to make your honeymoon pleasurable (even more!). The very rejuvenating Red Lane Spa is sheer bliss! 10 fine dining restaurants serving exquisite cuisines, and you're all set for a lavish honeymoon.
2. Breezes Resort & Spa All Inclusive and its super-inclusivity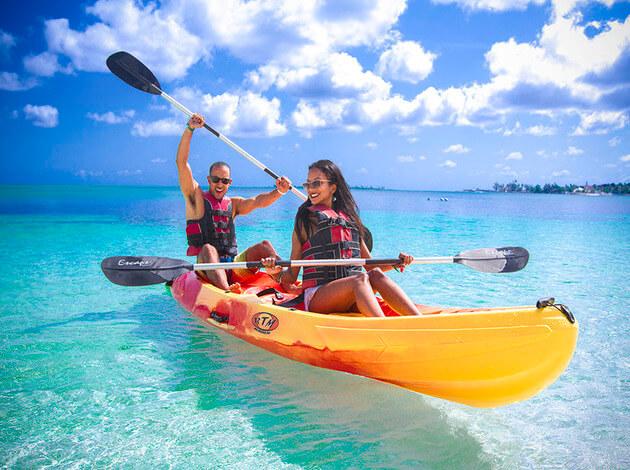 Spanning across a huge wodge of Nassau's best - Cable Beach, the Breezes Resort & Spa All Inclusive is a getaway like no other! Kick starting your honeymoon from one of the best beaches, everything else is certain to fall in place. Honeymooners can enjoy complimentary Endless Love honeymoon package, which includes in-room fresh fruit, sparkling wine and a special welcome amenity! Claiming to be more than just 'all-inclusive' the Breezes is 'super-inclusive'. So you pay just once for deluxe accommodations, unlimited drinks and cocktails, all meals and snacks, land and water activities like kayaking, windsurfing (even windsurfing lessons free of cost), sailing, beach volleyball and much more! Everything a good honeymoon looks like.
3. Meliá Nassau Beach, the tropical Nassau paradise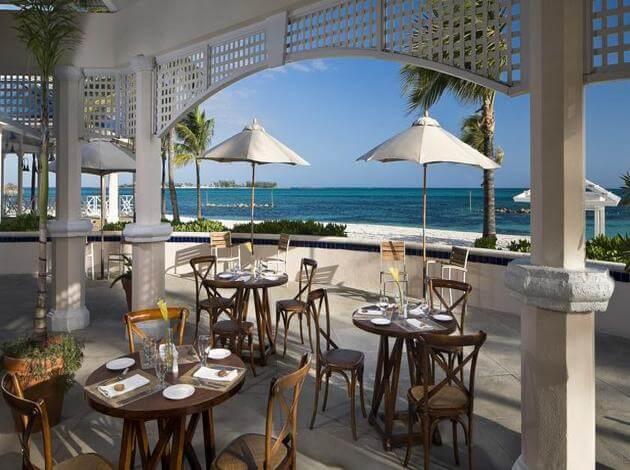 Meliá Nassau Beach sits gracefully overlooking one of the world's finest beaches, the Nassau beach, is undoubtedly one of the best Caribbean all inclusive honeymoon resorts . Revere the white sandy beaches and pristine blue waters with your spouse for hours on end (much required after all the wedding hysteria!). The resort is ideally located nearby the city center around the shops and nightlife venues, making this a great base, to explore the authentic tropical paradise of Nassau. The suites are vibrant with breathtaking views of the ocean. Being a part of some resort activities, definitely will spruce up the honeymoon. So embrace the all-inclusive activities here of volleyball, aqua aerobics, stretching, Caribbean dance classes, bingo, straw-weaving and some fun themed nights!
4. Viva Wyndham Fortuna Beach - An All-Inclusive Resort for hassle-free honeymoon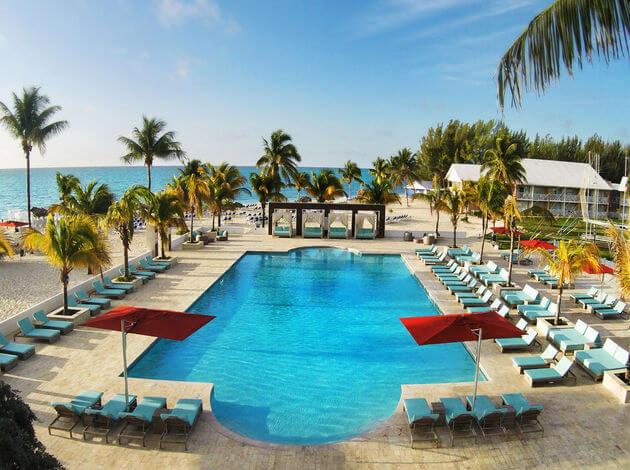 Viva Wyndham, Fortuna Beach is a premier Bahamas all inclusive honeymoon resorts nestled on the south shore of Grand Bahama Island. Sprawling across a whopping 26 acres, this resort has all the facilities a Bahamas all-inclusive vacation is made of! Lush foliage, natural wildlife, and palm-tree dotted beaches add to the paradisiac vibe of this place. Engage all your senses as you take on the activities in the cerulean surf, kayaking, beach volleyball, and snorkeling adventures as soak in some Bahamian sun! Booking an all-inclusive package will leave you hassle-free about anything else. As accommodations, dining and activities are taken care of by the resort. All-inclusive package includes Special Low-Fat Food Corner, high tea, True Blue Bath Amenities, Pool and Beach Games with Prizes, Caribbean Dance Classes, Live Nightly Entertainment, Yoga/Meditation Lessons, Local Cooking Classes and much more.
5. Riu Palace Paradise Island, for its spectacular services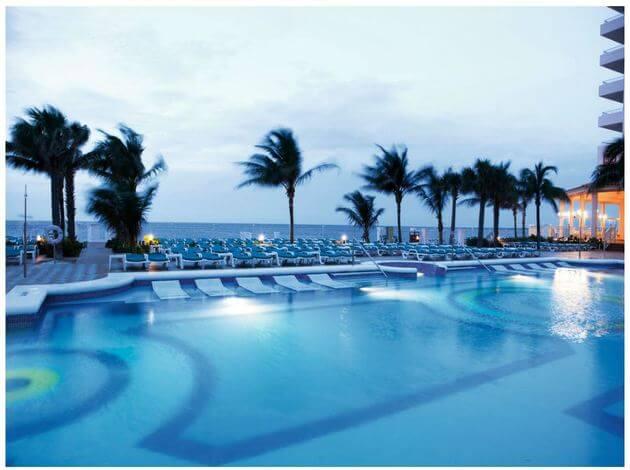 Other than a fabulous location, the Riu Palace has carved a niche for itself given its spectacular services. Ensuring you the best of your holiday, the palace is not short of anything you may require. The Paradise Island itself offers great activities, and the Riu Palace only makes it better. With excursions like swimming with dolphins and water parks! Nightlife is not bad either, with the many lounges the place has. Even simply lounging around, sipping on a delicious cocktail as you admire your lover and the ocean, is bliss. Game for a night to remember? Try your luck at the Atlantis Casino which happens to be the biggest entertainment center in the Caribbean. A wholesome all-day breakfast along with drinks are some of the privileges of their all-inclusive package.
6. Memories Grand Bahama Beach Resort for a game of Blackjack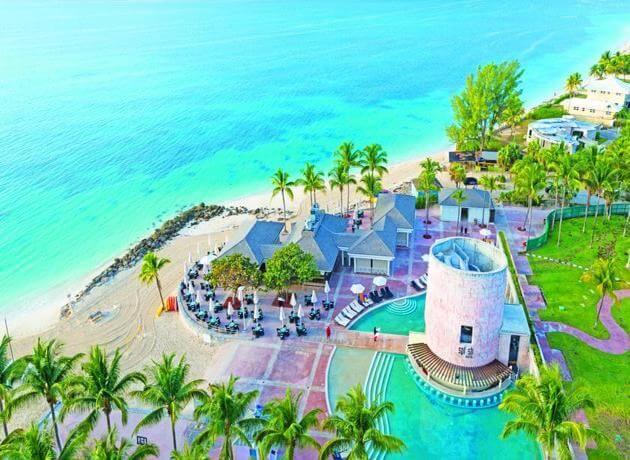 Inspired by the sun-kissed beauty and rich culture of the Grand Bahama Island, Memories Grand Bahama Beach Resort an All-Inclusive is a top notch honeymoon resort. Spread across half a mile of the Freeport beach, this resort lies amidst the finest tropical aspects of the island. The best part of the resort is its amazing casino! A unique pool that's built around a stone sugar mill is another noteworthy thing about this place. Delectable delicacies, a perfect dose of adventure with the many on-the-house activities like Glass Bottom Boat Excursion, Dolphin Swim, Snorkeling, Golf and much more make for a pleasant stay here.
7. Club Med Columbus Isle for unparalleled tranquility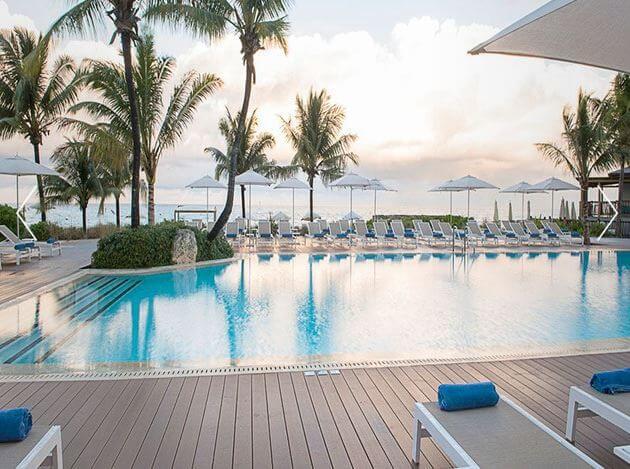 Adding to your heavenly honeymoon, the Club Med Columbus Isle boasts of tranquility. A one-of-its-kind resort, this is a non-smoking resort! Lush gardens with bougainvillea lacing the walls and floors, against the backdrop of palm trees swaying to the music of waves, the resort has a calm and soothing atmosphere. Colorful and colonial accommodation create an interesting juxtapose to the much peaceful environment. Dining is well covered with a number of restaurants, lounges, and bars in the resort. Activities that you and your partner must do while staying here are scuba diving, some yoga, tennis, waterskiing and a waterboarding lesson!
8. Small Hope Bay Lodge for all things Tumblr-y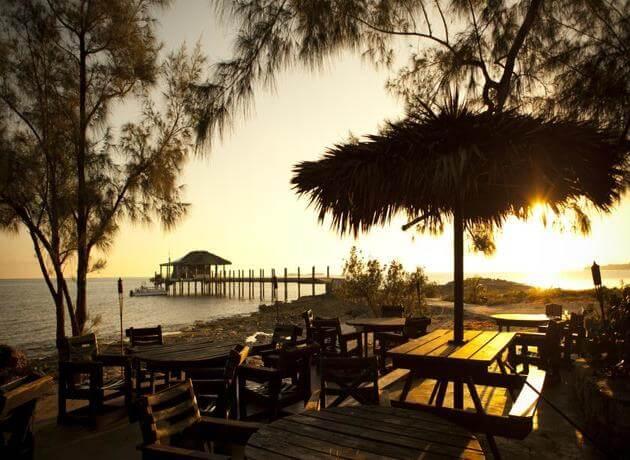 Beachfront cabins, fresh international cuisine, diving, snorkeling, fishing, nature walks, and more, the Small Hope Bay is not your average luxury accommodation. Situated on the world's third largest coral reef, the resort is pristine, untouched and unadulterated from all the first-world commercialization. Making you feel at home, the service is warm and friendly, offering some really cool off-beat things to do. Perfect for a honeymoon couple who seeks 'off-beat' and informality without compromising on quality and class. The best Bone fishing anywhere, kayaks, paddleboards, bikes, hot tub and beaches, accommodate some super fun activities.
A honeymoon in the lap of luxury is undisputedly the one thing you need after a wedding frenzy and to perfectly start your future together.
Also Check out:
Bora Bora All Inclusive Honeymoon Resorts