10 Top Beaches in San Diego
* Disclosure: This post may contain affiliate links, which means we may receive a commission if you click a link and book something (there is never any extra cost to you for using these links).
Ah, San Diego! The classic beach town! If you ask me, a trip to the stunning beaches of San Diego is all that you need to get out of the monotony of your routine. With more than 70-miles of stunning coastline, which is home to some of the world's finest beaches and bays, this second-largest city in California is a spectacular destination for vacationing. Boasting of a pleasant climate round-the-year, this place is always teeming with beach-goers craving for astonishing vistas of the Pacific Coast. Though the city is famous for more than just its sandy shores, you cannot deny the fact that visiting the beaches is a must-do activity when in San Diego.
From rocky coasts, white sands and surfing spots to family-friendly seashores, a diverse aquatic life and beach-front hotels, San Diego offers you with everything that you look for in a beach town! So, craving for a dose of Vitamin Sea? Here is a list of the top 10 beaches in San Diego that you cannot afford to miss!
1. Mission Beach - the coolest beach spot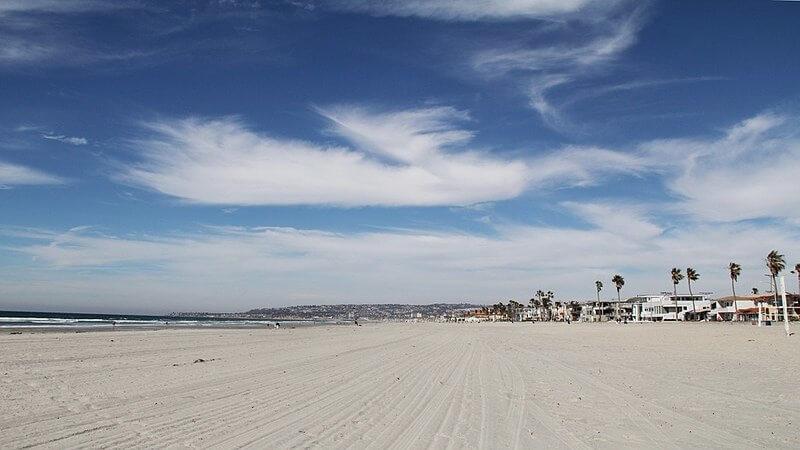 PC: Wikimedia Commons
Beginning at the Mission Bay Channel, the nearly 2-mile-long pristine coastline of Mission beach is one of the cool beach spots in San Diego. This one-of-its-kind oasis is probably the only beach in California which is family-friendly as well as youth-friendly. Adjacent to the famous amusement park Belmont Park, this sunny stretch of sand is perfect for swimming, surfing or a game of beach volley-ball. An old-fashioned and a charming broad-walk which is bustling with tourists indulging in activities like walking, cycling and picnicking adds to the beauty of this beach. The Ocean Walk-front is lined with quaint little cafes and street-side shops which are perfect for grabbing a refreshing snack after the beach-time.
How to reach? Drive down the W.Mission Bay Dr.
What is it famous for? Numerous amusement parks lining the beach, great nightlife and lots of picnic spots.
Get year around hotel deal with TripHobo Hotels.
2. Coronado Beach - the long, sandy beach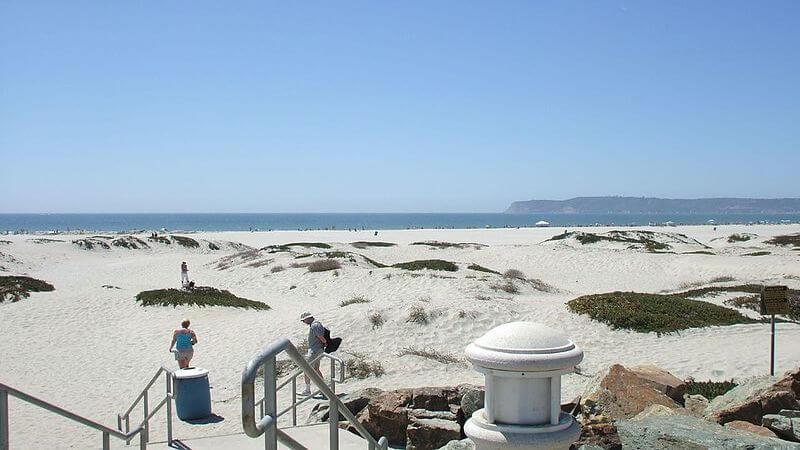 PC: Wikimedia
Consistently voted as one of the finest beaches in America, Coronado beach is a quintessential long, sandy beach in San Diego. Set against the backdrop of the iconic Hotel del Coronado, this picturesque coastline is ideal for sunbathing and frolicking in the sand. Running along the Ocean Boulevard, the Coronado beach entices the tourists with its gentle azure waters and sparkling sand. One of the best beaches in San Diego for families, this shoreline is full of tourists skim boarding, kite flying and barbecuing around the fire pits. If you are lucky, you might even be treated to spectacular sand art and sandcastles which are sometimes created by upcoming artists near the hotel entrance.
How to reach? Drive down the 200-foot-tall, famous Coronado bridge
What is it famous for? Silvery sheen on the sand, beautiful backdrop of the Victorian-style Hotel del Coronado and a family-friendly atmosphere
3. La Jolla Shores - soft sand, clean water and gentle waves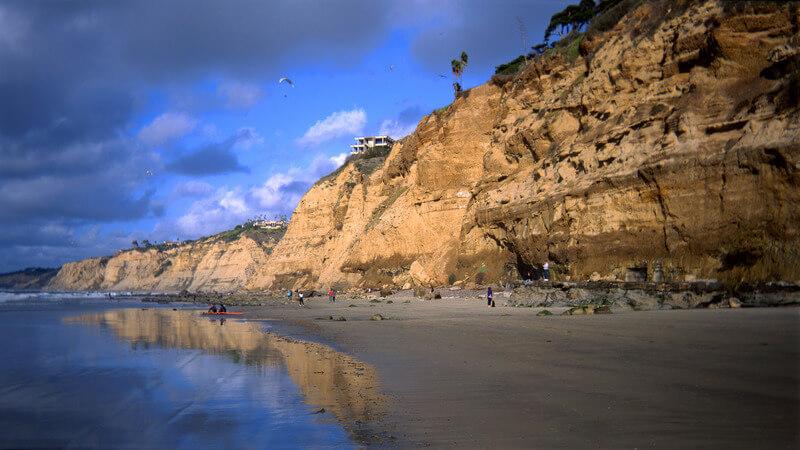 PC: Madeleine Ball / Flickr
Rocky reefs, secluded coves, golden sand, clear waters, grassy picnic spots and brilliant marine life await you at the La Jolla Shores in San Diego. Considered to be one of the best beaches in South California, the stunning vistas and the scenic landscapes offered by this beach make it a heaven for beach-lovers. The gentle waves along this coastline make it an attractive option for novice surfers, scuba divers and kayakers. Numerous surfing centers dotting the La Jolla shores offer coaching lessons in surfing. Presence of ample number of lifeguards ensures the safety of tourists and surfers visiting this beach. Looking for an idyllic beach to relax and have fun? The La Jolla Shores is the place you should be heading to!
How to reach? La Jolla Shores can be reached by both, Torrey Pines Road and the Prospect Street
What is it famous for? Scuba diving, snorkeling and surfing
4. Silver Strand Beach - ideal for fishing, swimming and picnicking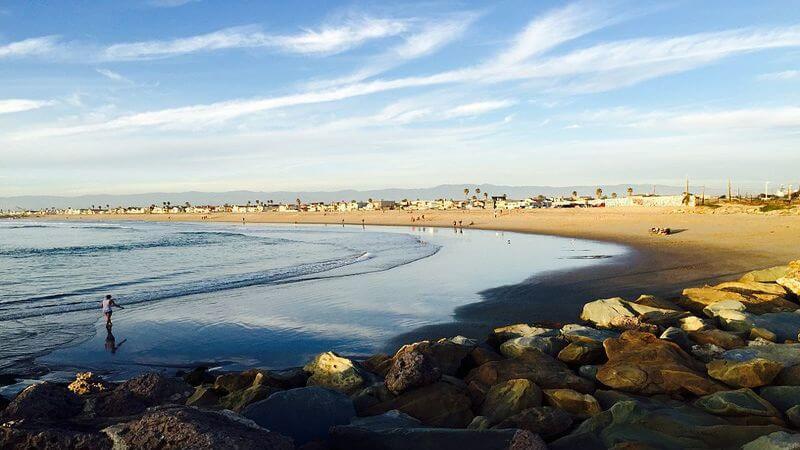 Looking for a spot to camp on the sand under the starry sky? Look no further, Silver Strand Beach is the place for you! Fully equipped with barbecue pits, fire rings, picnic tables and clean restrooms, this place is ideal for you to set up a tent and eat al fresco while listening to the sound of waves and the rustling trees. The warm and calm turquoise waters make this coast a hit among swimmers and sailboarders. Another unique part of this coast is that it consists of beaches lining both, the Pacific Ocean as well as the San Diego Bay. The Silver Strand Beach in San Diego is thus, rightly known as an aquatic playground in protected waters. Always book your tours and activities in San Diego in advance.
How to reach? Drive down the Victoria Avenue
What is it famous for? Beachside camping, recreation and unique shells
Must Visit: Best Beaches in Southern California
5. Pacific Beach - busiest beach in San Diego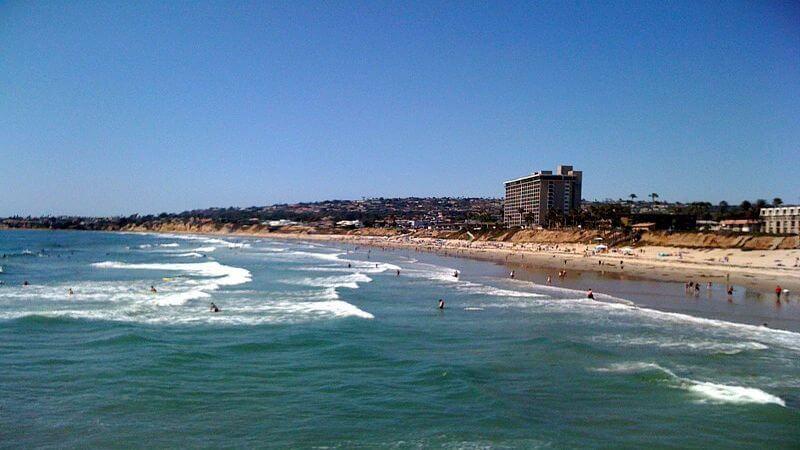 PC: Wikimedia Commons
A dazzling coastline commonly referred to as "The Strand," the Pacific Beach is a classic South California beach, especially popular among youngsters. With a trendy broad-walk and a charming pier, this coast is all that you need for a fun-filled, sun-drenched time. The Pacific Beach is buzzing with activity round the clock! Even after nightfall, this coastline is aglow with bonfires and light from the surrounding nightclubs. With a plethora of funky boutiques, quirky snack-bars, hip lounges and fashionable shops, this glamorous beach is permanently brimming with a vibrant crowd. Since this is easily one of the most popular beaches in town, there are a large number of shops providing the tourists with vacation rentals in San Diego. So, what are you waiting for? Without any further ado, pack your swimsuits and head to this youth-friendly beach for the time of your life!
How to reach? Drive down the Garnet Avenue or the Grand Avenue
What is it famous for? Vibrant crowd, youngster-friendly ambiance and nightlife
Get year around hotel deal with TripHobo Hotels.
6. Tourmaline Surfing Park - Best surf spot in San Diego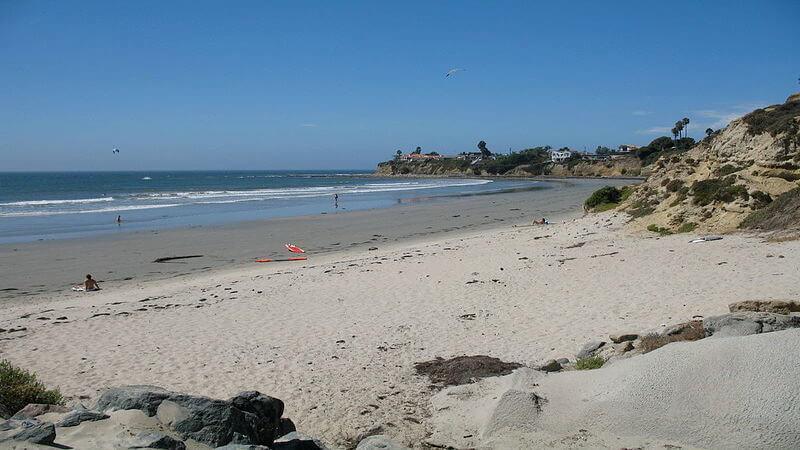 Considered to be the Mecca of surfers, Tourmaline Surfing Park is a narrow coastline nestled between the La Jolla beach and the Pacific beach. From longboarding and windsurfing to kite boarding and sail boarding, this beach provides visitors with boundless choices when it comes to beach sports. A rocky shore with plentiful tide pools, this is a great little spot for relaxing in San Diego.
How to reach? Drive down the Garnet Avenue or the Grand Avenue
What is it famous for? Surfing, sailboarding and kiteboarding
Check Out: Best Budget Friendly Beach Destinations in USA
7. Imperial Beach - secluded beach in south california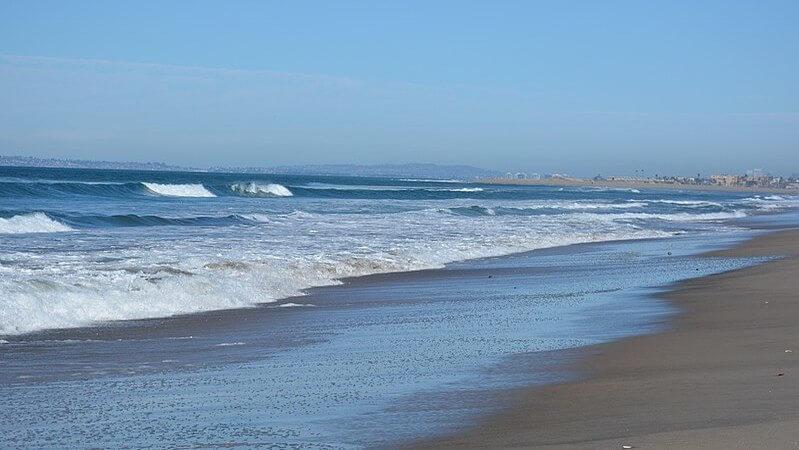 PC: Wikimedia
The southern-most beach city in South California, the Imperial Beach is a relatively secluded and uncrowded beach in San Diego. Stretching all the way to the Mexican border, this sandy stretch of land is great for swimming and fishing. This beach offers the visitors with superb panoramas of the Los Coronados Islands and encompasses broad views of the gorgeous blue-green bay. A virgin beach along the Pacific coast, the Imperial beach is a picture of serenity and so, it is perfect for those looking to unwind at a spot away from the noisy crowds. The world-famous Tijuana estuary is just a stone-throw away from this beach and thus, this coastline is often frequented by wildlife and nature lovers.
How to reach? Drive down the Palm Avenue
What is it famous for? Noteworthy wildlife, fantastic views, quiet vibe and the annual US Open Sand Castle Building Contest held every July
8. Solana Beach - half hour drive from San Diego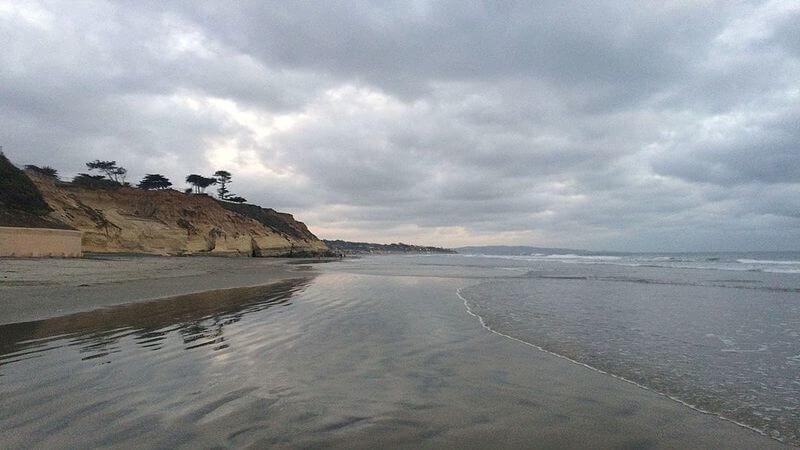 An unexplored jewel in the San Diego's North Country, Solana beach is a sheltered coast in California. Many caves carved into the cliffs by the pounding ocean waves give this beach an enigmatic feel. While it is nearly impossible to explore all the hidden coves in a day, do not forget to visit the idyllic Fletcher's Cove, a small inlet leading to the Potomac River. Surrounded by towering cliffs, the Solana beach can be accessed through staircases descending from the peaks and leading to the sea. This pristine coast is a hot favorite among young couples looking for a romantic getaway. The northern area of this beach is also considered ideal for surfers.
How to reach? Nearest Travel Terminal- Solana Beach Station
What is it famous for? Hidden caves, the Fletcher's Cove and a dreamy atmosphere
9. Del Mar City Beach - surfing and sunbathing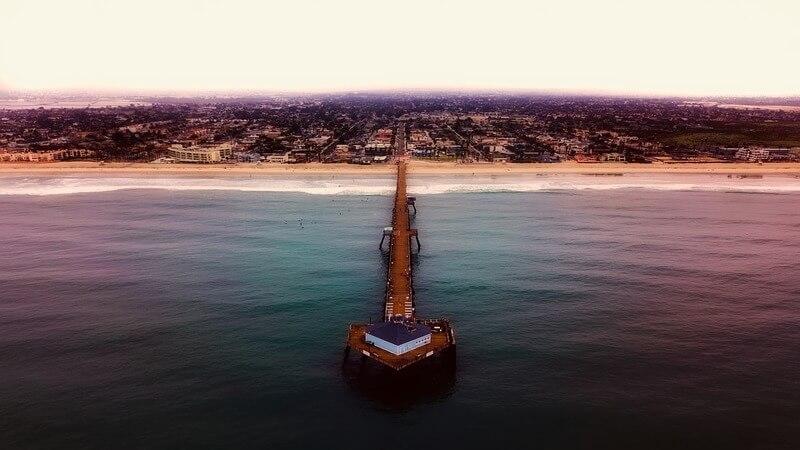 Excellent swimming opportunities, plenty of spots to surf and two charming beachside parks await tourists at the expansive Del Mar City Beach in San Diego. The calm waters and the gently sloping beach makes this coastline highly conducive for swimming. The rustic vibe of this beach is visible from the tidal pools and rocky cliffs that adorn the southern stretch of this beach. With sweeping views of the ocean, tropical bluffs, spotlessly clean sand and narrow trails, this seaside crescent is a hidden gem along the Pacific Coast. A cherry on the cake is the numerous al-fresco dining options along the coast, which provide the visitors with a wonderful opportunity to dine in open air, while soaking up the strikingly beautiful views of the sea.
How to reach? Nearest Bus Station- Camino Del Mar & 25th St
What is it famous for? Outstanding swimming opportunities, relaxed atmosphere and open-air dining options
Get year around hotel deal with TripHobo Hotels.
10. Moonlight State Beach - family-friendly beach of San Diego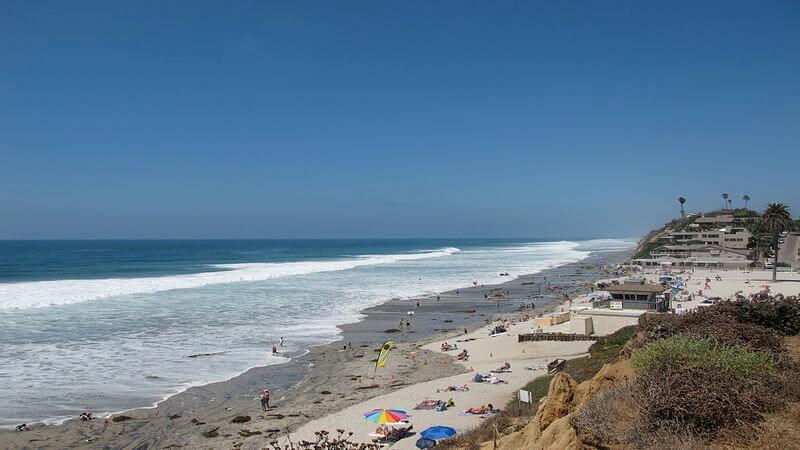 A wide, sandy, family-friendly beach with abundant recreational options – that's Moonlight State Beach for you. With volleyball and tennis courts, vacation rentals and snack-bars, this beach is one of the best beaches in San Diego for an entertaining time. A myriad of colorful beach umbrellas, sunbathing chairs and picnic tables give this beach a flamboyant and a lively feel. The uninterrupted view of the horizon makes this coast one of the best spots to watch sunsets. The warm breeze, the lively atmosphere and the waves lapping at the sandy shore invigorate your senses and rejuvenate you in a way no other ambiance can.
How to reach? Nearest Train Station- Encinitas
What is it famous for? The lively atmosphere and ample recreational options
So, sun-worshippers and beach-lovers! Pack your beach-wear, lather up on some sunscreen and head over to these sunny, instagrammable, impressive shores for a healthy dose of sun and sand in San Diego!
Check out beaches near you: