Break the Ice! 10 Cool Beaches for Team Outing in India
UPDATED Jul 28, 2017
5.6K Views
Company outings can benefit your business in more ways than one! A temporary break from the never-ending stream of emails and to-do lists, a team outing can work wonders for team morale and thus the company too!
What could be a better way to enjoy a fun outing with colleagues than to hit the beach?! Given India's vast coastline, we have a plethora of beaches for some merrymaking with colleagues!
1. The eternal favorite - Goa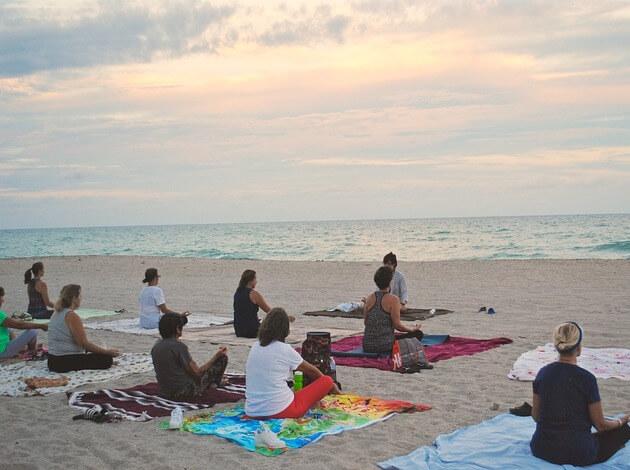 Image source: pixabay.com
One cannot possibly go wrong with this one! Goa is the synonym for fun, unwind, mad amongst a ton of other words! An early evening spent reveling the many exciting water sports, beach games, karaoke session at one of the shacks are some great activities to enhance skills like group collaboration and strategizing.! The spirit of Goa itself is sufficient to get the team in the right vibe for their much-required outing! Goa has abundant beaches you could choose from, not sure if anyone would want to go beyond the all-time favorite Baga and Vagator! You could also enroll in a yoga session at the Arambol beach, in case you want your team outing to be a good balance of leisure. To spruce up the outing, you could decide on a dress code, play interesting games, whatever you wish to break the ice! What happens in Goa, stays in Goa!
2. Of forts, great food and mesmerizing sunsets - Alibaug
Alibaug, however overdone, is possibly one of the best places for your sojourn of team outbound! This is a favored, quick refreshing getaway given its proximity to Mumbai and Pune. You can either visit the forts around or just chill with the team at a good resort. This place is a treat for those who love seafood and a lot of bonding can happen over food!
Also check these team outing places near Mumbai
3. A peaceful, relaxing getaway with a good massage perhaps - Gokarna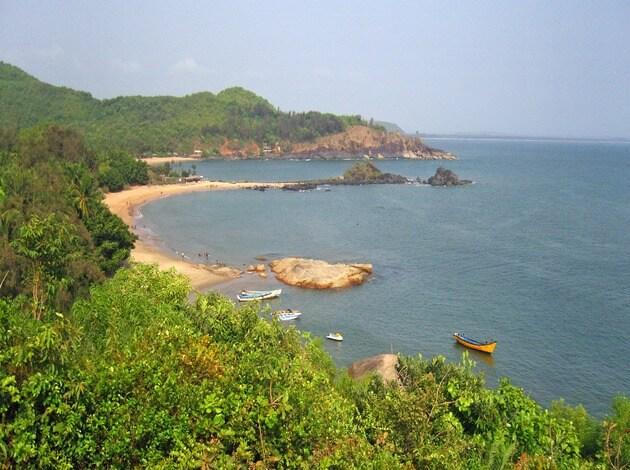 Image source: wikipedia.org
Situated on the west coast of India, in Karnataka, Gokarna is 140 kilometers away from Goa. Initially a Hindu pilgrimage destination, it is gaining popularity amongst travelers seeking peace and serenity. This in no way lessens the activities one can do here, there are endless opportunities for teams to undertake here. Having an interesting terrain of small hills and beaches, you can have beach trekking activities here. Take the team out on a temple excursion day, having rich historical significance. Indulge your teams in some Ayurvedic massages, everyone needs it! Venture to other close by popular destinations like Dandeli, Murudeshwar and Karwar.
Also Read: Scuba Diving in India
4. Food coma and fun beach activities - Diveagar
This is one of the few beaches of Maharashtra that remain untainted by civilization. With its proximity to Pune to Mumbai, people have started to travel here for quick getaways. The beaches still remain beautiful though! There are many activities a team could undertake here, like para-sailing, ATV rides, an evening of an ATV competition would be cool enough to break the ice between employees! Don't forget to indulge the team in scrumptious steaming ukadicha modak with a dollop of ghee! It's okay if they go in a food coma on this holiday!
5. Reel in some splendid sights - Mahabalipuram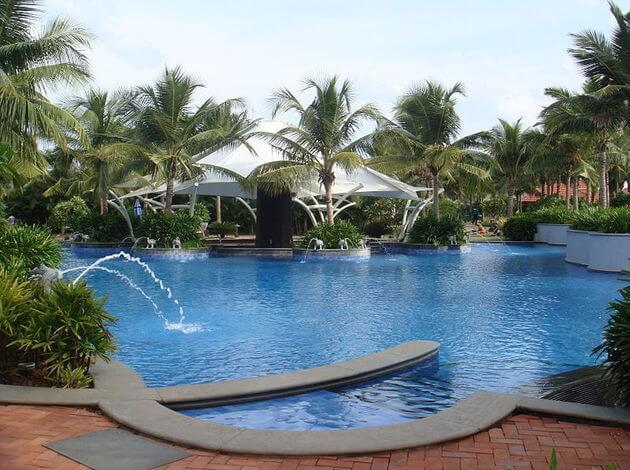 Image source: wikimedia.org
Given its proximity to Chennai, the beguiling beach of Mahabalipuram is an ideal destination for a team outing. Reachable at just an hour's drive from the metropolitan, teams could bask in the sun, sand and the beach! Offering some classy beach resorts, team bonding activities could be fun here amidst breath-taking scenery. Engage the team in games of beach soccer, human foosball, and other employee skill enhancing activities. Dating back to the 7th century, this fascinating place has many splendid sights to reel in, which employees can enjoy later in the day! For the ladies, there are famous handicraft shops, for the never-satiated shopaholic soul!
6. Laid back French vistas - Pondicherry
This place with still prevalent traces of French influence, Auroville an experimental township dedicated to the ideal of human unity and of course the Tamil culture is an experience that couldn't get more diverse and refreshing for a team! The beaches of Pondicherry delight with an experience of its own. The untainted stretches of beach make for a splendid milieu for team activities.
7. Enroll in a surfing lesson - Udupi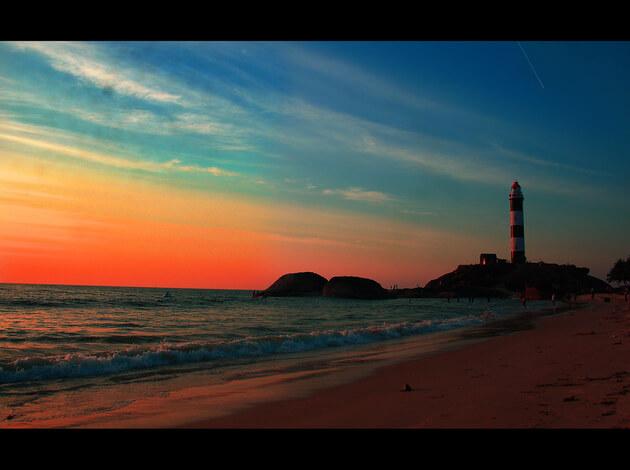 Image source: flickr.com/vek raj
Udupi's pristine beaches are perfect for a sun-kissed outing an employess would cherish. There are a number beaches around Udupi actually beaches. At Malpe, you can sign up your teammates for a crash course in surfing, a fishing competition at the hamlet of Kodi Bengre near Manipal. You'll also find a mix of beach cottages and mid-range hotels here to put-up your team at. The St. Mary's island is a must visit, when here!
Plan a trip to one of these best beaches in India
8. Go beach hopping - Mangalore
Now the main city Mangalore is a busy one. However, with a generous coastline, beach-hopping in Mangalore is a rewarding experience as an office outing. You could start off at the Panambur beach, followed by Ullal beach and the Someshwar beach that have serene spots surrounded by palm groves offering spectacular sunset views. Don't be surprised if the teammates return back more creative!
9. Let the waves hit you - Digha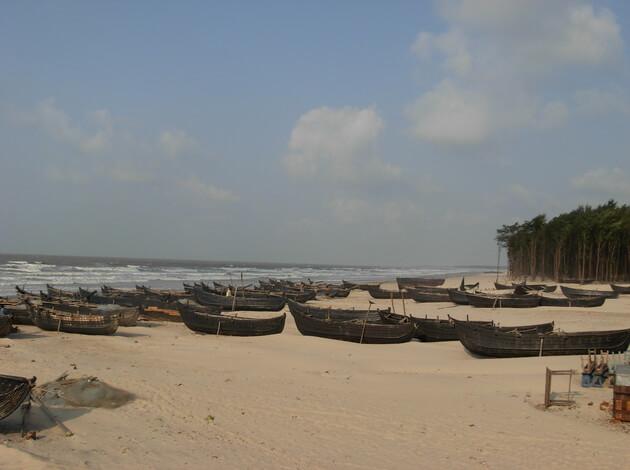 Image source: wikipedia.org
Now this one's for the east coast guys! Located at a mere distance of 185 kilometers, this is one beach everyone who ever lived in Kolkata has been to! There are two beaches here Old Digha and New Digha. Old Digha is rocky and more susceptible to large, torrential waves which have a tendency to sweep away small unassuming shacks on the beach! The New Digha beach is much larger, better maintained, and not clustered upon by congested localities like its older counterpart. Whichever you choose for your team outing, it sure is going to be one memorable excursion!
10. Photography sessions - Shankarpur
This virgin beach of Shankarpur is located at about 14 km east of Digha. It is a popular fishing harbor, a reason why many photographers flock to this beautiful little seaside fishing village to capture the picturesque sights of fishermen. Along with capturing breathtaking photographic moments, you can also make an expedition out for visiting all the temples that are an identity of Shankarpur. Arrange a photography competition to see who is the most creative employee!
Post an outing to any of the above-mentioned places, the strengthened bonds created will boost motivation as employees become a much more cohesive unit. Above all, these beaches might just be a great spark for ideation and innovation.
You May like to Read: