Top 11 Beaches In Antigua
* Disclosure: This post may contain affiliate links, which means we may receive a commission if you click a link and book something (there is never any extra cost to you for using these links).
Who doesn't like a good beach vacation? There are lot of places who offer spectacular sandy beaches and sunshine. But don't you want to go for the best one out there? Don't worry The Antigua Island which is situated in the Caribbean are considered to be 300 kilometers of pure heaven. There are a total of 365 beaches here, one for every day of the year! But if you're someone who gets only limited amount of uo;sick" leaves every year how would you choose which one of the magnificent beach to visit? Well don't worry we got your back! We bring you the top 11 sand stretches you can discover here that will make you fall in love with island and make you never want to leave the Caribbean!
1) Turner's Beach

Image Source: bark/Flickr
Located on the southwest coast at Joshnson's Point this place is perfect long walks and snorkeling. What makes it so special is the calm water and soft sand. But that's not the only thing it has to offer. It hosts multiple water sports activities like swimming and riding a Jet Ski's. It is also a popular shopping destination for the passengers onboard the cruise ships. There are number of different restaurants and cafes along the beach in case you get hungry by doing all the shopping and swimming. The highlight of this beach is the sunset, which is considered to be one of the best in Antigua.
2) Jabberwock

Image Source: James Gale/Flickr
There are not many places in Antigua which offers wind surfing, but fortunately this is one of those places. It is located on the highway that takes you to the airport. It is also a pretty secluded place with very few people ever present. Due to its seclusion it will fulfill your fantasy of owning a private beach without even paying a dime for it!
3) Carlisle Bay
It is one of the most beautiful beach not only in Antigua, but also in the world. The reason behind that is, it is one of the few places which offer the view of the Atlantic Ocean meeting the Caribbean Sea, pair that with brown sand and beautiful lush mountains in the backdrop, you will feel as if you walked into a Bob Ross Painting. You can also snorkel here without hopping from a boat.
4) Dickenson Bay

Image Source: Andrew Moore/Flickr
You can never go wrong with Dickenson Bay. It serves the purpose of being a typical Caribbean beach with its golden sand and blue turquoise water. There are many popular restaurants and hotels along the coast line, as it is pretty close to the northern side of the city. If you don't want to travel long distance for a beach, this is the perfect place for you.
5) Green Island
Travelling to this beach is an adventure itself, as it is only accessible by boat. But don't worry as the frequency of boats traveling across is in good numbers. But is it worth so much effort? Well, if you like the thought of enjoying the sunset on a private island with the best possible accommodation you can find than the answer is yes. You can also opt for snorkeling lessons or an eco boat tour while you wait for the sunset.
6) Deep Bay

Image Source: Andrew Moore/Flickr
Antigua surprisingly has large number of secluded beaches in very convenient locations. The Deep Bay follows the same pattern. It is located within a close proximity from the capital, St. John. In a distance you will also find ruins of an 18th century fort which is now converted into a hiking trail. If you just want to enjoy the lack of people and beach huts there is no better place to go than here.
7) Hawksbill
With Antigua filled with many resorts and hotels there are a few numbers of beaches that offer free access to the public, fortunately one of the four beaches in Hawksbill will allow you in without a dime. The other two beaches have a beautiful view of red rocks protruding out of the sea. The fourth beach is one of the few clothing-optional beaches in the entire country.
8) Pigeon Point Beach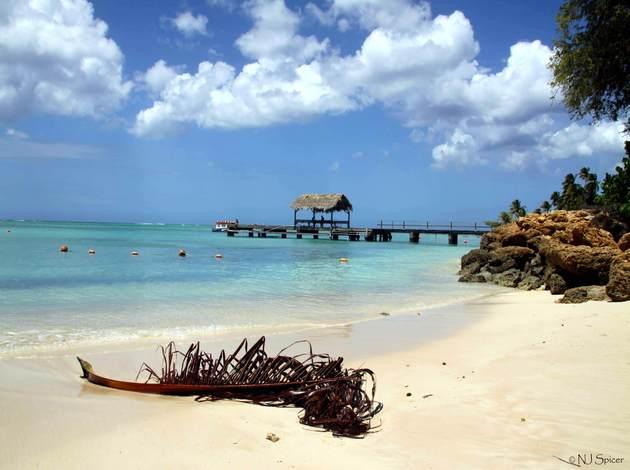 No, this beach is not inhabited by Pigeons. It is also one of the free access beach which is not populated by hundreds of beach huts. It is located on the south coast at the mouth of Falmouth Harbor. The convenient location of this place is what inspired the name. The waters are shallow which makes it perfect for all the non-swimmers and little children's out there.
9) The south-west corner
White sand beaches are quite rare, and white sand beaches with almost no restaurants and bars are very rare. This is one of those very rare beaches which is located on Ffrye's Bay, Crab Hill Point. The beach is on an island which is very secluded and underdeveloped, except for few bars. It also has a very good spot to catch the sunset.
10) Jolly Beach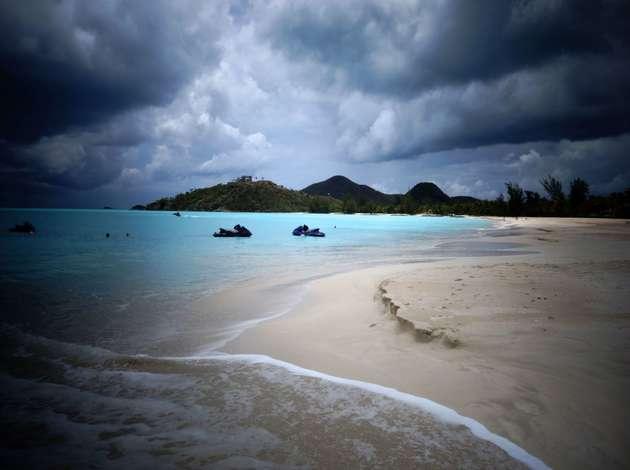 This is a very popular beach in Antigua with many tourists visiting it every year. It is also one of the most easily accessible beaches. You can literally park your car in the parking lot and head over to the beach. The reason behind its popularity is the sheer number of popular restaurant and bar chains which operate here. It is also a hot-spot for many beach parties and local concerts.
11) Fort Bay
Fort Bay beach is located on the road which takes you to Fort James. It is not a very well known beach so there are hardly any people around. Although there is a lack of water sports activity, you can still find some surfers having a drink at the Miller's bar, which is the only good bar around. (cheap beer). You can also participate in a volleyball match with a bunch of strangers, as the people are extremely friendly here.
We recommend visiting one beach every day for the next two weeks to take in the essence of Antiguia. At the end of your vacation you'll thank us.