11 Best Beaches In Cambodia for Perfect Vacation
* Disclosure: This post may contain affiliate links, which means we may receive a commission if you click a link and book something (there is never any extra cost to you for using these links).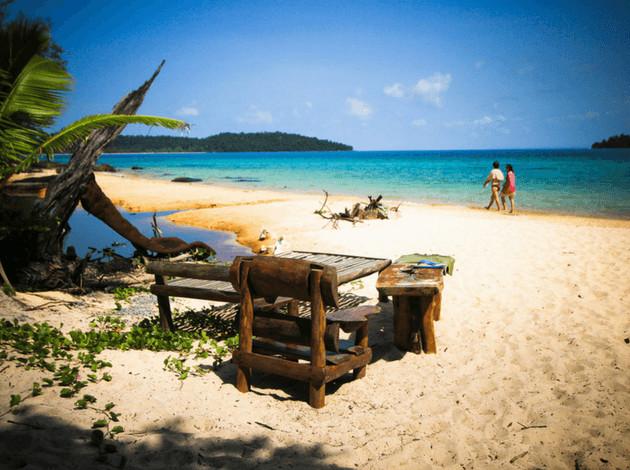 Sitting at the heart of Southeast Asia, Cambodia boasts of a pristine coastline that is still undiscovered by the tourism industry, but is surely gaining popularity amongst avid travellers. Known for being a budget destination, Cambodia offers elephant trodden trails, emerald jungles and of course beautiful beaches to experience.
But apart from the famous activities and temples that most itineraries nudge you to visit, there are a few beaches that you should definitely spend a day at!
Here are 11 best beaches in Cambodia that usually don't make it to a traveller's list:
1. Lazy Beach

Image Source: lazybeachcambodia.com
If your idea of lazing around has always been lying under the shade of pine trees and enjoying the beach sand, this place is for you. The Lazy Beach is less than two hours away from the coast of Sihanoukville and is popular amongst those who enjoy watching the sunset. The pink skies are definitely worth an Instagram feature! If you're up for a little activity too, then you could indulge in snorkeling, diving or simply a little fishing here.
2. Long Set Beach

Image Source: Seán A. O'Hara/Flickr
If you're putting up at the main part of the southeast Koh Rong, then the Long Set Beach should definitely be on your itinerary. Named after a farmer who lives there growing coconuts, mangoes and cashews, the beach is known for the quiet it has to offer. We recommend planning a trip at night to experience bioluminescent plankton here. Trust us, you'll come away with a different beach love from here!
3. Southwestern Beach

Image Source: pixabay.com
Ever dreamt of an endless beach? Kilometers of pristine blue water and calming palm trees? Well, the Southwestern Beach at Koh Rong is just what dreams are made of. With about 43 kilometers of beach, the place can be easily deemed as the most gorgeous island of the Gulf of Thailand. One of the most sought after activities here include snorkelling. If you're an aqua enthusiasts, you'll love watching the colourful rabbitfish, parrotfish and sergeant fish here as you make way through the clear waters.
4. Koh Thmei Beach
One of the most exquisite beaches of Cambodia, the Koh Thmei Beach is known for the mangrove forests it is surrounded by. But what's more is that while you enjoy the picturesque beach, you can also make a quick trip to the Ream National Park. The beach is totally our idea of being close to nature as it is mostly uninhabited.
5. Sokha Beach
Although the Sokha Beach is privately owned, a small section of it is open to the public. The beach is hawker free and is loved by those who enjoy a little time off from the usual hustle bustle of the commercialised areas. The white sands and placid waters here make for a perfect day swim, and are definitely a stress buster.
6. Saracen Bay
Just like the Long Set Beach, you get to experience white sand and crystal clear waters at the Saracen Bay. Situated on Koh Rong Samloem, another Cambodian island, this beach is fast gaining popularity amongst travellers. With eco-friendly luxury tents for accommodation, the beach is almost always void of crowds, letting you enjoy its beauty at your own pace.
7. Ochheuteal Beach
A three kilometre long beach, Ochheuteal beach is one of the most commercial beaches in Cambodia. The beach is actually more popular for the shacks, restaurants and bars it has to offer, more than the view. Since it runs a considerable distance, this beach is ideal for a long stroll. But we must forewarn you, choose a time that others are less likely to be there at because this beach is always way too crowded.
8. Serendipity Beach
Serendipity beach is the rocky outcrop that extends up to a few hundred kilometers just north of the Ochheuteal beach. Buried in between the trees of the low hills overlooking it, the beach has a cluster of wooden and bamboo bungalows up for rent that offer a beautiful view of the sea. The beach is a part of the marine conservation area, but has plenty of shacks and bars around it for dining.
9. Otres
Otres stretches all along the Cambodian coastline. Made up of two areas - Otres 1 and 2, you can enjoy the natural, undeveloped area between the two where the beach is practically empty. Just fifteen minutes down the road from Serendipity Beach, Otres is a lot quieter and laid back compared to its busy neighborhood. There are also a few guest houses here that you can stay at.
10. Koh Tonsay

Image source: James Antrobus/Flickr
Also known as the Main Beach, the soft sands here are surely to make you feel really close to the nature. Situated on the Rabbit Island, which is close to the mainland, you'll feel like you're far away from all the hustle bustle of the city. Lined with gorgeous palm groves and thatched beach huts that serve the best of seafood, this place is perfect for the typical beach experience. You're also sure to be greeted by families of scampering crabs here, so watch where you're going!
11. Koh Pos Beach
Popularly known for serving the best seafood in Sihanoukville, Koh Pos Beach is definitely a must visit from our list. The small, secluded and well shaded beach is the best for curling up with a book, under a tree, enjoying the sun and yummy food. But since the place is still unaltered by too much tourism, you'll find a lot of monkeys in the area. So keep your stuff safe!
Most travelers visit Cambodia in the time from November to March. If you really want to enjoy the scenic beauty minus the crowds, we suggest you plan a trip somewhere between May to early October. Since Cambodia is warm all year round, you don't really need to worry about the weather!
Who's ready for some beach time?