10 Best Beaches in Cancun You Cannot Miss!
UPDATED Feb 15, 2018
675 Views
So, we have the Mexican tequila grown in the arid deserts of the country and then we have Cancun, an unexpected juxtapose with azure waters of the Caribbean Sea and an envious nightlife! An interesting blend of the old and new, southeastern Mexico city gives you best of the worlds. Whether you crave for some authentic culinary delights with some salsa action going on in the background or something sophisticated like the glitzy bars and resorts dotting the popular beaches, you can have it all in Cancun. While this contrast is fickle, it is the city's breathtaking beaches that remain an unbudging constant.
And so, we bring to you this list of 10 best beaches in Cancun, you've got to check out!
1. Playa Delfines Cancun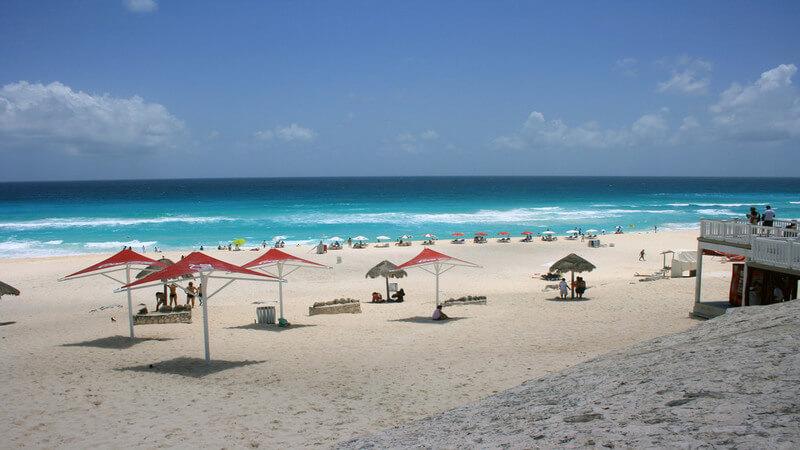 Image Source: PriceTravel pictures/flickr.com

Ranked as one of the most popular things to in Cancun, the Playa Delfine is one of the best beaches in Cancun for quite a lot of reasons. Three main reasons why this beach is an easy favorite are a huge parking with no parking charges, cleanliness, and its calm. The beach is highly recommended by locals despite its waves that tend to get a little overwhelming. These waves bring some beautiful hues of blue and green, making you wonder if the water is actually blue or turquoise; an experience in its own! What's more? It can be easily accessed by public buses too.
Address: Kilometer 19.5, Blvd. Kukulcan, Zona Hotelera, 77500 Cancún, Q.R., Mexico
2. North beach Cancun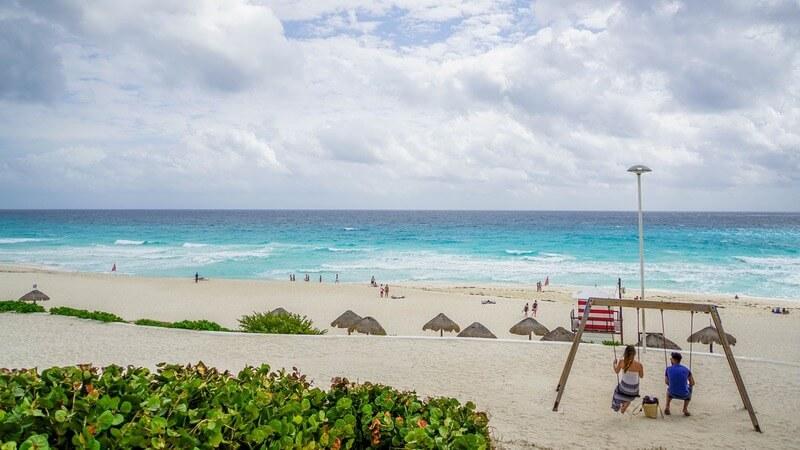 Image Source: Pixabay.com
Also referred to as the Playa Norte, North Beach apart from its beauty can be accoladed for its super chill, laid-back vibe that grips you the minute you are here. The beach is dotted with palm trees swaying to the tunes of a playful wind, beach chairs that beckon and an array of restaurants and bars whipping up some delicious gourmet! The beach has found itself an enduring location on the island of Isla Mujeres. Unlike other characteristics of Cancun beaches, this is one beach minus the overwhelming tides and rocks. Just shallow waters translucent enough to watch the sand cascade through your toes.
Address: Rueda Medina 130, SM 001, Centro, 77506 Isla Mujeres, Q.R., Mexico
3. Puerto Morelos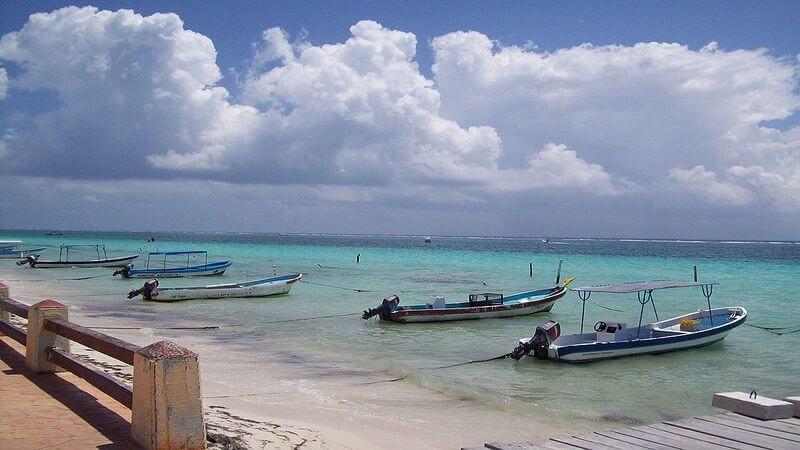 Image Source: Wikipedia.org
Not exactly in Cancun, but if you don't mind an awe-inspiring scenic drive of thirty minutes, then the Puerto Morelos has got to be on your list of things to do in Cancun. Besides, what's not to love about a beach away from the city's hotel zone and an overbearing crowd?! This is one beach where you can have one-on-one interactions with warm locals if you are someone who look forward to authentic rendezvous. The beaches make for picture-perfect locations owing to some incredible grooming. Snorkeling and diving are popular activities at this beach given its feature of the Mesoamerican Coral Reef, that can be easily accessed for explorations.
Address: Quintana Roo, Mexico
4. Playa Forum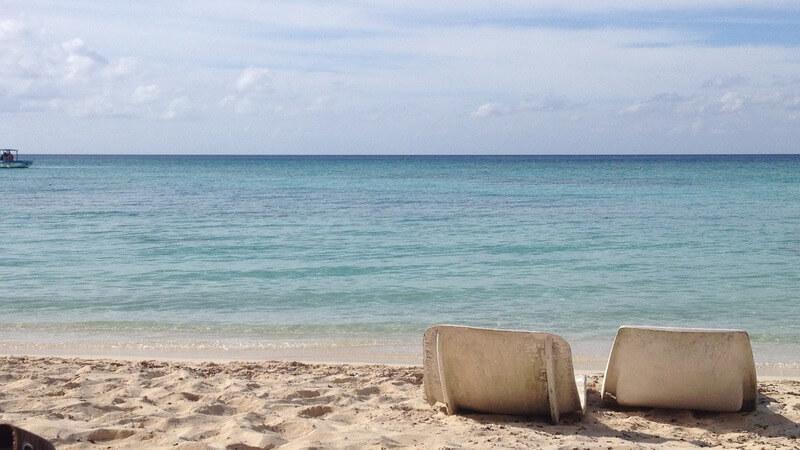 Image Source: Pixabay.com
If you are looking for the best beaches for partying in Cancun, head to the Playa Forum or the Playa Gaviota Azul. With a location, just behind one of the most happening nightclubs of Cancun, Coco Bongo, this beach bestows the opportunity to socialize if you wish to, given its unrestricted public access. You can just lounge around the beach, that tends to get pretty crowded on the weekends or enjoy a quiet, sophisticated afternoon at the beach resorts surrounding this place. Spoilt for choice, you must be with the dilemma to choose between a host of restaurant & bars and the alluring crystal blue waters!
Address: Playa Gaviota, Costa Azul, Mazatlán, SIN, Mexico
Check Out: Best Beaches in Mexico
5. Playa del Carmen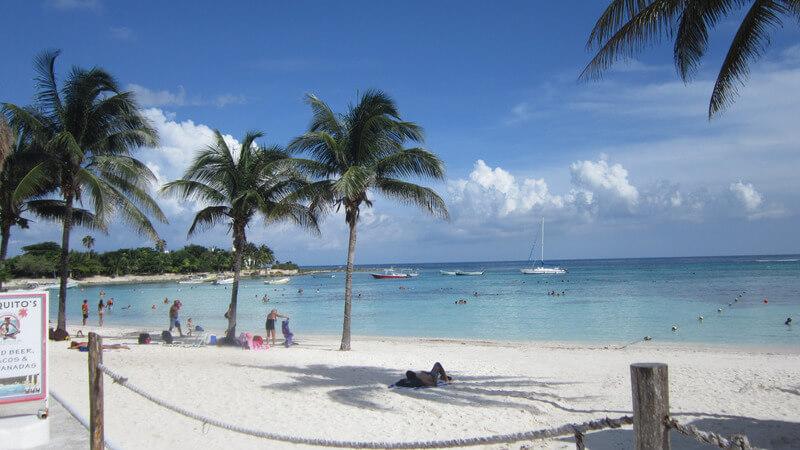 Image Source: jarnocan/flickr.com
Okay, beaches in Playa del Carmen can really leave one puzzled in a bid to choose the best one. Also, although not exactly in Cancun, this city lies just within an hour's drive; and absolutely worth its beaches. The place is really happening being engulfed by a host of restaurants and groovy beach bars. You'll spot a lot of visitors, engaging in beach games like volleyball and football. You can be a lazy, beach bum, sunbathing into eternity too! However, if you want to indulge in some hardcore watersports like snorkeling, heading to the Playa del Carmen at 48h Street is a good idea.
Address: Quintana Roo, Mexico
6. Playa Chac Mool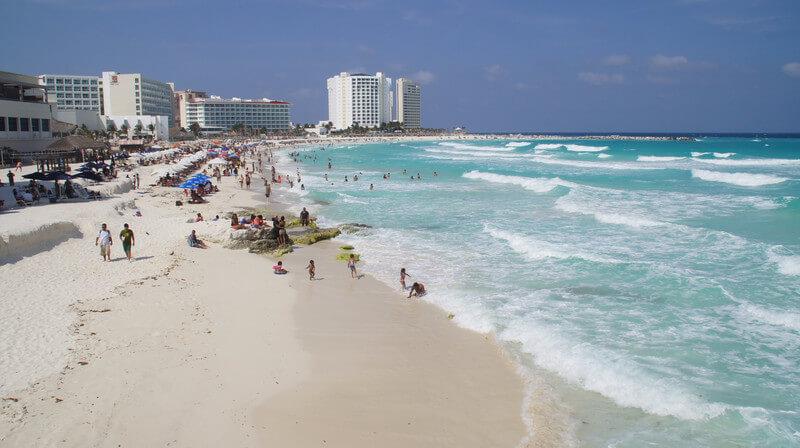 Image Source: travelblog.org
Situated adjoining the Playa Forum, the Playa Chac Mool features similar characteristics of white sand and pristine waters. If there is one thing that sets apart these two beaches, it is the tranquility at Playa Chac Mool; which also makes it one of the best beaches for couples. The beach comes minus all the jazzy distractions of umbrellas and beach beds. You can have it all to yourself in its raw, absolutely organic form! We even urge you to take a stroll here that bespeaks of a short trip to utopia.
Address: Quintana Roo, Mexico
Check Out: Top Budget Honeymoon Destinations
7. Playa Tortugas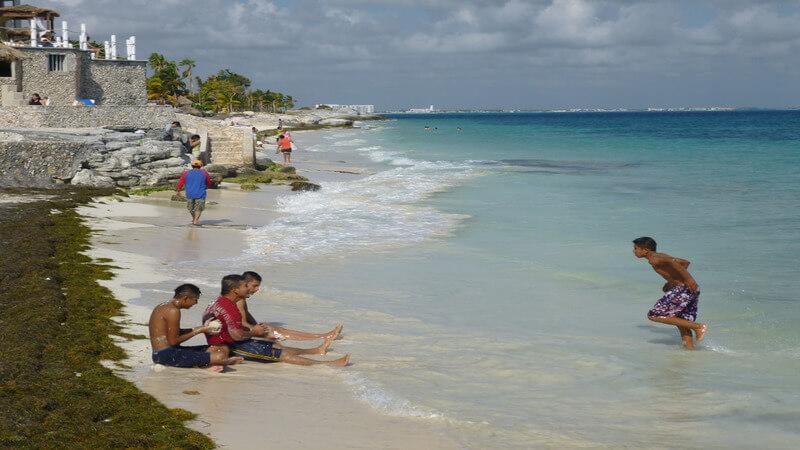 Image Source: Shinya Suzuki/flickr.com
In search of the best beach in Cancun for swimming? It is a common impasse to have to really look around for an ideal, safe place to swim while in this city. Firstly, the waves can get very large, followed by shallow waters and rocks that pose as hindrances for a leisurely swim. But a suitable geographical location makes Playa Tortugas an ideal beach to swim. There are very fewer waves here, which further makes a swim achievable. Additionally, for recreation, you will find a bungee jump tower, restaurants and a marina here.
Address: Quintana Roo, Mexico
8. Playa Las Perlas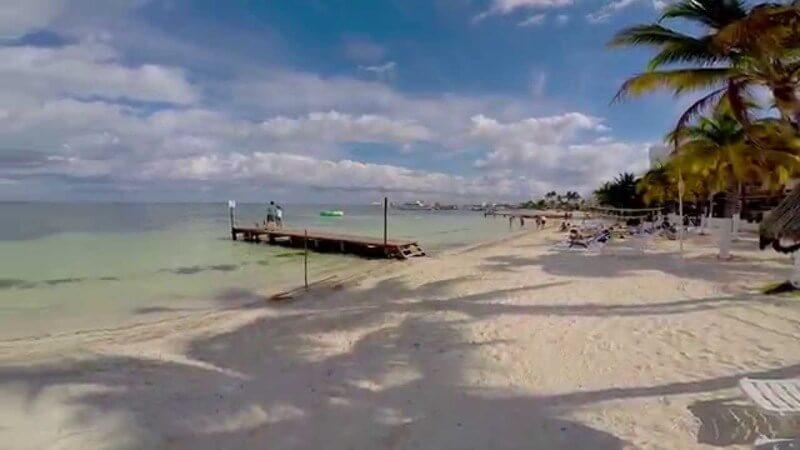 Image Source: Youtube.com
This has got to be one of the best public beaches in Cancun. Firstly, it does not adjoin any other beach from the hotel zone, which means oodles of tranquility! Secondly, its aesthetics derived from its name, literally translating to Beach of Pearls are true to the core. Perfect for an evening, when you are in a mood for a rejuvenating walk along the Kukulcan Boulevard, through the downtown area of Cancun. Shallow waters aid good snorkeling sessions. Call it a good thing or bad, but there are no places to buy food or water here. Despite its tiny size and lack of amenities, this beach is in every right a must-visit beach in Cancun.
Address: Playa Las Perlas, Zona Hotelera, 77500 Cancún, Q.R., Mexico
Check Out: Best Beaches in USA
9. Playa Linda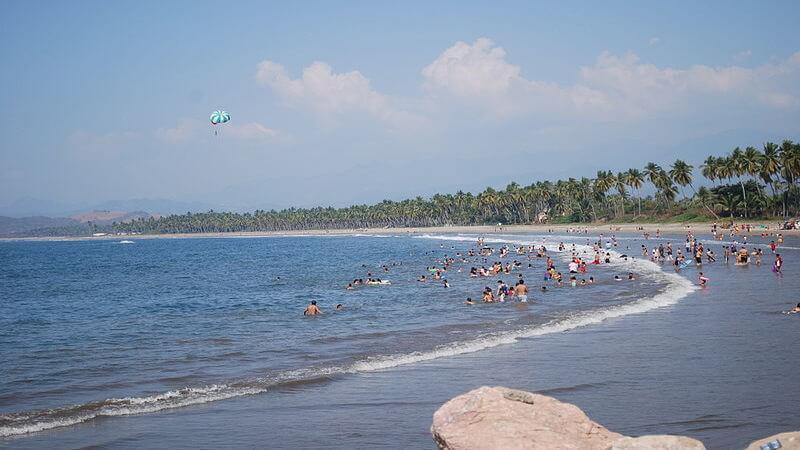 Image Source: Wikimedia Commons
Literally meaning a "pretty beach" in English, the Playa Linda does not disappoint. This beach essentially is a very good-looking beach, however trading its waters for swimming may not be the best idea. The beach lies adjoining the Nichupte Channel which explains the boat traffic here. If you are wondering what else can you do at this beach, go ahead and book yourself a submarine tour or a scuba diving session! The beach is surrounded by numerous resorts and hotels; thus, making it occasionally crowded.
Address: Cancun, Mexico
10. Playa Langosta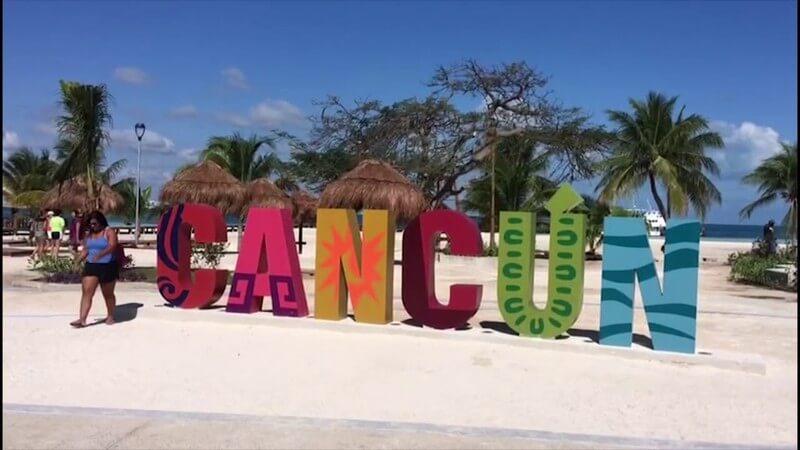 Image Source: Youtube.com
And lastly, we have another fabulous place to swim in Cancun. The Playa Langosta is a surfeit of powdery soft coral sands with shallow waters that make it a safe place to swim and snorkel. The beach is also used as a boarding point for ferries to the Isla Mujeres. The kids especially can have a great time here, given its feature of an engaging kids playground. You are bound to see a lot of locals and guests from adjoining resorts and hotels, making it one fun place to be at.
Address: Zona Hotelera, 77500 Cancún, Quintana Roo, Mexico

This was our take on best beaches in Cancun. Which are your favorite beaches? Let us know in the comments section below.
Also Read: