7 Best Beaches in Colombia for Spending Vacations
UPDATED Apr 24, 2018
279 Views

Image Source: Flickr.com
I have often found my Colombian friends saying, "When God created this country, He gave her an abundance of natural wonders." With an easy access to the Caribbean and Pacific coastlines, sandwiched between the forests of Andes and Amazon, and a colonial atmosphere of the cities, this "Jewel of South America" is one of the most diverse and gorgeous countries in the world. Magnificent mountains, dense jungles and wildlife, beaches lined by coconut and palms, and tranquil deserts- Colombia's varied topography has it all. But when it comes to Colombia's sun-toasted stretches of grey sand close to the underwater playground of Whales and Dolphins, every other magic in the world loses its charm.
So, if you are eyeing a Colombian beach vacation, let me help you with this list of best beaches in Colombia.
1. Crystal Beach, Santa Marta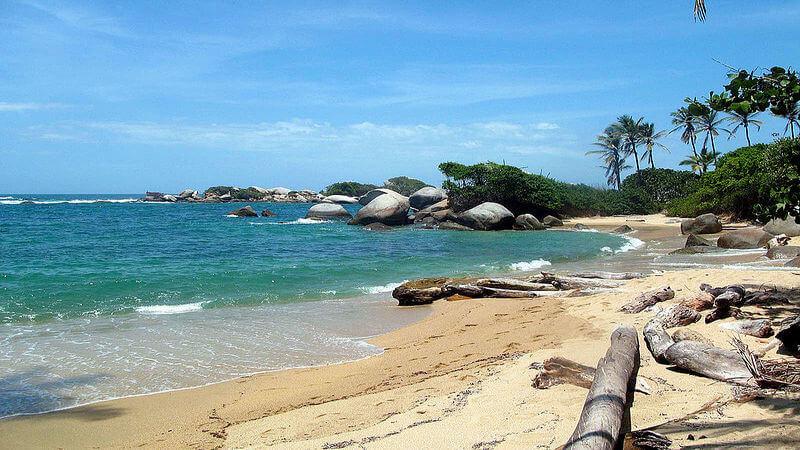 Image Source: Wikimedia Commons
Is snorkeling a favorite beach activity for you? Or you love exploring the wild fauna around the beaches while enjoying a soothing pedicure in warm sand? Then a trip to the crystal beach is something that you need. Crystal beach or Playa Cristal in the local language is one of the most beautiful Santa Marta, Colombia beaches. The unique white sand strands separated by the rocks are the highlights of this beach. Far from the madding crowd, Crystal beach is also one of the most secluded beaches in Colombia. The beach is located in Parque Tayrona, and you can reach here by taking a boat ride from Neguanje. If you want to witness plenty of tropical fish playing rhythmically around the coral reef, Crystal Beach is the best place to be at.
Things to do: Snorkeling, Tayrona National Park Tour
2. La Boquilla, Cartagena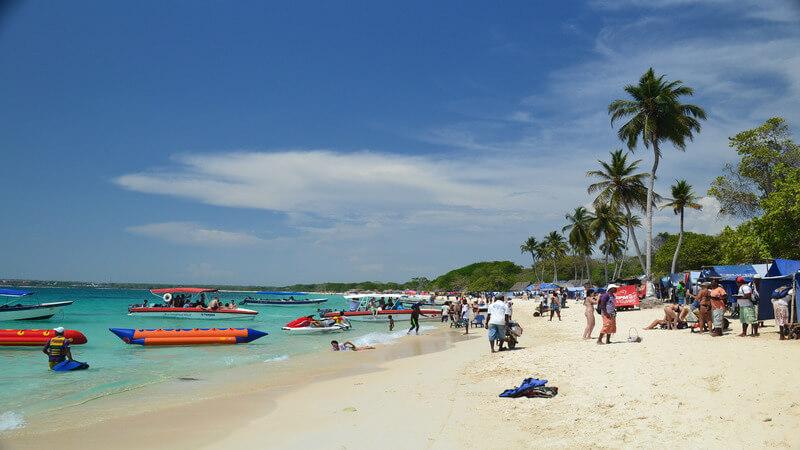 Image Source: Flickr.com
With sparkling platinum sands and turquoise waters, and plenty of resorts, restaurants, pubs, and fun-centers on the other hand, La Boquilla in Cartagena stands as a perfect juxtaposition of peace and party. Known as one of the best party beaches in Colombia, La Boquilla is favorite to many families and party-lovers as well. Nothing can ever beat the alluring elegance of the beautiful resorts present on the beach offering a relaxing Turkish bath, multiple swimming pools, gyms, and a 24-hour security. This Cartagena Colombia beach is favorite to many Colombians as it offers an excellent party atmosphere along with the extensive beaches.
Things to do: Taste the best seafood and party at the kiosk.
3. Playa Manzanillo, Providencia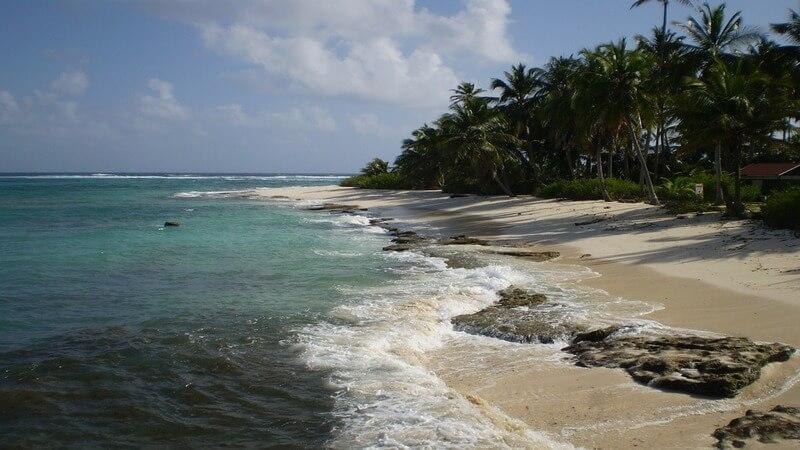 Image Source: Pixabay.com
This Isla de Providencia beach is one of the best spots for the people looking for an off-beat beach vacation. The Island of Providencia, a land marked by its silvery sand beaches, spectacular scenery, and turquoise waters, is located about 90 kilometers from San Andres. This gorgeous island hasn't been affected by the various invasions in the history of South America, and therefore the cultural vibe you will experience here is extremely pure. The locals, who are proud of their rich culture and heritage, are still seen speaking the "Creole" all around, and so are the beaches of this land- pristine and uncontaminated. This makes the 300-meter long Playa Manzanillo beach one of the best swimming beaches in Colombia.
Things to do: Swimming, Diving, Experiencing the local culture
Read: Where to go in South America
4. Spratt Bight Beach, San Andres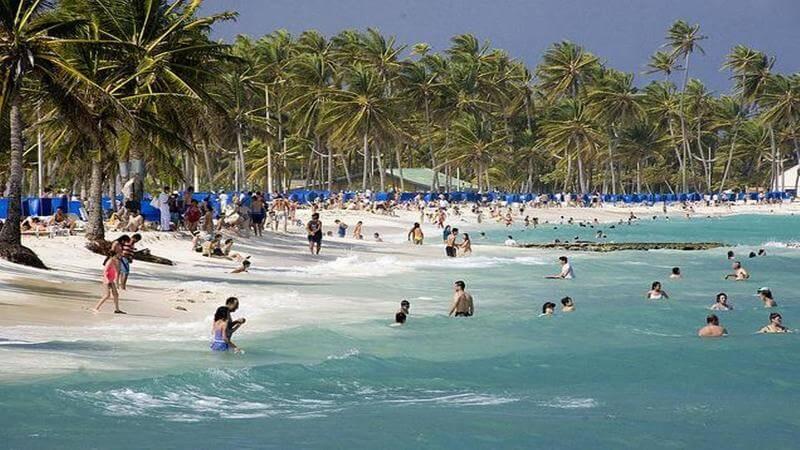 Image Source: Wikimedia Commons
When you let your feet rest under the blanket of the soft sand of Spratt Bight Beach, the worries in your head will just vanish away. Located 800-kilometer northwest of mainland Colombia, San Andres looks like a seahorse playing with the azure blue waters of the Caribbean Sea. One of the best surf beaches in Colombia, Spratt Bight Beach in San Andres is also one of the most favorite weekend getaways for Colombians. This San Andrés beach is known for its idyllic seafront, diverse ecosystem, and Anglo-Caribbean vibe. The island of San Andres is home to 12 mangrove forests, most of which are close to the Spratt Bight beach. In addition to an incredible relaxation, there are a lot of things to do on the beach.
Things to do: diving, snorkeling, and outdoor exploring.
Check Out: Top 10 Happiest Countries in the World
5. Palomino Beach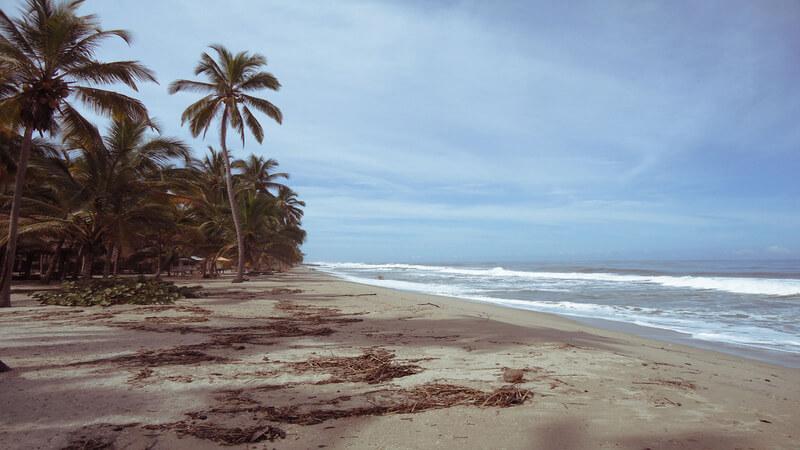 Image Source: Flickr.com
Often called a "secret paradise of Colombia", Palomino Beach is truly one of the best beaches in Colombia for backpackers. With Sierra Nevada mountains in its background, Palomino beach looks breathtakingly beautiful. Palomino is basically a small village where you can reach after taking a bus from Santa Marta. The sea is comparatively calm at this part of Colombia, and this makes it a great place to swim or to play with the surfs. Close to the beach, there are many nature parks and pools to dive deep. Besides, if you are a bird enthusiast, this beach is a heaven for you!
Things to do: Bird watching, Nature tours, Diving
6. Taganga Beach, Santa Marta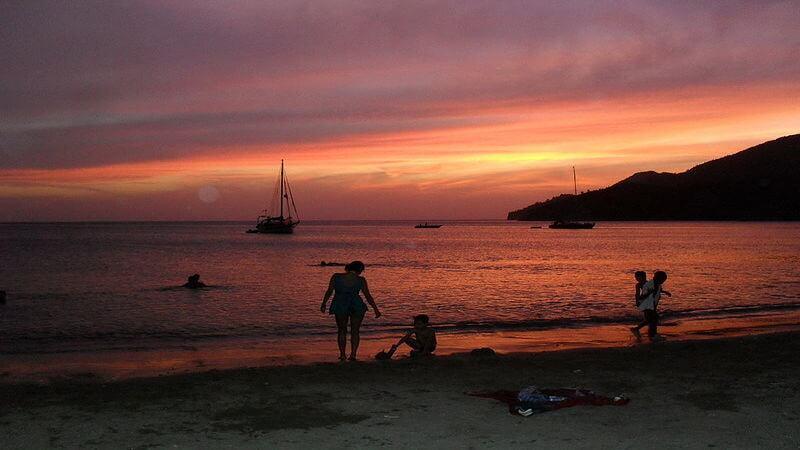 Image Source: Wikimedia Commons
Santa Marta is truly the soul of Colombia, especially when it comes to the most beautiful beaches. Taganga Beach is not only a backpacker's paradise but also an ideal place for a romantic vacation. Also known as Playa Grande, Taganga Beach is just 15 minutes' walk from Santa Marta Historic Center. The fairy blue skies contrasting with turquoise waters of the Caribbean make the entire landscape look like a dreamland. The beach is also party-lovers' heaven and swimmers' paradise. It also has some of the best beach resorts in Colombia.
Things to do: Swimming, Nightclubs
7. Capurganá y Sapzurro Beaches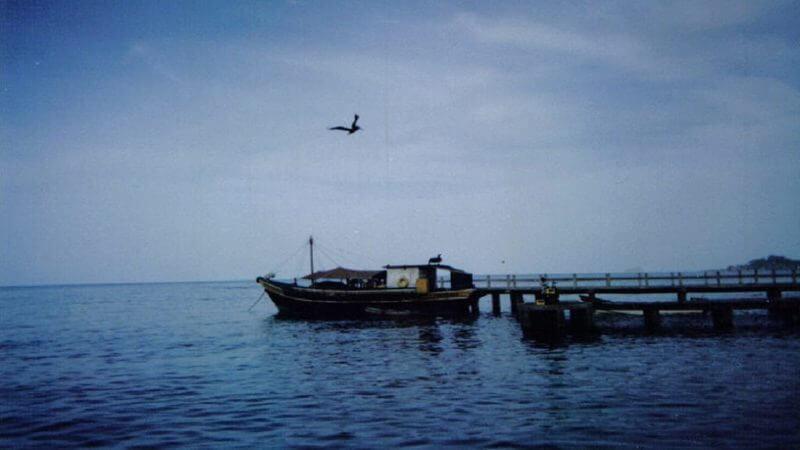 Image Source: Wikimedia Commons
Located at the far north of Colombia, Capurgana and Sapzurro villages are home to some of the most spectacular beaches. The tourism has not yet been fully developed in these villages and therefore, if you are the one seeking an escape from the noisy crowd and want to spend some time exploring nature's best hidden treasures, Capurganá y Sapzurro is the best destination to head to. The least walked beaches and jungle-covered mountains of this place will offer you a refugee from the hustle and bustle of the city.
Things to do: Boat Ride, Camping
With deep orange sunsets to azure blue waters, the beaches of Colombia are perfect for snorkeling, diving, and exploring the coral reef of the Caribbean. The fresh seafood, glorious wildlife, and the laid-back vibe of Colombia are waiting for you. Don't waste your time more, let the pace of life go slow, and relax on the white sand beaches of Colombia.
You experience what you create with your trip plan. Create a better experience here.