12 Best Beaches in Georgia for Ultimate Summer Getaway
* Disclosure: This post may contain affiliate links, which means we may receive a commission if you click a link and book something (there is never any extra cost to you for using these links).

GEORGIA! Whenever someone mentions the name of this southeastern state of USA, I'm as happy as Larry. There is a lot I can relate to with Georgia: A location for my favorite film "Gone with the Wind", home to the 7 natural wonders (Amicalola Falls, Providence Canyon, Radium Springs to name few), a place to find the world's largest aquarium and the largest collection of Coke at the World of Coca Cola! This "Peach State of USA" offered me some of the phenomenal and awe-inspiring sights I have ever witnessed in my life. This energetic and at the same time relaxing state owns a 100-mile shoreline that faces the magnificent Atlantic Ocean between South Carolina and Florida. So, if you are looking for an ultimate summer getaway, check out these best beaches in Georgia to catch an incredible atmosphere of sand and surf.
1. Tybee Island Beach

Image Source: Flickr.com
Nestled near the mouth of the Savannah River, Tybee Island Georgia Beach boasts a south beach, mid beach, north beach, and two river beaches of Savannah and Back River, Tybee Pier and Pavilion being one of the famous attractions. Tybee is the easternmost end of Georgia, and once it used to be famous for pirate activities. While the South beach is one of the busiest spots in Tybee, it is favorite to the tourists who love fishing, festivities, and events. There are plenty of restaurants, bars, and resorts near the beach.
If you don't like the crowd, you would like to visit the Mid Beach and enjoy some seafood at Marlin Monroe's. North Beach is, indeed, one of the most spectacular beaches you will see, and this is mainly due to the presence of the Tybee Lighthouse and Fort Screven. Want to enjoy some solitude? Take a left turn from the North Beach and visit Savannah River Beach which one of the best secluded beaches in Georgia.
Activities: Dolphin Tour, Biking along the beach, Kayaking, Jet Skiing, Stand Up Paddle boarding, and Surfing
Best Time to Visit: March to July
Ideal for: Families, Couples
Book your hotels on Tybee Island now!
2. Driftwood Beach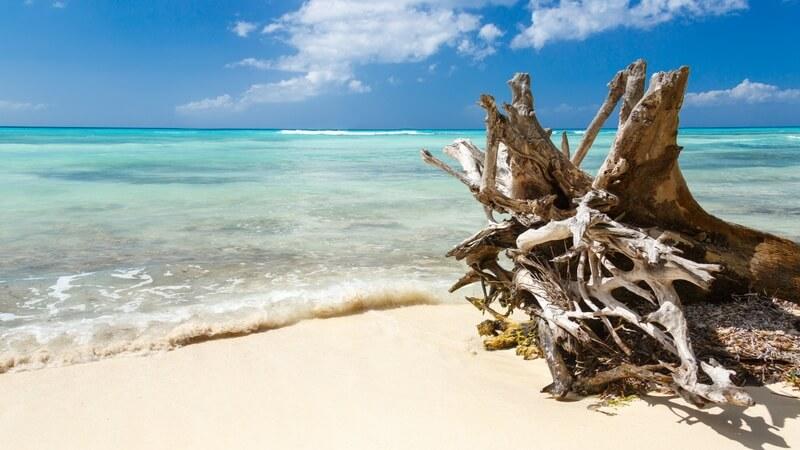 Image Source: publicdomainpictures.net
If you are looking for a unique coastal destination, come to visit Driftwood Beach, and you will feel the happiness like never before. Often called "the most romantic beach" in Georgia, Driftwood Beach is located in Jekyll Island. The place got its name by the fact that you will find the ancient driftwood on the waterfront. The entire beach looks like a "tree graveyard". This beach is just a short distance from Jekyll Island Campground. The beach offers the best location for photography and was once featured in USA Today as one of the best Southern beaches for a relaxing escape. It is also a favorite venue for the wedding.
Activities: Biking on surrounding trails, and walking and jogging around the coastline and sandbars.
Best Time to Visit: Mid-February
Ideal for: Youngsters, Couples, Photographers
3. St. Simon's Island Beach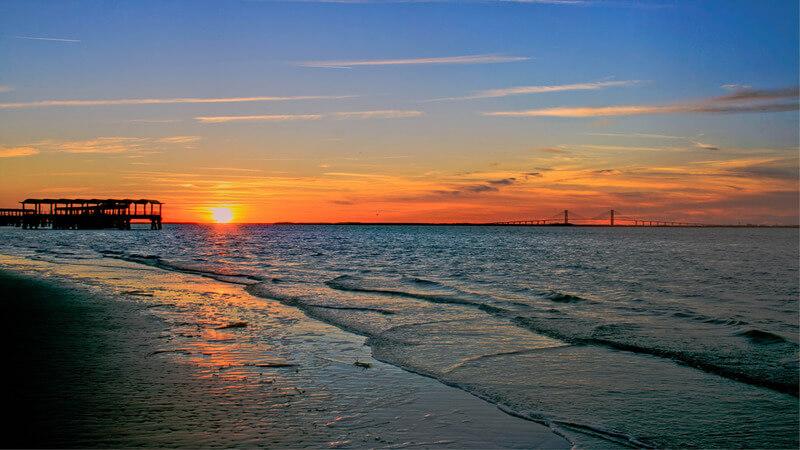 Image Source: Flickr.com
Wherever you search for the best beaches in Georgia and Florida, St. Simon's would be one of them. Famous for the "most spectacular sunset" in Georgia and its rice and cotton plantations, St. Simons Island Beach is something that would not like to miss while in Georgia. St. Simons is also home to plenty of picturesque golf courses and therefore, make it a perfect destination for all the golf lovers. Also known as "The East Beach", the island also brims with many historical sites including St. Simons Lighthouse. The warm climate of the island is home to many local and migratory seabirds as well as the animals like white-tailed deer, raccoons, alligators, terrapins, and marsh rabbits. The sound of the Atlantic Ocean provides a natural melody to festivities on this island. It is one of the beaches within 5 hours of Atlanta. Don't forget to bring your best friend as this is one of the dog friendly beaches in Georgia.
Activities: Golfing, hiking, walking, biking, boating, and sailing
Best Time to Visit: Late Spring and Summer
Ideal for: Families, Adventure seekers
Looking for hotels on St. Simons? Click here.
4. Cumberland National Seashore

Image Source: Wikimedia Commons
Cumberland National Seashore is truly a dream for any nature lover. You can reach here only with the help of a ferry or a kayak. The glittering white sand dunes and rich wilderness make it the most pristine beach in Georgia. The miles-long beaches of Cumberland are home to a wide variety of animals and birds such as deer, rabbits, raccoons, turkeys, and wood storks. The beach has a good population of wild horses and loggerhead turtles. People looking for a rustic getaway often come here for camping.
Activities: Camping, hiking, biking, and beachcombing. Experience the maritime wilderness at its best here!
Best Time to Visit: Winter Months
Ideal For: Campers, Adventurers
Book a cozy resort near Cumberland National Seashore!
5. Nanny Goat Beach

Image Source: pxhere.com
Are you a history buff? Then out of all the Georgian beaches, Nanny Goat beach in Sapelo Island is the best stop for you! You must be wondering what a connection between a beach and history could be. Let me tell you that the historic tales of this island begin from 1155 A.D. when the Native Americans nurtured this land with their culture. Apart from this, many European settlers also came here, including the Spanish who lived here from the 17th century onwards. Due to this fact, people also call it one of best beaches in Georgia to live. The undulating dunes and sparkling sea grasses have plenty of lores hidden behind them. Some of the historical sites that you can visit from the beach are R. J. Reynolds Plantation, the Chocolate Plantation, Hog Hammock, and Sapelo Island Lighthouse.
Activities: Birdwatching, swimming, sunbathing, and fishing.
Best Time to Visit: June to August
Ideal for: Nature enthusiasts, History buffs, and Families.
Looking for budget accommodations? Click here!
6. St. Catherines Island Beach

Image Source: Wikimedia Commons
20 miles from the south of Savannah, St. Catherines Island is one of the Golden Isles on the cost of U.S. state of Georgia. The 10-mile long beach on this small tidal island is often considered as the most beautiful beach by many nature lovers, tourists, and photographers. More than half of the island is dominated by tidal marsh and wetlands. The forest of pine and oak that surround the pristine beach of St. Catherine make it a paradise for the wildlife lovers. A visit to Wildlife Conservation Society's Zoo is a must if you want to see the endangered animals in their natural habitat.
Activities: Swimming, day picnics, beachcombing, and archaeological research.
Best Time to Visit: All year round
Ideal for: Couples, Wildlife Enthusiasts
7. St. Andrews Beach

Image Source: Flickr.com
St. Andrews Beach is, indeed, one of the best beaches in Georgia, USA. This Jekyll Island beach is perfect for a family vacation as well as favorite to many couples for a romantic destination. The beach is located at a very short distance from the famous Jekyll Point which is the southernmost tip of Jekyll Island. The beach is popular among the bird watchers as plenty of migratory birds flock on the shores along with joyous dolphins playing hide and seek in the Atlantic waters. There is a picnic area at the beach boasting a two-story wildlife viewing platform. Bring your pet here, as the beach is pet-friendly.
Activities: Dolphin tours, picnicking, hiking, birdwatching.
Best Time to Visit: All year round
Ideal for: Families, couples
Want to stay near St. Andrews Beach? Find the hotels here!
8. Sea Island Beach

If you are looking for the best beaches in Atlanta Georgia, the first name that would pop up would be Sea Island Beach. Sea Island offers 5 miles of private beach, especially to those who need a romantic escape from the chaotic world with their significant other. In addition to the piers facing the Atlantic Ocean, you will find some resorts and Sea Island Beach Club offering swimming pools, waterslides, splash pad, and more fun. You can sit on a pier looking at the wild waves of the ocean while munching delicious food and sipping wine on Sea Island Georgia Beach.
Activities: Kayaking, sailing, and swimming. Kiteboarding, paddle boarding, and beach fun cycles.
Best Time to Visit: September and May
Ideal for: Couples, Adventurers
9. Gould's Inlet

Image Source: Wikimedia Commons
For an introvert like me, this beach is the perfect place. Do you enjoy the sense of solitude, meditating upon the ocean waves, experiencing the fresh air embracing your heart? Then spend some hours at Gould's Inlet, and you will understand the world of this place. This is one of the secluded beaches in Georgia. Nestled on the northern edge of the East Beach, Gould's Inlet is home to many coastal birds such as brown pelicans, black skimmers, royal terns, laughing gulls, willets, American oystercatchers, and herring gulls. To add more to the rustic experience of this beach, plan to meet the local fishermen on the fishing piers and learn the art of fishing.
Activities: Fishing, Paddle Boarding, Kayaking, Birdwatching
Best Time to Visit: Summer
Ideal for: Solo Travelers, Nature Enthusiasts
10. Glory Beach

Image Source: Wikimedia Commons
You can understand the popularity of this beach by the fact that it was the location for the 1989 Civil War Movie "Glory". The beach is famous for its Glory Boardwalk which is located Jekyll Island Soccer Complex. This long boardwalk built by the producers of the film is one of the things to see and do in Jekyll Island as an easy walkway across sand dunes and freshwater pools. While taking a walk here, you can also enjoy the panoramic views of the Cumberland Island. People in Georgia often come here for day trips.
Activities: Boardwalk, fishing, boating, nature tours
Best Time to Visit: Fall and Winter
Ideal for: Couples, Youngsters
Searching for accommodation? Check here!
11. Robin Lake Beach and Callaway Gardens

Image Source: Flickr.com
One of the biggest man-made beaches in the world, Robin Lake Beach and Callaway Gardens is an ideal weekend getaway for families. For all who don't like to be lazy and have plenty of energy to experience and experiment, Robin Lake Beach and Callaway Gardens is the best place. Plan a Callaway garden Beach trip with your loved ones especially on its Memorial Day weekend, and you will see the place come alive with different colors and festivities. Being one of the best beaches in Atlanta, Georgia, this is a hub of summer activities.
Activities: canoeing, Kayaking, Paddling, Swimming, Sunbathing, Shuffle boarding, Waterskiing, Wakeboarding, and Tubing
Best Time to Visit: May to July
Ideal For: Families
Read More on:
12. John Tanner State Park and Beach

Image Source: Wikimedia Commons
Located in the Carrollton, Georgia, John Tanner State Park is spread over an area of 138 acres. The park is home to one of the largest sandy swimming beaches in Georgia. With a plethora of recreational activities, this beach is perfect for families as well campers as it features a huge campground with water hook-ups and shades. The place is named after a local businessman John Tanner. Come here on Halloween and see the fun!
Activities: Camping, Picnicking, Miniature Golf, Beach Volleyball, Swimming
Best Time to Visit: All year round
Ideal for: Families, Campers
Plan to stay in these hotels!
In addition to the beaches mentioned above, Cabretta Beach, U.S. Coast Guard Station, Little St. Simons Island are some other popular beaches in Georgia. With throngs of activities to do, unique scenery, and azure blue waters, I found that Georgian beaches are truly mystical in their powers to slow time, erase reality, and take you to a dreamland you have never visited before.