13 Best Beaches in Goa That Are Instagram-Worthy
* Disclosure: This post may contain affiliate links, which means we may receive a commission if you click a link and book something (there is never any extra cost to you for using these links).

Image Source: Rajarshi MITRA/Flickr
Ah, Goa! Where do I even start? Or do I need to? I mean does Goa need any introduction at all? Prolly the most easy-going place to be in India, Goa is tucked comfortably between the Arabian Sea and the Western Ghats and is blessed with abundant natural beauty, making it one of the (chuck it!) the most loved state in the country, I would say. Goa was my first ever holiday destination at the age of 4. I remember looking that the sea and wondering if I could just go running and play in its waters. Then I remember eating a delicious fish for lunch :P Over the years, I have travelled to Goa a number of times, with family, and with friends, trust me, this little slice of paradise has not failed to surprise me.
Goa is easy to access. With an international airport, two major railway stations and a National Highway running across the state, options to reach Goa are plenty. Within Goa, I would recommend hiring a bike (do not forget to splash that sunscreen) and whizz through curvy roads that run along the coastline; though taxis and buses are also available.
Goa probably has the widest range of accommodation available, from private golf courses and beaches to shanty beach huts, to the recently popular Airbnb's. You can choose to lay in your bed and look at the palm fringed beaches and the endless sea; or sunbathe on one of the beach chairs (again, do not forget to splash that sunscreen 😉)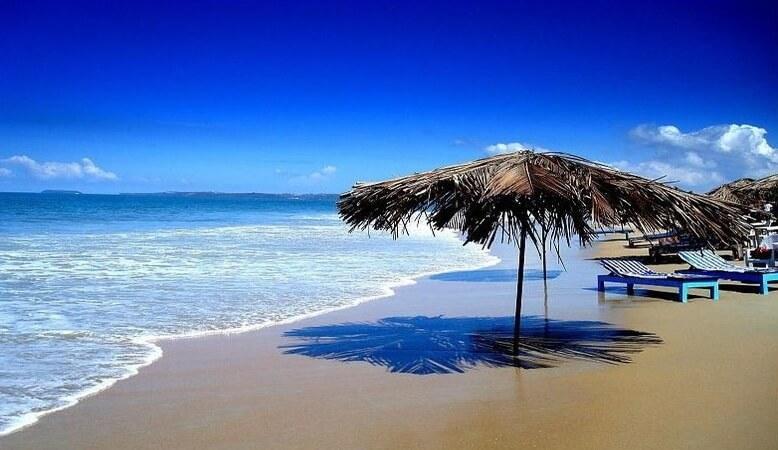 Image Source: Wikimedia Commons
Insider's tip: Goa accommodation is cheaper by almost 25% to 30% during the months of monsoon.
A Lil bit of Goan history:
The earliest mentions of the state of Goa were found in the 3rd century B.C during the rule of the Mauryan Empire. For the next 750 years or so, Goa was ruled by various Hindu dynasties like the Chalukyas, the Shilaharas, and the Kadambas. What followed was a brief rule by the Muslims, who used Goa as a port for ships carrying horses to Hampi. By the 16th century, Vasco da Gama landed in Goa and the Portuguese ruled over Goa for the next 450 years. On December 17, 1961, the Indian government ordered a military invasion and liberated Goa.
With such diverse history, the state of Goa has managed to retain a little bit of each of its previous empires and offers its visitors a great melange of the best of both the worlds.
Let us move to the more fun part now, shall we?
With a coastline running 125 kilometres from North to South, Goa beaches are mainly divided into North Goa Beaches and South Goa Beaches. While some of them are very touristy, a few others are secluded and private.
Scroll down and you will find some kick-ass beaches Goa has to offer. These best Goa beaches are not to be missed, sure, but there is so much more to do here. So, don't just visit the most famous Goa beaches but you also get a chance to touch upon the nearby quaint little beaches, churches and shacks.
1. Querim Beach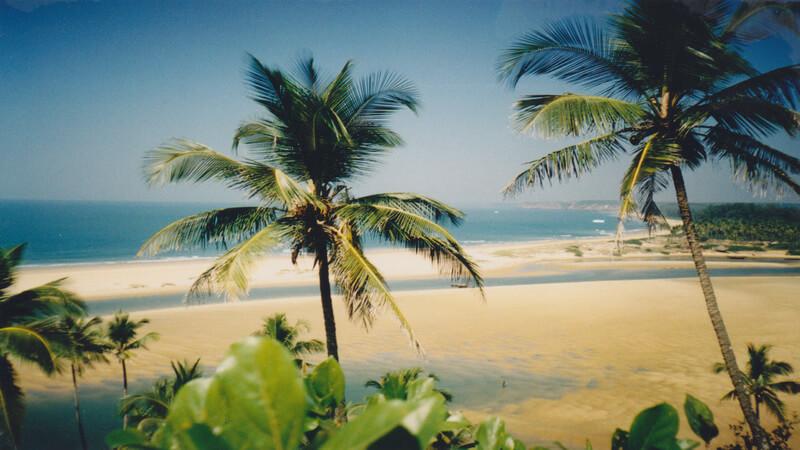 Image Source: Wikimedia Commons
Located in the Pernem taluka of North Goa, Querim Beach, also known as the Keri Beach, is the northernmost beach in Goa. Querim Beach does not attract a lot of vendors & sellers and hence is relatively peaceful. The nearby ancient temples, an old fort across the Goa state border and the vibrant Goan houses add to the beauty of this place. The long, sandy beach is best enjoyed by witnessing the Trekhol River run behind the line of palm trees and flow into the sea. Across the river, the beautiful 17th-century Terekhol fort provides some stunning views.
Also visit near Querim Beach:
Kalacha Beach – With a freshwater lake a step away from the beach, Kalacha beach is surrounded by mountains and of course, the beautiful sea on its western coast.
Arambol Beach – This rocky little beach is another favourite among the travellers visiting North Goa. The nearby Arambol village has been a traditional fisherman's village since centuries.
Mandrem Beach – Known for its fine Goan Feni (an alcoholic drink prepared from cashew fruit), Mandrem Beach has beautiful coconut trees lined up on its beach.
Ashwem Beach – The one with yoga and gorgeous beach parties, Ashwem beach is famous for having large groups of turtles who come up to the shores to lay their eggs.
2. Morjim Beach

Image Source: Wikimedia Commons
Situated on the northern banks of Chapora River estuary, Morjim beach is a nesting and hatching habitat of the Olive Ridley sea turtle. Also called the Turtle Beach, this beach strip is 3 kilometres long and is adorned with a mix of coconut trees and amazing nearby forest. The beach is flat and clean and if you are looking to get rid of the crowd, you should definitely visit this beach. The sunset her looks absolutely gorgeous with the mighty Chapora Fort in sight.
Also visit near Morjim Beach:
Chapora Fort – How can you forget the scene from 'Dil Chahta Hai' where three friends sit atop a ruined fort and ponder over life? Such a beautifully captured emotion! Visit Chapora Fort to relive that moment.
Chapora Beach – One of the quietest beaches in Goa, Chapora Beach is not a very big one. Grab a get a drink at one of its beach huts and watch the sun set at the horizon.
3. Vagator Beach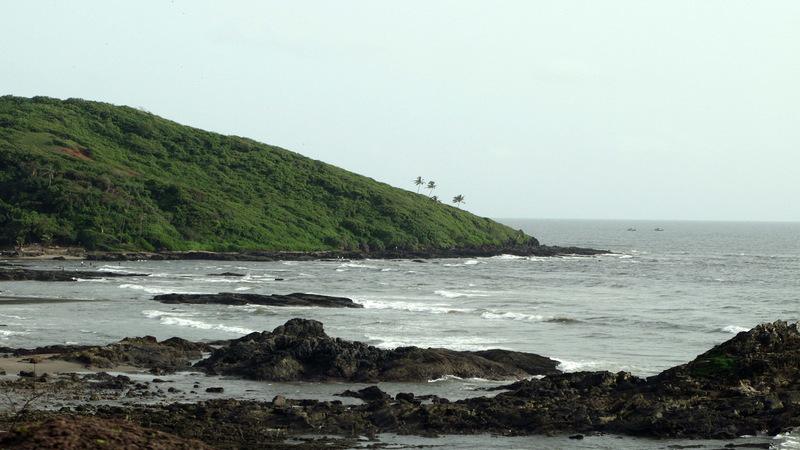 Image Source: abcdz2000/Flickr
Vagator Beach is a part of a 30-kilometre-long coastline that starts from Chapora Fort in the north and ends at Fort Aguada in the south. With rock formations enhancing the scenic beauty of this beach, one needs to climb down a hill to reach the Vagator Beach. Yellow sands, black stones and green palm trees swaying and the sea waves crashing on its shores, Vagator beach is undoubtedly one of the best beaches of North Goa.
Also visit near Vagator Beach:
Middle Vagator (Tel Aviv beach) – Located just south of the Vagator beach is the Middle Vagator beach, also called the Tel Aviv beach, this beach attracts a large number of British and Israeli tourists. Looking for top beaches in goa for foreigners? Head out to Middle Vagator.
Little Vagator (Ozran) – This small yet picturesque beach is another favourite among the foreign tourists. With many beach shacks and beach beds, you can easily spend a day here as you down a bottle of your favourite beer.
Check Out: Best Places to Visit in North Goa
4. Anjuna Beach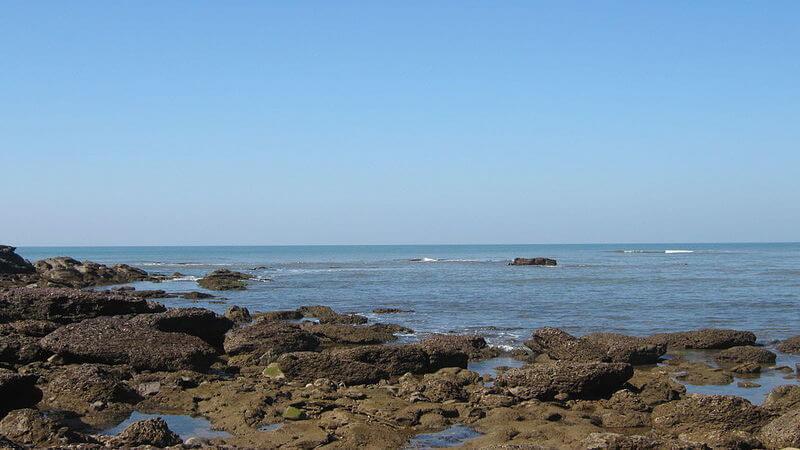 Image Source: Wikimedia Commons
One of the most popular beaches in the Bardez district of Goa, with beautiful palm trees lined on both sides of these curvy black roads, the road leading up to Anjuna beach is considered one of the most scenic drives in Goa. A popular 'hippie paradise' this beach attracts a mixed crowd. The trance parties and the Wednesday Flea Market is what makes Anjuna a must visit Goa beach. With many yoga retreats in the nearby villages, Anjuna should be on your list of must visit beaches in North Goa. This is one of the top beaches in Goa for nightlife!!
Also visit near Anjuna Beach:
Anjuna Market – This Wednesday night flea markets has to be a part of your travel itinerary.
Bagjuna Beach – With a personal touch of mother nature herself, Bagjuna is relatively unexplored. A perfect place for a couple to spend some quality time (hand-in-hand, of course 😉), Bagjuna Beach is a gem!
St. Michael's Church – Featuring a Portuguese style of architecture, St. Michael's Church is one of the oldest churches in Goa. With a large door and two massive white towers, the building is very intricately decorated and totally worth a stop!
Check Out: Shopping Places in Goa
5. Baga Beach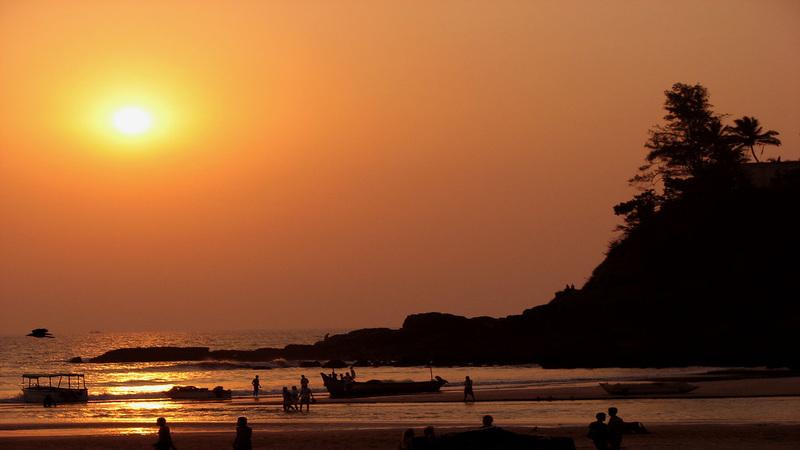 Image Source: Extempore/Flickr
Bustling with local as well as foreign tourists, Baga is undoubtedly the most popular beach in North Goa. With a number of shacks, fishing boats, and water-sports options, this beach has some of the best waves along with many brilliant restaurants. There is never a dull moment at Baga! A great place to enjoy water-sport activities, the winds here are quite favourable. Try your hand at parasailing, motor-scooter riding and some surfing. With many dazzling shops around the beach, you can try your hand some street-shopping. Also, do not forget to try some awesome tandoori fish at one of the restaurants located here. Stretching over 30-kilometres, there is a lot to do here!
Tip: Do not forget to bargain the prices!
Also visit near Baga Beach:
Calangute Beach – The largest beach in Goa, this beach needs no introduction. Called the 'Queen of beaches,' Calangute is one of the most commercialised beaches of Goa. There is always music in the air here. The beach is swarming with eateries, shacks and clubs.
Coco Beach – Located at the mouth of the Nerul River on the Mandovi Estuary, Coco Beach is one of the most visited beaches by the locals. Goan families head out to this beach for their little picnics.
6. Candolim Beach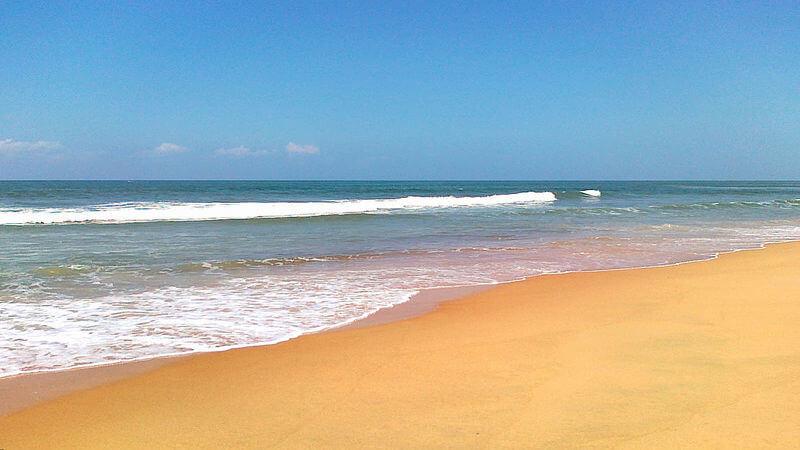 Image Source: Wikimedia Commons
Yet another 'not-to-be-missed' Goa beach is the Candolim Beach. This beach is relatively quieter as compared to Baga and you will find many tourists chilling here on one of the sun beds (sun beds cost approximately ₹ 200/- for 3 hours). The dune scrubs are quite popular here and add to the beauty of this beach. The scintillating sea adds to its charm. One of the best beaches in Goa for honeymoon.
Also visit near Candolim Beach:
Sinquerium Beach – Wanna try your hand at skiing, para-sailing, fishing, scuba diving and windsurfing, then you must head out to the Sinquerium Beach.
Miramar Beach – Of the two beaches located in the Goan capital of Panaji, Miramar beach is the more famous one. This lovely golden beach is much cleaner and shorter than its northern counterparts. A perfect place to enjoy the sunset with your dear ones.
Caranzalem Beach – The second beach of Panaji, Caranzalen Beach is famous for being a swimmers' friendly beach due to its undercurrent free shore.
7. Dona Paula Beach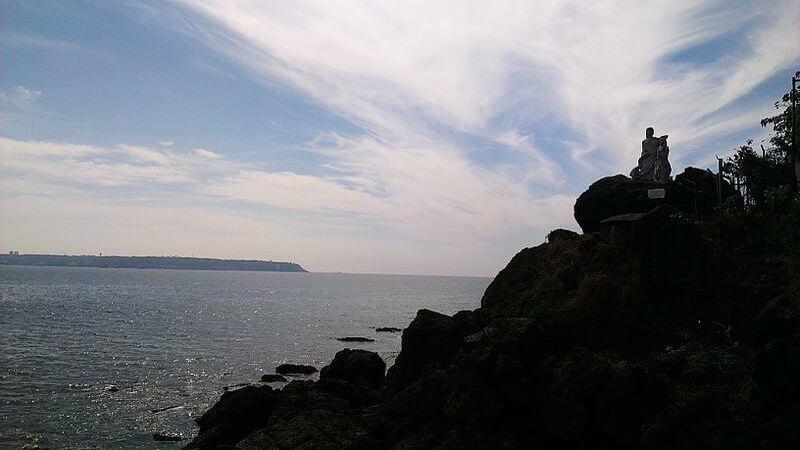 Image Source: Wikimedia Commons
A lovers' paradise, Dona Paula Beach is named after Dona Paula de Menezes. Legend says that after facing objection to her love affair with a local fisherman Gaspar Dias, the Viceroy's daughter jumped off the cliff and ended her life here. This beach offers a stunning view of the Marmagao Harbour where two of Goa's biggest rivers, Zuari and Mandovi, meet the Arabian Sea. A few of the famous activities at Dona Paula include jet skiing and bird-watching. This beach also offers its visitors a fantastic opportunity to sunbathe!
Also visit near Dona Paula Beach:
Marivel Beach – Located close to the Marivel fishing village, visit the Marivel Beach to get a chance to see how the locals fish.
Dias Beach – A perfect beach to enjoy long evening walks along the beach, this beach offers great views of the Aguada Fort.
Vianguinim Beach – The Vainguinim Beach offers a great mix of a silver sand seashore and clear greenish blue waters. Visit Vainguinim Beach if you are near Panjim.
8. Bogmalo Beach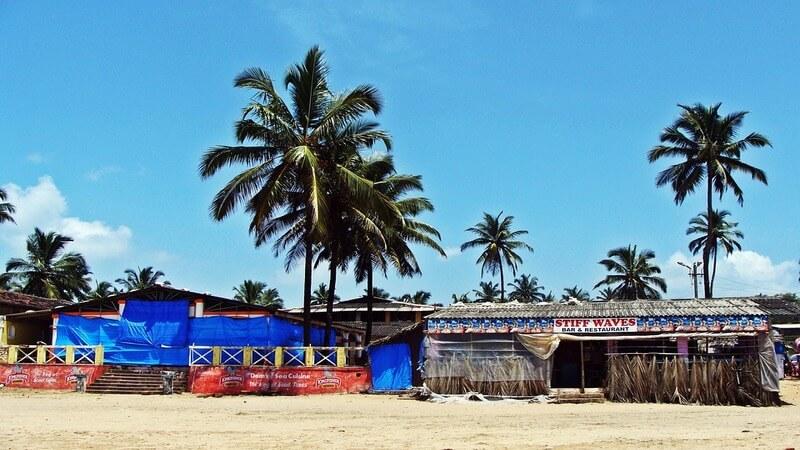 Image Source: Pixabay.com
Moving on to the South Goa beaches, the first one in our list of best beaches in South Goa is the Bogmalo Beach. This beach curves along a small bay and the sandy cove looks absolutely marvellous! This beach is not very crowded and is considered safe for swimming. With many open-air restaurants and shacks, a visit to Bogmalo Beach is a must! Bogmalo Beach also offers a diving course and is one of the few places in India to do so.
Also visit near Bogmalo Beach:
Baina Beach – Baina Beach is located in the port town of Mormugao in Vasco and is the site for the first underwater sea walk school in Goa.
Hansa Beach – One of the cleanest beaches in Goa, Hansa beach is owned by the Indian Naval unit of INS Hansa.
Bimbel Beach – Safe for a quick dip in the sea, followed by a sumptuous meal at one of its shacks, Bimbel Beach is another must visit Goa beaches.
9. Colva Beach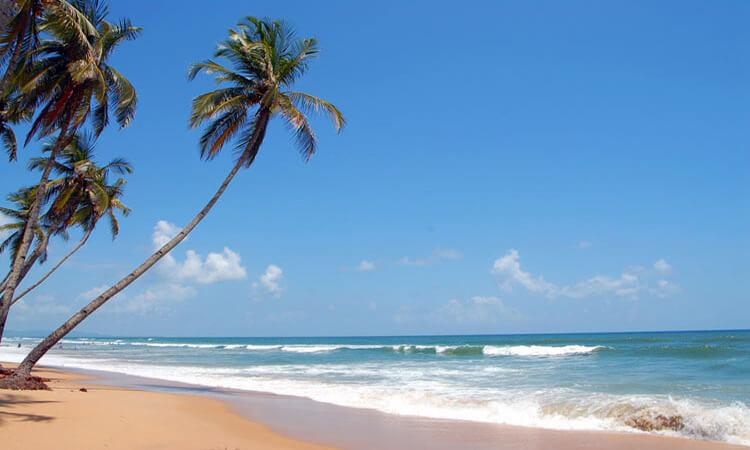 Image Source: Wikimedia Commons
As you keep moving south, the atmosphere keeps changing and the surrounding becomes much quieter and peaceful while the mood changes from party to 'relax-at-the-beach.' Colva is a coastal village in Salcete district and the beach here is one of the most famous beaches in South Goa. White sandy beaches lined with coconut trees is the sight you will be greeted to upon reaching the Colva Beach. With many shacks and water sports activities, this beach is bustling with tourists, both local and foreign.
Also visit near Colva Beach:
Utorda Beach – Utorda Beach is home to some of the most premium properties in Goa. With silver sand gently sliding into the Arabian sea, this beach is not to be missed.
Majorda Beach – Thick palm groves and white sands make this beach one of the most marvellous places to visit in Goa.
Sunset Beach – There is a reason this place is called the Sunset Beach. This beach is quiet and offers one of the best views of the sun setting against the backdrop of the Arabian Sea.
Betalbatim Beach – Betalbatim beach offers views that are straight out of a postcard. Golden skies and silver sands, visit Betalbatim Beach on your next Goa trip!
10. Varca Beach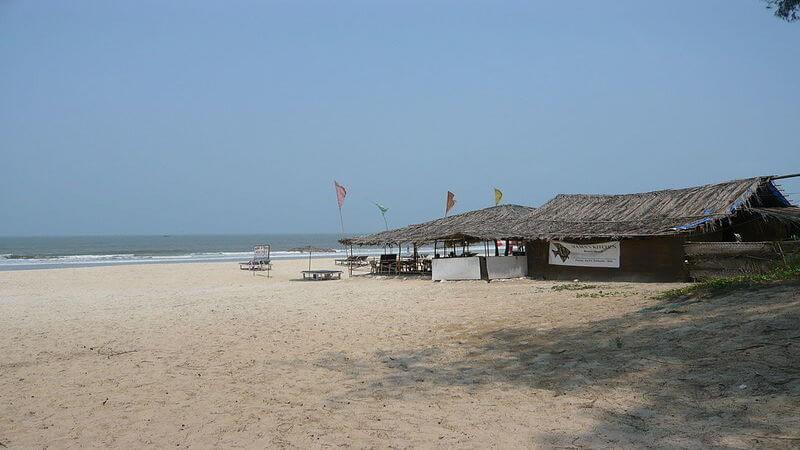 Image Source: Wikimedia Commons
Varca is one of the most popular beaches in South Goa, right after Colva. With beaches lined with many high-end properties, you will find that this beach is relatively less crowded due to the restricted access. The coolness in the white soft sand feels like heaven against your feet. Walk towards the sea and feel all your problems melt away. Get a towel and just lie down on the beach and watch the birds soar high up in the sky above you.
Also visit near Varca Beach:
Sernabatim Beach – An extension of Colva beach, Sernabatim Beach offers its visitors sandy beach and orange skies. A perfect photo opportunity to capture that special moment.
Benaulim Beach – This beach is calm and lies away from the bustling Colva Beach. Undiscovered by most tourists, you can buy local handicrafts right on the beach.
Fatrade Beach – Fatrade Beach is one of those beaches with green-blue beach and silvery white sand. This beach is an absolute must visit if you are travelling in and around Varca.
11. Mobor Beach
Mobor Beach is one of the most loved beaches in Goa. Perfect to watch the sun set with that special someone, head out to this beach and walk on its soft sands as the warm waters of the Arabian Sea embraces your feet. You can stop and watch the birds fly back home and experience what true heaven feels like. Head out into the sea and chance upon viewing the dolphins swim right by you.
Also visit near Mobor Beach:
Carmona Beach – Carmona Beach is a small beach in South Goa that is fringed with blue warm waters and the white sand.
Cavelossim Beach – Situated in between the Arabian Sea and the Sal River, with paddy fields in sight, the Cavelossim beach looks absolutely magnificent.
Betul Beach – Ideal for fishing, strolling on beaches, and enjoying the delicious sea food, Betul Beach is not to be missed.
Check Out: Best Places to Visit in South Goa
12. Agonda Beach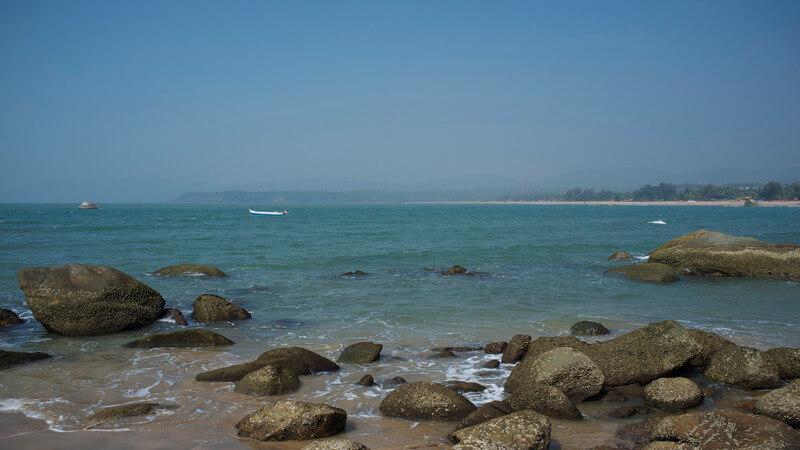 Image Source: Aleksandr Zykov/Flickr
Agonda is one of those beaches you visit for the "me time". Backpackers, couples and families; Agonda is a mix of all kinds of tourists. If you are looking at spending some quality time, maybe teach your kids how to build sand-castles, this is the place for you. A favourite type of accommodation found here are the beach huts. Relatively inexpensive, these huts are located right at the beach. With awesome food options, like the grilled fish and a can of chilled beer, Agonda is the place to be!
Also visit near Agonda Beach:
Canaguinim Beach – Surrounded by a low wall, a few rocks and a river inlet; Canaguinim is one of the most unique beaches in Goa.
Nuem Beach – Visit this tiny beach, with black and red rocks, and you will be amazed at the beauty of this place.
Cabo De Rama Beach – This wild beach in South Goa is considered one of the most beautiful beaches in Goa. Surrounded by thick vegetation on the three sides and the sea towards the west, this beach also offers spectacular views of the Cabo de Rama fortress.
Check Out: Best Hostels in Goa
13. Palolem Beach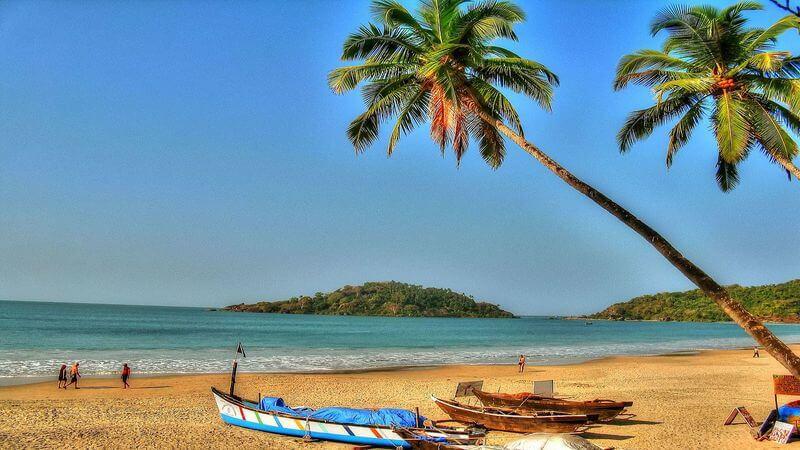 Image Source: Wikimedia Commons
Being one of the southernmost beaches in Goa, Palolem is laid-back yet quite touristy. The beach is super-relaxing with a diverse mix of traveller. A typical day at Palolem Beach would start with a nice walk on the beach, followed by a cheesy omelette for breakfast at one of the restaurants here. Spend the rest of the day reading your favourite book relaxing on a beach swing. Grab your favourite beer and watch the sun go down towards the end of the day.
Also visit near Palolem Beach:
Honeymoon Beach – One of the most romantic beaches in Goa, Honeymoon Beach offers its visitors the much-needed space away from the maddening crowd.
Butterfly Beach – Butterfly Beach in Goa offers you an opportunity to enjoy the very best of nature; with dolphins, crabs, & butterflies, this beach is a hidden gem!
Rajbag Beach – A tiny yet an extremely beautiful beach, Rajbag Beach is home to one of the most expensive properties in Goa, The Lalit Golf and Spa Resort.
Xendrem Beach – A great place to touch upon the unheard flavours of Goa, Xendrem Beach with its gushing sea waves is a must visit.
Polem Beach – The last Goan beach, located on the border of Goa and Karnataka, Polem Beach offers a secluded undertone with stretches of white sands.
Goa Traveller Tips:
Beware of the falling coconuts (no, seriously!)
Do not enter the water during low tides
Bargain hard (C'mon! put those skills to work)
Carry a sunscreen and an incest repellent (and use it!)
Avoid the super-crowded beaches
Wizz between North Goa and South Goa and try & catch up on as many beaches as you can (trust me, they are worth it)
Apart from beaches, there are many churches, temples, forts, caves and ruins that you can visit
Get a tattoo (if you are scared of getting inked like me, get a temporary one!)
Try the sea-food
Chug a beer!!
Did you have fun reading about all the awesome beaches that Goa has to offer? From the north-most to the south-most beach, the journey is nothing short of an adventure. Every beach is so wonderfully unique that it deserves a visit!
Ditch the routine, and head out to Goa today to experience the what true Susegad style is! All you need is a good sunscreen, a striped canvas bag, a beach towel & chilled beer.
Must Read: