15 Best Beaches In Indonesia
* Disclosure: This post may contain affiliate links, which means we may receive a commission if you click a link and book something (there is never any extra cost to you for using these links).
Edged by not just one but two oceans the Pacific Ocean on the north and Indian Ocean on the south, along with several seas, the archipelago of Indonesia accommodates a whopping 13,466 islands. Indeed, there is no dearth places to visit in Indonesia. Bali being the most popular of places to visit in Indonesia for honeymoon or otherwise, it is untoward that the rest of the places offering some mighty surrealism are still unknown.
Untouched by commercialization yet, it is a good time to venture these places also home to some of the best beaches in Indonesia. Magical, tranquil and full of opportunities, these beaches bespeak of a larger than life experience!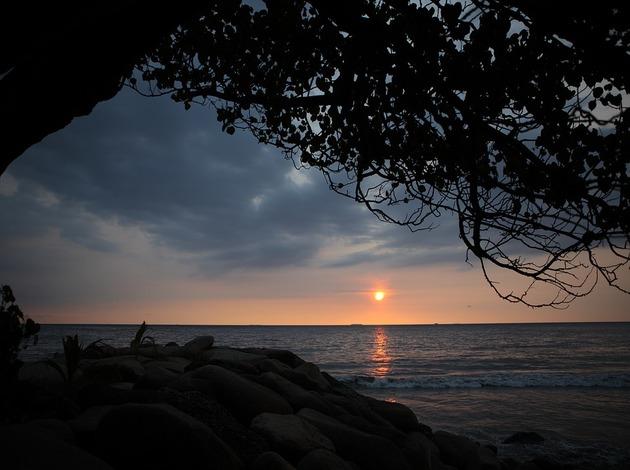 Tourists flock for eccentric experiences, driven by some of the most popular things to do in Indonesia, that include spiritually enlightening temples, watching some of the most gorgeous sunrises and sunsets, exploring some splendid historic monuments, hiking the rainforests, and a ton of water sports. Indonesia doesn't disappoint on the shopping and nightlife front either. The markets here offer some irresistible local products like fabrics, crafts, and scents, that also make as good souvenirs. The nightlife is spectacular too with the many fine dining restaurants, bars, and clubs. Bali and Jakarta especially promise some great night entertainment.
If you are even a tad inspired to see what Indonesia looks like, here is a list of the best beaches in Indonesia that compose the crux of this nation!
1. Nihiwatu Beach, Sumba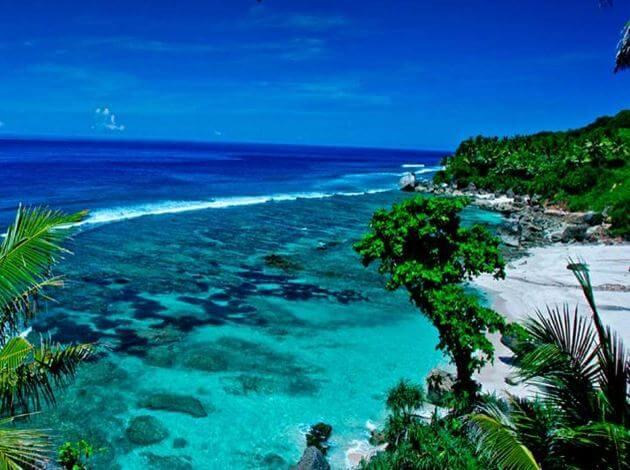 Image source: nihiwatu.com
Away from the city frenzy, Sumba island is home to some of the most breathtaking beaches in Indonesia. Apparently, the island flourished after a rich American found investment opportunities in this island. Owing to this flourishment, the island witnessed a genesis of several luxury resorts accommodating world-class amenities and features. While most beaches are essentially owned by the resorts, there are some that can be accessed public. The Nihiwatu Beach, however, is the most remarkable one accommodated by the brilliant Nihiwatu resort. Undeniably this is one of the most sought-after
places to visit in Indonesia for honeymoon
.
Nearby attractions and things to do in Nihiwatu Sumba: Weekuri Lake, Mandorak Beach, Tarung Cultural Village and Lapopu Waterfalls
How to reach Nihiwatu Sumba: Lying at 400 kilometers the best way to get here is by jet services from Bali
2. Nusa Dua Beach, Bali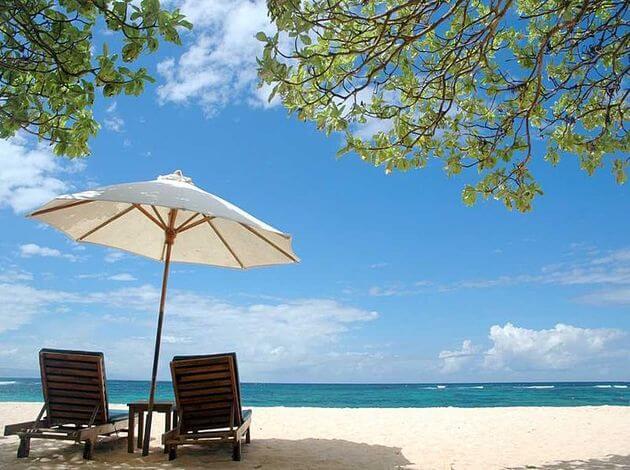 Image source: wikimedia.org
If you thought Kuta was calm and composed, wait till you head to
Nusa Dua
! Located on Bali's southernmost tip you can absolutely spend the day glaring into infinity without having any conscience of time. Here, you can get mesmerized by the crimson sun rising and setting, while you take a dip in between, enjoy some local food at the shacks, or indulge in a blissful massage on these white sandy beaches.
Nearby attractions and things to do in Nusa Dua: Devdan show, Nusa Dua islands, Museum Pasifika, Bali Camel Safaris
How to reach Nusa Dua: Lying at 40 kilometers from the Denpasar international airport, you can either have your place of accommodation manage a pick and drop for you or take a pre-paid taxi. Public transport available, but slower.
3. Gili Meno Beach, Gili Islands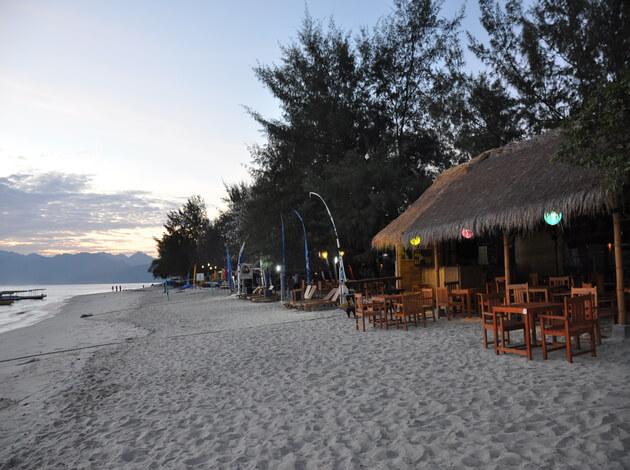 Image source: flickr.com/Jorge Láscar
A group of three, the Gili Islands are Indonesia's most distinct islands given their desert island ethic. Sparsely populated, Gili Meno accommodates better beaches than the Gili Trawangan and Gili Air for more reasons than one. Firstly, its mellow physical features and characteristics lend to the very romantic appeal of this place, secondly its distance from the commercial frenzy, are what make this place a winner! The Gili Meno Beach is full opportunities to dive, snorkel or just stroll around leisurely.
Nearby attractions and things to do in Gili Meno: Watersports, relaxing strolls, great café culture, a trip to Gili Trawangan
How to reach Gili Meno: Mostly charter and shuttle boats from Bali and Lombok
4. Cimaja, Java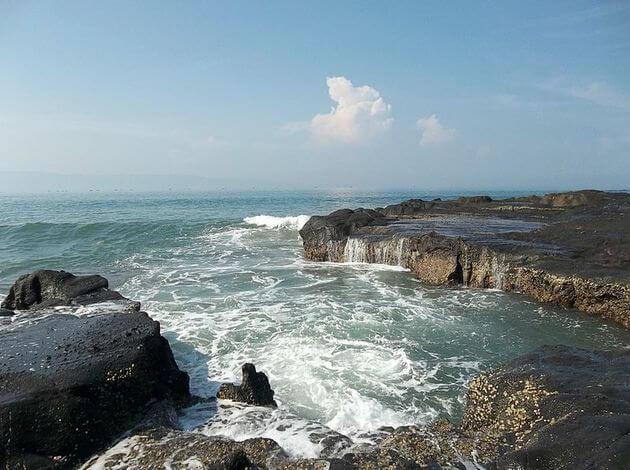 Image source: wikipedia.org
If you are a surfing enthusiast or looking forward to trying your hand at it, Cimaja is the place to go! Its proximity to Jakarta makes this place easily accessible. What makes Cimaja really stand out, is along with a great beach, there is also a hot spring here called Cipanas. Given the fact that this is a popular surfing destination in Indonesia, you will find plenty of surfboard rentals throughout the beach. You can't call this beach a very picturesque one, nevertheless offering some great thing to do in and around. You can get the best of Indonesian staples - Nasi Goreng and Mie Goreng here.
Nearby attractions and things to do in Cimaja, Java: Surf, Cipanas hot spring water
How to reach Cimaja, Java: Take a minivan from Pelabuhan Ratu
5. Pink Beach, Komodo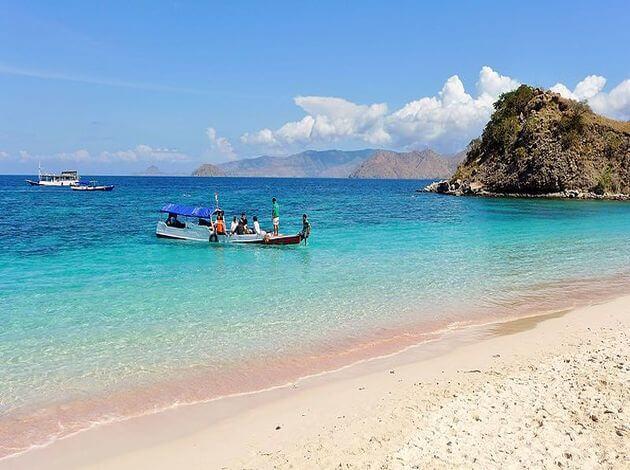 Image source: wikimedia.org
Why you must go to Pink Beach? This is one of the world's seven pink beaches. Deriving its color from a mixture of white and red sand, the beach is definitely not your average beach. And then, of course, there is the Komodo dragon to see here. Making it a very romantic spot is the panorama of crystal clear azure waters, pink sands, verdant mountains. The coral reefs here are another notable feature of the island.
Nearby attractions and things to do at Pink Beach: Hiking at Padar Island, Snorkeling at Kanawa Island, and the Komodo dragons at the Komodo Island National Park
How to reach Pink Beach: Speedboat ride from Labuan Bajo
6. Canggu Beach, Bali Island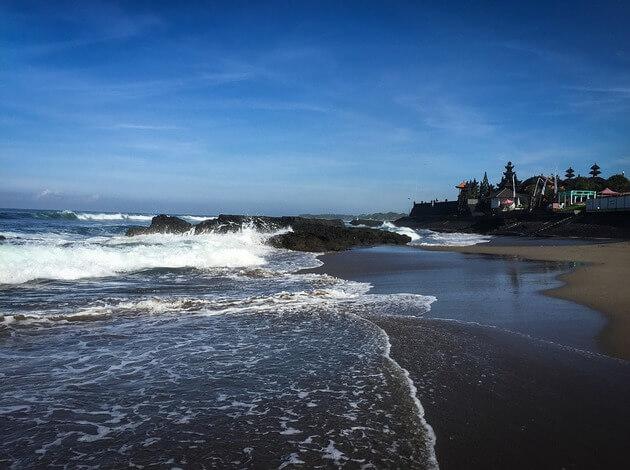 Image source: pixabay.com
Perched in southern Bali the Canggu beach is one of the most attractive beaches in Indonesia. Distinctively, this beach has darker sands than the rest of the Indonesian beaches. Essentially a village town in the south of Bali, Canggu has some gorgeous beaches including Seseh Beach and the Pererenan Beach. If you devour seafood, here, you will get some of the freshest variety here. Early morning is when the fish market is in its full swing on the beach, a unique experience if you are an early riser.
Nearby attractions and things to do at Canggu Beach: Balinese village life, Berawa beach, and the Echo Beach, spa therapies, yoga classes and even golf at particular resorts.
How to reach Canggu Beach: Cab or private bus from Kuta
7. Senggigi Beach, Lombok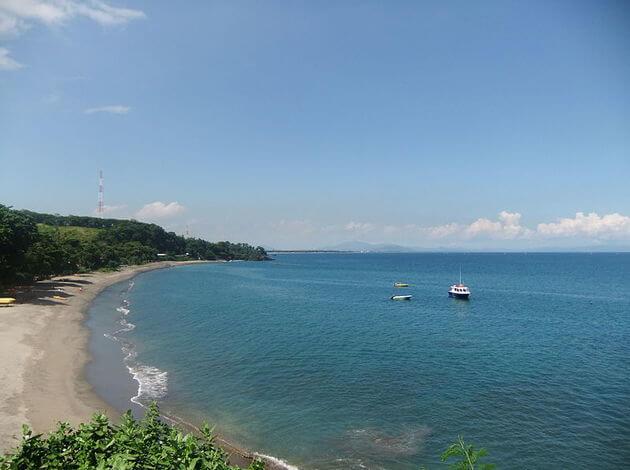 Image source: wikimedia.org
Lombok's nightlife and some great food scenes are embarked in the Sengigi beach area. A very contrasting place, you have the nightlife and all the modern features on one side while the other is the face of underdevelopment. Nevertheless, this town is perfect for apt chill scenes with its several lounges and a decent amount of buzz about nightlife. There are a lot of sources to reach Sengigi, making it one of the most visited towns near Bali. A great place to get a glimpse of the local life, rejuvenate and indulge in some watersport.
Nearby attractions and things to do Senggigi Beach: Pura Batu Bolong, Kerangdangan beach, weaving villages, strolls at the promenade, cooking classes and hike sin the forest
How to reach Senggigi Beach: Taxi or airport bus
8. Balangan Beach, Kuta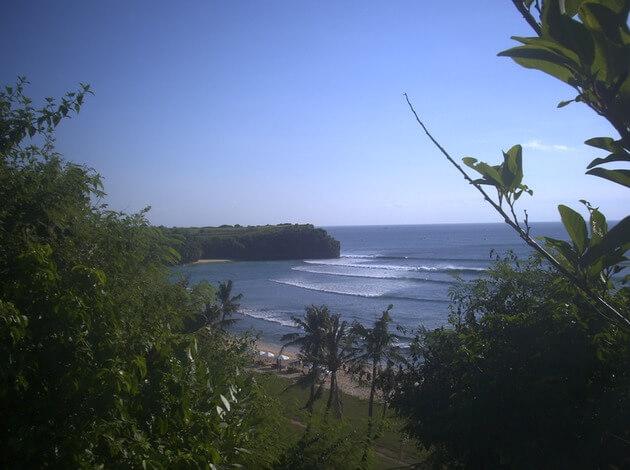 Image source: wikimedia.org
Kuta's best bet on its beaches, the Balangan Beach is vouched for its enchanting sunsets and breathtaking views of the sea. Yet to be discovered and touched by the adverse commercialization, Balangan Beach is one of the best kept secrets and thus a
must visit place in Kuta
. In fact, the only people who know of this beach, are seasoned surfers. However, with time it has slowly begun attracting a lot of attention, which has people heading to it for even pre-wedding shoots and the likes. There are some good cozy accommodations around, mostly at a walking distance from the beach.
Nearby attractions and things to do Balangan Beach: Chill at the many beach cafes
How to reach Balangan Beach: 45 minutes by car from airport
9. Jungutbatu, Nusa Lembongan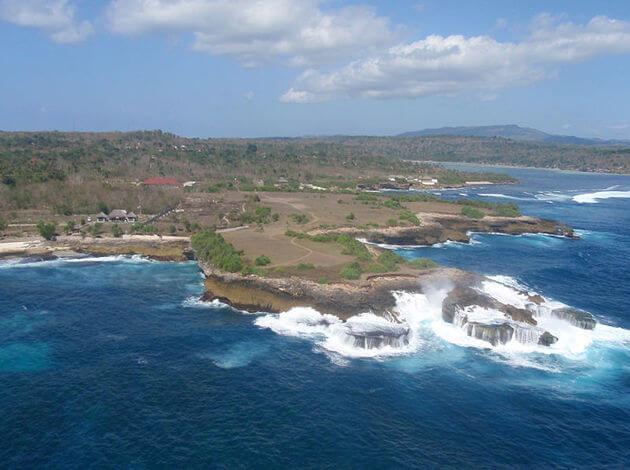 Image source: wikimedia.org
With hotels and resorts sprawling across, the Jungutbatu beach is frequented by visitors throughout the year. Once attracting backpackers and surfers this place today boasts of some brilliant five-star properties and private villas. However, this fact justifies the number of cheap eateries and bars throughout. A great way to explore around is on foot obviously, but you could also rent a bicycle. We suggest, ditch the automobiles!
Nearby attractions and things to do in Jungutbatu: Mushroom Bay, Paradise Beach, and the Puncak Sari Temple in the Lembongan Village
How to reach Jungutbatu: Public Speed Boat and cruises from Sanur beach
10. Air Manis Beach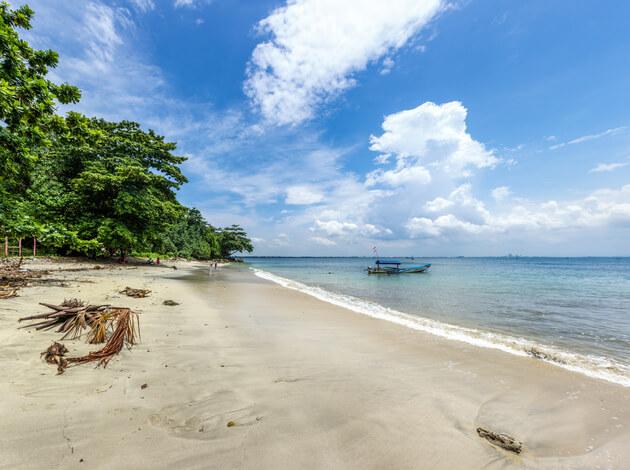 Image source: wikipedia.org
With a popular folktale attached to it, the Air Manis beach holds a strong significance in a list of the best beaches in Indonesia. Featuring a huge rock called Batu Malin Kundang, the beach manages to draw a lot of visitors, especially owing to its implication in the popular folktale. The folktale goes like - Malin Kundang was a local who suddenly became rich after his travels, and disowned his mother in that air. Following which, she cursed him and his ship into the rock that stands today as a popular attraction! The rainforests in the area offer a lovely tropical experience.
Nearby attractions and things to do at Air Manis Beach: The beaches boast of some exquisite seashells you can collect, good for surfing beginners, ATV rides
How to reach Air Manis Beach: Take a taxi or rent a car from Padang
11. Derawan Beach, East Kalimantan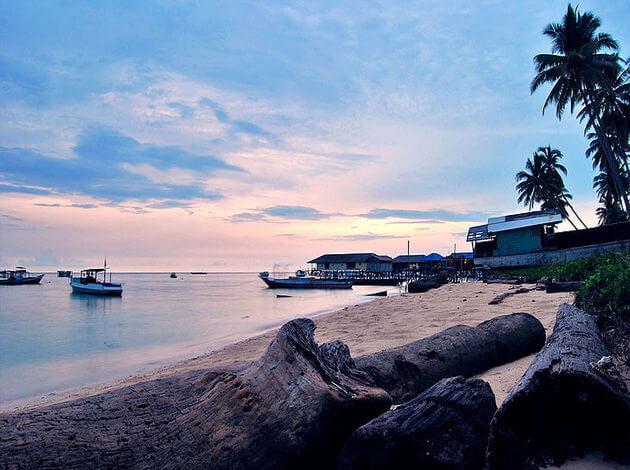 Image source: wikimedia.org
Nestled in the eastern side of the stunning East Kalimantan, Derawan is one island city, that will not cease to captivate you. Being a part of the popular Coral Triangle this place is home to some of the most unique species of marine life, offering you opportunities to get glimpses of each all through the region. The adjoining reefs and islets, particularly the ones submerged, make for some beautiful vistas.
Nearby attractions and things to do Derawan Beach: The beach is abundant with superb species of marine life. Head to Kakaban and Maratua to see the coconut crabs, whale and dolphin sightings at Semama and Sangalaki. Good opportunities for diving and snorkeling too
How to reach Derawan Beach: Speed boat ride from Tarakan
12. Plengkung Beach, Grajagan Bay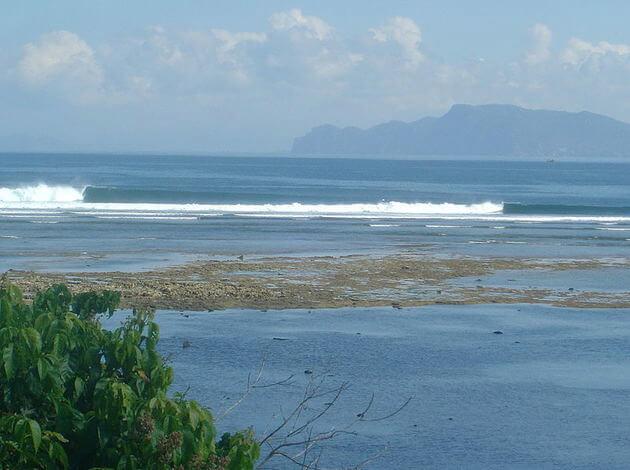 Image source: wikimedia.org
Also popularly referred to as the G-Land, the Plengkung Beach is located in the Grajagan Bay. The beach is renowned internationally for the great surfing this place offers. Interestingly, this place is a discovery of a few American surfing enthusiasts. Ever since the beach has been a place of umpteen several camps and activities related to surfing. The months of March through November is the peak season of the myriad surfing activities here, which sees a sudden rush of surfing connoisseurs from across the world. Indeed, the beaches and waves of this place are something to look forward to.
Nearby attractions and things to do at Plengkung Beach: Bedul Beach, Alas Purwo National Park, The Ijen Plateau and the Gandrung Dance
How to reach Plengkung Beach: Charter boat from Bali
13. Mawun beach, Lombok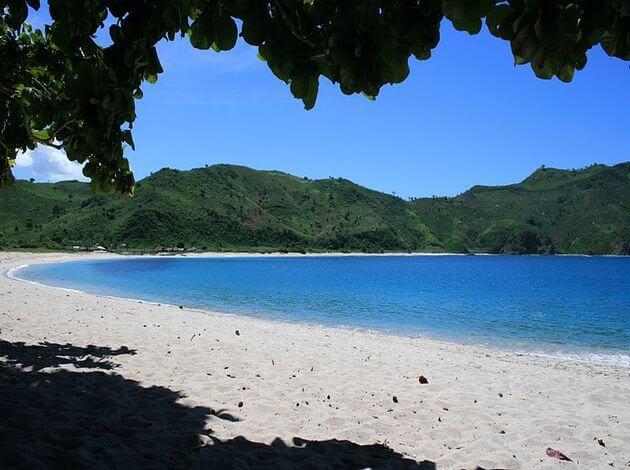 Image source: wikimedia.org
Depicting a half-moon, the Mawun Beach is an isolated beach in that lies at a short distance from the rather popular Kuta Beach. It's crystalline waters and distinct shape is still unexplored by tourists who prefer more touristy places. So, if you are on an advent of something untouched and pristine this is where you should head. Great for a swim followed by sipping on some coconut water, having some pineapple and just doing nothing. There is a good amount of assorted stays here including luxury villas to humble homestays too.
Nearby attractions and things to do at Mawun Beach: Bat cave, surfing, and great eateries
How to reach Mawun Beach: Short drive from Lombok International Airport
14. Riung Beach, Flores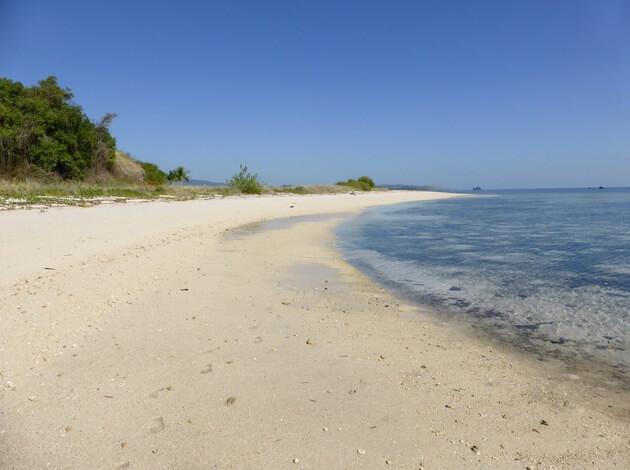 Image source: flickr.com/Bryn Pinzgauer
A quaint fishing village on the northern part of Flores, Riung is stellar! Often bypassed by visitors to the 17 Islands National Park, Riung is a dream with its warm and welcoming locals, wide empty streets laced by coconut trees. Owing to its low population, all you will find here are a few locals, good eat outs and a few small shops selling general stuff. Delightfully, you will find a lot of vegetarian options here on the dining front along with the usual seafood. The cold Bintangs are perfect for sipping on, as you scoff off a scrumptious meal.
Nearby attractions and things to do at Riung: 17 Islands National Park and the Watulajar beach
How to reach Riung: Buses from Bajawa, Ende and Maumere
15. Ora Beach, Ambon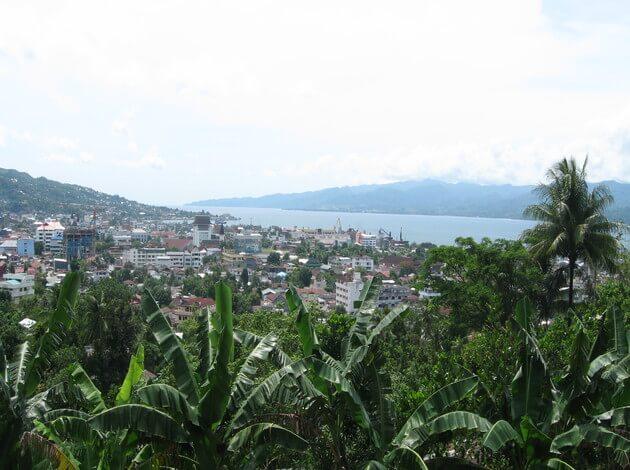 Image source: wikipedia.org
While here, sights of clouds fringing mountains of lush rainforests on one side and the sparkling sea on the other are usual vistas. A division of the Maluku Islands, Ora Beach of the Ambon region vaunts of fertile lands and characteristic tropical climates. The region also has some very interesting historically significant monuments dating back to the Portuguese colonialism which includes remnants of forts and even a war cemetery. Activities you can undertake here are snorkeling and diving. While here, do not miss to try the Batu cake or "rock cake" which tastes ever better when had dipped in tea or coffee!
Nearby attractions and things to do at Ora Beach: Siwa Lima museum, ANZAC War Cemetery, Namalatu beach area and the Liang Beach
How to reach Ora Beach: Flights from Jakarta to Ambon
With this list of beaches, your Indonesia escapade is bound to be one cherished vacation!