12 Best Beaches in Mexico
* Disclosure: This post may contain affiliate links, which means we may receive a commission if you click a link and book something (there is never any extra cost to you for using these links).
Surrounded by extensive coastlines that include the Gulf of Mexico and the Caribbean Sea to the east and the Pacific Ocean to the west, Mexico is suffused with vibrant submarine beauty that remains unparalleled in the rest of the world. Every beach of Mexico is unique and offers a different travel experience from the others. Here is a list of some of the best beaches in Mexico that will inspire the beach bummers to embark on a trip to this country and get radiantly sun-kissed near their shimmering waters. Secluded or the most commercialized-the choice of beach is yours!
1. Bahia Balandra - best beach in Mexico for swimming

PC: Wikimedia Commons
Famous for its rock formations that are known as the Diamond rock, Bahia Balandra offers what the beach bummers like the most-sand and pristine sea waters. Bahia Balandra is also one of the best beaches in Mexico for swimming as it is absolutely safe from all the sides. The beach remains less crowded than the other beaches in Mexico, although its beauty is unsurpassable and beyond the restrictions of definitions. This beach is comprised of a series of shall bays, most of which are no more than waist deep making it quite a favorable destination for the families and kids.
Travel Tip: Since there are less vendors and beachside amenities, the beach remains less crowded but you can easily rent a kayak here.
2. Playa del Carmen - Favorite beach with Europeans

Once a sleepy fishing village, Playa del Carmen is today a favorite hotspot with the Europeans. Factors such as plush resorts, easy boat access and the Mesoamerican Barrier Reef contribute its popularity and render it as one of the most visited destination in Mexico. This beach offers a perfect blend of Mexican waters, clear sands and lovely people. While taking a stroll here, you will very easily see sophisticated expats and vacationing Europeans relaxing at the beachside lounges and getting that glorious tan on their skin. Playa del Carmen is also one of the most well-known and best beaches in Mexico in October.
Travel Tip: Picking up a taxi at the stands called sitios will cost you more pesos than hailing a cab on the street. So hire a cab from the streets rather than the main stand.
3. Puerto Vallarta Beach - Best Beach in Mexico for snorkeling

PC: youtube
Puerto Vallarta Beach is one of the best beaches in Mexico for snorkeling and other water activities like whale watching and deep sea fishing. Much of the beauty of this town can be attributed to large resort areas, and a central Zona Romantica, where the old town's, quaint shops, and smaller hotels lie. The town retains its old world charm with vintage architecture flanked on the edges by larger, newer resort regions and "Gringo Gulch", a residential area with large, foreign-owned homes. Located in a world of its own on the Marieta Islands in Puerto Vallarta, just a few miles off the coast of Mexico, a Hidden beach and cave has been uncovered as the Mexican government used to conduct military tests here.
Travel Tip: The best time of year to visit, April to June, might prove to be a costly affair here. If you don't mind the frequent but short rain showers, then plan your visit for a late summer to this place.
Here are some hidden islands in Mexico for your next vacation here.
4. Playa La Ropa - the Watersports Beach

PC: Wikimedia Commons
Translated as the "Beach of Clothing" when a Spanish galleon wrecked here, and its cargo of colourful silk fabrics washed ashore to this beach, this beach is the best spot where you can try out for water sports. From the shops set up nearby, you can easily get the gear for parasailing, jet skies and hobie cats that are available for rent. There are a variety of beachfront restaurants and hotels lined up here for a happening experience.
Travel tip: Although this beach is great for water sports, swimming is not recommended here as there are supposed to be crocodiles here.
5. Playa Norte - For a Secluded Experience

PC: Wikimedia Commons
Playa Norte's appeal lies in it being less crowded and offering a secluded experience. The whole beach side is bordered with lush green palm trees and very few beachfront restaurants and bars. However, for those who want some excitement can find some solace in parties that happen here sometimes, discontinuing that feeling of being isolated. The turquoise waters here resemble a clear lake making it a haven for swimmers and the best place for snorkeling and watching the sunset. Playa Norte is also one of the best beaches in Caribbean that offer a blend of natural beauty and fun.
Travel Tip: In front of the hotels on Playa Norte there are beach bars that offer lounge chairs and umbrellas (for a fee) with waiter service on the sand. You can also rent water toys, kayaks and snorkeling gear.
6. Tulum - Blend of Ruins and Sea Shore

PC: Wikimedia Commons
Tulum is one of those places in the world where architectural ruins and natural beauty form a distinct travel experience. Due to this very reason, Tulum is one of the most beautiful beaches in the world. Visit this place to wonder at the best-preserved Mayan ruins in the Western Hemisphere, ruins that have the cerulean waters of the Caribbean Sea as a backdrop.
Travel Tip: Don't fall into the trap of resort treatments such as the "Aloe Vera Wrap" or "Mayan Chocolate Massage".
7. Playa del Amor - Most Romantic beach of Mexico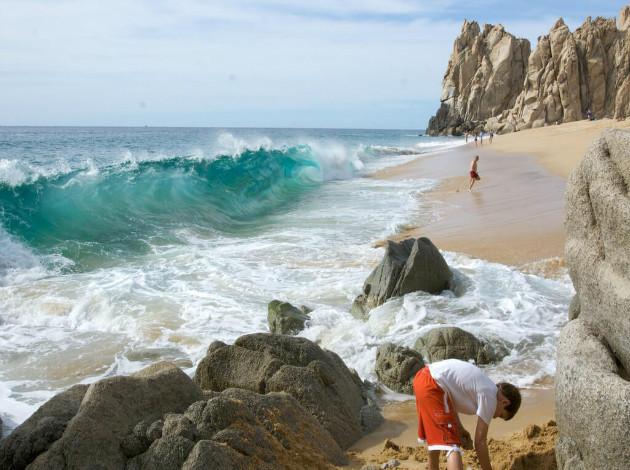 PC:
Karen Blaha/flickr
Located at the meeting point between the Sea of Cortez and the Pacific Ocean, Playa del Amor can be considered as one of the most romantic beaches in Mexico. The romance of this beach oozes out from its name itself which means Lover's Beach. Visit this beach to witness the beauty of towering Land's End rock formations, stunning ocean views, combined with great snorkeling opportunities.
Travel Tip: Tides can get extremely rough on the Pacific end here. Be cautious.
8. Cancun Beach - the Most Gorgeous Beach Side of Mexico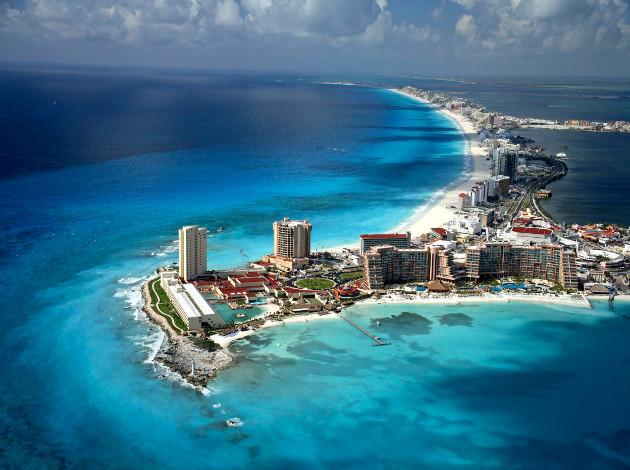 Located in the State of Quintana Roo,
Cancun
is engulfed in picturesque beaches of every kind. The pristine beaches and the amazing marine life together make Cancun excursions idyllic. Blue water, white sands, green palms and a whole lot of history and culture make trips to Cancun a memorable one. The turtles, dolphins, sharks, several other species of coastal animals as well as birds adorn this place. Known to be the tourism hub of Mexico, this place offers some of the most gorgeous beaches on earth.
Travel Tip: Cancún is heavily populated with all-inclusive resorts. Stick to them.
9. Zipolite - The Beach Bum's Paradise

PC:
commons.wikimedia
If you have to witness the hippier side of Mexico, this is the place to be. Hippie crowd, nude bathers and water sports enthusiasts populate this sea scape and offer a picture perfect image of Mexico. This is one of Mexico's best known nude beaches and a stroll over here will give you a lot of glimpses of sun lovers, shirtless yoga gurus and surfers.
Travel Tip: There are plenty of reassuringly rustic budget lodgings available for shoestring budget travelers.
10. Playa de Akumal - Snorkel with Green Sea Turtles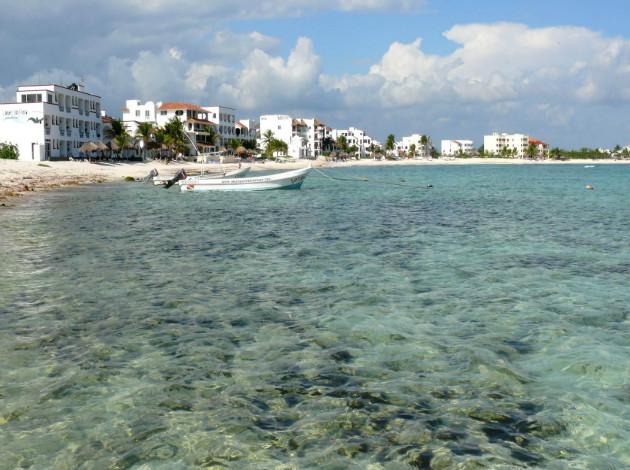 Being one of the most isolated beaches of Mexico, Playa de Akumal is the perfect place for relaxation and to have tete a tete with sunrays. Turtles, tropical fish can be easily spotted here, and the water is safe and calm enough for even the young snorkelers to enjoy. The little beach town offers you what others can't - snorkeling with endangered green sea turtles.
Travel Tip: Turtles are a short swim straight from shore. You don't need to rent a boat.
11. Mazatlan - Witness the Golden Shoreline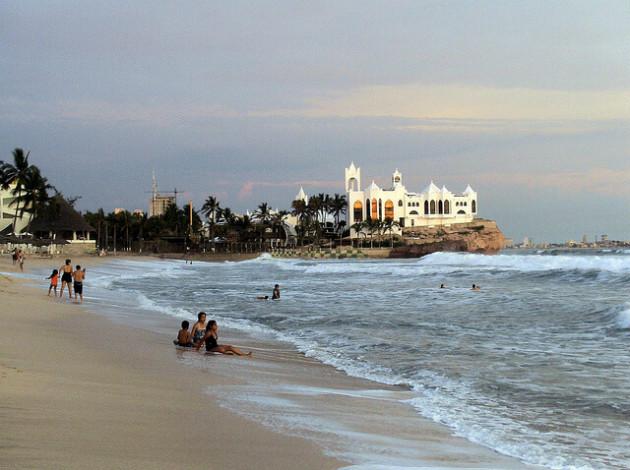 PC:
Frank_am_Main/flickr
Known for its stunning golden shoreline, Mazatlan claims to be one of the most exquisite beaches in Mexico. This beach is highly a favorite with the unpretentious travelers who want to enjoy the beach on a budget. This coastal city has plenty of allure and is thus one of the best beaches in Mexico for an unforgettable trip.
Travel Tip: View magic sunsets from bars and restaurants that populate this place.
12. Cozumel - Popular for its Cruise Ships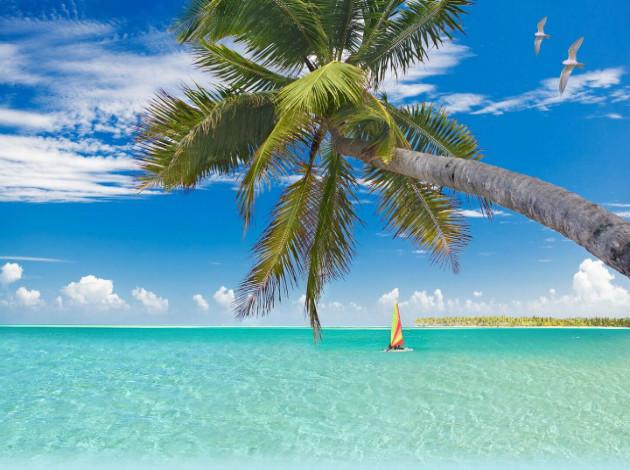 Since Cozumel is one of the best beaches in Mexico, its visit comes along with the package of being overcrowded at times as well. However, this beach is best known for boarding on the cruise ships to watch spectacular sunsets and shimmering waters underneath. Shopping plazas, bars and trendy restaurants along the waterfront make this beach as one of the most visited and coveted places in Mexico.
Travel Tip: Beach products such as sunscreen, hats and sunglasses will cost a lot here. It is advisable to bring your own stuff here.
So which of these best beaches in Mexico would you like to visit? Let us know in the comments below and happy beach-ing!
More beaches around the world: