21 Best Beaches In Sri Lanka
* Disclosure: This post may contain affiliate links, which means we may receive a commission if you click a link and book something (there is never any extra cost to you for using these links).
1. Bentota: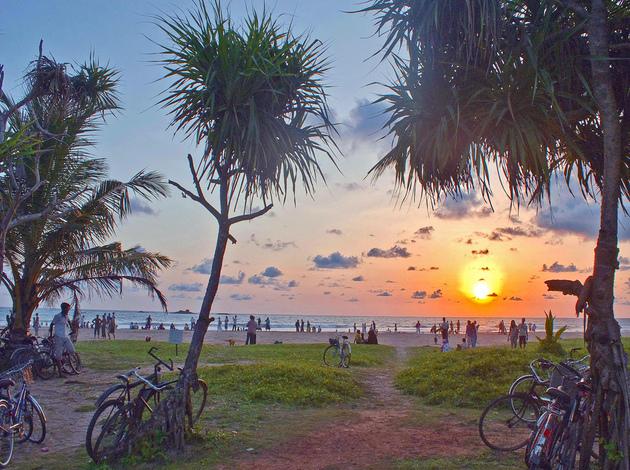 PC: Hafiz Issadeen/Flickr
A prime coastal resort in Sri Lanka, the palm fringed beach at Bentota boasts of beautiful turquoise blue waters with shades of emerald green.
All the time happening beach, water sports, surfing, swimming and snorkelling makes Bentota top the list of Best beaches in Sri Lanka.
2. Galle: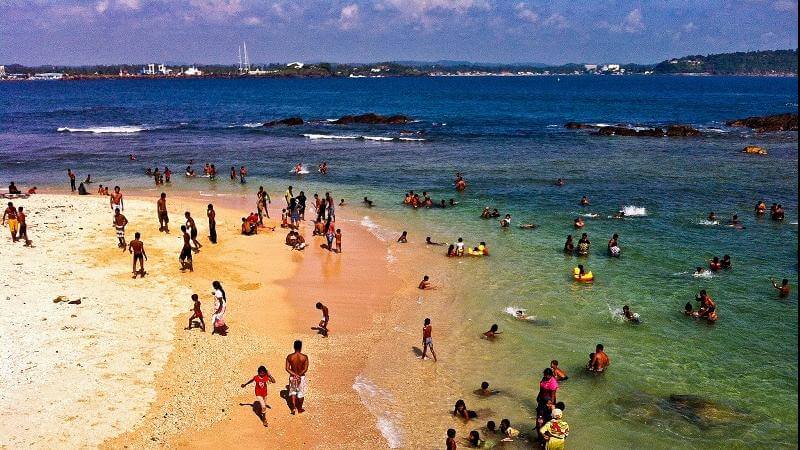 PC: Patty Ho / Flickr
Situated on the southwestern tip of Sri Lanka, the city of Galle is the finest example of a fortified city built by Europeans.
The beach over here is serene and crowd free on most days, making it the perfect stop for people in search of some tranquillity.
Perfect For: Honeymooners and romantics. Walk hand in hand along the beach as a beautiful sunrise lights up your life.
Get hotel deals with TripHobo Hotels.
3. Kalutara: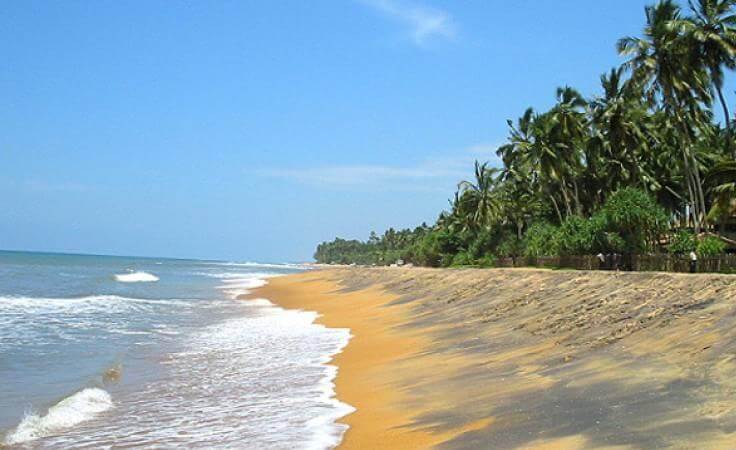 PC: Amila Tennakoon Kalutara
Kalutara is still pretty much aloof from the tourism boom and hence boasts of some of the most secluded shorelines in the region.
Book Now, Pay Later!
4. Unawatuna: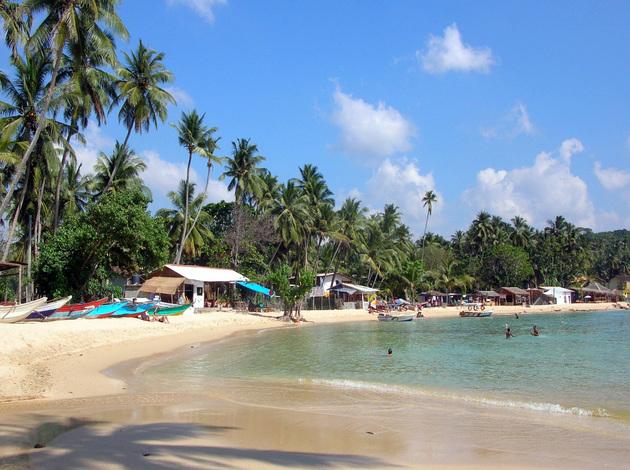 PC: Wikimedia Commons
Drawing thousands of local as well as international tourists annually, Unawatuna is a pretty little horseshoe shaped beach.
Trivia- the bay of Unawatuna was formerly famous for its beach, however, erosion has now shrunk it.
Perfect For: Perfect for having funfilled beachside picnics with your family.
Check deals with TripHobo Hotels. Book Now, Pay Later!
5. Arugam Bay: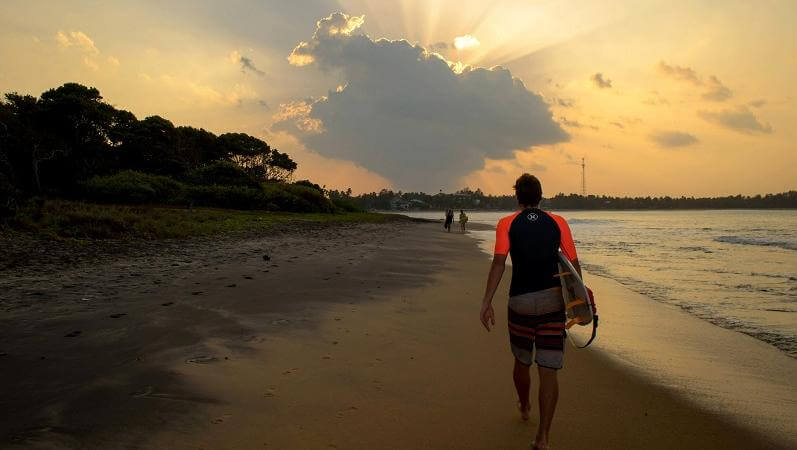 PC: Dennis Binzen / Flickr
Considered to be the best surf spot in the country, the Arugam Bay has a laid back charm that attracts many tourists to it.
A popular spot at the bay for surfing is the 'Main Point' where you might bump into some of the most famous Sri Lankan surfers!
Get hotel deals with TripHobo
6. Trincomalee: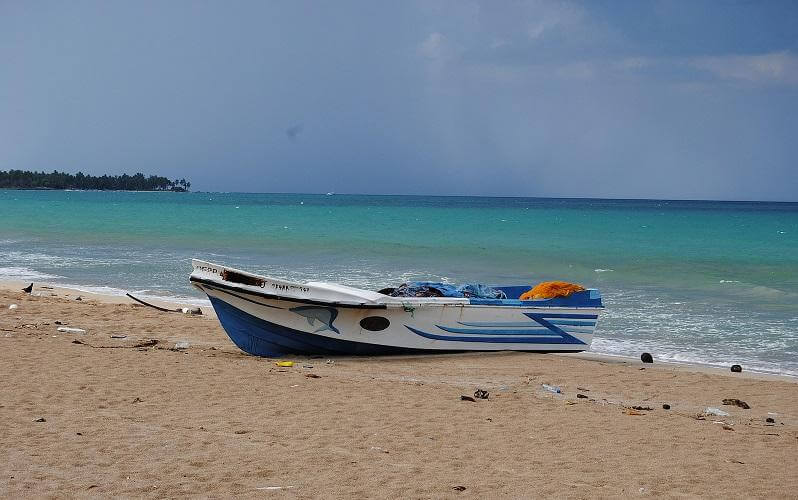 PC: Trincomalee Sarvodaya Development Education Center
Probably one of the best natural deep-water harbours in the world, Trincomalee district is home to some pretty beaches like the Uppuveli beach and the Nilaveli beach as well as the off shore beach of Pigeon Island.
Perfect For: Scuba diving, sailing, snorkelling and swimming. The area has recently gained popularity for Whale Watching.
7. Hikkaduwa: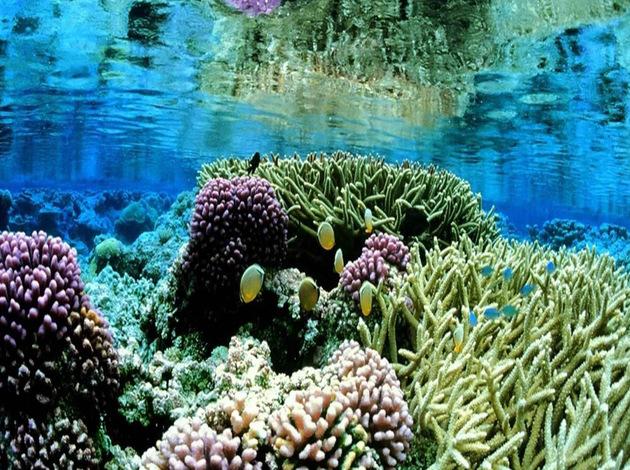 PC: Amila Tennakoon/Flickr
A beautiful and developed ocean side city in Sri Lanka, Hikkaduwa has an array of comfortable accommodations, good restaurants serving delicious sea food and picturesque beaches.
Exploring the mysteries of the ocean, be it via snorkelling or via glass-bottom boats makes this one of the best beaches in Sri Lanka.
Get year around hotel deals
8. Dickwella: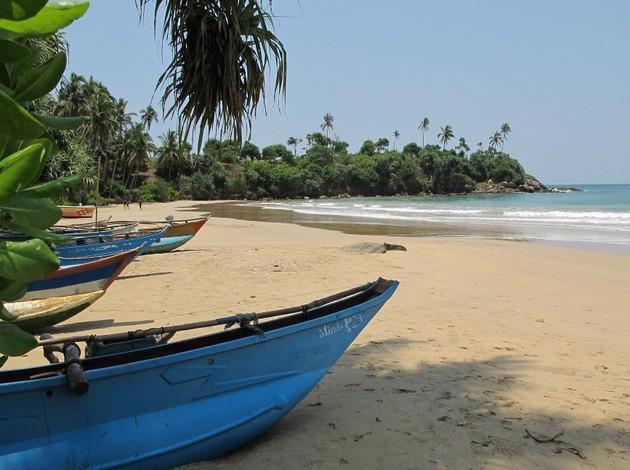 PC: Wikimedia Commons
Location of the largest seated Buddha idol in Sri Lanka, Dickwella is known for its long sandy beach.
A safe beach for amateur swimmers, the town is also famous for its beach side market that sells almost everything under the sun!
Perfect For: Swimmers and shopaholics!
Get year around hotel deal with TripHobo Hotels. Book Now, Pay Later!
9. Talalla South:
PC: Sistak/Flickr
Located in the southern province of Sri Lanka, Talalla South is a petite town having an almost surreal beach.
Known more for its old world charm, the town has recently started kite boarding activity along the beach.
Perfect For: Honeymooners, romantics and photography enthusiasts. While here, you can also work on getting that perfect tan.
TripHobo Hotels. Book Now, Pay Later!
10. Beruwala: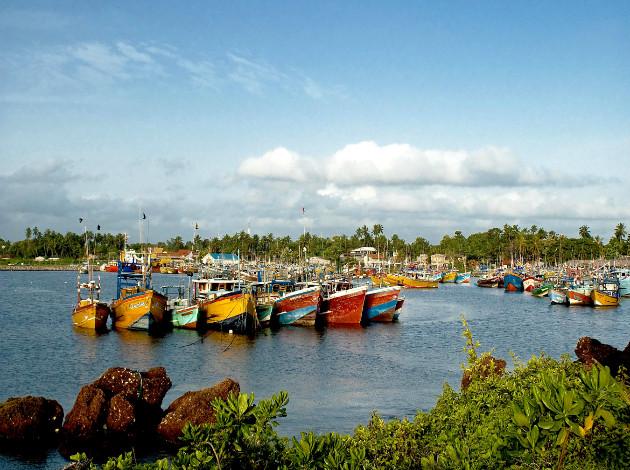 PC: Wikimedia Commons
Located on Sri Lanka's west coast, Beruwala was until recently a quiet town with historical importance (it is the spot of the first Muslim settlement on the island along with being home to the first girls' school in Sri Lanka).
Now, it is slowly being developed into a beach destination.
Perfect For: Taking romantic walks along the beach, sunbathing and swimming. The town is known for its Ayurvedic massage centres as well.
11. Negombo: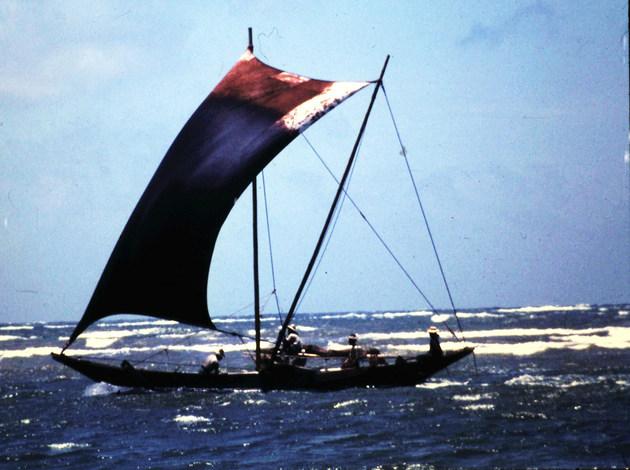 PC: Wikimedia Commons
With lively sandy beaches and bustling fish markets, Negombo is a popular destination in Sri Lanka.
Due to its proximity to the international airport, the town is generally visited by travellers as a last stop before leaving the country.
Perfect For: Swimming and photography enthusiasts.
Search for Hotels
12. Weligama: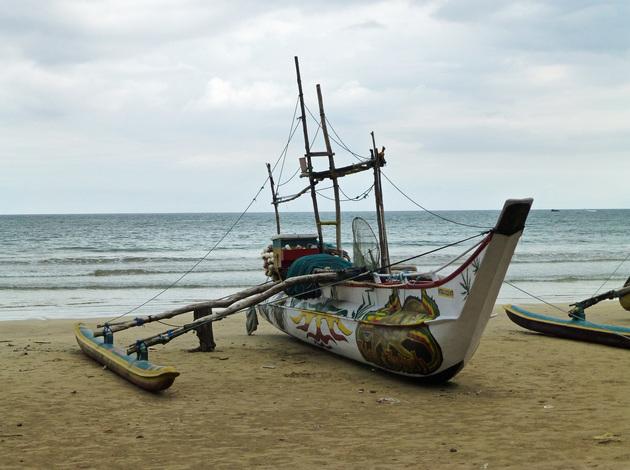 Roughly translating to 'Sandy village', Weligama is a beautiful juxtaposition of top notch resorts lying next to simple fishing village houses.
The beach over here is less crowded even during peak tourist season.
Perfect For: The waves over here are just right for people who want to take their first ever surfing lessons. It is also perfect for families as well as honeymooners.
Check best hotel deals Now
13. Nilaveli: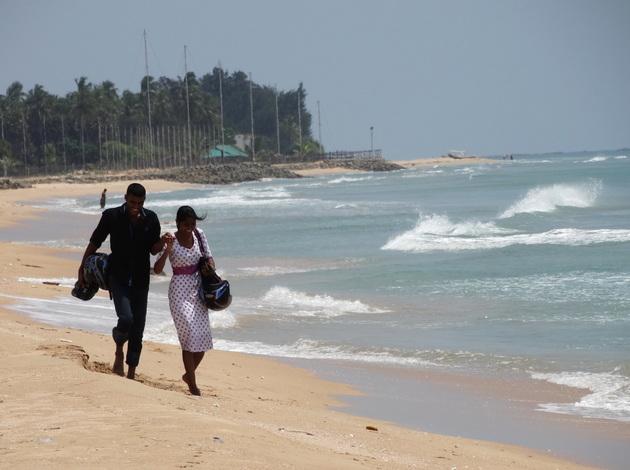 In Tamil Language, Nilaveli means 'open land of the moonshine'. With such a romantic name, you can imagine how beautiful the coastal resort town must be.
With an inviting beach, homely accommodations and friendly and chatty locals, Nilaveli should make it to your list of must visit beach destinations in Sri Lanka.
Perfect For: Soaking in the sunshine, taking leisurely walks, light swimming. Also good for people who like to explore the culture of a place.
14. Kirinda: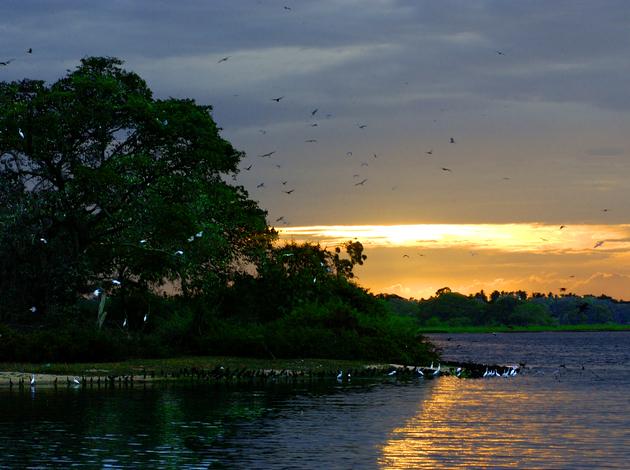 PC: Wikimedia
Kirinda is well known for its wealth of wildlife diversity and magnificent stretches of solitary beaches.
15. Kosgoda:
PC: Amila Tennakoon/Flickr
The small coastal village of Kosgoda is a prime turtle nesting site.
Serene beaches and the beautiful lagoon makes it best beach in Sri Lanka to spot various species of birds.
16. Koggala: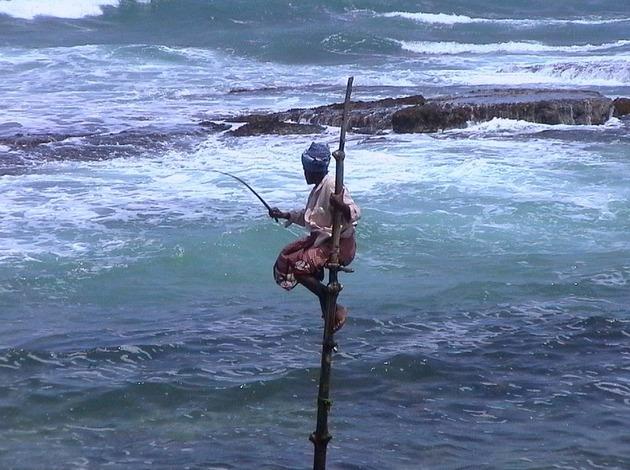 Home to one of the longest beaches in the country, we just had to feature the coastal town of Koggala on this list of best beaches in Sri Lanka!
This beach in Sri Lanka is Perfect for family vacations as well as a honeymoon destination.
17. Tangalle: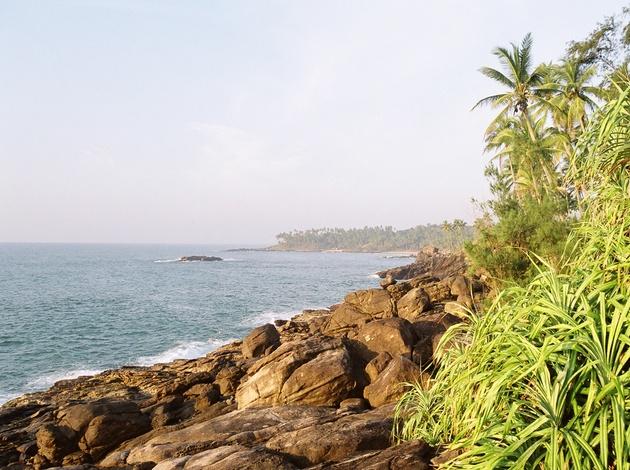 PC: Wikimedia Commons
Pretty much untouched by tourism, nature rules this part of the nation.
You'll get to see some of the most spectacular sunsets and magnificent sunrises here.
If you are lucky, you will even find a few turtles crawling across the seashore.
This is a best beach in Sri Lanka for Honeymooners and romantics.
Get year around hotel deals
18. Ahangama: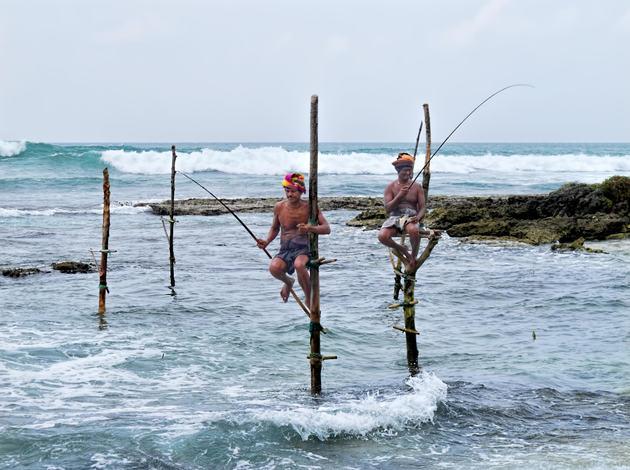 PC: Wikimedia Commons
Situated close to Galle, Ahangama is a quiet and isolated town in the Southern Province of Sri Lanka.
This beach Perfect for leisurely vacations and amateur surfing.
Hosting very few accommodations, it is advised that you book yours way in advance.
19. Marawila: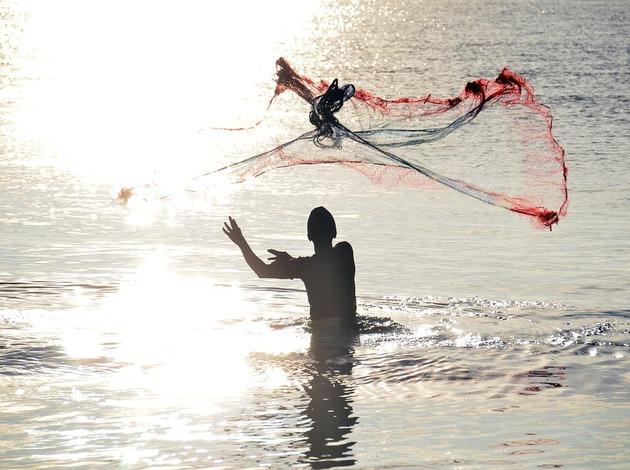 PC: pixabay.com
Lying in the Northern Province of Sri Lanka, Marawila is a postcard picture perfect town.
If you are in search of tranquillity or if you want to connect with yourself, this is the perfect beach destination for you.
You can do yoga on the beach in the early morning or meditate in the evenings with the gentle sounds of the crashing waves soothing your soul.
20. Pasikuda Bay: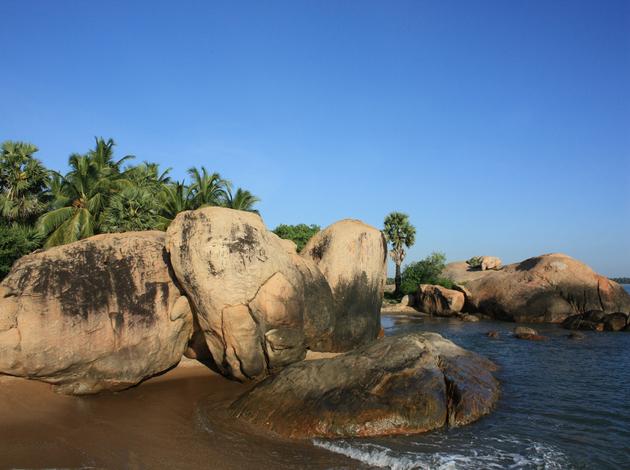 The word 'Pasikuda' means 'green-algae-bay'. Situated in eastern Sri Lanka, the inviting turquoise blue waters of the bay attract a lot of foreign and local tourists.
Perfect For: Surfing, Swimming or just frolicking in the warm waters. Other activities include sailing, kite surfing and boogie boarding.
Get hotel deal with TripHobo
21. Mirissa: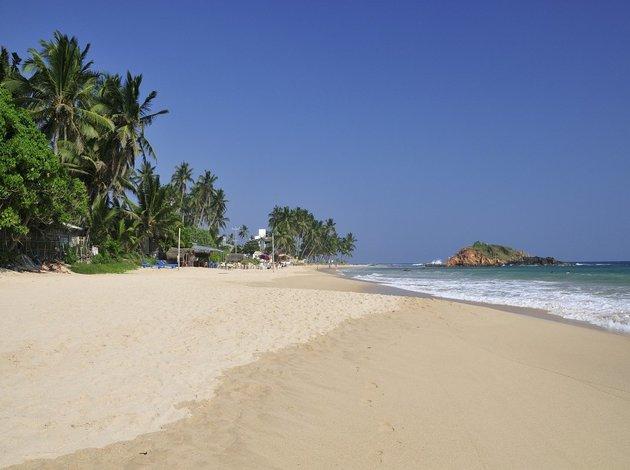 Did you know that the famous BBC documentary titled 'Ocean Giants' was filmed here? Mirissa is one of the best places in the world to see colonies of blue whales in their natural habitat.
Perfect beach in Sri Lanka for watching whales and Dolphins.
Hotel Booking Now, Pay Later!
Love beaches? You might also love reading about:
Dangerous Beaches in the World