Beaches in Vietnam for a Magical Oriental Vacay
* Disclosure: This post may contain affiliate links, which means we may receive a commission if you click a link and book something (there is never any extra cost to you for using these links).
Vietnam might have taken a long time to establish itself in this crazy 21st-century tourism scene which doesn't let any place be hidden anymore. However, the country does pretty well for itself in offering what travelers like the most: a blend of oriental world charm and pristine nature that surpasses the density of words. Some of the most alluring azure beaches make their abode in Vietnam, making it an ideal destination for beach bums to spend long sleepy hours here. Where else can they find such an array of untouched lagoons, white sands, and delectable seafood than Vietnam, a country laced with numerous splendid beaches? Let us just navigate through some of the best beaches in Vietnam that offer a paradisiacal experience in their own unique way. From luxurious resorts to scuba diving opportunities, you will find everything here.
And, if you are already thinking as to what is the best time to visit the string of beaches in Vietnam, then it is either Spring (February to April) or Autumn (August to October). During this time, the weather remains cool and rainfall is lighter for uninterrupted travel and leisure. We are not asking you to wait at all! Plan a trip to the best beaches in Vietnam and see the bounty of nature and culture through your own eyes.
1. Phu Quoc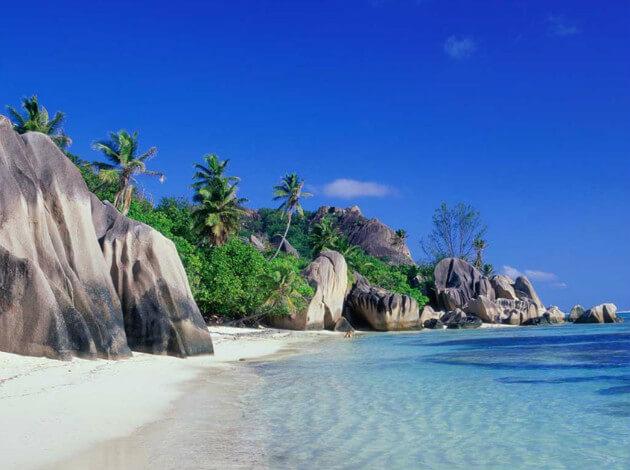 PC: phuquocisland
The nearest city: Hanoi or Ho Chi Minh City
Beach Resorts: Long Beach Resort, Richis Beach Resort, Chen Sea Resort and Spa
Graced with a string of idyllic beaches, the Phu Quoc island enchants travelers with its tranquility and off the beaten track vibe. There are a number of beaches such as Truong Beach, Ganh Dau Beach, Sao Beach in Phu Quoc that lay rich with abundant flora and fauna. Set against the dramatic mountainous backdrop, these beaches offer you a lifetime of experience. Gifted with sands as white as milk, and waves that are as calm as sunlight, these beaches enthrall and capture your senses.
2. My Khe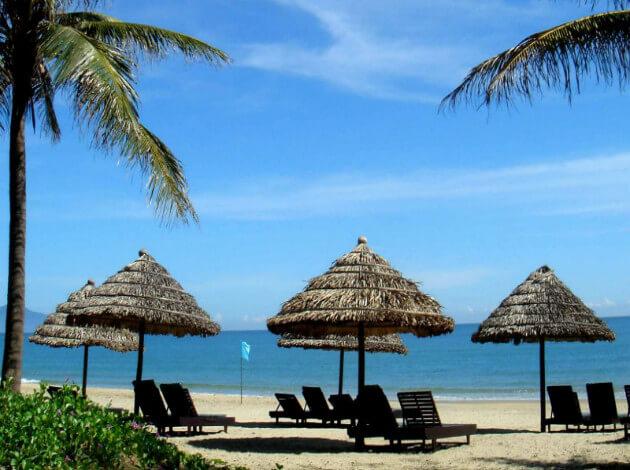 PC: Asiagreentourism
Nearest City: Quang Ngai City in Central Vietnam
Beach Resorts: Hotel Pullman Danang Beach Resort
Located in the northern part of the country, My Khe beach offers a long stretch (almost 35 km) of oceanic wonders. This beach is best known for the surfing options that it renders to the travelers with adventurous spirits. As the blue sky covers the sea, you are left with stunning images of water and nature that flank it. Some of the best beach resorts in Vietnam are located here.
3. Ho Coc

PC: Wikimedia Commons
Nearest City: Ho Chi Minh City
Beach Resorts: Saigon Ho Co Beach Resort and Hotel
Slippery sand dunes and transparent waters make up the picture-perfect poster image for Ho Coc in Vietnam. However, there is something more to nature here. The beach is surrounded by local markets that offer you a mish mash of nature and culture.
4. Doc Let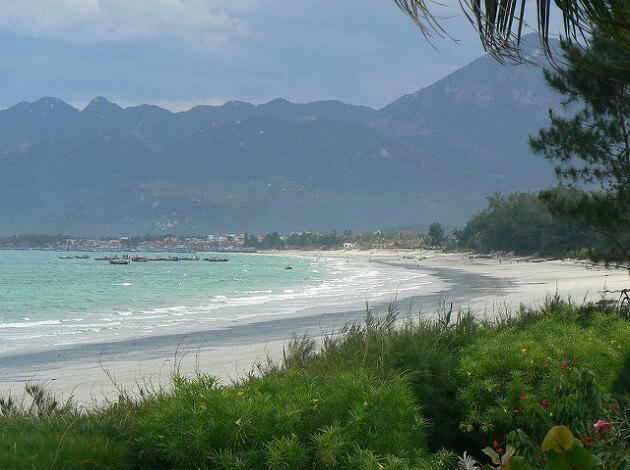 PC: Michelle/Flickr
Nearest City: Doc Let
Beach Resorts: GM Doc Let Beach Resort and Spa, White Sand Doc Let Resort and Spa
With its shallow waters, Doc Let beach is one of the safest beaches to look for swimming opportunities. One of the declared best beaches of Vietnam, Doc Let throws a bohemian vibe amidst an otherwise classy Vietnam.
5. Con Dao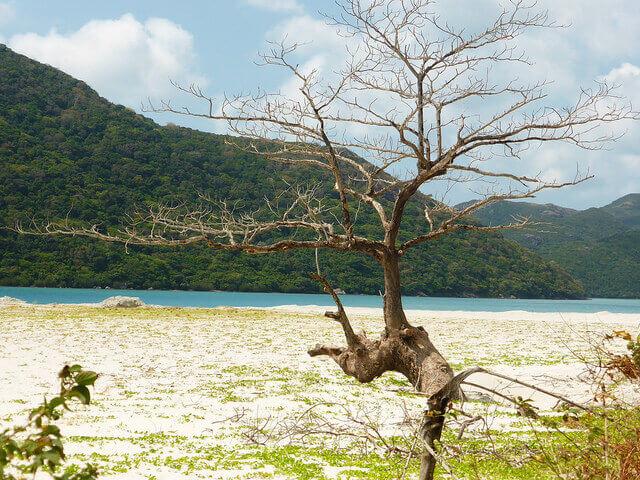 PC: Paul Arps/Flickr
Nearest City: Con Dao
Beach Resorts: Six Senses Con Dao
Con Dao islands may seem to be too remote for a typical tourist, it still finds its favorites with wandering and solitary spirits. The long stretches of sea give way to ruins of political prisons for exiled. As for its underwater beauty, there are vibrant coral reefs and the marine world that enchants who dare to dive into it.
6. Nha Trang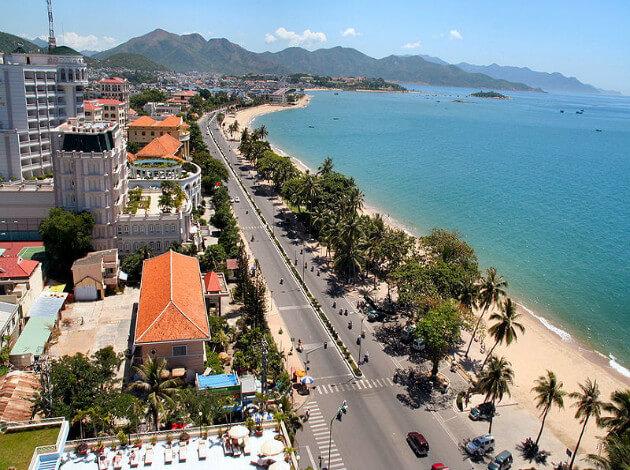 PC: Wikimedia Commons
Nearest City: Nha Trang
Beach Resorts: Amiana Resort, Nha Trang
Vietnam beaches are splendid. This is to say to least. To add to this string of best beaches in Vietnam is the Nha Trang, the crescent shaped beach that looks overwhelming with its natural assets. Dotted with tropical islands, this beach exudes a cosmopolitan vibe with quirky boutiques and fine dining restaurants, making it one of the best cities in Vietnam. You can easily find good beach resorts here for a memorable stay.
7. Mui Ne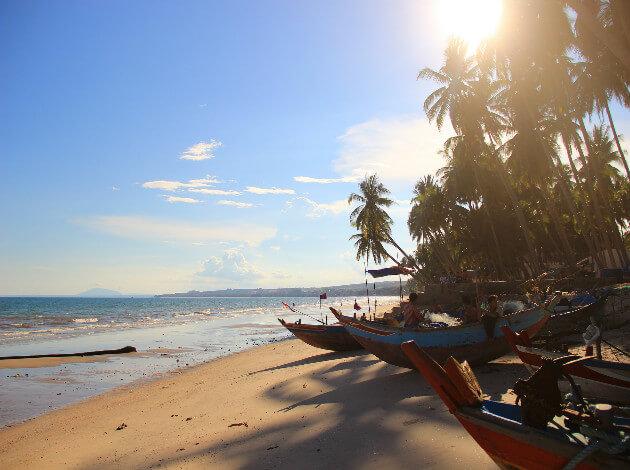 PC: EladeManu/Flickr
Nearest City: Saigon and Ho Chi Minh
Beach Resorts: Pandanus Beach Resort, Hai Dang Resort
One of the most exquisite looking beach resorts in Vietnam, Mui Ne is unique because of its steady wind conditions. Due to this, Mui Ne is a destination for adventurous activities like kitesurfing, windsurfing, sailing and other water sports. Its beachfront boasts of some most luxurious resorts that look towards the horizon. For people from Ho chi Minh, this is nearest weekend getaway possible.
8. Da Nang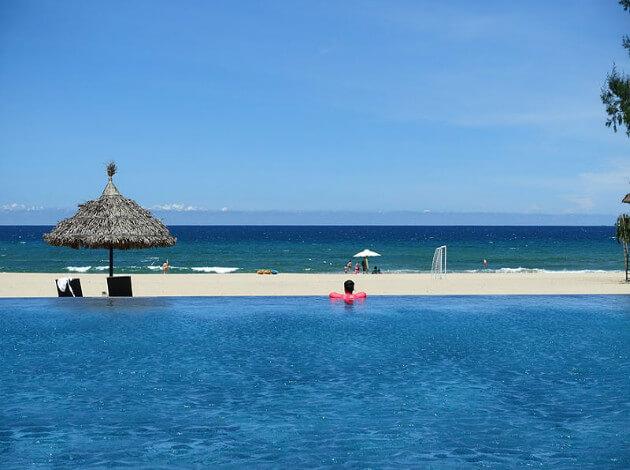 PC: Wikimedia Commons
Nearest City: Da Nang
Beach Resorts: Hotel Pullman Danang Beach Resort, Fusion Maia Resort
The coastal city of Vietnam, Da Nang opens vistas to the stunning Da Nang Bay and the Marble Mountains. Once a small fishing town, this town has now worn the ensemble of a modern city. From elegant hotels to jaw-dropping bridges, this city is an exemplary of how old world charm is giving way to new world order. At night, the beach is laced with neon lights making it a surreal capture.
9. Cat Ba Island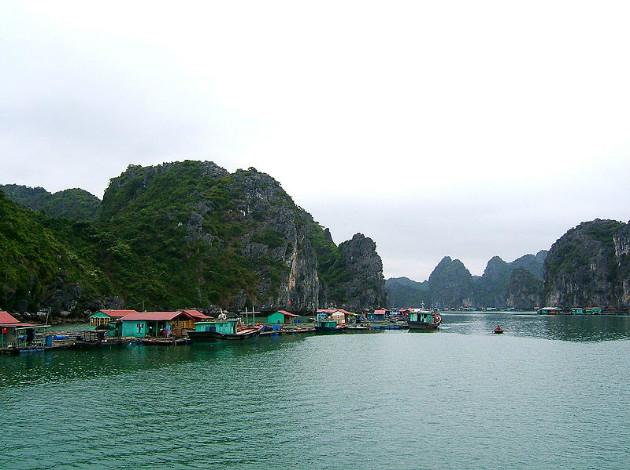 PC: Wikimedia Commons
Nearest City: Hanoi, Ha Long
Beach Resorts: Cat Ba Sunrise Resort, Cat Ba Sandy Beach Resort
While the rest of the world seems to be smitten with more gorgeous beaches of Vietnam, why don't you head towards Cat Ba where tranquility prevails. There are quaint hotels that still offer an old - world charm and open door to stunning bay. There are a number of attractions around that include lakes, waterfalls, grottos and many natural corners. Plan now for one of thebest beaches in South East Asia for families.
10. Hoi An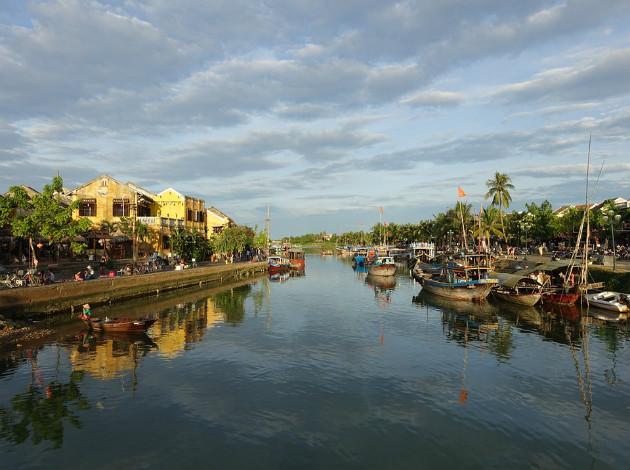 Nearest City: Da Nang
Beach Resorts: Victoria Hoi An Beach Resorts and Spa, Sunrise Premium Resort Hoi An
You might find Hoi An Beaches to be less alluring than the others. However, Hoi An holds a lot of magical wonders for people who wish to explore more and more of Vietnam's natural beauty. One of the most notable beaches of Hoi An, Cua Dai was unfortunately washed into disappearance in 2014. Before that, it was the hotspot for tourists. However, there is an array of beaches still left in Hoi An where sun, sands, and tanning create a rhythmic lyric.
11. Phan Thiet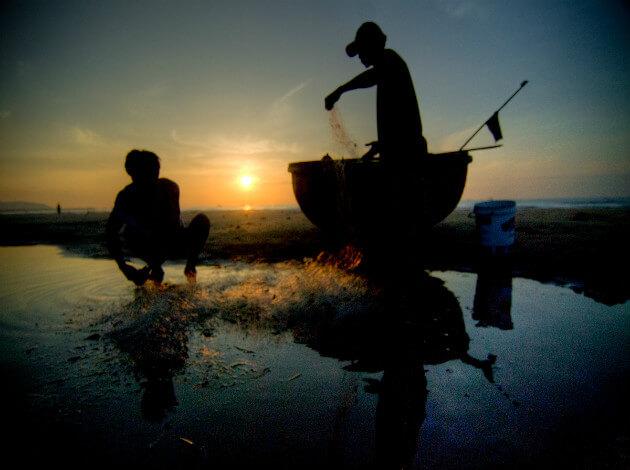 PC: Lucas Jans/Flickr
Nearest City: Phan Thiet
Beach Resorts: Coco Beach Resort, Aroma Beach Resort, and Spa
Well, there is more to Phan Thiet than just nuoc mam(sauce) for which it is famous for. Glittering riverside harbor, a gorgeous promenade makes this beachfront one of the most sought after and best beaches in Vietnam. Don't forget to gorge on some drooling seafood available in restaurants here or taste the street food in Vietnam!
12. Ca Na, Southern Coast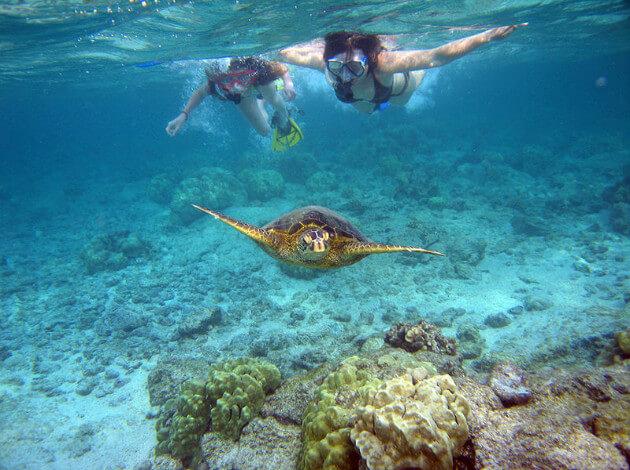 PC: Wikimedia Commons
Nearest City: Ninh Thuan
Beach Resorts: Ocean Blue and Sand, Dreams Palm Beach Resorts and Spa Punta Cana
Although a small town, the Ca Na beach holds a lot of possibilities for people who love to just laze around and relax. For snorkeling, this is an ideal destination since the water remains as transparent as a mirror, reflecting the bewitching marine life underneath.
13. Ninh Chu

PC: Wikipedia.org
Nearest City: Phan Rang
Beach Resorts: Ninh Chu Bay Beach Club and Bar
The bite shaped bay of Ninh Chu immediately captures your fantasy as you look at it from a distance. The beach remains crowded most of the time as it offers itself as an alternative to visiting the famous Cham ruins. You will get a lot of good deals here in beach resorts here.
14. Quy Nhon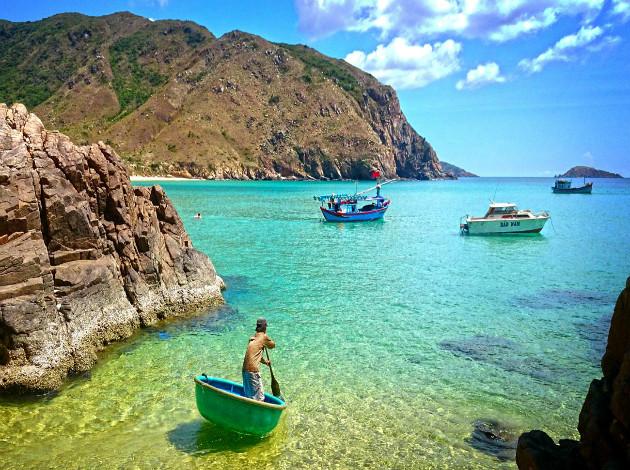 PC: Wikimedia Commons
Nearest City: Quy Nhon
Beach Resorts: Avani Quy Nhon Resort and Spa, FLC Quy Nhon Resort and Golf
Get your glorious tan at the sizzling QuyNhon, a beach that offers a view of nature in its most pristine form with palm fringed shores and colorful horizon. As for the city, it is bustling and makes way to beautiful boulevards. May we just tell you that this beach is actually quite classy and posh when compared to others in Vietnam.
15. Ha Long Bay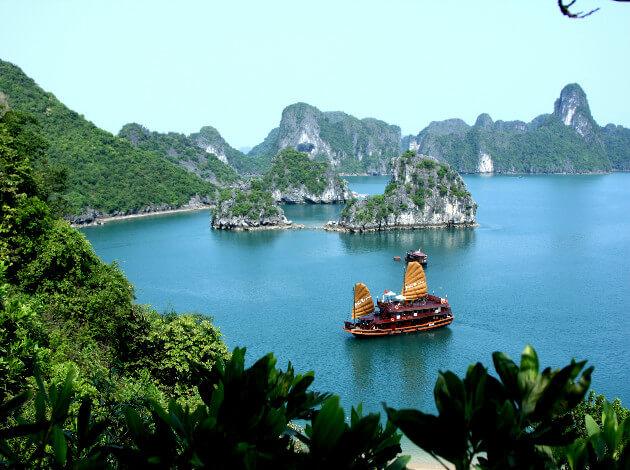 PC: Wikimedia Commons
Nearest City: Ha long City
Beach Resorts: Monkey Island Resort
Strewn with islands that bespeak history, the Ha Long Bay falls nothing short of the definition of being spectacular. Due to the historicity that prevails here, the bay was designated as a World Heritage site in 1994. Take a cruise tour and you will be able to fathom the beauty of beaches here.
We must have left you curious and excited enough to visit these spectacular beaches in Vietnam. Embark and see the beauty from your eyes!