12 Best Beaches To Visit in Virginia
* Disclosure: This post may contain affiliate links, which means we may receive a commission if you click a link and book something (there is never any extra cost to you for using these links).
Image Source: Pixabay.com
To me, beaches are synonymous with beauty. The endless amount of calm and relaxation that one gets on a beach is equal to none. The meditative sound of the ocean waves that mischievously cuddle with the sand, the aura of the sun bewitching your entire existence, and a phenomenal satisfaction you feel while watching the Sun go down in the skies have always filled me with a huge temptation for beaches. And, when it comes to the beaches of Virginia, this temptation gets even more intense.
Virginia, the southeastern state of U.S. is home to many pristine beaches that will take all your stress away with their very first sniff of salty air. Does this kindle your desire of traveling to the Virginia beaches? If yes, you would love to see this list of the best beaches in Virginia.
1. Sandbridge Beach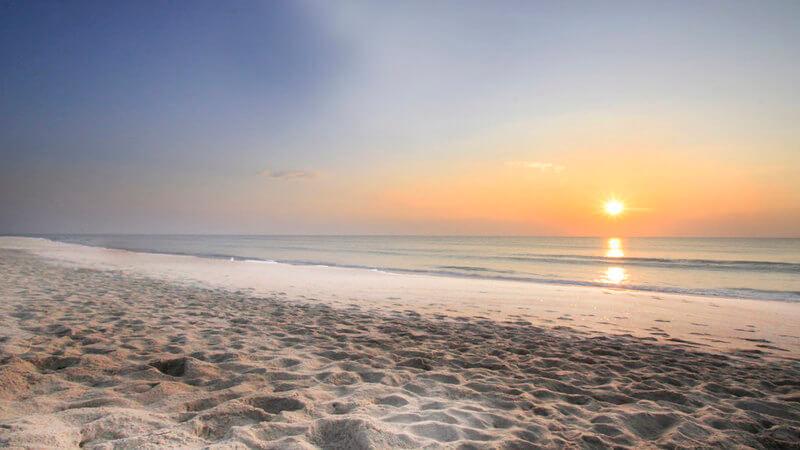 Image Source: Flickr.com
Are you in search for a quiet and calm getaway from crowd? Sandbridge, Virginia Beach is the place for you. Located at the southern part of Virginia Beach city, Sandbridge beach is a perfect destination for the ones who want to witness an incredible meeting point of the majestic Atlantic with the glittering Back Bay. Sandbridge is often considered as one of the best secluded beaches in Virginia. With 5 miles of coastline surrounded by sea oats, Sandbridge beach has a remote location, and that is why, it is the best place to be at if all you want is to spend some time with your mind, body, and soul. Back Bay National Wildlife Refuge and False Cape State Park are located close to this beach. With an abundance of sea shells, this is also one of the best shelling beaches in Virginia.
Best For: Boating, Parasailing, and watching the wild horses
2. Chincoteague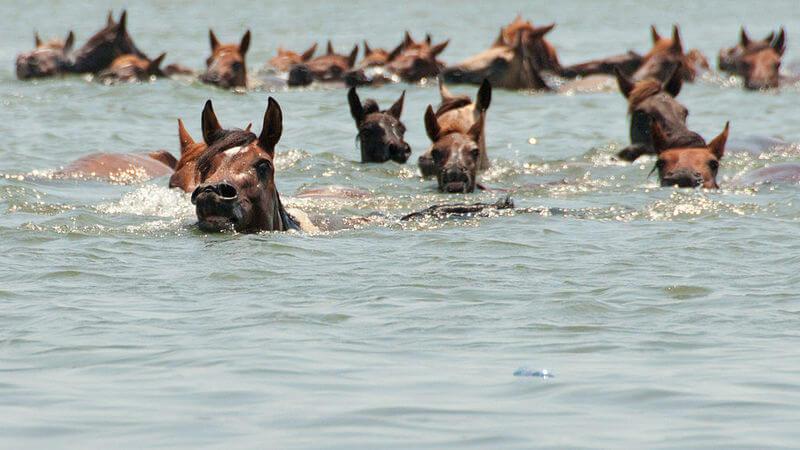 Image Source: Wikimedia Commons
How lovely it would be to see the ponies swim and playing with the ocean waves! If you want to enjoy this sight, come to Chincoteague Virginia Beach. Located in the town of the same name, Chincoteague beach is a part of National Wildlife Refuge on Assateague Island. Apart from the fresh air and golden beach, Chincoteague is also famous for its seafood. The most famous place close to the beach is Chincoteague Pony Centre where you will see a unique breed of ponies that often come to the beach for a refreshing swim. From here, you can also visit the oyster-industry and the museum to see an ultimate collection of marine artifacts.
Best for: Pony watching, bird watching, swimming, and biking
Check Out: Best Beaches in Northern California
3. Cape Charles
Image Source: Pxhere.com
Cape Charles is one of the best beaches in Virginia for families as it is completely safe for children. Cape Charles is basically a small town located 10 miles north of Chesapeake Bay Bridge Tunnel. Not only this beach is open to the public without any entry fee but also you will get free parking area here. The waters near the beach are shallow which makes it safe for small kids to play. Located on the eastern shore of Virginia, Cape Charles Virginia Beach is an ideal weekend getaway for families.
Best for: Sunbathing, boating, and swimming
Check Out: 14 Best Budget Friendly Beach Destinations in USA
4. Colonial Beach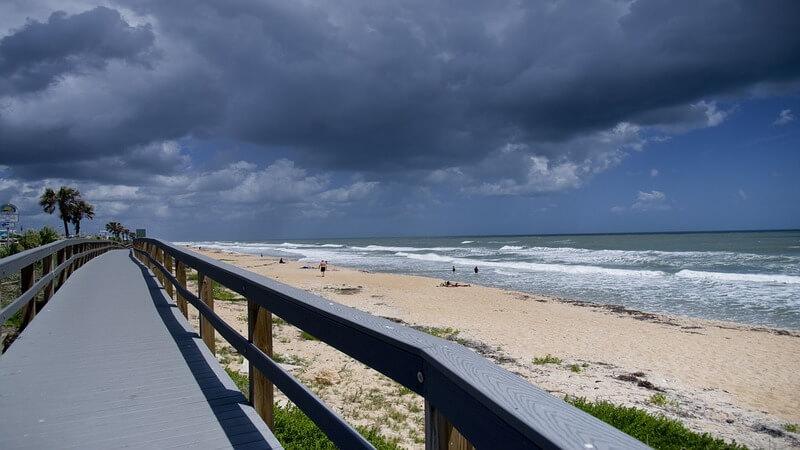 Image Source: Pixabay.com
Located in the famous 20th century resort town of Colonial Beach, this beach is known for its boardwalk. Colonial beach is one of the best beaches in northern Virginia. If you are in Virginia and looking for a laid-back beach vacation, Colonial beach is the perfect place for you to be at. The one-and-a-half-mile boardwalk on the Colonial beach features outdoor dining, spectacular viewpoints, and some shopping options too. The proximity of the Potomac River provides it an ideal atmosphere. There are many rental cottages located near the beach that are known for their great hospitality. In addition to this, once you are done with relaxing on the beach, you can head to one of the art galleries for a visual tour of the local art.
Best for: Paddle-boating, biking, and fishing
You may also read - How to Plan a Beach Trip
5. Chesapeake Bay Beach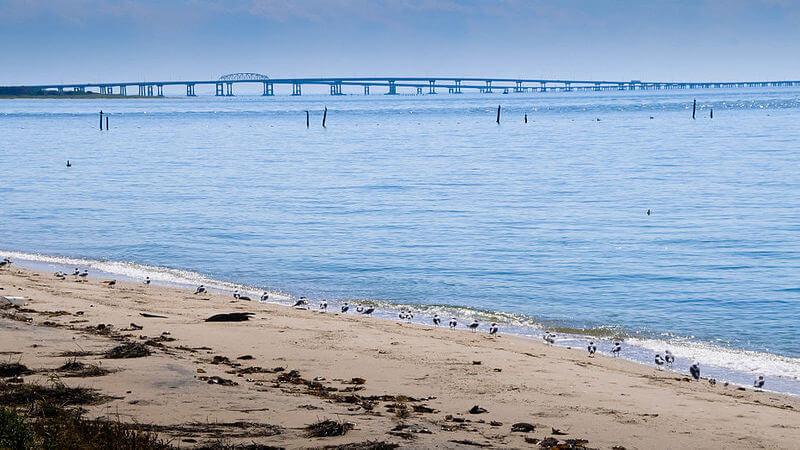 Image Source: Wikimedia Commons
Also known as Chic's Beach or Chick's Beach, Chesapeake Bay Beach is is situated on the west side of Chesapeake Bay Bridge Tunnel. The beach was not much popular until it was renovated and became a center of recreational activities in 1900s. The beach is perfect of a family vacation as you will find plenty of restaurants offering ice cream, limeade, and local cuisine on the coastal stretch. Visit the "Pleasure House" if you want to witness the pleasure of the locals who gather here for gossiping, gambling, and meeting up with friends. With an abundance of eateries, cottages, trails, and bay-bridge, the entire stretch looks diverse.
Best for: Jet skiing, kayaking, and stand up paddle boarding
Check Out: Best Shelling Beaches in Florida
6. Gloucester Point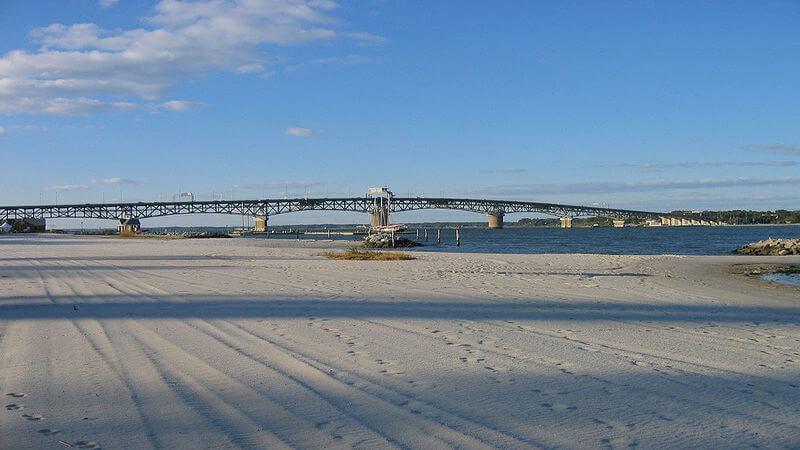 Image Source: Wikimedia Commons
Located in Gloucester Point Beach Park, this beach is truly a family friendly beach. If you enjoy making sand castle with kids, Gloucester Point is perfect for you. There is also a Beach House inside the park which is open seasonally. You will also find a volleyball court, restrooms, outdoor shower, concessions stand, and fishing pier which will make your beach vacation even more exciting. With a large picnic area and charcoal grill, Gloucester Point is a famous spot in the list of beaches in Virginia.
Best for: Picnicking, playing in the sand, other recreational activities
7. Ocean View Beach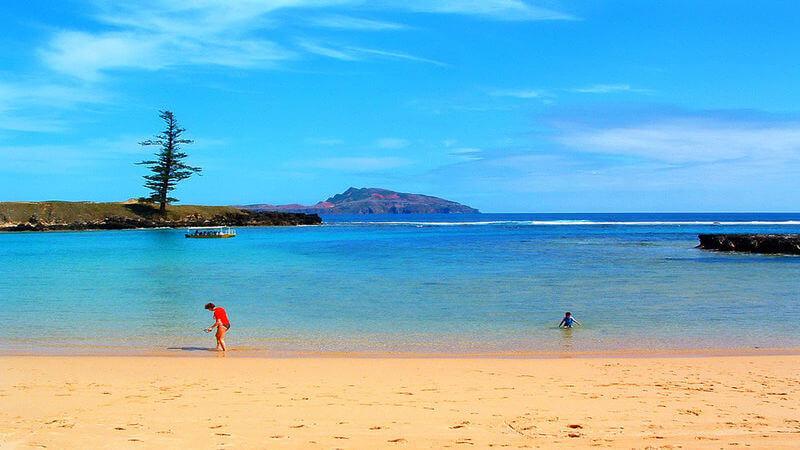 Image Source: Wikimedia Commons
Located in the city of Norfolk, Ocean View Beach has a 7.3 mile of seashore and is one of the best quiet beaches in Virginia. The beach can be accessed freely and welcomes you with a plethora of activities you can participate in. Ocean View Beach, Norfolk is home to some commercial piers where you can indulge into fishing and go for a boat ride. It also features bait shops and few restaurants offering delectable seafood. Close to the beach, there is Ocean View Park featuring a gazebo and picnic shelters.
Best for: Picnicking, fishing, crabbing, and boating
Check Out: Best Piers in the World
8. Bay Shore Beach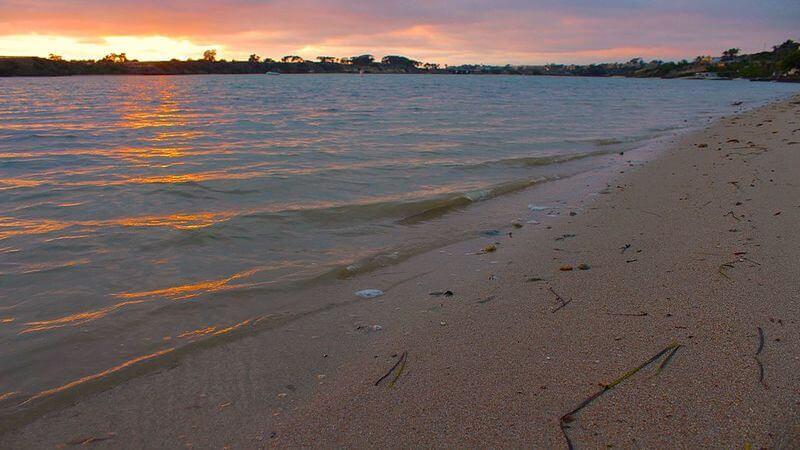 Image Source: Wikimedia Commons
Bay Shore is a popular Virginia Beach and is located adjacent to the Buckroe Beach in Hampton, Virginia. The beach is said to have founded by the African-American businessmen and since then it has been a favorite tourist destination in Virginia. The beach not only offers many exciting activities but also is home to some beautiful and cozy resorts and hotels where you can stay and enjoy the gorgeous views of the ocean whenever you want. While with kids, you can visit the amusement park. You can call Bay Shore beach one of the best private beaches in Virginia as the beach is fully developed by the private companies and industrialists.
Best for: Kayaking, canoeing, and camping
9. Gwynn Beach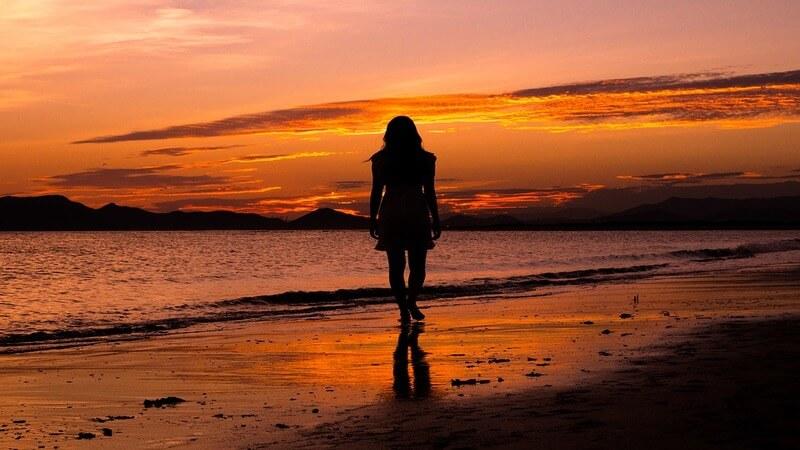 Image Source: Pixabay.com
Nestled in the Gwynn Island, Gwynn beach has long been a favorite destination for the locals as well as vacationers. Located at the mouth of the Piankatank River, Gwynn's Island houses over 2,000 acres of sand lined by towering pines and beautiful colonial cottages. The azure blue waters of Chesapeake Bay take a calmer side here and provide a peaceful atmosphere to the entire land. Both the beach and the island are named after Colonel Hugh Gwynn who began agriculture, commercial fishing, and shipbuilding here. While at Gwynn, you can plan to stay in one of the vintage houses and indulge in fishing and boating with the locals or enjoy camping on the Gwynn Island Campground to soak in the rustic atmosphere.
Best for: Camping, fishing, and swimming
Check Out: Best Beaches near NYC - A Summer Splash
10. Fairview Beach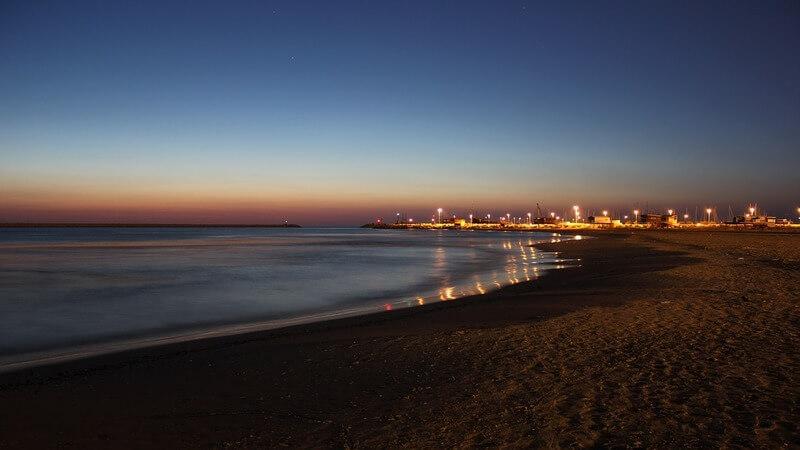 Image Source: Pixabay.com
One of the best private beaches in Virginia, Fairview Beach is marked by a spectacular waterfront stretch of the Potomac River in Hague, Virginia. The coastline and the beach are private properties but can be accessed by the public after permission. As the beach has been developed by private companies and owners, you will find some good resorts and clubs near the beach. Many people come here to celebrate a special occasion or organizing an event.
Best for: Partying, clubbing, and swimming
Check Out: Top Beach Festivals Around the World For 2018
11. Bavon Beach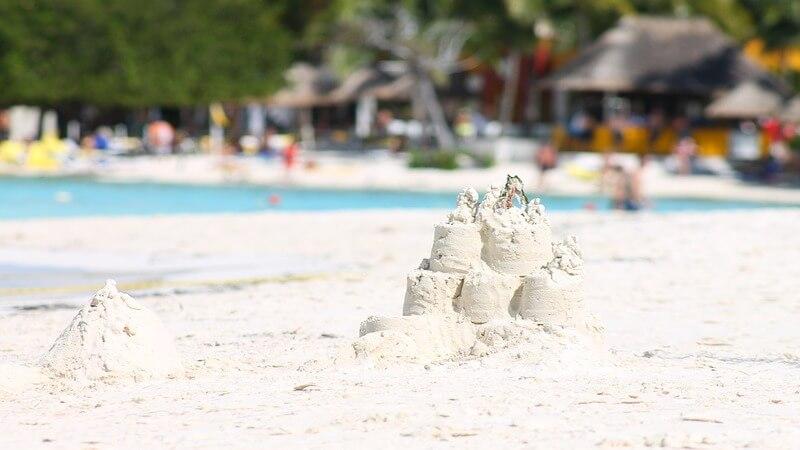 Image Source: Pixabay.com
Bavon beach is a private stretch of pristine white sand in Mathews County of the State of Virginia. The beach is truly a beautiful treasure of Chesapeake Bay due to the fact that the tidal lagoons and shrubs provide a perfect habitat for shorebirds. The beach is located at the north of New Point Comfort Lighthouse. If a time of tranquility is all that you need, no place could be better than Bavon beach.
Best for: Seabird watching, coastal tours
12. Kiptopeke State Park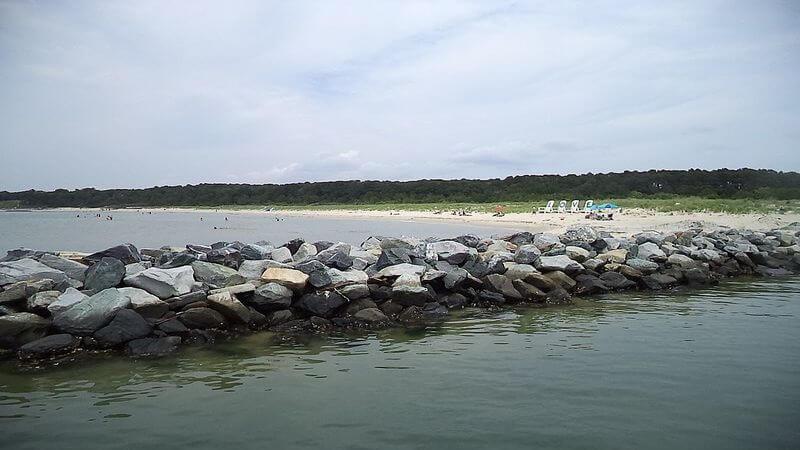 Image Source: Wikimedia Commons
Considered as one of the best beaches in eastern Virginia, Kiptopeke State Park allows people to get a recreational access to the Chesapeake Bay. The beach is bestowed with a unique habitat that attracts a number of migratory birds such as hawks, kestrels, osprey and other preying birds. Close to the beach, there is Coastal Virginia Wildlife Observatory that will give you a lot of information about these birds. The beach also has a wide fishing pier.
Best for: Birdwatching, fishing, picnicking
With a glittering stretch of sand, gorgeous boardwalks, fun piers, and a plethora of adventures, beaches in Virginia provide an escape from a boring life. So, what are you waiting for? Rent out a beach umbrella, get a sling-back chair, put on some sunscreen and enjoy your time on the Virginia beaches!