18 Best Beaches Near Kuala Lumpur
* Disclosure: This post may contain affiliate links, which means we may receive a commission if you click a link and book something (there is never any extra cost to you for using these links).
Malaysia boasts of some of the best scuba diving and sandy patches on this side of the world. If you're looking to escape the maddening chaos of the city, your best bet would be to escape to the beaches near Kuala Lumpur.
The best way to experience the charm of the country is to experience the raw, unadulterated beauty of its shores.
Here are the 18 best beaches near Kuala Lumpur:
Port Dickson
Morib Beach, Banting
Bagan Lalang, Sepang
Batu Ferringhi, Penang Island
Pulau Jerejak
Pantai Kerachut, Penang Island
Pangkor Island
Langkawi Island
Tioman Island
Cherating
Teluk Batik, Lumut
Pantai Puteri, Malacca
Redang Island
Pantai Cahaya Bulan, Kota Bahru
Rawa Island
Perhentians Islands
Lang Tengah Island
Gemia
Let us explore why one should visit these beaches when in Kuala Lumpur.
1. Port Dickson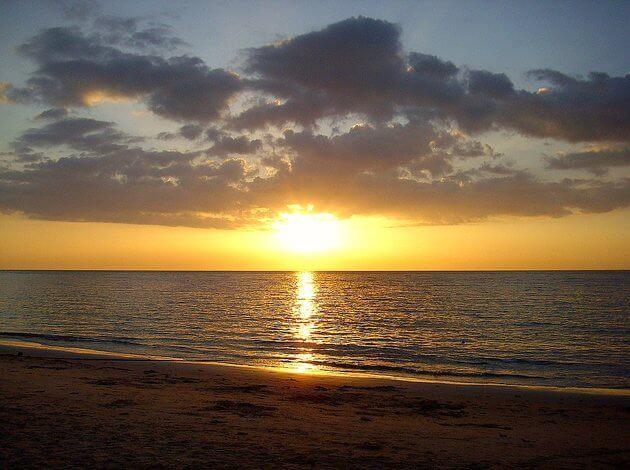 Port Dickson is a well known beach resort destination in the state of Negeri Sembilan, Peninsular Malaysia.
There are a variety of water sports facilities available on these beaches. Some of the popular beaches are:
Bagan Pinang - A quiet stretch of sandy coastline, famous for snorkeling, swimming and kite flying.
Pantai Saujana - Enjoy barbecue picnics and spectacular sunsets.
Pantaya Cahaya Negeri beach - A family-friendly beach featuring numerous shaded picnic areas.
2. Morib Beach, Banting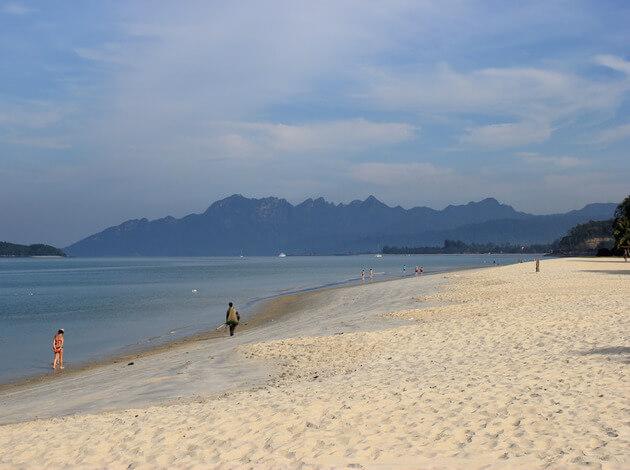 PC: Sjors Provoost/ Flickr.com
Morib Beach is a short sandy patch that is a respite from the pollution of the city.
An ideal day trip as this is a popular beach closer to Kuala Lumpur and offers much-needed peace and calm to visitors.
Kids can enjoy rollerblading and kite flying here and there is also a great seafood restaurant on the beach.
It is located about 64 km from Kuala Lumpur.
3. Bagan Lalang, Sepang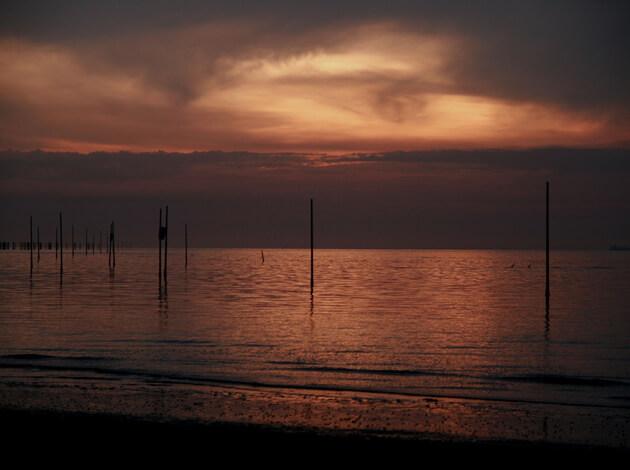 PC: Mohd Rosdi Zainal Abidin/ Flickr.com
Just about a one hour drive from Kuala Lumpur Bagan Lalang is another beach at 85 km.
This best beach is suitable for swimming and also makes for a great meditative break.
You can enjoy fresh and delicious seafood on offer in the restaurants surrounding the beach.
An extension of Morib beach, Bagan Lalang is a quiet haven that makes for a good short getaway for family and friends.
Beach Resorts and Hotels To Stay at: Seri Bayu Resort Hotel, AVANI Sepang Goldcoast Resort
4. Batu Ferringhi, Penang Island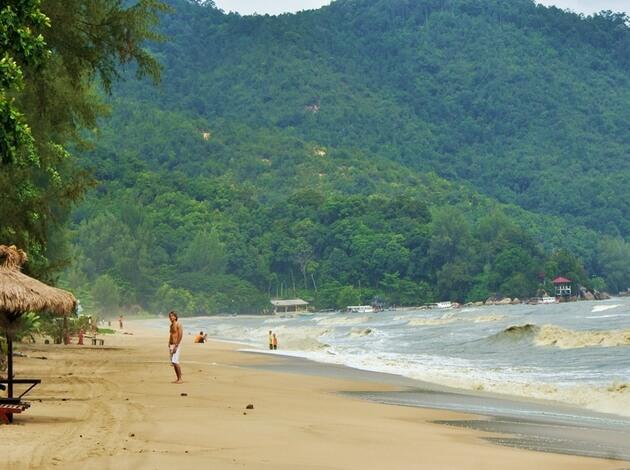 PC: Khalzuri Yazid/ Flickr.com
Batu Feringghi is Penang Island's most developed beach and one of the most exciting beaches near Kuala Lumpur.
If you're someone who loves a beach with its lively shacks and markets, this is the ideal place for you.
After you're done with chilling on the sand, head to one of the lovely night markets or sample some yummy dishes in one of the restaurants.
There is also some adrenaline pumping water sports activities at this beach.
Beach Resorts and Hotels To Stay at: The Bayview Beach Resort, Holiday Inn Resort Penang
Check availability in these resorts!
5. Pulau Jerejak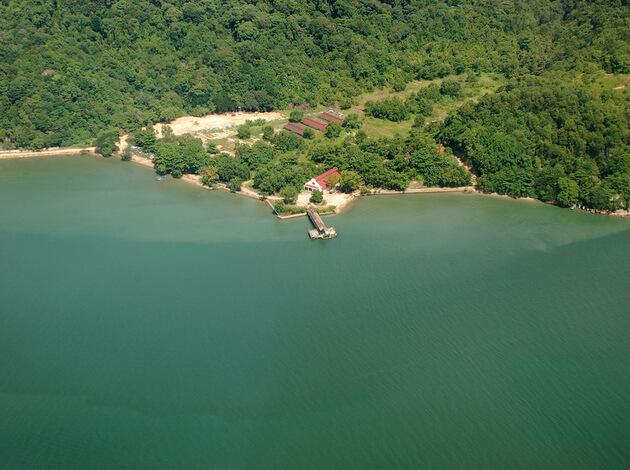 Find an untouched rainforest thriving next to a pristine beach at Pulau Jerejak which is located just off the coast of Penang.
A drive of about 4 hours from Kuala Lumpur, this beach is a serene retreat.
Beach is popular as an ecotourism destination in Malaysia. Enjoy jungle trekking to kayaking, there is a host of activities to indulge in here.
Famous Beach Resort on Pulau Jerejak: Jerejak Rainforest Resort
6. Pantai Kerachut, Penang Island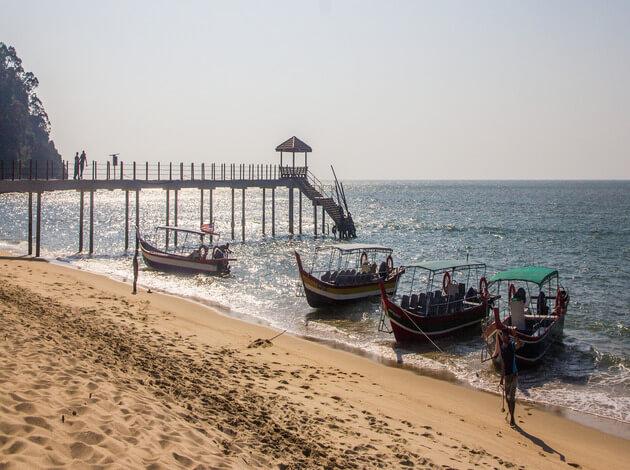 Another best beach near the Penang island, Pantai Kerachut is the remotest beach here.
Absolutely stunning, this beach is a nestling ground for endangered species like the Olive Ridley turtles, Hawksbill turtles among other interesting species like kingfishers, mousedeers, and crabs.
Pantai Kerachut also has the distinction of being one of the only four meromictic lakes in Asia which have both sea water and fresh water that are known not to intermix.
Check resorts near this beach!
7. Pangkor Island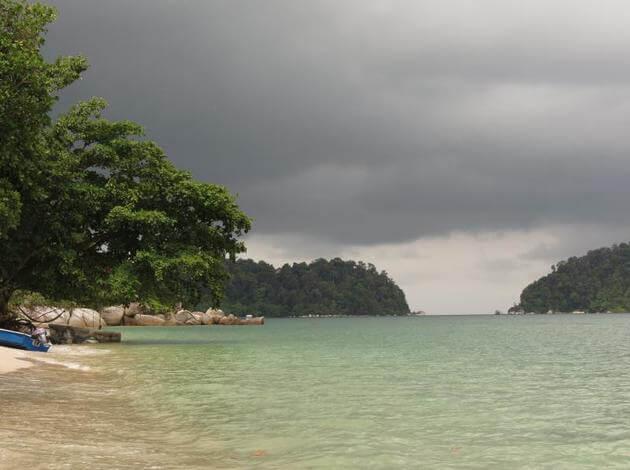 PC: Photo Diary of an Endless Summer/Flickr.com
Pangkor is a beautiful island near Kuala Lumpur.
It boasts of a number of beaches that can be explored easily on a motorbike. Pantai Pasir Bogak is a one of the popular beach on this island.
8. Langkawi Island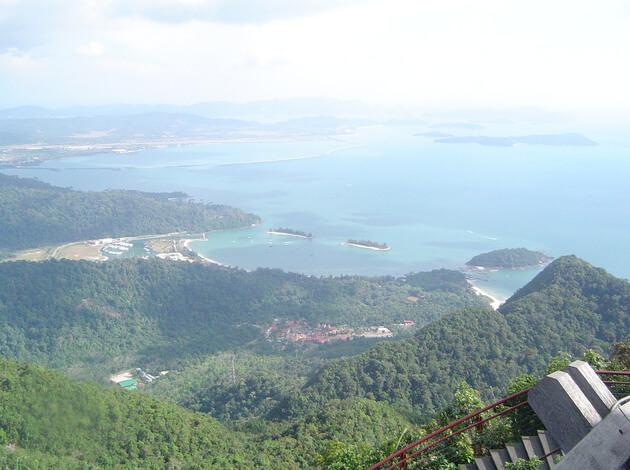 Langkawi is the ideal escape for beach lovers from Kuala Lumpur.
You will love Tanjung Rhu for its endless stretch of white sand and azure waters.
Teluk Yu is a great beach for families because of its shaded seating areas and swimming possibilities.
Pantai Kok is another best beach that offers stunning bay views and crystal clear waters.
To explore Langkawi from Kuala Lumpur you need to spend more than a day or two.
If you are a newly-wed plan for a honeymoon in Langakawi which is an ideal romantic place in Malaysia.
Beach Resorts to Stay in: Meritus Pelangi Beach Resort & Spa, The Andaman - a Luxury Collection Resort
9. Tioman Island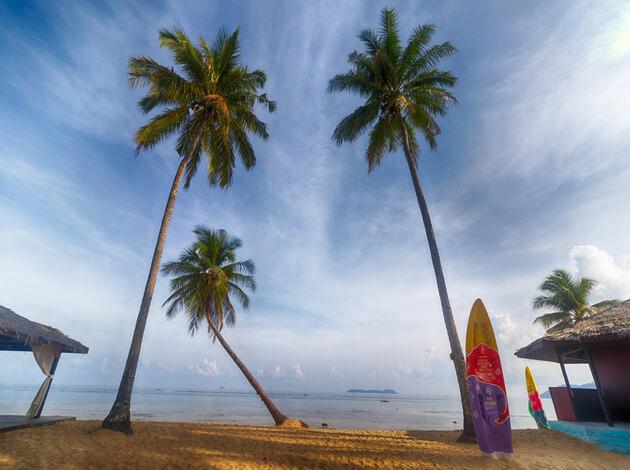 Unarguably one of the best islands in the world, Tioman is still sparsely populated and densely forested.
A scuba diving paradise, Tioman boasts of white coral reefs and beautiful blue waters.
Some of the noteworthy beaches here are Paya, Tekek, Air Batang, Genting, Mukut, Salang, and Nipah.
Tioman is where you will find some of the best beaches near Kuala Lumpur.
Beach Resorts To Stay in: Berjaya Tioman Resort, Bagus Place Retreat
10. Cherating - a Resort Town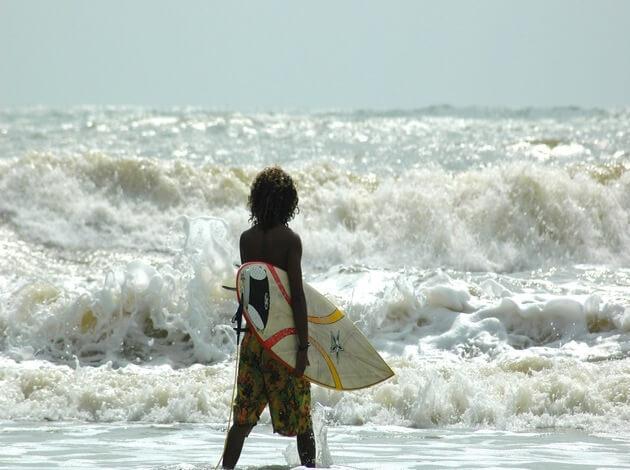 Cherating is a backpacker paradise, it is an ideal place for those who love to spend hours gazing at the unending horizon.
Chendor beach which is around 2 km from Cherating is a turtle sanctuary nearby that is worth a visit.
Beach Resorts To Stay in: Suria Cherating Beach Resort, Eastana Cherating Beach Resort
11. Teluk Batik, Lumut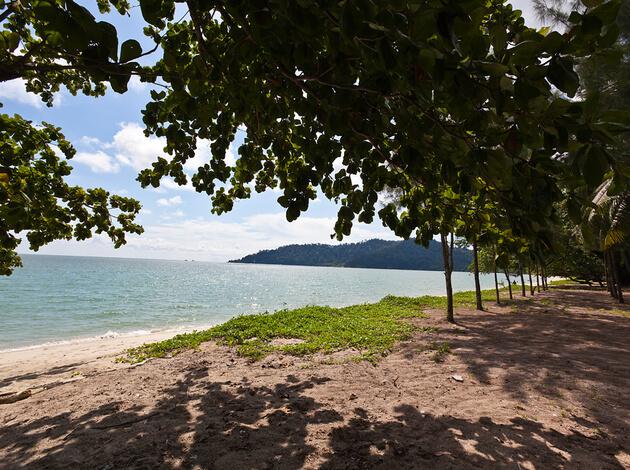 The Teluk Batik beach is located at a distance of 6.5 kilometers from the town of Lumut.
The shimmery golden sands of Teluk Batik attract a number of beach lovers throughout the year. A great family beach near Kuala Lumpur, the waters are ideal for swimming during low tide.
Full of organized amenities after a recent restoration, visitors can find clean restrooms and shower areas at the beach.
Resorts Nearby: Swiss-Garden Beach Resort, Virgo Batik Resort
12. Pantai Puteri, Malacca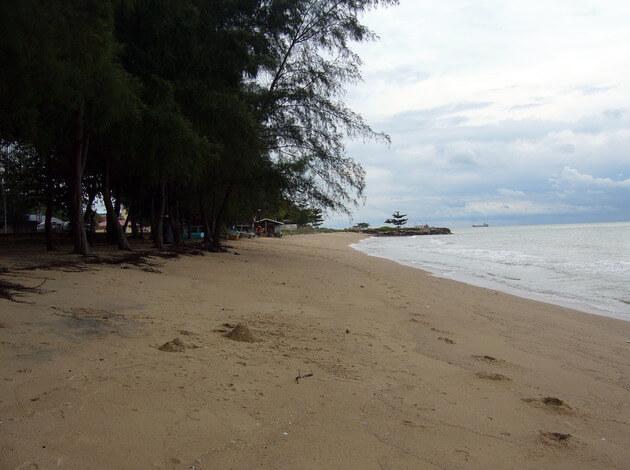 Puteri Beach is located in Tanjung Kling in the Malacca province.
It is about 2.5 kilometers long and is a quiet and clean beach that is ideal for a picnic or some R&R.
Initially known as Kundor beach, Pantai Puteri is quite popular with locals on weekends and holidays from Kuala Lumpur.
There are a number of beach resorts on this beach and also some interesting eateries.
One can spot fishermen on the waters and there are also water sports activities on the beach.
13. Redang Island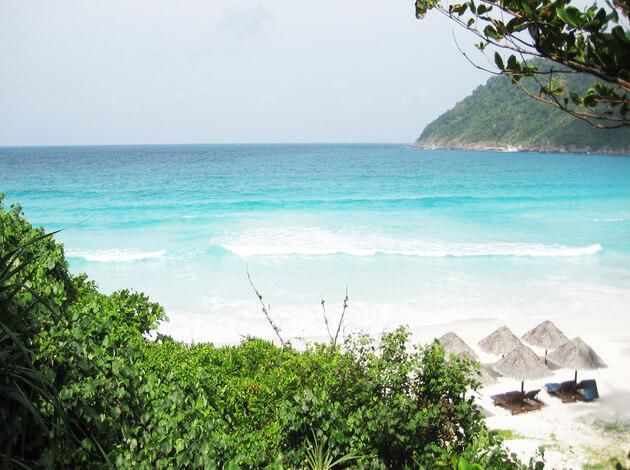 Redang is a tropical paradise blessed with sun-kissed beaches and gorgeous azure waters.
To get to Redang from Kuala Lumpur, visitors can either take direct flights or overnight buses that take seven to eight hours to reach Redang.
The best beaches in Redang are Sekinchan, Coral Beach, Pasir Panjang beach, Pasir Kalong and Marine Park beach.
There are some excellent coral reefs to discover for those who enjoy diving and snorkeling.
Beach Resorts To Stay in: The Taaras Beach & Spa Resort, Redang Island Resort
14. Pantai Cahaya Bulan, Kota Bahru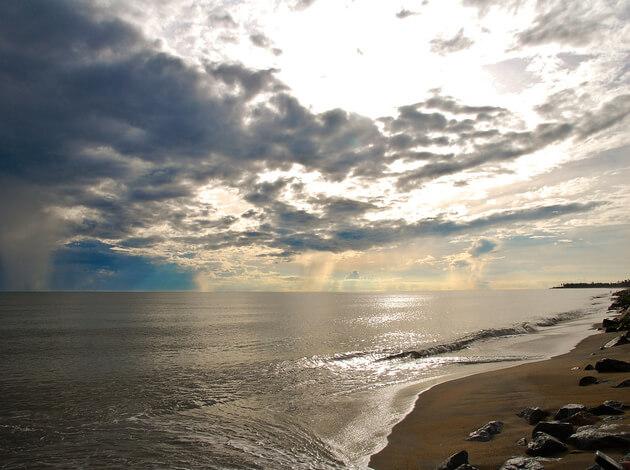 Pantai Cahaya Bulan or Moonlight beach is one of the best beaches near Kuala Lumpur.
Pantai Cahaya Bulan boasts of clear waters and beautiful powdery sand.
Visitors can enjoy some fresh seafood on the beach.
A great spot for family outings and picnics, this beach has water sports activities and horse riding facilities too.
Check for booking resorts near this beach!
15. Rawa Island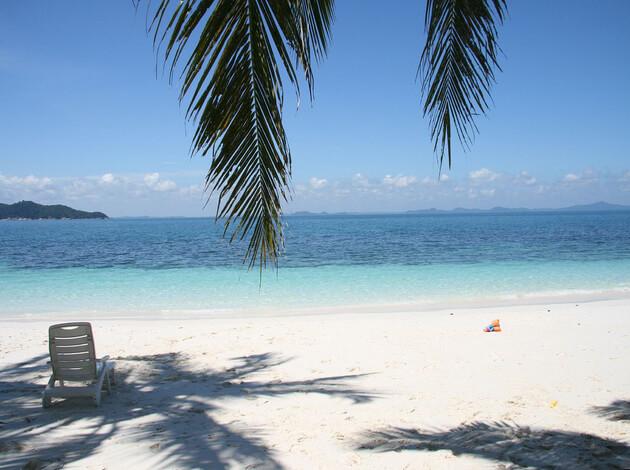 Rawa Island is this idyllic beach that lies off the east coast of Malaysia.
Surrounded by lush vegetation and boasting of the softest white sand that is hugged by gentle ripples, Rawa has been beautifully developed by the Sultanate of Johor that privately owns it.
This beach is best for windsurfing, canoeing, fishing and snorkeling, Rawa is an ideal escape in the form of a paradise.
Resorts to check out: Alang's Rawa, Rawa Island Resort
16. Perhentians Islands
Consisting of two main islands, Pulau Perhentian Besar and Pulau Perhentian Kecil, and numerous other small islands, the Perhentians group of Islands is famous for its crystal-clear waters, corals and fishing opportunities.
The Long Beach is the most famous beach on these islands. The glorious Adam and Eve beach, D'Lagoon and Turtle Beach are other coasts which are well-known for their immense natural beauty.
Indulge in activities like snorkeling and scuba diving when on this beach.
Some of the most beautiful beach resorts promising tourists of a comfortable stay on this island are Bubu Long Beach Resort, Oh La La's, Long Beach and Mohsin Chalets.
17. Lang Tengah Island
Nestled between the tropical islands of Perhentian and Redang, Lang Tengah Island is a preferred spot for kayaking, diving and snorkeling.
Since there are no proper roads on this island, the only way to get around is in boats!
Being a small island, there are only four beach resorts for the tourists to choose from; D'Coconut Lagoon Resort and Sari Pacifica Resort & Spa are the most famous beach resorts in Lang Tengah Island.
18. Gemia
Located just to the north-west of Kapas Island. The peaceful island which covers about 9 acres is known for its serene and quiet atmosphere.
With numerous opportunities of exploration, the beaches of Gemia offer tourists with a serene coastal getaway.
Malaysia is rightly known as the country with the most heavenly beaches. So when you are in Kuala Lumpur, do take time out and explore the wealth of natural sights that the country has to offer.