10 Best Beer Gardens in London Ideal for a Pint in Summer
* Disclosure: This post may contain affiliate links, which means we may receive a commission if you click a link and book something (there is never any extra cost to you for using these links).
Summers in London are a great time to head outside and enjoy a pint of local ale. With the limited amount of sunshine it gets, Londoners don't miss out on any opportunity to soak in some Vitamin D! And what better way to enjoy a sunny day than in a beer garden in London?
Here are some beer gardens in London that you shouldn't miss when in London:
1. Faltering Fullback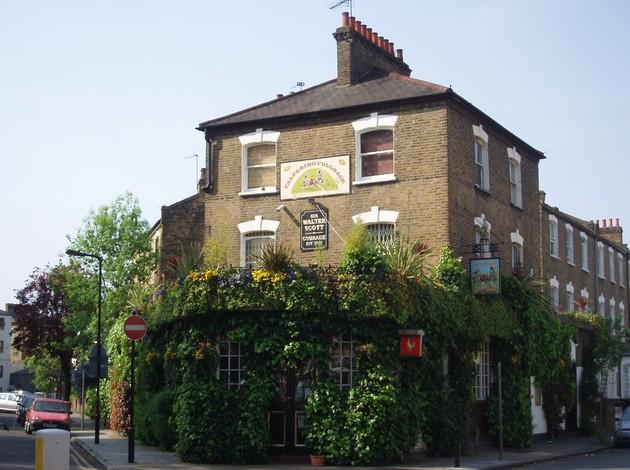 Image Source: Ewan Munro/flickr
Between the sea of people and the ruckus of excited sounds, your faltering feet will long to find some solace if you reach this place even a minute later than you must if you want a cozy nook for yourself. This Finsbury park pub has long been a favorite amongst beer guzzlers and sports lovers, and it's not difficult to see why. Turns out- good food, gorgeous garden and cheap booze are a match made in heaven!
Where: 19 Perth Rd London N4 3HB
Why you'll love it: The rowdy Irish pub feel and the reasonable pints!
2. Spaniard's Inn
As you polish off your pint of Pimm's at this veteran beer garden, you will slowly start to realize why this 400 seater Beer garden has survived the test of time. The fairy lit huts apart, this verdant garden is a brilliant idea on a warm summer day. It has all the makings of a friendly, non-pretentious hangout and its loyal fan following validates that.
Where: Spaniards road, London NW3 7JJ
Why you'll love it: Old London vibe and green walls.
3. Edinboro Castle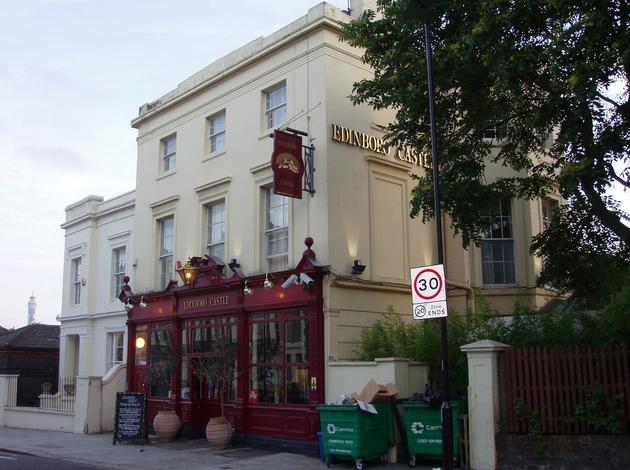 Image Source: Ewan Munro/ flickr.com
Ideal for a lazy drink on a summer afternoon, Edinboro Castle is simple, rustic and a very welcome place. From the familiar board games to the smiling faces, you get a feeling of being 'home' when you're here. An added bonus is the lip smacking food served here.
Where: 57 Mornington Terrace London NW1 7RU
Why you'll love it: Warm service and homely vibe
4. The Magic Garden
The fantastic music bands and the plump sofas are enough incentive to spend hours at this boutique beer garden. But combine this with the delicious grub on offer, you have a sure winner. Rub shoulders with likeminded people at this chilled out beer garden in London that truly seems to have some magic dusted on it.
Where: 231 Battersea Park road, SW11
Why you'll love it: Live music and surprisingly refreshing martinis!
Must Read: Riverside restaurants in London
5. People's Park Tavern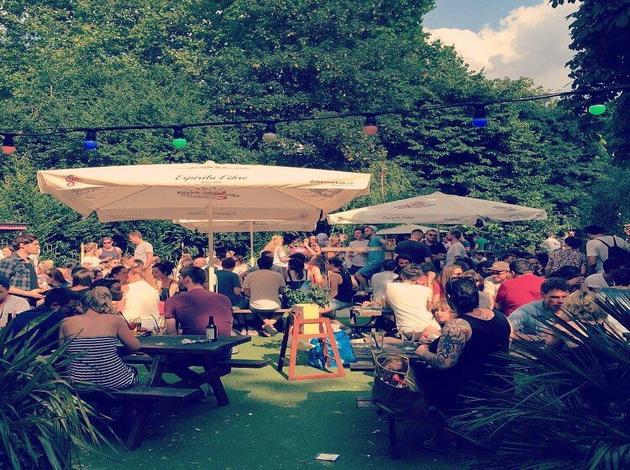 Image Source: Facebook/Peoples Tavern
Summer is a buzzing time for People's Tavern. Full of happy people and chirpy sounds, this hip hangout comes alive on a sunny day. Try their signature ales or settle for your favorite dish, People's Tavern is a sheer joy to be at.
Where: 360 Victoria Park road, E9
Why you'll love it: the seasonal barbecue and unique ales.
6. The Avalon
Not a shabby hippie, The Avalon is more like a polished gentleman with oodles of class. This is evident in the lovely fountain, the crystal chandeliers and the Victorian touches in the décor. You'll love the selection of ales and accompanying dishes that pair beautifully with the drinks.
Where: 16 Balham Hill, South Clapham, London, SW12 9EB
Why you'll love it: The chic décor, clever details and the plenty of space.
Must Visit: Best places to eat in London
7. The Windsor Castle
Image Source: Ewan Munro/ flickr.com
No, you won't be drinking beer in the Queen's backyard. This garden bar is quite unlike the eponymous royal residence- it's laidback and swag. Known for its superb ale festivals, there is lot to look forward to at this beer garden. Watch out for those occasional befuddled sightseers!
Where: 114, Campden Hill Road, W8
Why you'll love it: Outdoor heating and relaxed vibe.
8. The Junction Tavern
The choice of a healthy number of celebrities, this tavern is crude on the edges but incredibly charming too. Perfect for some sun-soaked sipping, this place boasts of some mean grilled meats too. An artsy vibe and a palpable nonchalance make this place highly desirable.
Where:101 Fortress Road, NW5
Why you'll love it: Celebrity spotting and unsophisticated, down-to-earth vibe
Must Visit: Best hidden bars in London
9. The Crabtree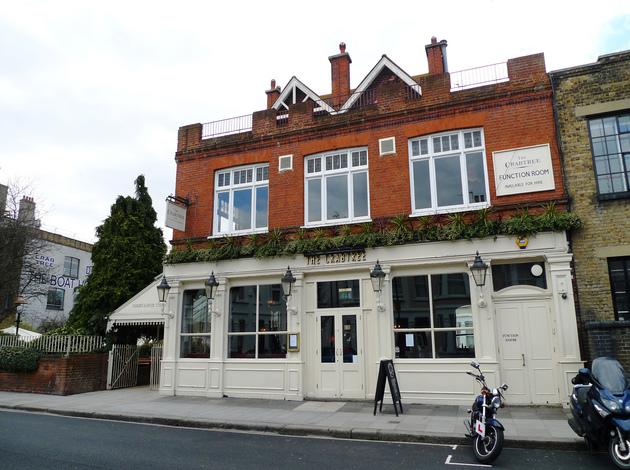 Image Source: Ewan Munro/flickr.com
There's nothing more summery than riverside drinking. Occupying an envious stretch along the Thames, The Crabtree is a picturesque garden that serves up some good food and great ale. Catch a barbecue here or just wander along the open space, you will not be disappointed.
Where: Rainville road, Fulham, London W6 9HA
Why you'll love it: the location and the classic ambiance
10. The Gun
Looking on to the O2 dome and the River Thames, this garden might not be as spacious as some of its other counterparts but it sure does pack a mighty punch. Whether its because of the legacy it holds (its located at a place where a pub existed for more than 250 years) or the mouthwatering delicacies it dishes, this place has found loyalists in the cut throat Canary Wharf.
Where: 54 Brushfield St, London, Greater London E1 6AG
Why you'll love it: a bit of history mixed with a bit of whimsy.
Pull out those summer slings and khaki shorts while you can and head to one of these lovely gardens to unwind and relax. Let's hope that the refreshing feeling of fine foliage and the warmth of the summer sun make you forget about the grey, rainy days that lay ahead!