15 Bike Trails You Need To Check Out in the United States
* Disclosure: This post may contain affiliate links, which means we may receive a commission if you click a link and book something (there is never any extra cost to you for using these links).
As a general awareness of one's health rises in today's day and age, more and more people are resorting to a healthy lifestyle. And believe it or not, millennial are now switching from driving in cars to walking, taking public transit, and bicycling everywhere they go, according to an article in Motor Trends magazine.
It's in the United States that one can get in exercise and explore some beautiful scenic routes across the country. Aside from commuting to work or pedaling through your neighborhood, here are some bike routes to check out on your next cross-country vacation! For your convenience, we've ordered based on level of difficulty.

1. American River Bike Trail, California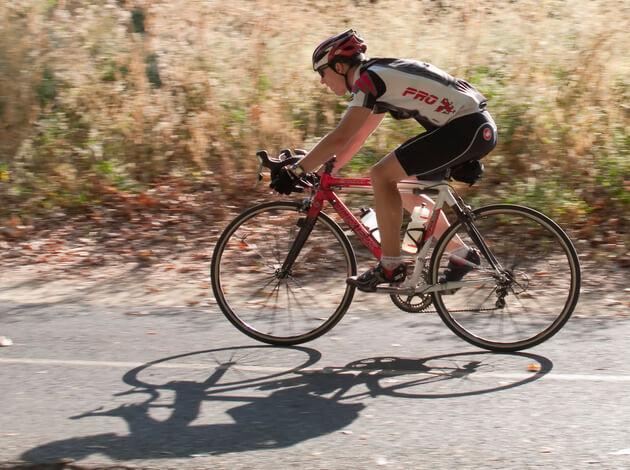 Image Source: Robert Couse-Baker/Flickr.com

For a serene and picturesque experience of the Sacramento area, head to the American River Bike Trail, otherwise known as the Jedediah Smith Memorial Trail, also the longest multi-use pathway in the country. You can begin from the Discovery Park, sauntering through the town of Folsom, where you'll pass by car-free paths, lined with wildflower fields. On the way, you may pass by the Golden Gate replica, known as the Guy West Bridge, the William Pond Recreation Area, and the Folsom Lake.

Level of difficulty
: Beginner's
Best time to visit
: All year round
2. Chicago Lakefront Bike Trail, Illinois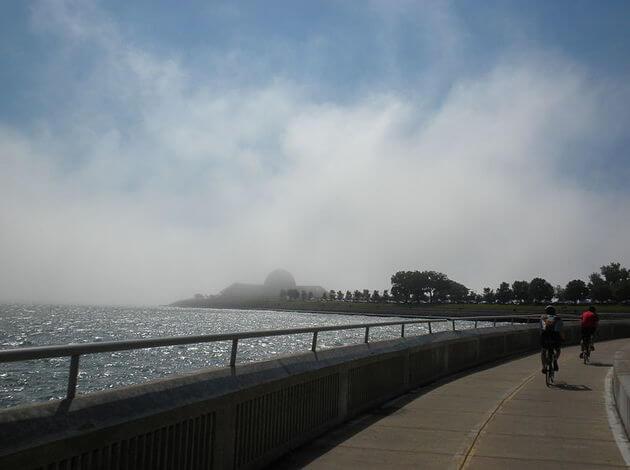 Image Source: Wikimedia Commons

This trail provides a beautiful lakefront view with the shining Chicago skyline as the backdrop. Located within the city limits, it is one of the few trails that runs right through the city. The path stretches for 18 miles from the northern end to the southern end of Chicago.
Level of difficulty: Beginner's
Best time to visit: April-May; September-October
Do more in Chicago: Organize your plan with Chicago Trip Planner.

3. Virginia Creeper Trail, Virginia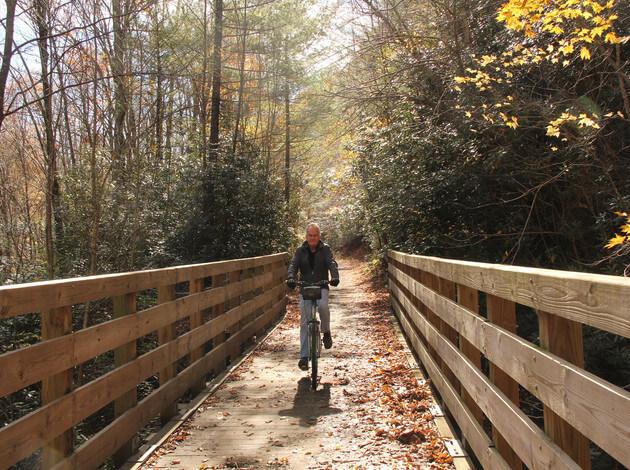 Image Source: Eli Christman/Flickr.com

Don't worry, although the trail has been around since 1984, it isn't nearly as creepy as the name suggests. This 34.3-mile ride stretches from the town of Abingdon all the way to the border of North Carolina. The best time to come down would be spring, where you'll get to witness the spectacles of spring blossoms. The Iron Horse Music Hall is nearby as you ride through this trail, letting you listen in to some banjo music if you're lucky!
Level of difficulty: Beginner's
Best time to visit: Spring and Fall
Check Out : Places to travel alone in usa
4. Shark Valley Trail, Florida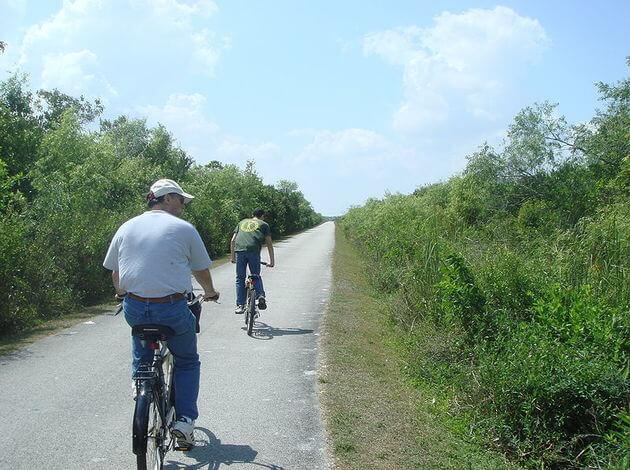 Image Source: Wikimedia Commons

At the heart of the Everglades National Park in Miami, Florida, lies the Shark Valley Trail. Quite an easy one, this trail stretches a 100 miles from Lake Okeechobee to the Gulf of Mexico. Take a stroll or hop on a bike ride as you see birds, cute critters, and other aspects of wildlife. As you meander through Tram Road, be aware! You may even be guests to gators floating in the waters nearby!
Level of difficulty: Beginner's
Best time to visit: Winter
Check out: The only USA road trip guide you'll need ever
5. Flume Trail, Nevada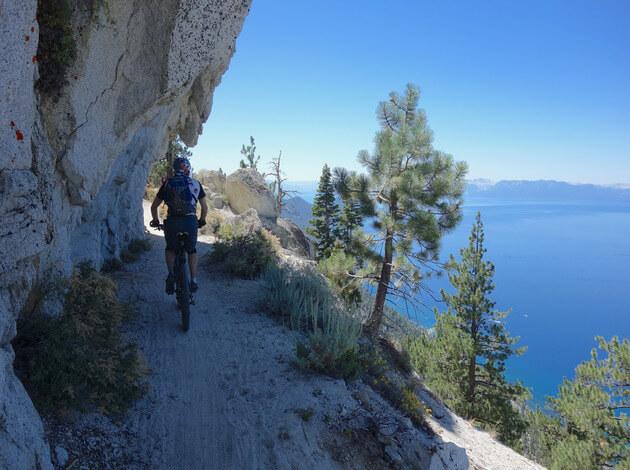 Image Source: Brian Holsclaw/Flickr.com

A steep, rather challenging but extremely pleasant trail, the Flume Trail gives you all the more reason to pedal. Those who can survive the 1,000-foot elevation over the 14-mile trail are greeted by the spectacular view of the Lake Tahoe.
Level of difficulty: Intermediate
Best time to visit: Mid June-October
6. Cady Hill Forest, Vermont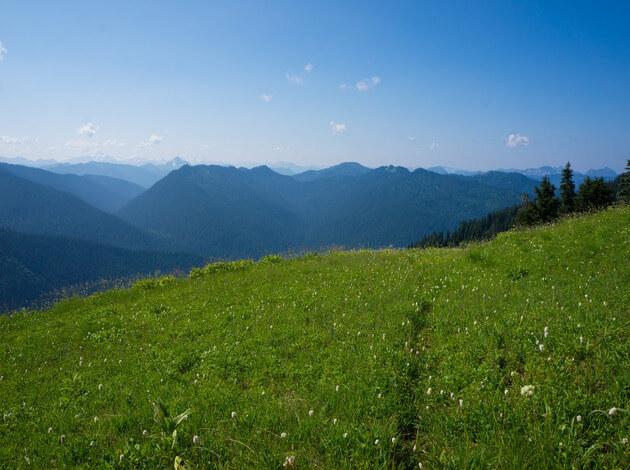 Image Source: Martin Bravenboer/Flickr.com

Although the West Coast is renowned for its multitude of awesome bike trails, the East Coast isn't so bad either. The Cady Hill Forest provides for a whimsical ride, especially during autumn, cutting through a plethora of multi-colored trees. It is the perfect outdoor activity for a couple or a bunch of friends looking for adventure.

Level of difficulty: Intermediate
Best time to visit: June-October

7. Road to Hana, Hawaii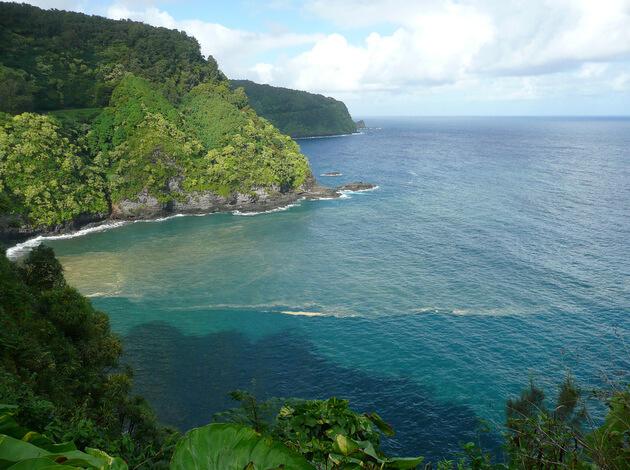 Image Source: Flavio Ensiki/Flickr.com

You'll have to be in the island of Maui for this adventure. The Hana Highway is one of the most well-known roads of Hawaii for the ultimate bicycling experience. Complete with 620 curves, 46 one-lane bridges, this 115-mile ride has you dealing with some rough terrain but experiencing the most amazing scenic views. Get ready to traverse through lush rainforests and spectacular waterfalls. Also, you may just need to squeeze in some time for snack breaks at Halfway to Hana and Braddah Hutts BBQ to name a few.

Level of difficulty
: Intermediate
Best time to visit
: April-May; September-November
8. Brown County, Indiana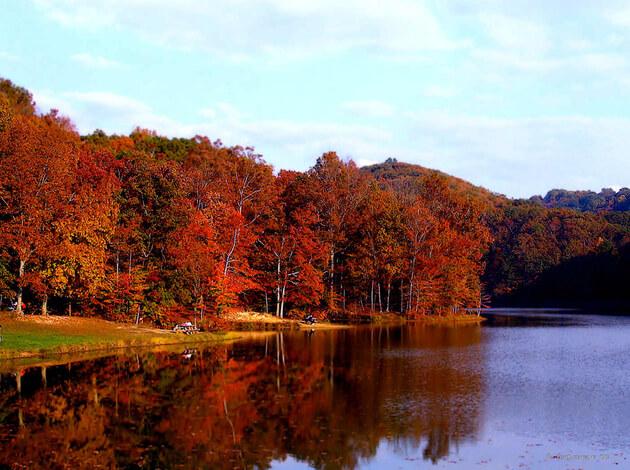 Image Source: Jerry/Flickr.com

Some of the best scenic views of the countryside can be found in Indiana. Brown County holds a spectacular trail deep inside the forest of Brown County State Park. The 55-mile bike route stretches from the Western to the Eastern parts of the County and will have you absorbing the beautiful shades of nature.

Level of difficulty: Intermediate
Best time to visit: April-October
Must Read: Best waterfall hikes in USA

9. Cape Cod Rail Trail, Massachusetts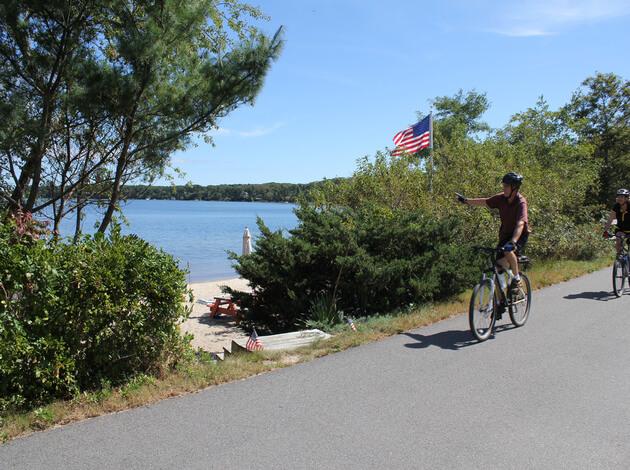 Image Source: Flickr.com

Running along the coast, this 22-mile trail treats you to a splendid view of the waters nearby. There are resting and food stops all along the trail, along with opportunities to make a pit stop at the Coast Guard Beach.

Level of difficulty: Intermediate
Best time to visit: April-June; early September-October

10. East Bay Bicycle Path, Rhode Island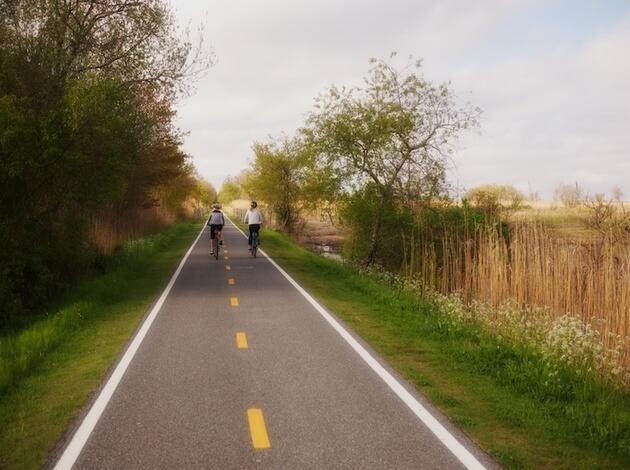 Image Source: Wikimedia Commons

Another wonder in the East Coast that you can ride through is the East Bay Bicycle Path, hugging the shores of Narragansett Bay. This 14-mile paved path is quite the easy ride as you gallivant past stunning natural landscape alternating with business strips. A pit stop at the India Point Park beautifully sums up the path's history as well.

Level of difficulty: Intermediate
Best time to visit: Spring

11. Captain Ahab, Moab Utah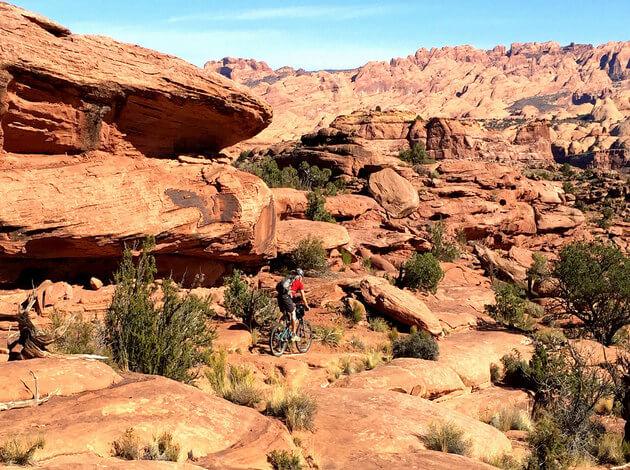 Image Source: TRAILSOURCE/Flickr.com

Kick it up a notch with this somewhat advanced bike trail that will have you twisting and turning through rocky, red landscape. Stop over for some thrilling views of the Colorado River and the Kane Creek. Make sure to be strapped into your mountain bike with appropriate bike gear and of course stay hydrated!

Level of difficulty: Advanced
Best time to visit: March-May; September-October

12. Black Canyon Trail, Arizona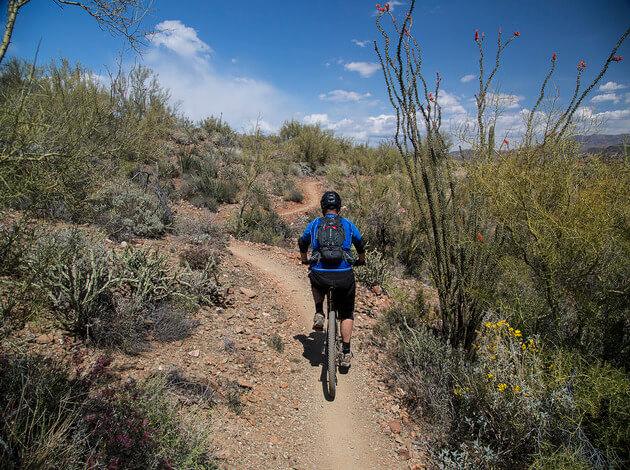 Image Source: Flickr.com

Another route for mountain bikers to try out is the Black Canyon Trail. Complete with jagged terrain, numerous descents and climbs, and rough desert climate, this trail is no joke. This 80-mile trail holds some history as well as it goes back to the time of Native American travelers and traders.

Level of difficulty: Advanced
Best time to visit: November-April

13. Maah Daah Hey trail, North Dakota

Image Source: Roderick Eime/Flickr.com

This rough 97-mile bike path cuts through rough terrain like no other! Be prepared to face a lot of hills, riverbeds, and wooden areas. We'd most definitely recommend this to mountain bikers or if you've been in the biking game for a while. You can also camp overnight as there is a site on the trail. While you're at it, stories about the history of the Maah Daah Hey and its Native American origin.

Level of difficulty: Advanced
Best time to visit: Early June-July

14. Big Sur, California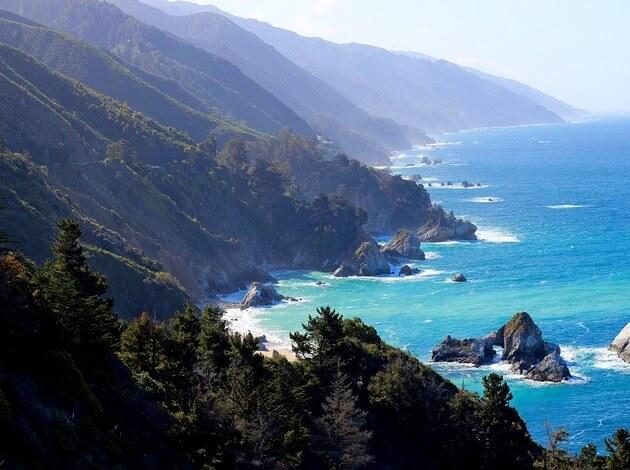 Image Source: Pixabay.com

If you'd like to experience one of the most surreal coastline rides of all time, Big Sur is the one to check out. You're riding through rugged terrain a 1,000 feet above the ocean, as the waves come crashing in underneath you. This is not for rookies, as the 100-mile ride from Carmel to Cambria is filled with challenging terrain, and multiple climbs and descents.

Level of difficulty:
Advanced
Best time to visit:
All year round
15. Valmont Bike Park, Colorado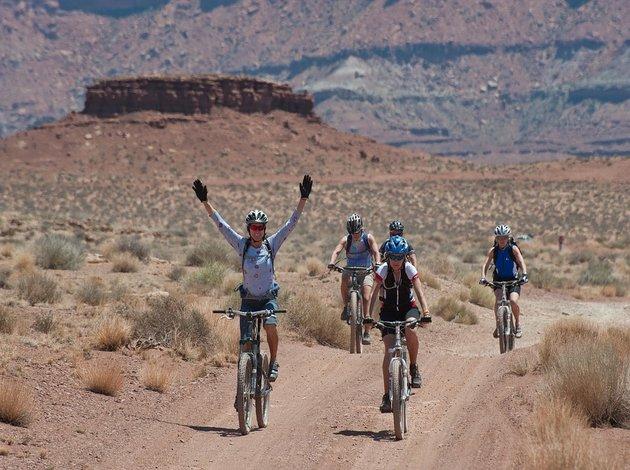 Image Source: Pixabay.com

One for all to try out is the Valmont Bike Park, a themed bicycling terrain park for people of all ages. Spread over 42 acres, this bike park is home to all kinds of terrain. The Escape Route or the Hot Lap can be for the rookies out there, whereas the more experienced bikers can try out the Mesa Flow or the Corkscrew. Bring the whole family to enjoy the fun.

Level of difficulty: All levels
Best time to visit: Mid to late spring and fall

So what are you waiting for? Pack your biking gear and get going now!