12 Bird Sanctuaries of India to Spot Exotic Birds
* Disclosure: This post may contain affiliate links, which means we may receive a commission if you click a link and book something (there is never any extra cost to you for using these links).
Living in concrete jungles, most of us would have forgotten the chirping songs of birds. The birds that inspire us to fly high, to sing and to commune with nature are the loveliest and the most admirable creatures of the God's creation. However, there are very few of us who can see majesty in those tiny frames and for them, the landscape of India offers a diverse flora and fauna where they can go and spot both the native as well as the exotic species of birds. Here are 12 bird sanctuaries of India where these lovely creatures can find a safe haven:
1. Bharatpur Bird Sanctuary, Rajasthan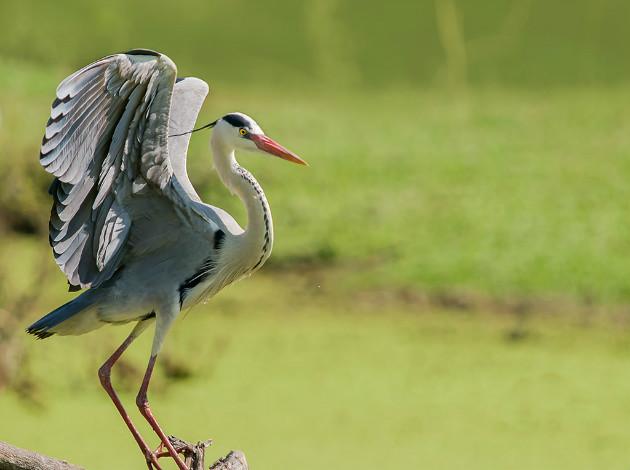 PC: Eye.Ess. Oh/flickr
While Rajasthan is always considered the ultimate place for wildlife sanctuaries in India and it's world famous national parks in India as well, it also has many bird sanctuaries, like the Bharatpur Bird sanctuary that is also known as the Keolodeo Ghana National Park. The bird sanctuary is not just a famous tourist spot for Indians but also for international visitors. Behind those big bushes and still waters, what astonishes the visitors is the loud noise of the birds and their varied hues. This beautiful sanctuary is haven to the indigenous water- birds as well as migratory water birds and waterside birds apart from Sambar, Chital, Nilgai and Boar. The Migratory birds come here from as far away as Siberia and Central Asia and spend their winters, before returning to their breeding grounds. Migratory birds at Bharatpur bird sanctuary include, several species of Cranes, Pelicans, Geese, Ducks, Eagles, Hawks, Shanks, Stints, Wagtails, Warblers, Wheatears, Flycatchers, Buntings, Larks and Pipits, etc.
Best time to visit: The Bharatpur Wildlife Sanctuary is open throughout the year, however, the best time to visit is from August-November for resident breeding birds and October- February for migrant birds.
How to Reach:
-Delhi and Jaipur are the nearest airports. From here, you can take a cab or a bus.
-The nearest railway station is Bharatpur Junction which is 5 kms. away.
-There are regular buses available from Delhi, Mathura, Jaipur and Alwar.
2. Salim Ali Bird Sanctuary, Goa

PC: ptwo/flickr
Salim Ali Bird Sanctuary is a serene and calm site whose aim is to preserve the birdlife by offering a safe haven to them. Named after the late Dr Salim Moizzudin Abdul Ali, India's renowned ornithologist, this sanctuary gives you enough of chances to spot beautiful bird species such as white egrets, purple herons, colourful kingfishers, eagles, cormorants, kites, woodpeckers, sandpipers, curlews, drongos and mynahs. What makes this sanctuary even more desirable to visit is that here you can jump up to the birdwatching tower and admire those lovely creatures! With such beautiful biosphere reserves in India, it is an absolute must to visit the one's in Goa too.
Best time to visit: October to March is the best time to spot the birds here.
How to Reach: From Panaji, one can take a cab, auto or bus till the Ribandar ferry dock and take a ferry across the Mandovi River to the island.
3. Ranganthittu Bird Sanctuary, Karnataka

PC: Spiros Vathis/flickr
Named after Sri Ranganatha Swamy, an incarnation of Hindu God Vishnu, this sanctuary actually seeks to preserve the birdlife in all its aspects. Located on an island on the river Cauvery, this site works as the nesting and breeding ground for the thousands of bird species. Every year it receives a number of migratory birds from as far as Siberia, North America and Australia. Migratory water birds here include Painted Stork, Asian Open bill Stork, Common Spoonbill, Woolly-necked Stork, Black-headed Ibis, White Ibis, Lesser Whistling Duck, Indian Shag, Stork-billed Kingfisher and other common birds like egrets, cormorants, Oriental Darter, and herons.
Best time to Visit: March to May is the best time to spot birds here.
How to Reach: Ranganathittu Bird Sanctuary is 19 Kms from Mysore and 4 Kms Srirangapatna. There are Mysore City Buses & Private Buses that ply regularly from Mysore City and Srirangapatna.
4. Kaundinya Bird Sanctuary, Andhra Pradesh

PC: Amit Kumar
Located amidst the picturesque Horsley Hills, the Kaundinya Wildlife Sanctuary starts in the forest near Palamaner town in the Chittoor district, and incorporates two rivers Kaigal and Kaundinya within its premises. Known for its assorted collection of birds from the Eastern Ghats such as Grey Pelicans, Rosy Pelicans, Painted Storks, Love Birds to Budgerigars and Cockatiels, this sanctuary holds a lot of promise for nature photographers.
Best time to visit: The best time to visit the Kaundinya Wildlife Sanctuary is between October and April, as the climate is pleasant enough to roam around.
How to Reach: The distance between Bangalore and Kaundinya Wildlife Sanctuary is 148 km and it can be covered in 2.5 to 4 hours, depending on the route you choose and the flow of traffic.
5. Mayani Bird Sanctuary, Maharashtra

PC: wildlifetourism
Known for its beautiful Siberian flamingoes that render a charming sight to this place, the Mayani Bird Sanctuary attracts the lovers of birds from all over India. The presence of more than 400 different species of birds makes Mayani quite larger to any other bird sanctuary in India. Here you can spot migratory birds such as Brahminy Ducks, Coot, Common Spoon bills, Painted storks, Black Ibis, or other birds like the Stork, Northern Shoveler, and Kingfisher.
Best Time to Visit: November to January is the best time.
How to Reach: You'll have to first reach Satara in order to reach Mayani Bird Sanctuary. This site lies in Khatav, Satara district of Maharashtra state, thirteen miles south-east of Vaduj at the junction of the Tasganv-Mograla and Malharpeth-Pandharpur roads.
6. Nal Sarovar Bird Sanctuary, Gujarat

PC: gujarattourism
The pristine Lake Nal Sarovar is home to the largest water bird sanctuary in India. This spectacular lake receives its large congregation of important birds such as Grey-lag geese, Open-bill stork, Glossy ibis, Coots, Cranes etc. Moreover, the three species of pelicans in India, the two species viz. Rosy and Dalmatian pelicans are found here.
Best Time to Visit: The best time to visit Nal Sarovar Bird Sanctuary is between November and February when a wide variety of winter migrants start flocking in. Indigenous species also flock in plenty during this season, affording maximum sightings to a birdwatcher.
How to Reach:
- By Air:Ahmedabad (60 km.) is the nearest airport.
- By Rail: The nearest railway station is at Ahmedabad (60 km.)
- By Road:The Nalsarovar Bird Sanctuary is about 60 km. from Ahmedabad. From the city, there are State Transport buses that take you to Nalsarovar, a journey of about an hour.
7. Chilka Lake Bird Sanctuary, Orrisa

Shaped like a pear, the Chilka Lake is real eye catcher for the bird-lovers and ornithologists as it attracts large number of aquatic birds for the migratory counts. The major species that can be spotted here include White bellied sea eagles, Graylag geese, purple moorhen, flamingo jacana and herons. Further, Chilka Lake Bird Sanctuary is also a habitat for breeding of flamingos in the world.
November to February is the best time to visit Chilka Lake.
How to Reach:
- By Air:The nearest airport is Bhubaneswar from where taxis, trains and buses are available to commute to the lake.
- By Train: The nearest rail stations are at Balugaon, on the Howrah-Chennai track. From Balugaon, buses are available to the lake.
- By Road: Many buses ply from Bhubaneswar (Baramunda Bus Station) and Cuttack (Badambadi Bus Station) to Balugaon throughout the day.
8. Vedanthangal Bird Sanctuary, Tamil Nadu

Source: danfex19/flickr
The oldest bird sanctuary of India is literally translated as the "hamlet of the hunter", however that does not remain to be the purpose now. Till 1700, this area was a favorite hunting ground of rich landlords who hunted mainly for sport here. What lures the birds to Vedanthangal are the wetlands of small lakes and water bodies that are rich in their unique ecosystem. It was only in 1798 that the British government decided to develop it into a sanctuary for birds.
Best Time to Visit: November to March is the nesting season for most migratory birds and hence this is the time that also proves to be the best to visit.
How to Reach:
By Air: The nearest airport link to Vedanthangal is Pondicherry which is about 58 kilometers.
By Train: The nearest railway station is Chengalpattu Junction, 21 kilometers away.
By Bus: Bus services are available from Chennai, Mahabalipuram and Chengalpattu.
9. Kumarakom Bird Sanctuary, Kerela

PC: nrievents
Located on the banks of the Vembanad Lake, the Kumarakom Bird Sanctuary is an ornithologist's paradise since the migratory birds like the siberian stork, egret, darter, heron and teal love to settle here. Coming from as far as Himalayas and Siberia, this sanctuary is home to the native kingfishers that look beautiful in psychedelic colours. Here, you can spot local birds like the waterfowl, cuckoo, owl, egret, heron and the water duck, as well as the migratory Siberian cranes. Parrots, teal, larks, flycatchers, wood beetle, and other birds are seen here during their respective migratory seasons.
The best time to watch native birds is between June and August. To watch Migratory birds, November to February is the best time.
How To Reach:
- By Air: There is a choice of three international airports - Kochi (Cochin), Kozhikode (Calicut) and Thiruvananthapuram (Trivandrum) from where you can reach Kerala and Kumarakoam Bird Sanctuary.
- By Train: From Mumbai, Chennai or Bangalore, you can take a train to Kerala.
- By Water: From Quilon, you can take the regular ferry service to Alleppey from where it's just a short ride to Kumarakom.
10. Sultanpur Bird Sanctuary, Haryana

PC: Desitraveler
Sultanpur Bird Sanctuary is infact one of the popular weekend getaways from Delhi and Gurgaon. Covering an area of 1.43 sq km, the national park is currently home to over 250 species of resident and migrant birds. During the winter months, it attracts more than 100 varieties of migratory bird species from Siberia, Afghanistan, Russia, Turkey and East European countries.
January to March is the best time to visit Sultanpur Bird Sanctuary.
How to Reach:
- By Air: The nearest Airport is Indira Gandhi International Airport, Delhi.
- By Train: Gurgaon is the nearest Railway Station (15 km) connected to Delhi, Rajasthan and other places in Haryana.
- By Road: This park is well connected to roads that lead to Delhi and Gurgaon.
11. Nandurmadhmeshwar Bird Sanctuary, Maharashtra

PC: nandurmadhmeshwar
Located in Niphad Tehsil of Nashik district in Western Maharashtra, the Nandurmadhmeshwar bird sanctuary rests just below the confluence of Kodwa and Goadavari rivers. Also known as the 'Bharatpur of Maharashtra", this is an ideal place for bird spotting and clicking fine pictures of them.
Best time to Visit: December to March is the best time to spot migratory birds here.
How to Reach:
- By Air: Aurangabad is the nearest Airport to Nandur Madhmeshwar Bird Sanctuary.
- By Rail: Nearest railway station is at Niphad.
- By Road: The sanctuary is accessible by road either through Niphad, Nashik and Sinnar.
12. Nawab Ganj Bird Sanctuary, Uttar Pradesh

Source: sanctuariesindia
Nawab Ganj Bird Sanctuary is a perfect weekend destination from Lucknow and Kanpur. Set amidst the serene stretch of 224.6 Hectare area of Unnao District in Uttar Pradesh, this sanctuary is a lively haven in winters to many international and national migratory birds like Garganey Teal, Mallard, Purple Moorhen, Little Grebe, Spoonbill Duck, Red Wattled Lapwing, Wigon and many more beautiful tiny creatures.
November to February is the best time to visit.
How to Reach:
- By Road: Nawabganj Bird sanctuary is situated at a distance of 45 kilometres from both Kanpur and Lucknow. Buses and taxies are easily available from both cities.
- By Train: The Nawabganj Bird Sanctuary is 45 km from Kanpur railway station.
- By Air: The Amuasi Airport, Lucknow is 35 km.
So which of these bird sanctuaries in India do you wish to put into the lens of your camera? Let us know.
You may also like to Read:
14 Picturesque River Side Destinations in India