Best Cafes in Manali You Should Definitely Not Miss!
UPDATED Apr 13, 2018
8.2K Views
Having a sip of ginger tea or a lip-smacking waffle in the backdrop of pine-covered Himalayas resonates the rythm of a perfect vacation! With distinct culture and loving people, Manali is definitely one among the best for a culinary delight. Between the quite by-lanes and lush green cobblestone paths, there are many food joints offering delicious eateries.
Here is a list of the best sought after cafes in Manali that will leave you spoilt for a choice!
1. Casa Bella Vista

Image Source: Booking.com
Tucked in the thick pine woods of old Manali, this Spanish resto gifts one of the best outdoor scenic setting in the comfort of tables hewd from tree trunks. It is also a great place for couples to spend quite romantic evenings. One can listen to the chirping birds and effusive waters, while sipping a pint of chilled beer and inhaling heavenly smokes of thin crust pizzas. Thick coffee shakes and delicious log-oven pies adds to the delights. As a treat to avid readers and shopaholics, Casa Bella Vista also houses a library and a women's boutique offering lovely collections.
Average Cost for two is INR 800
Location - Log Huts Road, Manali.
Discover places, understand transportation, find hotels. All under one roof. Plan DIY trip with TripHobo itinerary planner
2. Johnson's Cafe

Image Source: Facebook.com
How amazing it would be to dwell in the country's finest contemporary music, while you satiate your cravings for some flavoursome trouts? And by flavoursome, I also mean that they serve more than 10 mouth-watering preparations of trout fish. Well, that's is definitely a bellyful! Designed with lovely wooden interiors and complemented with a colourful laid out garden, Johnson's Cafe is a preferred joint for both leisure travelers and backpackers. Exotic wood oven baked fish trout with roasted almond sauce is a must have! While fish fingers and blue cheese ravioli are great meal starters, apple pie promises to leave you in perfect sweet endings.
Average Cost for two is INR 500
Location - Circuit House Rd, Siyal, Manali.
3. Fat Plate Cafe

Image Source: Facebook.com
Localities will never want you to miss the exuberant Flat Plate Cafe. Whether you gulp a tempting bacon wrapped chicken or a mustard chilli fish trout, chances are that you will never be downhearted! Being a family-run eatery, the cafe invites you to enjoy the great view of River Beas on gorgeous floral printed sittings. The warm hugging zucchini soup and incredible caesar salad are highlights from their menu. Serving European and North Indian specialties, good food and great art combine to form the soul of the cafe.
Location - Shuru, Naggar Road, Manali.
Read more on hill stations near Delhi
4. Bob Dylan's Toasted & Roasted Cafe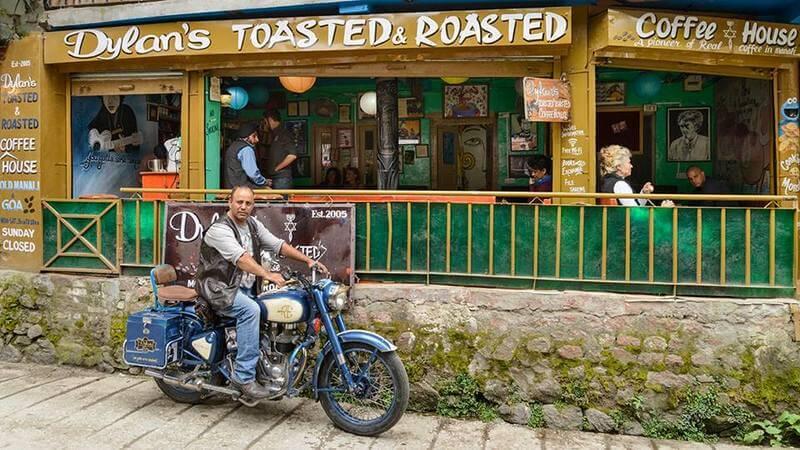 Image Source: Facebook.com
Named after the quintessential American musician Bob Dylan, this popular cafe is among the highly recommended ones during your visit to Manali. The cafe can be best described as a place that encourages one to unwind with good books in the caffeinated aroma. For a healthy and tasty blend of snack, there are wonderful chocolate cookies and cinnamon tea. Best desserts opted by many travelers are the famous uo;Hello to the Queen" ice cream and fried banana wedges. Dylan's is an amazing place, for the ones looking for making interesting conversations over a coffee.
Average cost for two is INR 200
Location - ld Manali, just before govt.school old Manali, Manali.
5. Cafe 1947 Old Manali

Image Source: Facebook.com
Named after the year, India gained independence, this laid-back restaurant on the banks of the Manalsu River hosts gigs frequently with impromptu jamming sessions that gifts a memorable evening with mystic feels and dim lights. With it's famous the burger of bodom, vegeta, the slayer pizza and the metallica pasta, Café 1947 is the place not only for that music lover in you but also it is perfect for that romantic times.
Average cost for two is INR 1000.
Location - Old Manali, Manali.
6. Mount View restaurant

Image Source: mountviewrestaurant.com
Boasting an outdoor seating that overlooks the main mall, Mount View attracts you with appetizing Tibetan, Continental and Indian foods. Momo lovers should never miss this place as it offers some deadly surprises. The resto also has an expresso bar decorated with pristine artifacts. Exquisite baked beans and crispy toasts promises a palatable breakfast.
Average Cost for two is INR 300
Location - Mall Rd, Model Town, Siyal, Manali
Visit some of these most beautiful Valleys in Himachal Pradesh
7. Lazy Dog

Image Source: Jeremy Keith/flickr.com
Imagine a place surrounded by hammocks, bean bags and wooden chairs with a great backyard and an even better view! That's Lazy Dog at Manu Temple Road is the perfect place to chill out. The Go to place for any wine and beer, to add to the charm of the place this resto bar is filled with artifacts from all over the world. Their signature dishes are Grilled trouts, egg dishes, burritos, and sandwiches.
Average cost for two is INR 400
Location - Manu Temple Road , Old Manali, Manali.
8. Chopsticks

Image Source: Pixabay.com
The most popular traveler choice in Manali town center, this tightly packed Tibetan-Chinese-Japanese place follows a red and black theme and serves up awesome momos with ginger garlic sauce (dumplings) and Dim Sums, muesli with fresh curd and vegetable fried rice.
Average Cost for two is INR 800
Location - The Mall road, Manali, Kullu.
9. Tibet Kitchen

Image Source: Pixabay.com
A small restaurant in Old Manali near club house famous for its Tibetan and Chinese food, its KewaDatse, Shapta and spicy noodles is almost to die for; this authentic restaurant situated near the clubhouse is a must visit for all the fans of authentic Chinese and Tibetan food.
Average cost for two is INR 100.
Location - Club House Road, Manali.
While scenery and time has sculptured its very heart, Manali promises incredible food corners to unleash fun and adventure. What distinguishes these cafes is that they serve cuisine mix at a fare as delightful as its inviting ambiance.
So what are you waiting for? Grab your bags and head to any of these cafes in Manali to experience charm and good food.