14 Best Camping Places in India
* Disclosure: This post may contain affiliate links, which means we may receive a commission if you click a link and book something (there is never any extra cost to you for using these links).
Have you ever experienced the symphony of stars? It's what you witness when the sky is really dark and your mind is contently empty. If you pay close attention, you'll see how the stars blink in different tunes and frequencies to put up the most heavenly melody for you.
Camping is one of the easiest ways to lay in the lap of nature, caressed by its soft, verdant arms. It's not only meditative but also a humbling experience when you realize that you are but a speck in the great universe. India is blessed with some boundlessly amazing camping opportunities and camping has picked up astonishingly well in the recent times in spite of the glaring government apathy towards infrastructure and facilities. Organized camping is the way to go if you're worried about security but there are also many who prefer to mark their own camping territory by doing it by themselves.
Whatever your interest, here are some awesome camping places in India to camp in the wildlife sanctuaries and tiger reserves.
1. Pench, Madhya Pradesh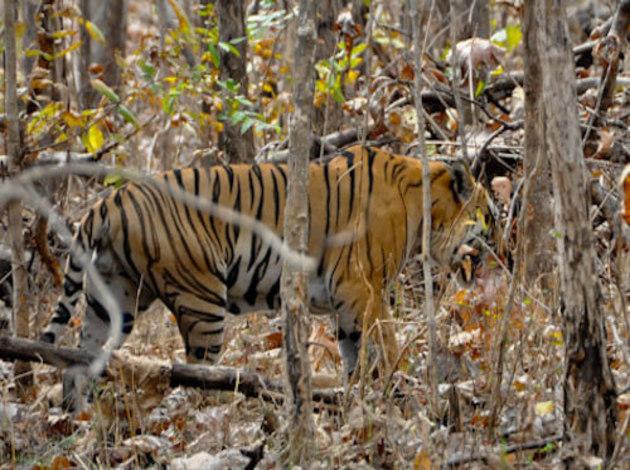 PC: Laura Kay/ flickr.com
The teak tree forest of Pench makes it a class apart from its cousins Kanha and Bandhavgarh. Home to tigers, bisons and many rare and exotic birds, Pench is relatively less crowded and in turn more peaceful, which makes it ideal for camping. There are organized tent resorts on the periphery of the national park that give you some basic facilities like electricity, toilet and shower. The best way to romance the jungle is to hear animal and bird noises at night.
Best Time to Visit: April to June or November to February.
2. Rishikesh, Uttarakhand

PC: rajajinationalpark.co.in
Besides white water rafting, there are a number of interesting things to do in Rishikesh. One of it is camping on the periphery of the Rajaji National Park. A birder's paradise, Rajaji has a whopping 400 varieties of birds that call it home. There are many campsites around the reserve that combine the best of birdsongs and river echos. Other activities that you can participate in are rock climbing, cliff jumping and valley crossing.
Best Time to Visit: Late September to Mid November and March to May
Get year around hotel deal with TripHobo Hotels. Book Now, Pay Later!
3. Ranthambore, Rajasthan

PC: Devesh Jagatram/ flickr.com
The smell of misty mud and the whispers of jungle in your ear, Ranthambore is rife with nature's best kept secrets. Well known for its tiger population, Ranthambore also has a host of other animals and birds that might be less popular but just as exotic. The intriguing combination of nature and history has made this place a hit with vacationers. Camping here is quite thrilling and refreshing. A number of hotels provide all levels of camping accommodation;from luxury to basic. With bonfires and barbeques and the chilly forest air, you'll feel like having landed in an exciting Rudyard Kipling story.
Best Time to Visit: April to June or November to February.
Remember: Winters here can get pretty chilly, carry warm layers along. Respect the Jungle and its inhabitants. Clean up after yourself.
Get year around hotel deal with TripHobo Hotels. Book Now, Pay Later!
Besides Ranthambore here are the best places to visit in Rajasthan
4. Dandeli, Karnataka

Dandeli forest was a designated tiger reserve in 2007. It is a natural habitat for black panthers, elephants, leopards, deers apart from tigers. The gorgeous beauty of this forest has been grossly underreported. Even if you don't spot tigers, you will go back with fond memories of a breathtaking landscape with unadulterated beauty. There are a number of organized camps here that provide basic but comfortable tents for overnight stays. Other activities in Dandeli that one can indulge in include nature walks, boating, rafting, crocodile spotting and trekking too.
Best Time to Visit: November to May
Get year around hotel deal with TripHobo Hotels. Book Now, Pay Later!
5. Chitrauli, Uttarakhand

PC: Michael Scalet/ flickr.com
Located near Nainital, Chirtauli is a hotbed for rare types of flora and fauna. This is one of the best places for being in nature and wildlife spotting in Uttarakhand. Hugged by the Himalayas, Chitrauli also has some excellent trekking opportunities. For picture perfect beauty and the solace of silence, Chitrauli makes for an excellent camping destination. You can camp on your own amidst the Oaks, Deodhars and Pines or choose government recreation camps that are also well appointed. Other activities that you can participate in are nature walks, bird watching etc
Best Time to Visit: March to June
Get year around hotel deal with TripHobo Hotels. Book Now, Pay Later!
6. Satpura National Park, Madhya Pradesh

PC: Wikimedia Commons
To promote alternative ways of exploring, the Satpura Tiger Reserve has introduced walking and camping inside the reserve. This is an incredible opportunity to view animals in their natural habitat, experience the silver gushes of charming rivers and streams and truly feel like a part of the ecosystem. There are organized camps that provide basic to luxury tents equipped with public toilets and common kitchens. A golden chance for adventurers and explorers, the magic of the Satpura forest reveals itself through camping.
Best Time to Visit: October to June
Get year around hotel deal with TripHobo Hotels. Book Now, Pay Later!
7. Gir, Gujarat

PC: Sankara Subramaniam/ flickr.com
Gir is famous for being the abode for Asiatic lions in India. It is considered one of the most important protected areas of Asia because of this. Once a hunting ground for the Nawabs, Gir is now a protected habitat that nurtures many varieties of flora and fauna. Camping in Gir is a great way to feel one with nature and watch these regal animals in their own home. There are a few organized camps at the periphery of the national park. These provide tent accommodations with good facilities.
Best Time to Visit: October to May
Get year around hotel deal with TripHobo Hotels. Book Now, Pay Later!
8. Parambikulam, Kerela

Parambikulam in Kerela has been declared a tiger reserve in 2010. It harbors a unique ecosystem that nurtures different varieties of species that are native to the area. In Parambikulam, you will have guides from the tribal communities of the area who are not only knowledgeable but have also called this place their home for decades. Activities like bamboo rafting and trekking are possible here. There are different types of eco-friendly accommodations here that offer visitors an alternative perspective to camping. You can choose to live in organized camps that have huts as accommodation or in a tree house on top of a bamboo grove too!
Best Time to Visit: October to January
Get year around hotel deal with TripHobo Hotels. Book Now, Pay Later!
9. Jim Corbett National Park, Uttarakhand

PC: Netlancer 2006/ flickr.com
One of India's most beautiful forests, Jim Corbett's beauty has inspired many. This is the oldest national park in India and was formed to protect the Bengal tiger in 1936. This Sal forest has a number of wildlife and birdlife apart from the tiger. A haven for migrating birds and animals like elephants, langurs, sloth bears and deers, Jim Corbett encompasses nature's finest within its 1300 square kilometers. In terms of camping, visitors have two options- temporary camps or pukka camps. Temporary camps are a bit more adventurous as they are arranged in the Sitabani forest area where you're very close to the wildlife habitat. Other activities here include fishing, rock climbing, swimming and bird watching.
10. Hemis High Altitude National Park, Ladakh

PC: Wikipedia.org
Named after the famous Hemis monastery, Hemis High Altitude National Park is located along the Indus River. It is best known for its rare flora and fauna, namely the highest number of Snow Leopards in the world, Great Tibetan Sheep, Shapu and Ibex. Not for the faint hearted, camping here could involve some acclimatization. This park does not have any motorable roads and is accessible only through trekking. Visitors can carry their own camping equipment but might need permits to do so. The areas near the Hemis Gompa are ideal for camping. Pre-set tents are available too.
Best Time to Visit: April to June for birdwatching, but snow leopards are mostly visible only during winters.
Get year around hotel deal with TripHobo Hotels. Book Now, Pay Later!
11. Coorg, Karnataka

Coorg's forest are full of lovely smells and incredible sights. Its lush coffee and tea plantations are like a panacea to a weary soul. It is blessed with exhilarating waterfalls and rolling hills that make it ideal for camping. Camping in Coorg is a rewarding experience. You can indulge in nature walks and long hikes that lead to beautiful vistas. Although one can camp with their own equipment, it is advisable to opt for organized camps that provide good tents with professional guides and cooks too. Camping would be a great way to explore the non-touristy, natural wonders of the forest.
Best Time to Visit: August to November
Get year around hotel deal with TripHobo Hotels. Book Now, Pay Later!
12. Jaisalmer, Rajasthan

Photo by Ana Raquel S. Hernandes
The golden sands of Jaisalmer are the perfect setting to a perfect camping experience. Jaisalmer at sunset is a spectacular sight that should not be missed.
With camel rides, traditional Rajasthani food and folk dances, it will be a cultural experience that you will be telling stories about for years!
13. Spiti Valley, Himachal Pradesh

Photo by Quinn Comendant
Now, this is an absolute breathtaking option if you're looking for a camping experience that's truly at the heart of nature. Spiti Valley is located high in the Himalayas in the north-eastern part of Himachal Pradesh. Camping in the summer (it's completely cut off during winters) to beat the heat of northern India could never get more picture perfect than this. Another option in Spiti Valley would be to set up camp at Chandra Taal Lake, an ideal destination for those who are interested in trekking.
Also read about Valleys in Himachal Pradesh
14. Sarchu, Jammu & Kashmir

Photo by Kiran Jonnalagadda
Another good option in Jammu and Kashmir would be a place called Sarchu. Its a major stopover on the Leh-Manali Highway and you could choose from the tents that are already there or set up your own. Hikes, nature tours, rafting, and fishing are some of the activities you can enjoy here.
Head to these glorious camping places in India to enjoy nature in its most raw, mystical form. Camping in the wild could well be the most memorable experience of your life.
Other interesting readings: