13 Caves to Explore in California for the Ultimate Amazement!
* Disclosure: This post may contain affiliate links, which means we may receive a commission if you click a link and book something (there is never any extra cost to you for using these links).
Planning to explore the state of California? Well, be ready to be taken aback with several wonders, natural and man-made alike. The sunny state, popular for its beaches and sunny weather, perfectly juxtaposes its hidden jewels, much to your amazement. You will be delighted to know the number of caves to explore in California, that will fascinate you with their dark yet bejeweled interiors and the cool temperatures that are a delightful respite from the sunny weather.
Buried deep within rocks and mountains, check out these 13 caves in California offering a rare glimpse of the beauty and serenity of the region.
1. Black Chasm Cave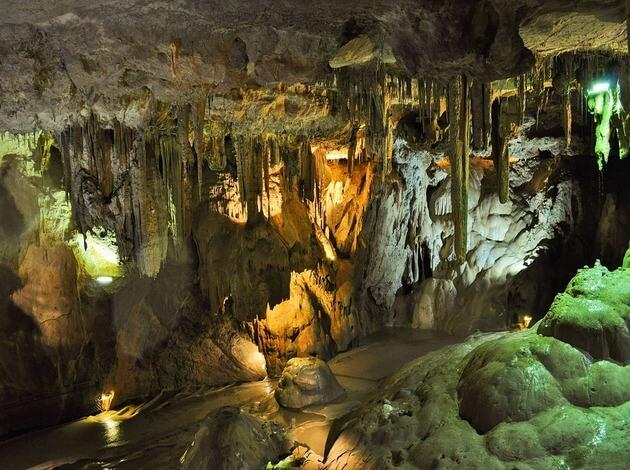 Image source: pixabay.com
Considered a "nationally significant natural area", the Black Chasm Cavern in California was designated a National Natural Landmark by the National Park Service in 1976. Here you will find a wide variety of formations including stalactites, stalagmites, flowstones and the vast arrays of rare helictite crystals, that draw visitors to this cavern. The gemstone mining at their water flumes enthralls everyone, the kids as well as adults. This a mild level adventure, suitable for all age groups. To explore the cavern, there are daily trips organized by the national park. These trips usually take about 50 minutes each. You can also attempt gold panning here.
Address: 15701 Pioneer Volcano Rd, Volcano, CA 95689, USA
Timings: Monday to Friday - 11 am to 3 pm, Saturday and Sunday - 10 am to 4 pm.
Organize your travel. Personalize your
itinerary
with TripHobo.
2. Lava Beds National Monument
Image source: wikimedia.org
Having over 700 lava tube caves, the Lava Beds National Monument are a hidden treasure of California. Out of these 700, 20 caves are free to be explored by visitors. The general public is given access to the caves, given their ability to accommodate all skill levels. Thus, there are no particular guided tours. The park's rich cultural and historic background will keep you engaged. You will witness some of the darkest night skies here in the state. Come summer and the monument hosts a range of activities from Astronomy Day & Night Sky to Living History. The Tule Lake National Wildlife Refuge near the caves is a great place to visit.
Address: 1 Indian Well Campground Trail, Indian Well Hqts, CA 96134, USA
Timings:
Summer: 9:00 a.m. to 5:30 p.m. (the Friday before Memorial Day through Labor Day)
Fall, Winter, Spring: 9:00 a.m. to 4:30 p.m. (with occasional early closures depending on weather)
Also visit these largest caverns in the US
3. The Arroyo Tapiado Carrizo Badlands Mud Caves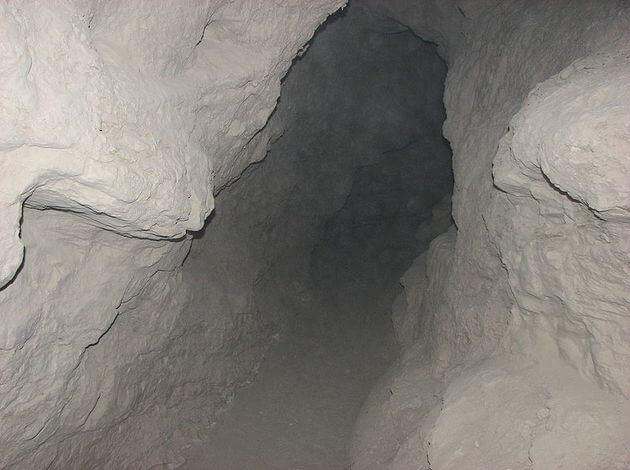 Image source: wikimedia.org
Formed by wind and water thousands of years ago, the Arroyo Tapiado Carrizo Badlands Mud Caves are made of mud! The thirty caves here are some of the world's most extensive and well-preserved caves. Located in the middle of the Anza Borrego Desert, exploring these caves in California is a one-of-its-kind experience. Open to the general public, all skill leveled visitors can venture around these caves. The very enthralling Joshua Tree National Park lies at a close distance from here.
Address: Arroyo Tapiado, California, USA
Timings: 9:00 am to 7:00 pm
4. California Cavern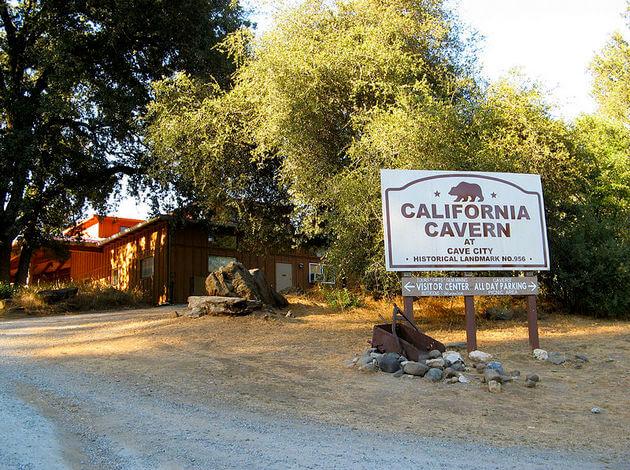 Image source: wikimedia.org
Having some of the best adventures in the state, the California Cavern is a diversely scaped terrain. Walking tours are available, that are approximately 1000-foot long. Small protruding, rocks and roots to the cavern entrance, will fiddle your route. The level, however, remains the same throughout the trail. Gemstone mining, gold panning, Zen garden natural trail, Cave rappelling, geode cracking, and twin zip lining are some of the fun things, that can be done here additionally.
Address: 9565 Cave City Rd, Mountain Ranch, CA 95246, USA
Timings: Friday to Monday - 11 am to 3 pm, Tuesday to Thursday - closed.
5. Leo Carrillo State Beach in Malibu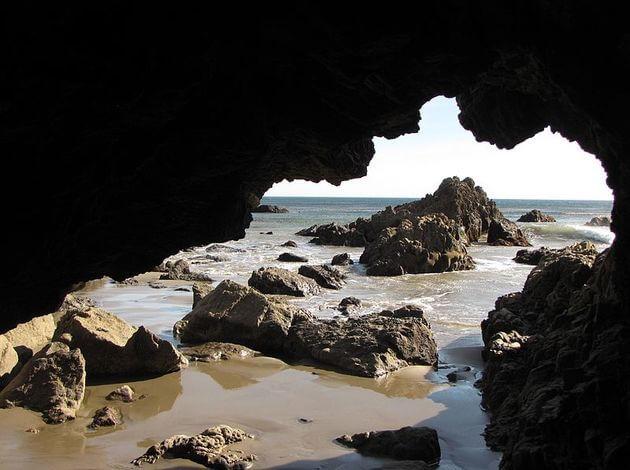 Image source: wikipedia.org
This 1.5-mile beach that has some great scope for swimming, surfing, windsurfing, surf fishing and beachcombing is also a home to some of the best tide pools, coastal caves and reefs for exploring! The cave is neat and safe when the tide is low. It further connects to a private tiny beach with sandstone cliffs and water soaked tide pools. You can rent an RV to this spot and even have a camp set up, to make for an exciting experience!
Address: 35000 W Pacific Coast Highway, Malibu, CA 90265, USA
Timings: 8 am to 10 pm
6. Lava Tube in the Mojave National Preserve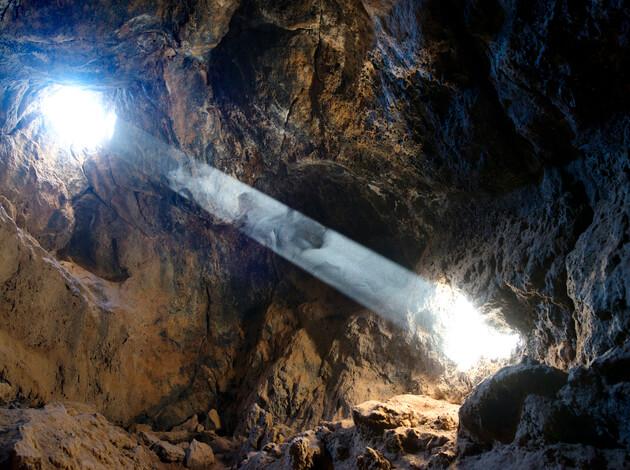 Image source: flickr.com/John Fowler
A comparatively smaller cave, the Lava Tube in the Mojave National Preserve has the most outstanding visual features. Its location amidst the Mojave Desert has a heavenly shaft of light puncturing it through, just perfectly! The light illuminates the cave throughout the year. The cave is ideal for all levels of skills. The drive towards this national park is a beautiful one. You will come across the picturesque Kelso dune Joshuahua trees, and cinder cones.
Address: 90942 Kelso Cima Rd, Kelso, CA 92309, USA
Timings: 8 am to 10 pm
Check out National parks in California
7. Moaning Cavern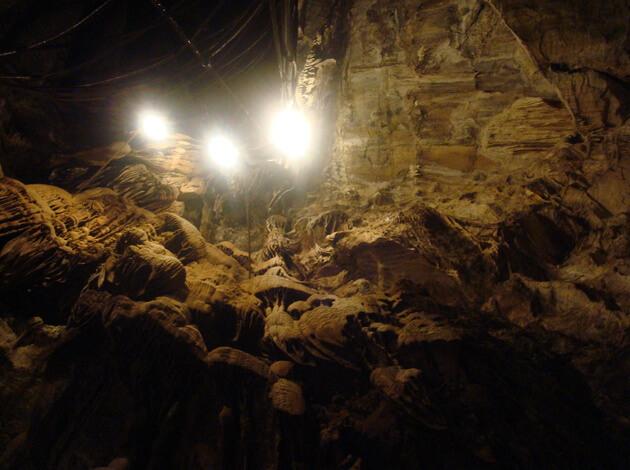 Image source: flickr.com/Don Richards
California's largest cave chamber, the Moaning Cavern accommodates the largest vertical chambers in a public cavern that you can see in California. Guided walking tours are offered here, that also incorporate a little adventure. You have a 165-foot rope rappelling into the cave, which in fact is the most thrilling way to see the main chamber. Legend has it that, the skeletons and remains of previous visitors who fell into the cavity while exploring the caves, still exist. As if this was not enough, here's another fact - the cavern gets its name from the sound made from water dripping into the holes on the cavern floor. Activities that kids would love include - cave rappelling, climbing tower and twin zip lining.
Address: 5350 Moaning Cave Rd, Vallecito, CA 95251, USA
Timings: Saturday and Sunday 10 am to 5 pm, Monday to Friday 11 am to 4 pm.
8. The Balconies Cave and Bear Gulch Cave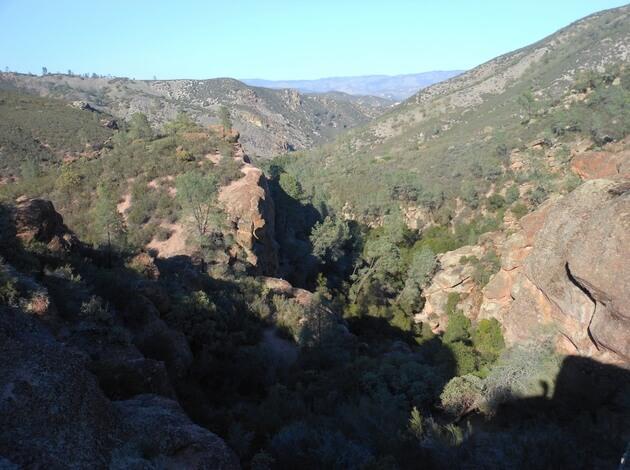 Image source: flickr.com/Ken Lund
These caves are not made by mud or sandstorms and are a testimony to nature's miracles. They provide a great adventure for hiking enthusiasts of all levels. To those who love exploring caves, this is a great opportunity for exploration given their uniqueness. Inside the caves are interesting pages and rock climbing routes. The opening schedule of the caves, however, depends on the breeding patterns of the inhabitant bats.
Address: California 95043, USA
Timings: 9.30am to 4.30pm
9. The Cave of Munits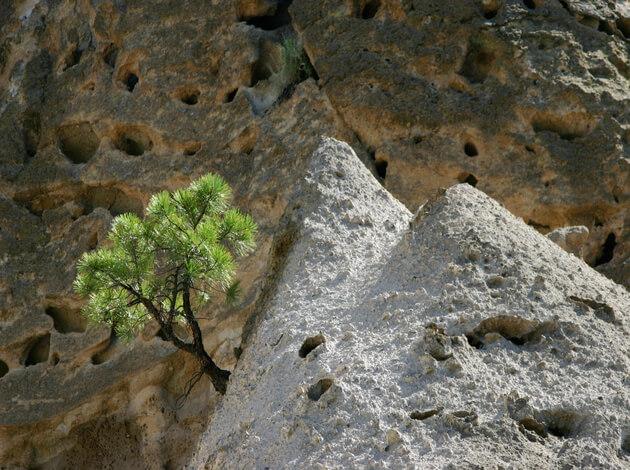 Image source: wikipedia.org
A favorite of many hikers, the Cave of Munits is a good 2.6 miles' hike, with optional side trips and scrambles. The inhibition of these caves was done thousand of years ago by the Chumash people and are very scared and of mighty significance to them. The cave offers breathtaking views from its interiors. Further hiking, leads you to another substantial attraction of the Castle Peak.
Address: 24501 Vanowen St, West Hills, CA 91307, USA
Timings: 7 am to 5 pm
10. Sutter Gold Mine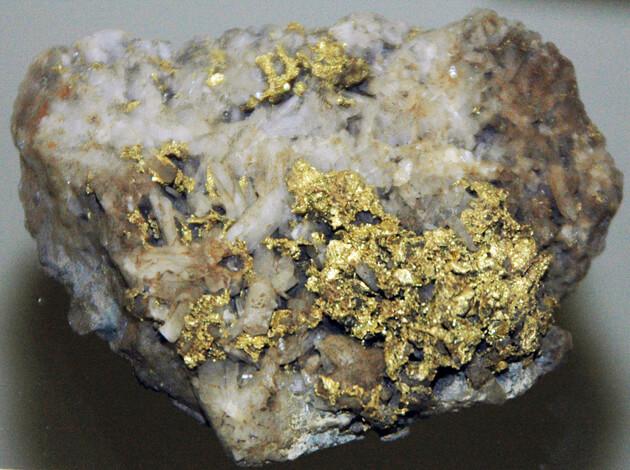 Image source: wikipedia.org
With numerous activities to do here, the Sutter Gold Mine will not cease to fascinate you. Guided walks of the mine are available too. Stretching at a length of ten miles in the Lode in Amador County, the mine produces over half the total yield credited to the entire Mother Lode gold belt.
Address: 12594 Kennedy Mine Rd, Jackson, CA 95642, USA
Timings: Open only Saturday and Sunday 10 am to 3 pm
11. Sequoia and Kings Canyon National Parks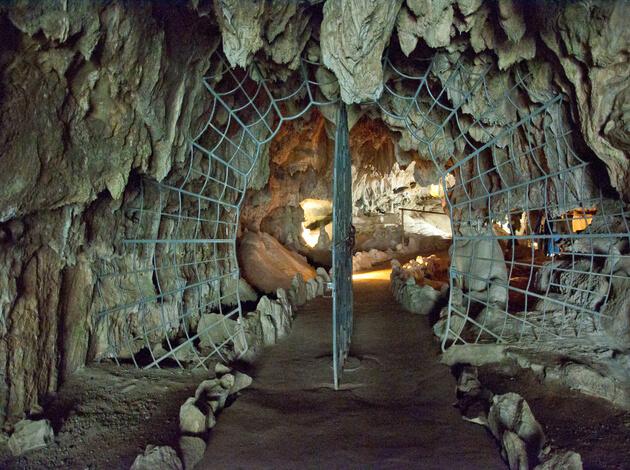 Image source: flickr.com/qJake
Having distinct characteristics each, these national parks accommodate some super fascinating caves. Having an extensive cave network, nestled underground the parks are simply fantastic. However, the Crystal Cave in Sequoia National Park and Boyden Cavern in Kings Canyon National Park are what draw visitors here. Guided tours are available during the months of summer. The national park is hoem to some great restuarnats too. Perfect after all the overwhelming activities!
Address: California 93271, USA
Timings: 7 am to 5 pm
12. Vanalden Cave near Tarzana
Essentially a sandstone cave, the Vanalden cave is located near Tarzana. With eerie carvings inside the cave, you are certain to get spooked out! For better visibility, carrying a flashlight is advisable. The hike is easy and suitable for everyone alike. Mountain biking up to the caves is one of the mist sought after things to do here.
Address: Vanalden Cave Trail, Tarzana, CA 91356, USA
Timings: 7 am to 5 pm
13. The La Jolla Sea Caves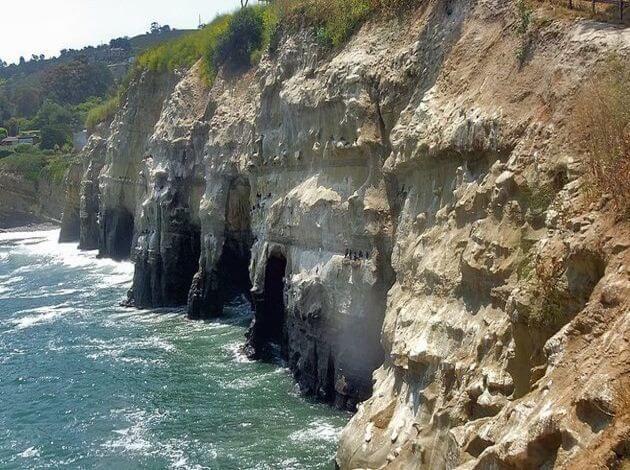 Image source: wikimedia.org
Lastly, the caves of the La Jolla Sea should not be missed out. Part of a sandstone sea cliff, these seven caves are best viewed by a kayak. One cave, albeit can be explored on the land, through a man-made tunnel that has been carved into the rock for land-based viewing.
Address: 2164 Avenida De La Playa, (Upstairs), La Jolla, CA 92037, United States
Timings: 7 am to 5 pm
A visit to these caverns will certainly leave you enthralled with much enlightenment!
13 caves to explore in california for the ultimate amazement!
Is there , was there cave(s) near Pismo Beach ? "Supposedly, Indians had left writing and a solar system drawings in the cave which the Rangers blocked the entrance to save them from people destroying these writings and scenes.

Answer

Report Abuse

There is Chumash Painted Cave State Historic Park where paintings by Native Americans are preserved. But, it is at least an hour away from Pismo Beach and I am not sure if it is open to the public or not.

Report Abuse