12 Best Christmas Trees In New York City
* Disclosure: This post may contain affiliate links, which means we may receive a commission if you click a link and book something (there is never any extra cost to you for using these links).
Glimmering lights, shimmering embellishments and a twinkling star at the top of a conifer! Oh, how this spirit of Christmas warms me on cold wintery days. As the chilly breeze starts biting, I start looking forward to this festival of glitter. While the midnight mass, melodious carols, Santa Claus, gifts, and a cozy time with family lie at the heart of Christmas, I have always believed that a Christmas tree is the quintessence of this joyous festival.
Like any human around the world who wants to visit New York to find love, life, and all that dazzles, I hold this reverie close to my heart of hopping around to view all the best Christmas trees in NYC. Take a look at my list and jump on the bandwagon for a fun sleigh ride.
1. Rockefeller Center Christmas Tree - The Xmas Tree, No One Should Miss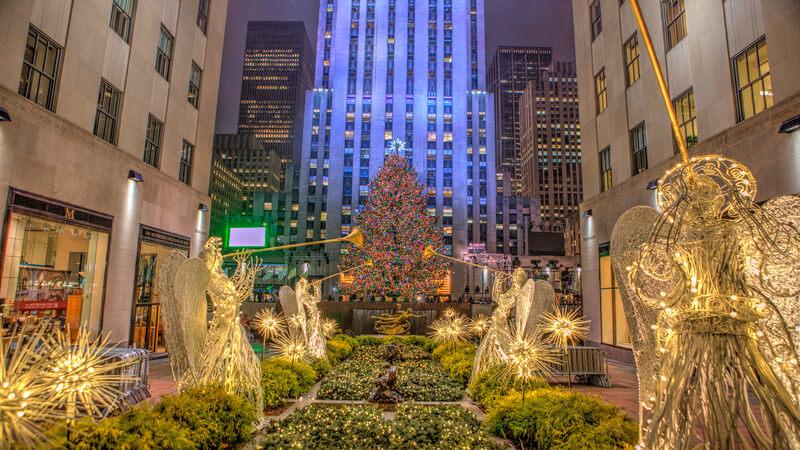 Image Source: Anthony Quintano/flickr.com
I have been warned that it will be difficult to even set my toe in this bustling place during Christmas which is packed to the brim with millions wanting to view the humongous spruce tree. But what is Christmas without a little crowd? Brilliantly illuminated by thousands of lights, this biggest Christmas tree turns Rockefeller Center into a magical place. While the many LED lights make this tall tree a sparkling pyramid, it is the Swarovski star perched at the top which steals the limelight. Made up of about 25,000 crystals, this star twinkles brightly at the apex. The other decorations around the tree beautify the place even further, leaving everyone awestruck.
Tree lighting ceremony: 4th December between 08:00 and 10:00 PM
Address: Rockefeller Center, New York, NY 10111, USA
How to reach: Take buses or the metro to reach the 47th-50th Streets-Rockefeller Center.
Other Attractions at Rockefeller Center:
Attend the Radio City Christmas Spectacular at the Radio City Music Hall.
Skate at the famous ice rink in NYC. Beware of the kids wearing bobbling winter caps, you never know when you'll crash into one.
Go on a shopping spree to buy that perfect Christmas gift for your loved one.
Check Out: Hotels Near Rockefeller Center
2. Christmas Tree at American Museum of Natural History - Artfully Showcasing The Origami Craft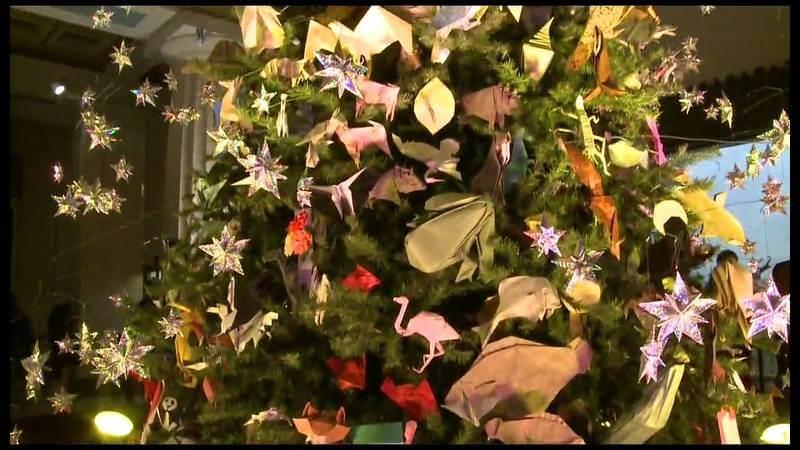 Image Source: Youtube.com
A craft that requires no cutting of paper, but is simply achieved through numerous paper-folds, origami has always delighted me since childhood. However, never did I imagine that these paper-folded models can make beautiful Christmas decorations. The Xmas tree at the American Museum of Natural History adorns more than 800 paper-fold models created by local, national, and international origami artists every year. The theme for the year 2019 that will embellish the 13-foot tall tree is 'T. Rex and Friends: History in the Making'. What more, visitors of all ages can learn this art from the Origami USA volunteers at the museum.
Dates of display: 25th November 2019 to 12th January 2020 between 10:00 AM - 5:45 PM
Address: Central Park West at 79th Street, New York, NY 10024-5192
How to reach: Take a bus M10 to Central PK w/w 79 Stop which is a minute away from the museum. Or you can take the subway services A, B, C to 81 Street-Museum of Natural History Station.
Other Attractions near AMNH:
Visit the San Remo Apartments. The twin towers make for a spectacular sight.
Head towards The First Baptist Church. This Italian Romanesque structure will leave you star-struck.
Check Out: Hotels Near American Museum of Natural History
3. Christmas Tree and Neapolitan Baroque Crèche at The Met - A Favorite of The New Yorkers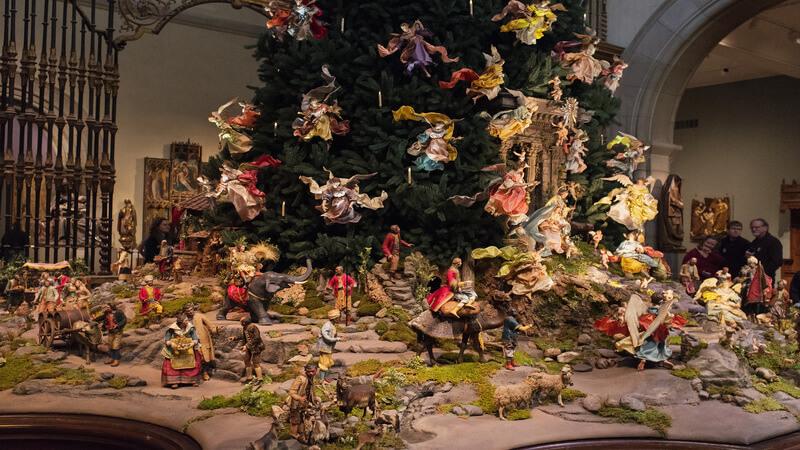 Image Source: Ralph Daily/flickr.com
A Christmas tree holding beautiful silk-robed angels looking down upon the birth of Jesus re-staged using lifelike miniature statues - Metropolitan Museum of Arts lives by the reason for celebrating Christmas. The crèche figures used in creating the nativity scene date back to 18th century and exemplify fine craftsmanship. The scene is made to look dramatic with a further addition of models of sheep, goats, horses, a camel, and an elephant. The remains of a Roman temple, the typical houses, and the Italian fountain with a lion's mask water-sprout in the backdrop brings this scene alive. Along with the Christmas crib, you can see the three traveling Magi, dressed exotically. The tall spruce tree, a little blue in color, looks quite elegant when embellished with lights, cherubs, and some 50 odd vivid angels.
Dates of display: 4th November 2019 to 7th January 2020.
Address: 1000 5th Ave, New York, NY 10028, USA
How to reach: Take bus BxM2 to 5 Av & E 80 Stop which is hardly a minute away from the museum.
Other Attractions near Met:
Visit Swedish Cottage Marionette Theatre along with kids to see popular puppet and marionette shows.
Visit Delacorte Theater, a spectacular outdoor theater which holds summertime Shakespeare plays.
Head towards the 1869 Belvedere Castle, a Gothic-Romanesque style structure that takes you back in time.
TripHobo Recommends:
4. Washington Square Park Christmas Tree - Shout The Xmas Tree Lighting Countdown along with Santa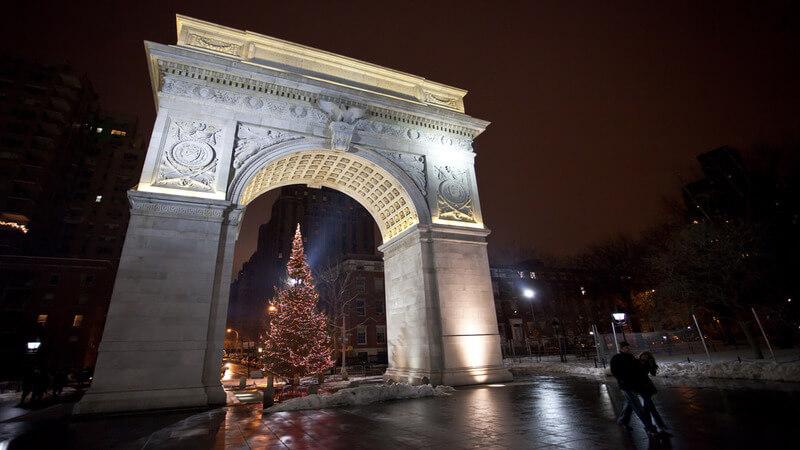 Image Source: Jens Schott Knudsen/flickr.com
This year the tall Christmas tree of Washington Square Park will be set just south of the magnificent arch. Adorning a thousand sparkling lights, the spruce tree, last year, looked absolutely brilliant and exuded the warmth of Christmas. Attend their tree lighting ceremony and sing along with kids and adults the happy holiday songs to get right into the spirit of festivities. Worry not about the words, for you are provided complimentary songbooks by the Washington Square Association. While the New Yorkers heartily sing out the old-gold tunes, we visitors are more than welcome to pitch in with our hoarse voices. Adding to all the joyous celebrations is Santa Claus, who joins the kids in the illumination countdown.
Tree lighting ceremony: 4th December 2019 between 6:00 and 7:00 PM.
Address: New York, NY 10012, USA
How to reach: Take a bus to E 8 St/5 Avenue and then walk to reach the park for 2 minutes.
Other Attractions:
Head towards Comedy Cellar and ride on a wave of laughter with famous comedians, cracking you up with their stand-up comedy.
Visit The Basilica of St. Patrick's Old Cathedral, built in the 19th century.
Check Out: Hotels Near Washington Square Park
5. Christmas Tree at The Bryant Park - A Tree That Brings A Festive Glow to The Place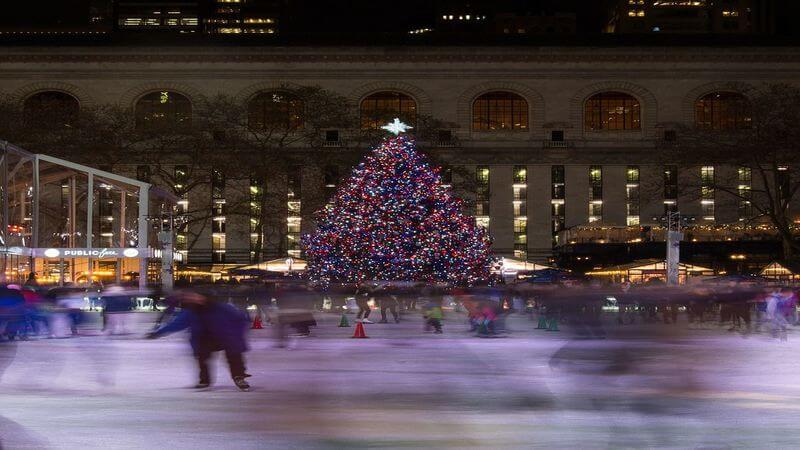 Image Source: Wikimedia Commons
Dubbed as the winter village, Bryant Park is a place that announces the arrival of Christmas. Having the largest ice-skating rink in town and over 100 food and shopping stalls, this place starts bustling with the arrival of the sparkling festival. Adding to the fervor is the influx of a tall spruce tree that gets extravagantly decorated.
The Christmas tree is usually embellished in the patriotic colors using blue, red, and white lights. Illuminating the entire space, the striking tree can be seen even from a far distance. The tree lighting is followed by heartwarming musical and skating performances. Oh, how I wish I was in the city to attend this lovely ceremony! It would be one of the best things to do in New York.
Tree lighting ceremony: 5th December 2019 at 06:00 PM
Address: New York, NY 10018, USA
How to reach: Take a bus ERS to reach 6th Avenue and Bryant Park Stop. Or ride subway 7 to 5th Avenue stop.
Other Attractions at Bryant Park:
Skate your heart out at the ice rink.
Shop till you drop in the many cozy kiosks set up at the winter village.
Visit New York Public Library - Stephen A. Schwarzman Building and step into the magical world of books.
Check Out: Hotels Near Bryant Park
6. New York Botanical Garden Trees - No-One Can Do Them Better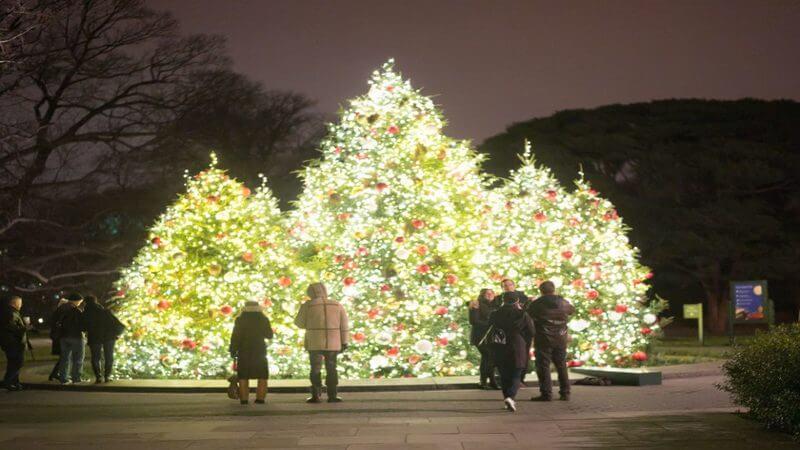 Image Source: nybg.org
Living up to their reputation, the New York Botanical Garden puts up a brilliant display of the conifers. Illuminated with the brilliance of lights, here you will find not one, but around 10 Christmas trees. If not this, I can't imagine what would brighten up a place more? The lush green trees are lit with countless strings of light and numerous red, golden, white, and green Christmas decoration-balls. Set at the Leon Levy Visitor Center reflecting pool, these stunning trees reflect the grandeur of the festival in a true sense. An added perk is the Holiday Train Show where a dozen miniature trains run through the many scaled models of landmarks in New York City. Kids (and adults like me!) will have a gala time attending this show which has gained a lot of fame in recent years.
Tree lighting ceremony: 8th December 2019 between 04:00 and 05:15 PM
Address: 2900 Southern Blvd, Bronx, NY 10458, USA
How to reach: Take bus Bx26 to Kazimiroff/Botanical Gardens E stop. Or take train Harlem to Botanical Garden stop.
Other Attractions at NY Botanical Garden: Spread over 250 acres of land, the botanical garden itself has many attractions. A few are listed below.
Fountain of Life
Rock Garden
Everett Children's Adventure Garden
Enid A. Haupt Conservatory
Check Out: Hotels Near New York Botanical Garden
7. Christmas Tree at New York Stock Exchange - A Tree That Brightens A Rather Solemn Place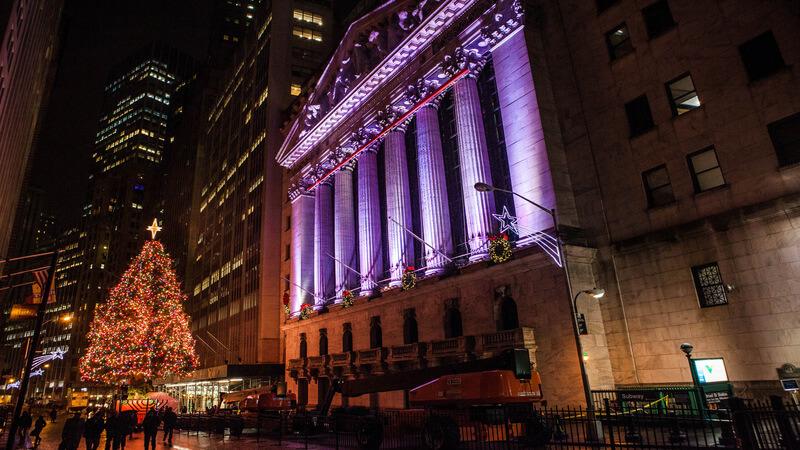 Image Source: Anthony Quintano/flickr.com
While the New Yorkers everyday hurry along Wall Street, going in and out of the Stock Exchange building, the scenario is quite different during Christmas. The towering Christmas tree catches every passerby's eye, making them come to a standstill in their hurried stride. The tree lighting ceremony is a must-visit when many snowflakes and stars are projected on the NYSE building with the Christmas carols filling the air with melody. A tradition being conducted since 1923, many people flood this place to witness the age-old event. Let's hop to this place to see the twinkling star put on the top of the Christmas tree which is decorated with hundreds of lights and looks as if it is laden with ripe fruits during the daytime.
Tree lighting ceremony: 5th December 2019 between 2:30 PM and 6:00 PM
Address: New York Stock Exchange, New York, NY 10005, USA
How to reach: Take subway service J or Z to Broad Station.
Other Attractions near NYSE:
Visit Trinity Church which is around 0.1 kilometer from NYSE. The architecture of this place of worship will leave you spellbound.
Gorge on the best street food in New York offered by the food trucks along the sidewalks of NY.
8. Christmas Tree at South Street Seaport - A Tree Mirroring The Glitzy Festive Affair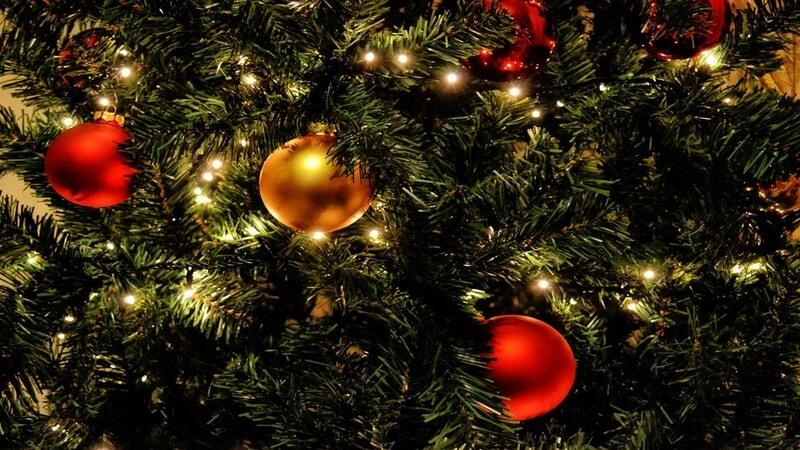 Image Source: Pexels.com
A friend saw this Christmas tree last year and she was bowled over. The Christmas tree at South Street Seaport beams radiance, thanks to the many light strings it is decorated with and the giant Christmas balls hung over it. The tall tree is enchanting and leaves everyone starry-eyed. South Street Seaport will celebrate the 36th annual tree lighting ceremony in 2019. The tree lighting ceremony is usually followed by live performances, kids activities, and Christmas carols.
Tree lighting ceremony: 2nd December 2019 between 6:00 and 10:00 PM
Address: 89 South St, New York, NY 10038, USA
How to reach: Take a bus to FDR/Beekman Stop.
Other Attractions at South Street Seaport:
Take a cruise ride to view the Statue of Liberty up-close.
Visit South Street Seaport Museum to see some vintage ships docked outside along with some paintings, scrimshaw, and ship models.
Check Out: Hotels Near South Street Seaport
9. Madison Square Park Christmas Tree - America's First Community Xmas Tree

Image Source: Jeffrey Zeldman/flickr.com
It was at Madison Square Park where New Yorkers first gathered to witness a Christmas tree lighting ceremony some 105 years back. An event organized to bridge the gap between the poor and rich of the city, it soon spread like a wildfire across the entire nation. Even today, many people head towards this place to see the Tree of Light. With huge snowflakes hanging from the branches and the glowing glass bulbs wound around it, the tree is a visual treat to the eye. It is crowned with a brightly shining globe, just like a cherry on the cake. The tree lighting ceremony is accompanied with much fanfare and merriment where musical treats and mouth-watering savories await everyone.
Tree lighting ceremony: 5th December 2019 between 3:30 and 5:30 PM
Address: 11 Madison Ave, New York, NY 10010, USA
How to reach: Take bus BxM9 to Madison Av/E 25 Stop. Or take subways N, Q, R, W to 23 Station.
Other Attractions around Madison Square Park:
Visit the Shake Shack to give your taste buds a feast.
Head towards the Madison Square Dog Park to see the furries having fun.
Check Out: Hotels Near Madison Square Park
10. Christmas Tree at Cathedral of St John The Divine - A Tree Symbolizing Peace and Harmony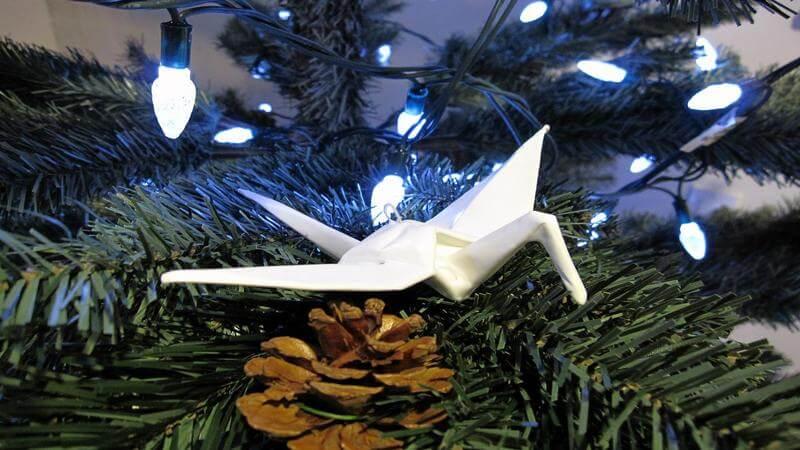 Image Source: Michael Knowles/flickr.com
Here is another Christmas Tree which is decorated using Origami Craft. Laden with numerous hand-folded white paper cranes, the tree when viewed from a distance looks as if it is snow-capped. Through its tradition of over 30 years, Cathedral of St John the Divine spreads the soulful message of maintaining goodwill and equanimity through its Peace Tree. Not-to-miss is their Cathedral Christmas Concert. And what better place to experience the spirit of the festival than the largest cathedral in the western world ringing with melodious carols.
Tree lighting ceremony: Dates not available
Address: 1047 Amsterdam Ave, New York, NY 10025, USA
How to reach: Take bus M11 to Amsterdam Av/w 112 Stop.
Other Attractions near Cathedral of St John the Divine:
Head towards the Riverside Skate Park to see kids and adults alike skating to their heart's content.
Walk towards Central Park to see the modestly decorated Christmas tree here.
Check Out: Hotels Near Cathedral of St John the Divine
11. Park Avenue Christmas Trees - The Trees That Illuminate The New York Streets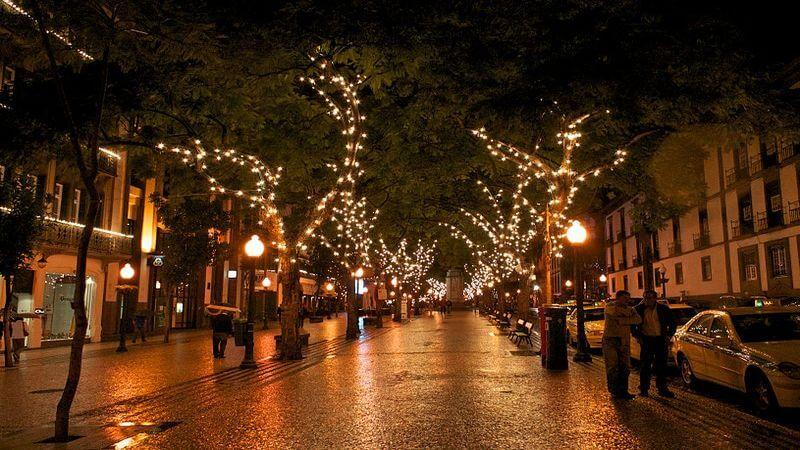 Image Source: Wikimedia Commons
Imagine not one, not 10, but 104 fir trees glittering in golden delight! With these many trees lined along the center median of Park Avenue, the roads between 54th and 97th street turn into a paradise. The tradition was started around 70 years ago to honor the men and women who died during the second world war. These trees remind everyone of the sacrifices made to attain peace all across the world. They are decorated from The Fund for Park Avenue as received from the community. Take a ride along these streets or go hopping from one tree to another, basking in their radiance.
Tree lighting ceremony: 2nd December 2019 between 05:00 and 06:00 PM
Address: Park Avenue, 54th to 97th Street
How to reach: Take bus M96 to E 96 St/3 Avenue.
Other Attractions at Park Avenue:
Known to be one of the wealthiest neighborhood, Park Avenue is frequented by many. Following are a few things to do when you are here.
Head towards the Metropolitan Museum of art if you are a history and art buff.
Walk along the streets of this high-end place and appreciate the many architectural achievements.
12. The Plaza Holiday Tree - A Christmas Tree That Flaunts Its Glam

Image Source: Vicky Brock/flickr.com
This is one tree which poses as a holiday treat to the eye of the visitors. While people flock to see the more celebrated Christmas trees in New York, The Plaza Holiday tree classily stands at the entrance door exuding a warm charm in all its glory. Every year, the Plaza innovatively decorates the tree, leaving the New Yorkers excitedly looking forward to the next year. People, even now, lovingly recall the decorations of 2013 when the Christmas tree had a 3D printed gigantic snowflake perched at its peak and had adorned glittering gold ornaments.
Tree lighting ceremony: 2nd December 2019
Address: 768 5th Ave, New York, NY 10019, USA
How to reach: Take bus 0028 to 5th Ave @ 59th Stop and then walk a short distance to reach The Plaza.
Other Attractions nearby The Plaza:
Visit Hallett Nature sanctuary for a leisurely walk through the woods.
Go to Victorian Gardens Amusement Park for some fun time with family and friends.
Sit around the Pulitzer Fountain and enjoy some quiet moments, observing the vibrant New York City.
After much browsing, thinking, and deliberating, I have decided that I will, one day, go wandering in the New York City to view all of the above Christmas trees. Well, a girl can always dream. Happy Christmas!
More on New York: