10 Best Cities To Visit In Germany
* Disclosure: This post may contain affiliate links, which means we may receive a commission if you click a link and book something (there is never any extra cost to you for using these links).

Image Source: Wiikimedia Commons
Germany, a western European country that is landlocked on three sides, is famous its automation industries, electrical industries, Black Forest area, numerous waterfalls, concentration camps, swanky cities, quaint countryside, traditional beer, fiery sausages, football teams and snowy Christmas Markets. The country has everything; one of the world's busiest airports, 19th-century fairy-tale castles, WW2 sites, groovy music, world-class breweries and so much more. Spread over more than 350,000 square kilometres of land, this country is a great mix of modern cities and time-honoured countryside.
So, for your next trip, here is a select list of best cities to visit in Germany.
1. Berlin – The cosmopolitan German capital

Image Source: Wikimedia Commons
The capital city of Germany, Berlin welcomes its guests to a unique blend of people and culture. Berlin was divided during the Cold War, and the remains of the graffitied Berlin Wall stand as a testament to Germany's spirit of reunification and harmonization. Today, Berlin brings you a mix of traditional and contemporary architecture; right from the impressive 18th century Brandenburg Gate to the progressive Fernsehturm, two of the most visited attractions in Berlin. Move from the iconic sights and head out to spirited expanses of greens, or sip a cocktail at one of the city's sky bars; dine at a chic restaurant overlooking the stunning skyline of Berlin, or head out to listen to live music. Wherever you go, Berlin is honest and unstoppable.
Festivals and Events in Berlin:
Berlin has it all - Fairs, exhibitions, concerts, dance festivals, food festival and so much more! Some of them include:
Berlin International Beer Festival
Lesbian and Gay City Festival
Street Food in Berlin:
Meat-and-bread snacks, vegan-friendly, Indian Chai, Thai Dumplings, Mexican tacos, and Peruvian ceviche; Berlin's street food scene is quite "Super!" Try out street food in Berlin at Chai Wallahs at Wiener Strasse, Street Food Thursday at Eisenbahnstraße and Chakalaka Tuesdays at Pannierstraße
Activities in Berlin:
Hike through the Grunewald; Spend your day exploring the Museum Island; Head out to Mauerpark and shop till you drop; Walk along the Berlin wall; Take selfies at the Photoautomaten; or ride the city on bikes, Berlin offers plenty of activities for all kinds of travellers. See how you can spend 3 days in Berlin on our exploration.
Get year around hotel deal with TripHobo Hotels.
2. Frankfurt – The one with the avant-garde skyline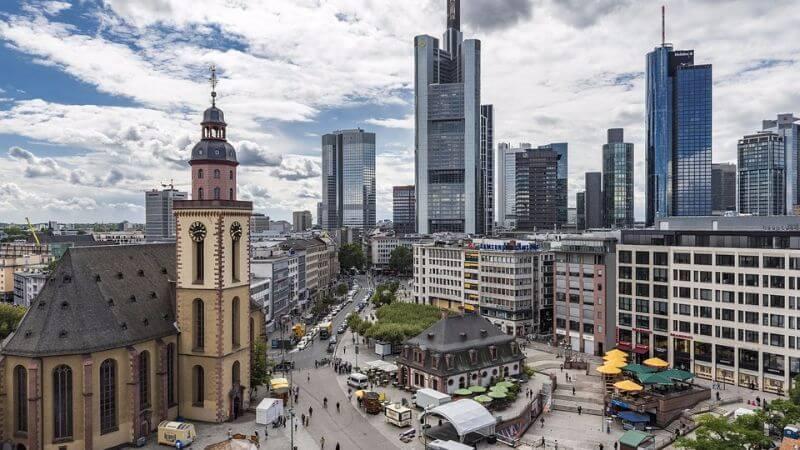 Image Source: Pixabay.com
Unlike the other traditional German cities, Frankfurt is the powerhouse of all things modern. 'Frankfurt am Main' is a German metropolis famed as a banking and business hub. Finance biggies like The German Central Bank (Bundesbank) and the European Central Bank (ECB) are headquartered in Frankfurt. Here in Frankfurt, stroll through the old city at Römerberg, visit the main cathedral of Dom, or explore the Hauptwache, central hub of Frankfurt's modern city. Also, just so you know, Frankfurt International Airport is one of the busiest airports in the world. Check out things to do in Frankfurt.
Festivals and Events in Frankfurt:
Frankfurt Auto Show and the Frankfurt Book Fair are some of the most important festivals in Frankfurt and all over the world. Other festivals and events in Frankfurt include:
Wäldchestag
Spring Dippemess
Autumn Dippemess
Christmas Markets
Street Food in Frankfurt:
Craving for some Thai Food, Dragon Rolls, Tempura Roll, or the plain old French fries? Head out to Freßgass, the ultimate street food shangri-la in Frankfurt.
Activities in Frankfurt:
Frankfurt has many sights and museums that you can visit. Walk around the Römerberg, Frankfurt's Old Town; Spend time reminiscing history at the Goethe House and Museum or the Senckenberg Natural History Museum, or simply pick up your favourite book and sit at one of the city's cafés.
Plan to shop at these best Christmas markets in Germany this year!!
Get year around hotel deal with TripHobo Hotels.
3. Munich – The beer capital of the world

Image Source: Pixabay.com
Save 7%

Save 7%
Best known for its annual Oktoberfest, Munich is the Bavarian capital that is built on the banks of River Isar. The views of the Alps, stylish boutiques, Mediterranean-style street cafes, and huge parks makes Munich a rustic yet modern city. Often referred to as a 'mini–Silicon Valley' many info-tech firms like Siemens, Microsoft, and SAP are based here. Walk through the Royal Avenues and Squares and get a chance to witness the magnificent 19th-century Bavarian architecture; or visit the many palaces, castles and churches and be mesmerised by its sheer magnanimousness. Shopping, fine dining, nightlife, sports events are just a few other things that you must add to your 'Munich to-do list!'
Festivals and Events in Munich:
Apart from the world-famous Oktoberfest, these are a few other festivals in Munich that you must check-out!
Starkbierfest – Also called the "small Oktoberfest"
Summer Tollwood – Art and craft festival
Kocherlball
Auer Dult
Street Food in Munich:
Are you a true Bavarian fan? Coz you are in for a treat here! Start your gastronomic journey at the Viktualienmarkt and gorge on some delicious Weißwurst (white sausage), sweet mustard, and brezn (bread). Later head out to Schlemmermeyer to enjoy some grilled sausages and Leberkäs. You can also check out Elisabethmarkt for some finger-licking good street food in Munich.
Activities in Munich:
Located a little outside the city, the 19th-century fairy-tale castle called the Neuschwanstein Castle is a must visit Munich attraction. Within the city, you can explore the Linderhof Palace, cycle or jog at the urban Englischer Garten, visit a toy museum at Marienplatz, or click a picture with the legendary Devil's footprint at the Frauenkirche cathedral.
Get year around hotel deal with TripHobo Hotels.
4. Hamburg - Germany's Gateway to the World

Image Source: Pixabay.com
For centuries, Hamburg has played a very important role in German trade activities. This port town has been often called Germany's 'Gateway to the World' as the country's largest port is located here. The city gained this reputation after having joined the Hanseatic League as a founding member. Over the years, the trade has brought much affluence to the city. Today's Hamburg is dominated by its nautical spirits, from architecture to food. There are a number of activities to do in Hamburg, from revisiting history at Deichstraße to shopping at Mönckebergstraße.
Festivals and Events in Hamburg:
An old port city, Hamburg has countless flea markets, fairs, and festivals. Some of the festivals and events in Hamburg are:
Historischer Jahrmarkt
Comicfestival Hamburg
Marktzeit in der Fabrik
Reeperbahnfestival
Street Food in Hamburg:
With so many things to do in Hamburg, you are sure to get hungry. And what better way to soak in a city's essence than hitting the streets? Head out to Fischmarkt as early at 5 AM and try some tasty fish sandwiches (fischbrotchen).
Activities in Hamburg:
Hamburg has something for every age and stage. Marvel at the architecture, museums, canals, and harbours at the Speicherstadt, or enjoy thrill rides at Heide Park. You can also walk around the Miniatur Wunderland, or just go explore the Kunsthalle Hamburg that covers world art from over 7 centuries.
Get year around hotel deal with TripHobo Hotels.
Check Out: Best Cities to Visit in Europe
5. Dresden – Home to the baroque magnificence

Image Source: Wikimedia Commons
Save 4%
Sitting on the banks of Elbe River, Dresden has been an ancient capital of Saxony. Dresden celebrated its 800-year long history in 2006 and the city's richly textured history includes the reign of Augustus the Strong. Best visited during summers, you can walk along the city's historic center and visit the original Church of Our Lady, Frauenkirche; explore the baroque-styled Zwinger Palace that features a nymphaeum, or witness the world's biggest green diamond at Schloss und Grünes Gewölbe. This river city is often called 'Florence of Elbe' and rightly so!
Festivals and Events in Dresden:
Apart from conventional attractions, Dresden has some of the best-celebrated events and festivals in the country. They are:
Dresden Comedy Festival
Long Night of the Dresden Theatres
Heinrich Schütz Music Festival
Dresden Jazz Days
Street food in Dresden:
Craving for some world cuisine like Vietnamese, American, Asian, or Indian? There are plenty of eateries spread across the city that will treat your tasty tongues to something amazing!
Activities in Dresden:
With celebrated classic Saxonian architecture and numerous art museums, things to do in Dresden are plenty. You can walk through the grand galleries at the Zwinger, take a guided tour of the reconstructed Dresden Frauenkirche, marvel at the Renaissance architecture at the Brühl's Terrace, or wonder at the world-renowned collection of paintings at the Gemäldegalerie Alte Meister.
Get year around hotel deal with TripHobo Hotels.
6. Cologne – Traditional yet stylish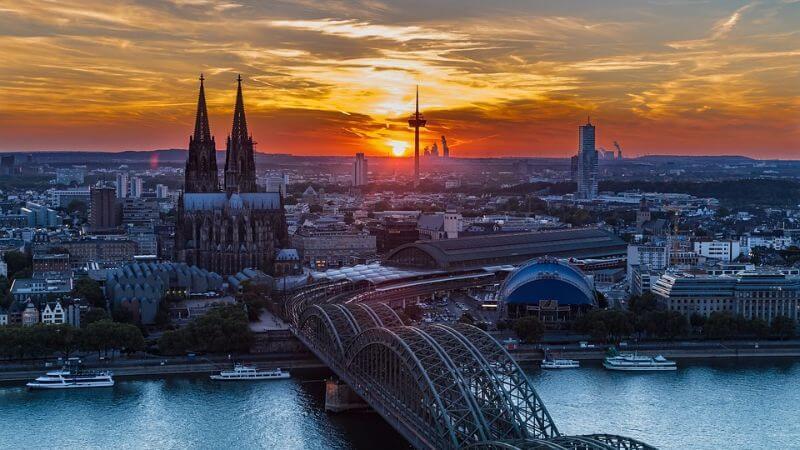 Image Source: Pixabay.com
Sitting at number 4 on the largest cities in Germany list, Cologne (or Köln) is dominated by Gothic cathedrals, and museums dedicated to chocolates, Picasso works, and Roman artefacts & antiquities. Located on the banks of Rhine, Cologne is liberal, generous and big-hearted. Visit the Rudolfplatz and the Belgian Quarter and you will see that this city is adorned by many fashionable café, stylish bars, elegant shops and chic restaurants. But it's the contemporary-art scene of Cologne that steals the show!
Festivals and Events in Cologne:
During the festival time in Cologne, the bar timings are suspended, that is the spirit of this city! A few famous festivals and events celebrated in Cologne are:
Cologne carnival
Gamescom
Köln marathon
Christopher street day
Street Food in Cologne:
German food is great. Head out to Rudolfplatz in Cologne and gorge on some delicious German sandwiches and other European finger foods. Sit under a large tree and do not forget that pint of a beer!
Activities in Cologne:
Probably the most visited sight in Cologne, the twin-spired Cologne Cathedral is loved by tourists from around the world. You can also trace the 3,000-year history of chocolate at the Imhoff-Schokoladenmuseum, walk through the Cologne Zoological Garden, and explore the oldest museum in Cologne, the Wallraf-Richartz Museum.
Get year around hotel deal with TripHobo Hotels.
7. Heidelberg – Germany's unofficial intellectual capital

Image Source: Wikimedia Commons
Tucked in a steep valley in the Odenwald, the city of Heidelberg is located on the banks of River Neckar. Home to the oldest university in Germany, the Ruprecht-Karls-Universität is located here. Bigwigs like Goethe, Hugo and Twain have lived and worked here. With numerous castle ruins, cobblestoned alleyways, and beautiful architecture, the city has a romantic vibe to it. Come Spring, and you will be greeted to the beautiful sites of magnolias and cherry blossoms. Walk around The Altstadt and Hauptstraße and soak in the true German spirit.
Festivals and Events in Heidelberg:
Music, theatre, film and more, Heidelberg is home to some of the most amazing German festivals and events. They are:
Heidelberg Piano Week
International Festival for Silent Film & Live Music
Queer Festival Heidelberg
Heidelberg Castle Festival
Heidelberger Frühling
Street Food in Heidelberg:
Pizza, Chinese, Indian, Thai or Italian, you name it and this city has it. Walk along the city's streets and stop at one of its food trucks.
Activities in Heidelberg:
Continuing the tradition of all things historic, here in Heidelberg, you can visit the Heidelberg Castle, Church of the Holy Spirit, Studentenkarzer, Kurpfälzisches Museum, Pharmacy Museum and President Friedrich Ebert Memorial.
Get year around hotel deal with TripHobo Hotels.
You May Also Like To Explore: Things To Do in Heidelberg
8. Dusseldorf – Fashionable and Artistry city of Germany

Image Source: Pixabay.com
Capital city of the North Rhine-Westphalia, Dusseldorf has a modern and posh vibe to it. Known to be one of the country's richest cities, Dusseldorf is famous for its nightlife, carnivals, events, shopping and fashion. The food and drinking scene is quite buzzing here. Wake up early morning and visit the Carlsplatz Market, or wander through the city as the day passes by, drink a lot of beer and party the night away; things to do in Dusseldorf are many!
Festivals and Events in Dusseldorf:
Art, theatre, carnivals, craft and music, you name it and the city has it. Check out:
Chinafest Düsseldorf
Düsseldorf Christmas Market
Düsseldorf Helau
The Grand Départ Dusseldorf
Street Food in Dusseldorf:
The best place to enjoy lip-smacking street food in Dusseldorf is undoubtedly the Markt am Carlsplatz. This farmer's market has more than 50 stalls that sell traditional German delicacies.
Activities in Dusseldorf:
How about dining at a revolving, futuristic tower? Then head out to Rheinturm. Looking for something more historic? Visit the Schloss Benrath, Museum Kunstpalast, K20, Kunstsammlung Nordrhein-Westfalen, or Kunsthalle Düsseldorf. You can also go shopping at Königsallee.
Get year around hotel deal with TripHobo Hotels.
9. Stuttgart – Home to some of the best car makers in the world

Image Source: Pixabay.com
This 10th century city was earlier called Stutengarten and is today famous for its automotive industry. Often referred to as the "city of contrasts" or "Germany's biggest small town," Stuttgart today is home to some of the biggest industries in the world. They include Mercedes-Benz, Porche, and Bosch, among many others. A day here can begin by taking a walk in the Schlossplatz, followed by shopping at Konigstrasse which is the longest pedestrian shopping street in Germany. Ludwigsburg Palace, Christmas Markets, and Stadtbibliothek Stuttgart are a few other must visit places in the city.
Festivals and Events in Stuttgart:
Cannstatter Volksfest, the second largest beer festival is celebrated here. Other festivals and events celebrated in Stuttgart are:
Indian Film Festival Stuttgart
Stuttgarter Frühlingsfest
Stuttgarter Sommerfest
Stuttgart Spring Festival
Street Food in Stuttgart:
Karlsplatz in Stuttgart is where most of the food trucks are parked. This place has a street food market every Thursday and it is called Gaumenfreude. All under one roof, try German, French, Italian, America, Asian and even Indian delicacies here.
Activities in Stuttgart:
Being home to some of the most well-known automobile companies in the world, visit the Mercedes-Benz Museum and Porsche Museum on your visit to Stuttgart. You can also explore the zoo & botanical gardens at Wilhelma, or explore the Old Castle.
Get year around hotel deal with TripHobo Hotels.
10. Bonn – Home to Beethoven

Image Source: Wikimedia Commons
A city in western Germany, River Rhine cuts through this city. Musical genius Ludwig van Beethoven was born here and the city still has the music-y vibe to it. Bonn is one of Germany's oldest cities which is prominent thanks to the many Romanesque and Gothic churches. Another attraction here, that attracts millions of tourists from all over is The Museum Mile, a row of museums.
Festivals and Events in Bonn:
Home to all things musical, check out these festivals and events in Bonn:
Panama Open Air
Beethovenfest Bonn
Street Food in Bonn:
Like every other German city, food trucks dominate the streets of Bonn. Whether you are craving for an American Pizza or Indian Chai, you can have it all here at Bonn.
Activities in Bonn:
With a long list of things to do in Bonn, you can start your day by taking a photostop at the Old Town Hall. Later, proceed to the Bonn's city center and wander at its beautiful buildings. You can end your day by shopping at Sternstraße, one of the best shopping places in Bonn.
Get year around hotel deal with TripHobo Hotels.
Germany is warm, affectionate and welcoming. Having gone through a series of unfortunate events in the history, this country has re-emerged even stronger and better, and these German cities are a living example of Germany's resilience.
You May Also Like To Read:
10 Best Hiking Trails in Germany
10 best cities to visit in germany
What are the two not-to-be-missed cities in Germany? How many days should I plan visiting each?

Answer

Report Abuse

Depends entirely upon the type of traveler you are and the kind of places you would like to explore. If you like to tour through cities, Berlin, Frankfurt, and Munich are great options. If you like more of architectural beauty, Dresden, Cologne, and Heidelberg are beautiful. The duration also depends upon what all you decide to do- the number of places you wish to cover and the time you wish to spend at each place.

Report Abuse

where is the most popular cite in the country?

Answer

Report Abuse

Hi,

Berlin, Frankfurt, Munich, and Hamburg are just a few of many beautiful cities of Germany. Each one with something unique to offer. There is culture, history, shopping, nightlife and so much more. Would suggest you check out this blog on 10 Best Cities To Visit In Germany to know more details! :)

Report Abuse