11 Most Popular Hikes in Yosemite
* Disclosure: This post may contain affiliate links, which means we may receive a commission if you click a link and book something (there is never any extra cost to you for using these links).
Hiking is unquestionably one of the best experiences to have. While the idea of trailing through the raggedy jarred plains for hours may seem a little strenuous to some, one must definitely try it at least once in their lifetime, as the experience will not only let you interact with nature in a quite intimate way but also broaden your perspective and help you grow as a person.
Now there are many incredible gems in the world when it comes to hiking and their revered destinations, be it the Inca trails in Peru or the Appalachian Trail in the United States, there is certainly no dearth of the picks. But there is this one which particularly stands out to me, and for a number of reasons- The Yosemite National Park of California. Spread amidst the vast stretch of Sierra Nevada (around 761,000 acres), the park is literally a paradise for adventure lovers who wish to have a close chat with nature. With numerous day-hike trails and rocky cliffs to climb upon, the place makes an amazing hiking destination for all.
Here's all you need to know about the best hikes in Yosemite!
1) The Magnificent Yosemite Falls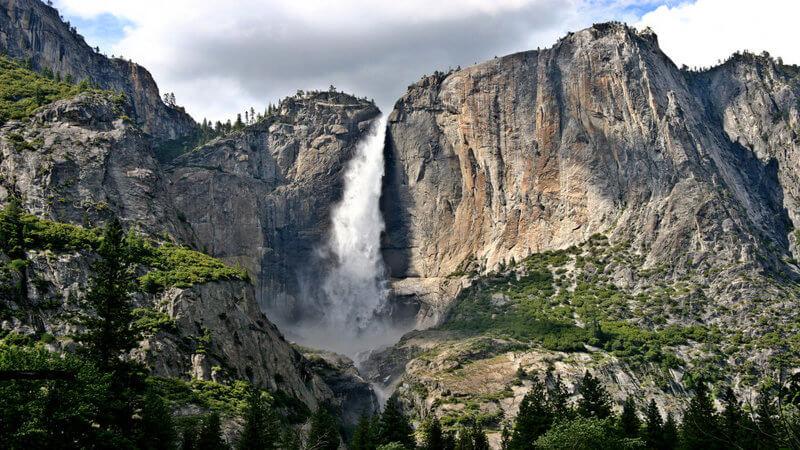 Image Source: Yosemitehikes.com
Perched at the daunting height of 2,424 feet, this waterfall will entice you with its beauty just as much as it will astound you with its height! While there are plenty of waterfalls that Yosemite can be proud of, nothing seems to beat the reputation Yosemite Falls have garnered among the folks.The place has long been loved by hikers and adventurers, not only for being the highest in the North America but for being the most challenging one too. I bet many of you would be wondering if taking up the challenge and going through this strenuous hike is worth the pain. By all means- yes! The panoramic view of the surrounding is something you only get to see here, not to mention the opportunity to capture the beauty of both- the upper waterfalls and renowned half dome all in the same frame. Visiting in springs, when the snow starts melting, will let you witness its beauty in all its glory, though you will have to deal with the crowd as it is the peak season for tourists.
Trail- The hike starts from the lower Yosemite Falls trailhead all the way up to the Yosemite point gaining an elevation of about 2,600 feet.
Difficulty Level- Moderately High
Distance- 7.6 Miles
Tip- It takes an entire day to round off the hike completely; don't book another one while you are at it. Also, bring plenty of food and water with you.
2) Half Dome- A Day Hike for The Brave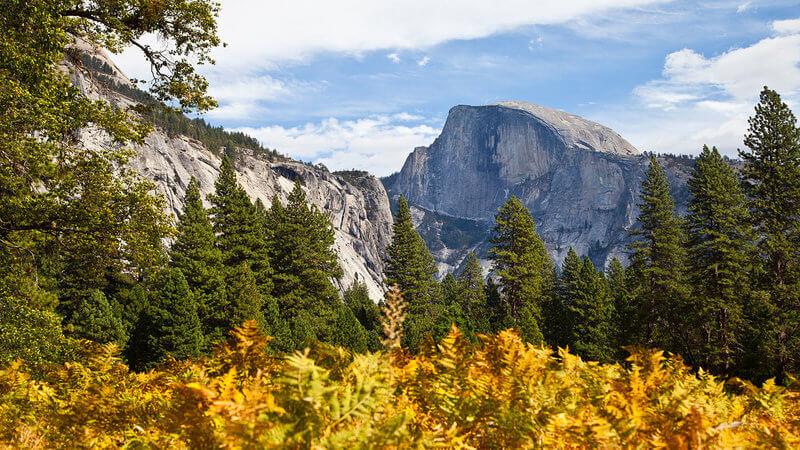 Image Source: Wikimedia Commons

By no means, this hike is for a beginner, well unless you are courageous enough to go through a demanding and quite scary cable ascent that will literally have you bite your tongue. Going the Mist Trail route, however, will make this one-day trip quite gratifying of an experience, given the breathtaking views it serves.The bewitching scenery of imposing waterfalls cascading down in waves along with its lush green surrounding leaves a lasting impression on anyone who visits the Half Dome in Springs.
Trail- The mist trails includes a round trip to both Vernal and Fall, which are only a few kilometers away from each other. Another route will be around trio Via Glacier point that takes about 20 miles to cover.
Difficulty Level- High
Distance- 14.2 Miles
Tip- Cable route of the trail is only accessible via permit. Ensure to have yours before coming! Also, spending a night in little Yosemite valley will give you a nice lead in the hike, that is if you don't mind hauling the heavy luggage.
3) Hiking Along the Mist Trail ( Nevada Fall and Vernal Fall)
Image Source: Wikimedia Commons
Being one of the most popular and spectacular trails in Yosemite, a hike through this one will grant you with vistas that will be etched in your mind forever and I am not exaggerating here! It is one of the most served hikes in the park, and rightfully so! Blessed with numerous unforgettable scenarios along the way, the trail slowly leads you to two of the most eye-catching waterfalls in the park- The Nevada and The Vernal Fall. Both are renowned for being an alluring spectacle and combined with the greens around no less of a feast for eyes.
Trail- The trail starts from the bridge covering the length of both waterfalls and ends at Muir Trail.
Difficulty Level- Mild
Distance- 3 Miles for Vernal and 7 miles for Nevada (Roundtrip)
Tip- Keep yourself hydrated all the time.
Tip: Organize and book your trip with Yosemite National Park Trip Planner.
4) The Awe-Inducing Views of Cathedral Lake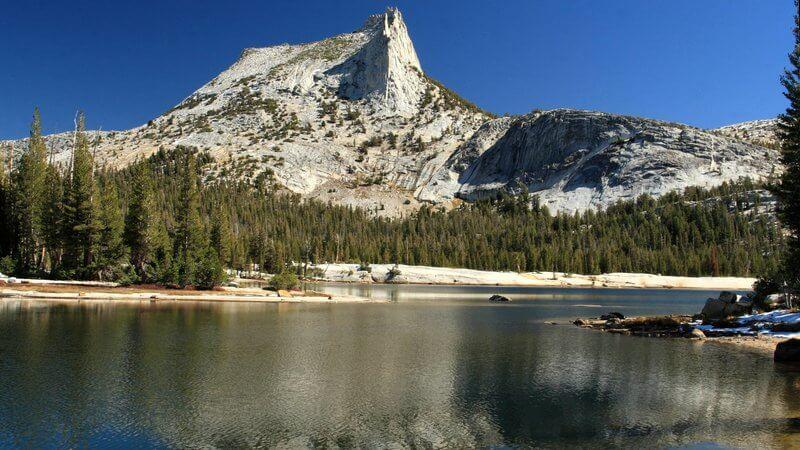 Image Source: Wikimedia Commons
Home to some of the most jaw-dropping views in the park, the Cathedral Lake is unlike anything its name suggests. Oh yes, it's holy! At least for nature lovers like me, but apart from that, the trail is filled with dirt pave ways and rough terrains destined to be conquered by adventurous souls. It is a part of the popular John Muir Trail which is known for being the perfect backpacking destination, however, the place sees a whole less crowd compared to it. The positives of coming here would be- nice people, great views and a happening adventure experience.
Trail- The hike starts from the Tuolumne Meadows that leads to the cathedrals
Difficulty Level- Moderate
Distance- 7 Miles Roundtrip to either of the Cathedrals (Upper or Lower) and 8 miles for both (Round Trip)
Tip- The trail is infamous for mosquitos; keeping a mosquito repellent will help.
5) Experiencing the Panoramic View from Glacier Point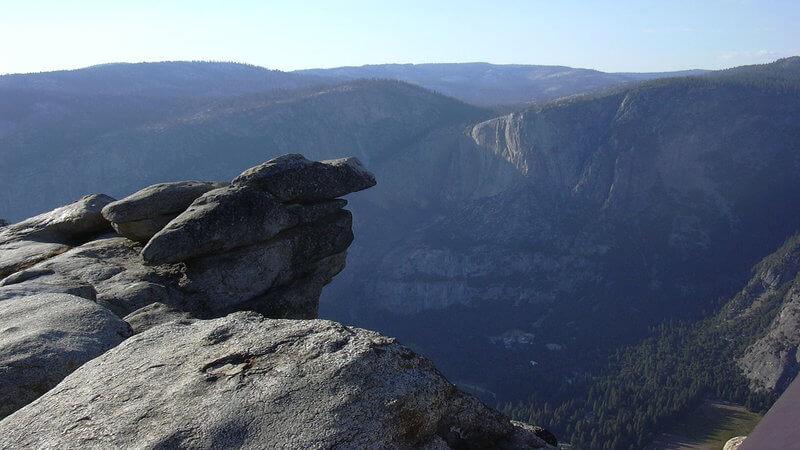 Image Source: Wikimedia Commons

There are many reasons why Glacier point is a must in your bucket list for Yosemite hiking! One- It provides one of the most mind-boggling views around. You can literally see the entire Yosemite Park along with the famous Half Dome and beautiful Nevada Falls which are best viewed from here. Not only it is one of the easiest hikes, which automatically leads it in my good graces, but a virtually stimulating one as well.The breathtaking scenery of sunset you can see witness here is truly one of a kind!
Trail- Travel through the Glacier Point Road from the southern entrance after which run for highway 41 valley exit and go for another nine miles.
Difficulty Level- Very Easy
Distance- 1 Mile Roundtrip
Tip- It becomes less crowded in summer making it a great time to splurge in some quiet adventure.
6) Gushing Over the Beauty of Tuolumne Meadows
Image Source: Wikimedia Commons
Ambiverts will certainly love it here. After spending a few days cruising through the dirt laden paths of the hikes, this place will placate you for a nice relaxing time amidst the lap of nature. The splendid views that it encompasses consists of lush widespread meadows blanketing the land in beautiful hues of green, the flowers adorning the plains, a placid lake filled with sparkling waters and imposing mountain tops. The picturesque view only adds up to its serene and sublime environment making it a great place to visit and enjoy.
Difficulty Level- Easy
Distance- 2 Miles
Tip- Early visits to this place will reward you pretty unforgettable sights.
7) Lambert Dome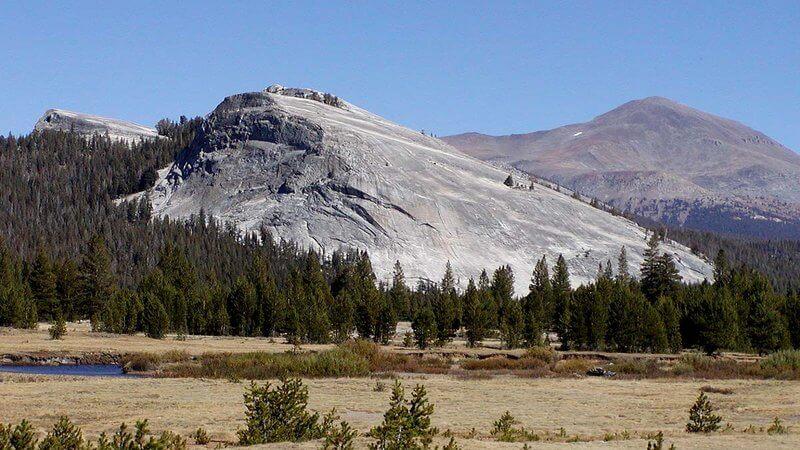 Image Source: Wikimedia Commons
With splashing views of calm grey waters, long stretches of alpines spread throughout the entire valley, yellowish green meadows donning the slightly wet site of Lembert Dome, it is safe to say that this is what nature is at its best! A climb to the Lembert Dome will let you have a sneak peak in the varied landscape of the surrounding without actually having you wandering out.The Tuolumne meadows can be best seen from here along with all the popular hilltops and trees.
Trail- Can be best visited via Tioga Road.
Difficulty Level- Easy
Distance- 2.8 Miles
Tip- Put a lot of sunscreens and keep plenty of food with you.
10) Mariposa Grove of Gaint Trees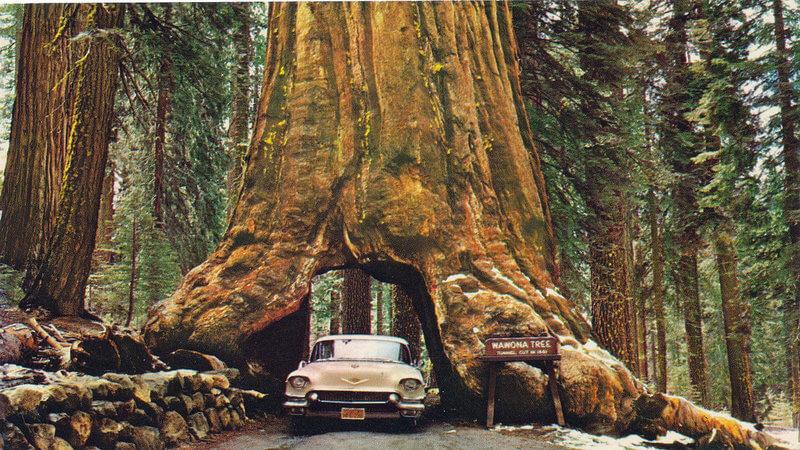 Image Source: Wikimedia Commons
You all must have heard stories of Mariposa- a girl who lives amid the giant flowerbeds in an unknown utopia, but here in Mariposa Grove, you can actually witness one! The only difference being the large sequoia trees instead of giant flowerbeds. The Mariposa grove is the largest grove of Giant Sequoias in the Yosemite and is as old as 300 years. Yes, it is that old, but none the less charming and intriguing.The Wawona point near the place tends to offer the best views of Wawona Valley. All in all, it is a nice place to visit and indulge in some nice pic clicking sessions.
Difficulty Level- Medium
Distance- 2.2 Miles
Tip- Hiring a shuttle bus in the peak season will let you navigate to the groove easily.
11) Experience Bliss at Bridalveil Fall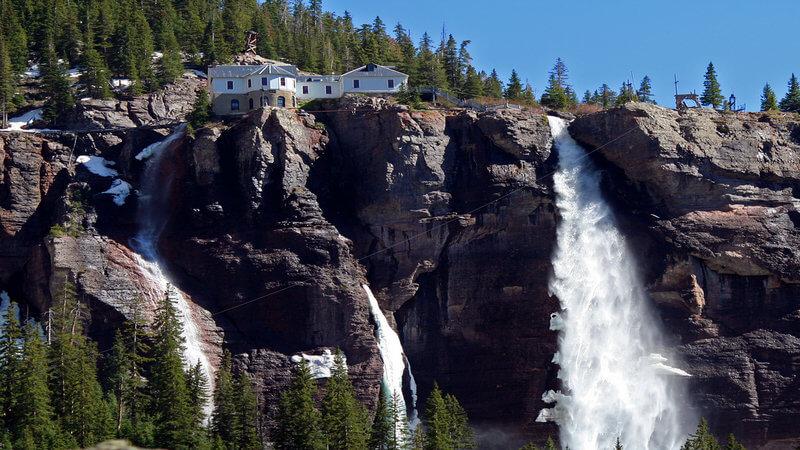 Image Source: Wikimedia Commons

There is no doubt that Yosemite is one of the most exotic and naturally blessed areas in the world. With the abundance of beauty and charm, it is hardly a surprise to see it flocked with people who come here to witness its splendid waterfalls that come alive in spring. One such waterfall is the Bridalveil Fall. While the Bridalveil is not the highest in the area (620 feet), what it lacks in height, it makes up for in beauty. The misty hues that surround the place as it showers you with captivating vistas creating a veil like a phenomenon while earning itself its unique name. A splendid stop at its base will leave you with plenty of jaw-dropping views to see and feast on.
Trail- The trail can be mapped by a car. Parking is available although it tends to fill up in the peak season.
Difficulty Level- Easy
Distance- 3 Miles Roundtrip
Tip- Sturdy Footwear will help you in a long run on these plains. They are very slippery.
Hiking can be very enjoyable if you know exactly where you want to go and what you want to do. With million options available, this hiking paradise will certainly won't disappoint you on that!
You may also like to read:
Most Dangerous Hikes Around The World
6 Places To Hike Around Los Angeles