10 Best Hiking Trails in Germany
* Disclosure: This post may contain affiliate links, which means we may receive a commission if you click a link and book something (there is never any extra cost to you for using these links).
Abundant with natural beauty, Germany is one of Europe's most sought after hiking destinations, for more reasons than one. Its vast geographical expanse contributes to the whopping 200,000 kilometers of exclusive hiking opportunities! A delightfully moderate climate through the year means you can just get up and go when the adrenaline starts nudging. While spring sees lots of flower blossoms, autumn has its share of a panoramic foliage, nevertheless making for one great hike for everyone alike.
Listed here are 10 best hiking trails in Germany, that will leave you invigorated!
1. Painter's way Germany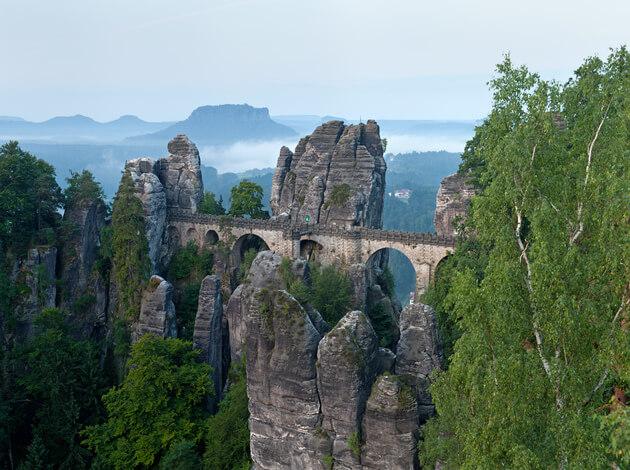 Image source:wikimedia.org
Also, referred to as the Malerweg trail, the Painter's way Germany is essentially an ancient erosion landscape in Germany. Deriving its name from several painters who found inspiration in the mountains and pathways of this trail, this 112-kilometer trail is full of sweeping pleasure. As you hike this well-marked trail, you will encounter gorgeous paintings, to leave you in awe of Elbe Sandstone Mountains' dense natural beauty. The varying stages of the hike make it suitable for all kinds of hikers.
Difficulty level: Easy to difficult
Distance: 112 kilometers
Tip: Carry basic hiking gear
Create your itinerary with TripHobo! Its fun, free and the best way to explore the destination of your choice, your way!
2. Garmisch Partenkirchen Germany hiking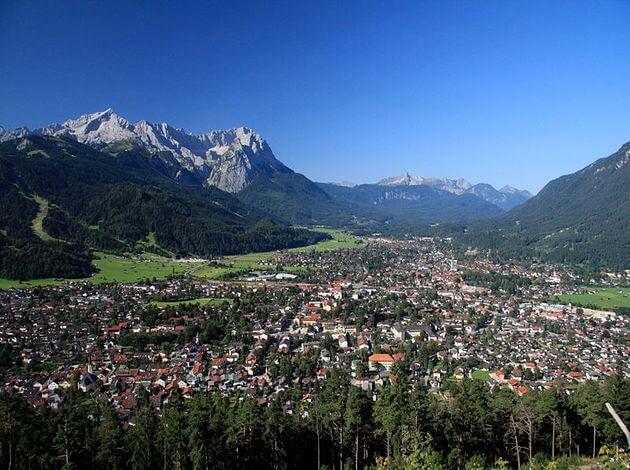 Image source:wikipedia.org
Accommodating several hiking trails, the Garmisch Partenkirchen Germany hiking is a plethora of enjoyable paths and craggy Bavarian Alps. As you begin the hike passing quaint alleys and colorful houses, you know this is bound to be a good hike. Whether you want something pleasant like walking up to a lake and dipping your feet in its waters or more adventurous and adrenaline-rushing, Garmisch-Partenkirchen Germany hiking has it all. And if you don't want to exclusively hike, the trail also features some fun activities like paragliding, golf, water sports, Segway and more, subjective to the season.
Difficulty level: Easy to difficult
Distance: 300 kilometers
Tip: Perfect for weekend getaways, with many accommodations in the area
3. Mittenwald Germany hiking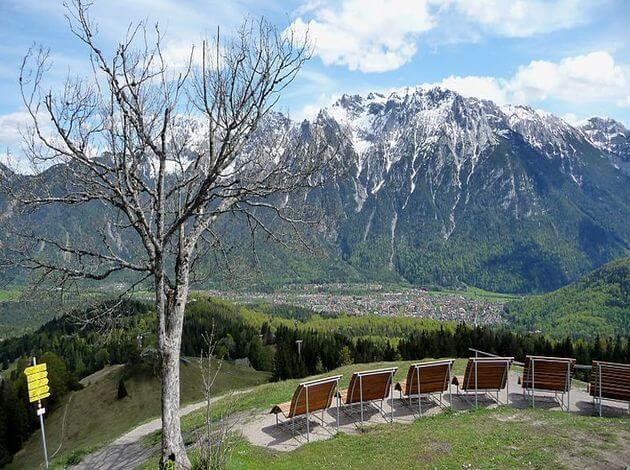 Image source: wikimedia.org
A popular ski destination in Germany, Mittenwald's grounds beautifully transform to spectacular hikes come spring and autumn. Not like the cross-country ski trails are any less of a satiating hiking experience. This quaint Bavarian town is a buzzing tourist destination owing to the brilliant ski trails. The theater-like seating at Hoher Kranzberg steals the show of the hike! To start your hike, Parkplatz Hoher Kranzberg is an ideal point.
Difficulty level: Easy to difficult
Distance: 13 kilometers
Tip: Visit during winters for some skiing adventure
4. Black Forest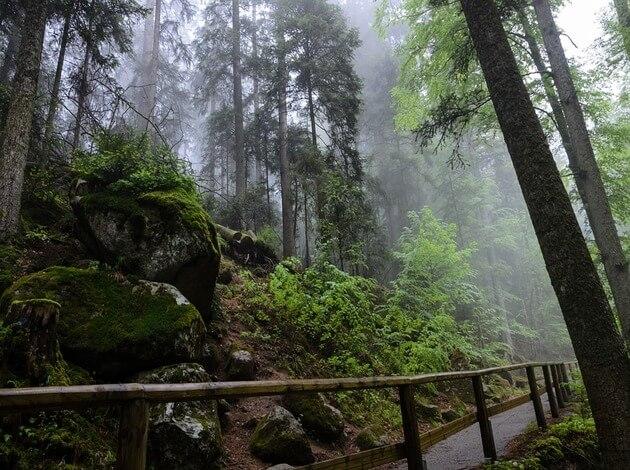 Image source: pixabay.com
It is here, in the Black Forest, that hiking in Germany first begun, apparently. Home to three of Germany's most popular hiking destinations- Westweg, Mittelweg and the Ostweg, Black Forest is hands down one of the best hiking trails in Germany. Apt for relaxing hikes amidst awakening nature as well as solitude offering paths, this trail has been a constant winner. As you make your way through the dense trails, you will come across several ruins like the Alt Schloss or Old Castle. In all, hiking in black forest entails traditional farms, remains of castles, and well-marked colorful paths.
Difficulty level: Easy
Distance: 200 kilometers
Tip: Do not miss a pit stop for quick a bite revering the beautiful adjoining vistas
5. Berchtesgaden Germany hiking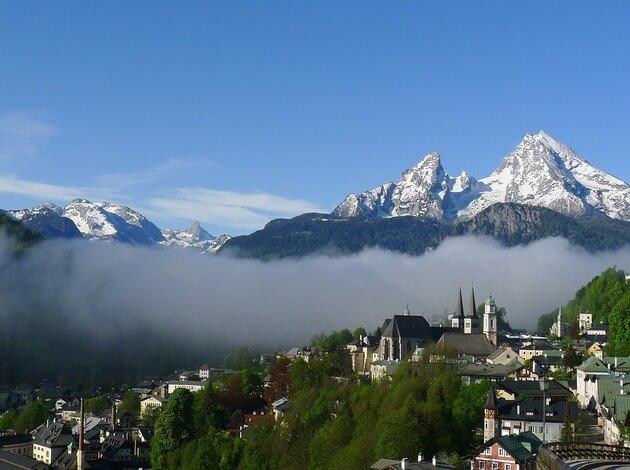 Image source: maxpixel.freegreatpicture.com
Trading towards to awe-inspiring mountain lake, Konigsee the Berchtesgaden trail comprises of flexible difficulty levels. The hike is also popular as the Schönau am Königssee Germany hiking trail. A great option to the stupendous, yet overly crowded Salzburg, Berchtesgaden is abundant with hiking opportunities. Most of its attractions like the Hitler's Eagles Nest, Jennerbahn Mountain, Watzmann Mountain and the Wimbachklamm Waterfalls require you to hike up a certain distance, promising you an absolutely unique experience!
Difficulty level: Easy to moderate
Distance: 4 kilometers
Tip: Look out for the gorgeous species of birds and animals at the Berchtesgaden National Park
Must Read: 10 Stunning Villages In Germany
6. Chiemsee hiking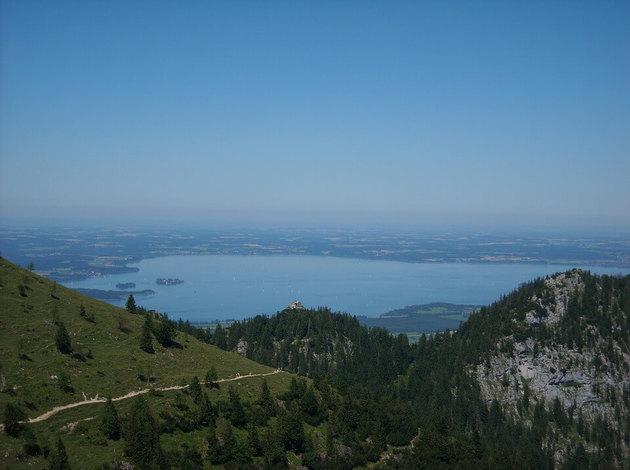 Image source: pixabay.com
Prien am Chiemsee is one of the best hiking trails in Germany given its terrific features! Apart from the breathtaking Chiemsee lake, this trail boasts of charming countryside routes. You can choose to either walk or jog this landscape, followed by some refueling at the many beer gardens and pubs here. Bear in mind that there are two routes to the lake, with varying difficulty levels. For more information on the same, you can check the official website of German hiking association.
Difficulty level: Easy to difficult
Distance: NA
Tip: The beer gardens are a must-visit!
7. El Camino de Santiago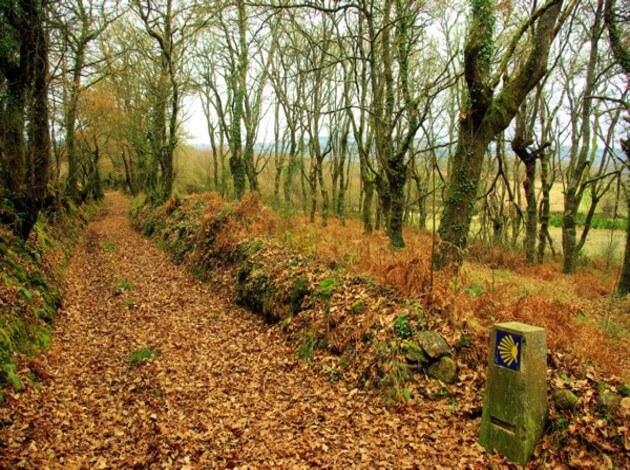 Image source: wikimedia.org
The El Camino de Santiago trail, a once pilgrimage route expediting towards the holy tomb of Apostle St. James in Spain is a rather interesting trail. As you trade this path, you will witness several scallop shells marked with a characteristic sign, signifying its being as one of the thirty routes leading to the monumental tomb in Spain. What amplifies the significance of this trail is the trails ability to make the western part of Europe meet with the eastern, along with being the longest one to do so!
Difficulty level: Easy
Distance: 804 kilometers
Tip: Use lots of sunscreen as there are several uncovered patches en route
8. Lilac bloom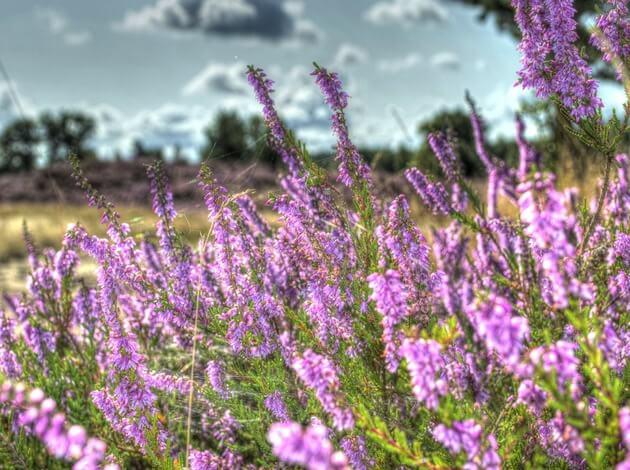 Image source: pixabay.com
If you seek beauty in flowers or the spring season when the earth just becomes a little more beautiful the Lilac bloom at The Lüneburg Heath will have you mesmerized. As if walking through heaven, you will happenstance fellow hikers basking in the awe of this fabulous trail that is no less than a wonderland. Perched in the northern part of Germany, this place is also home to the moorland sheep or Heidschnucken. The magnitude of this trail lies in the fact that it connects Hamburg and Celle.
Difficulty level: Easy
Distance: 223 kilometers
Tip: Don't forget your camera for a ton of photo opportunities
9. Eifel Trail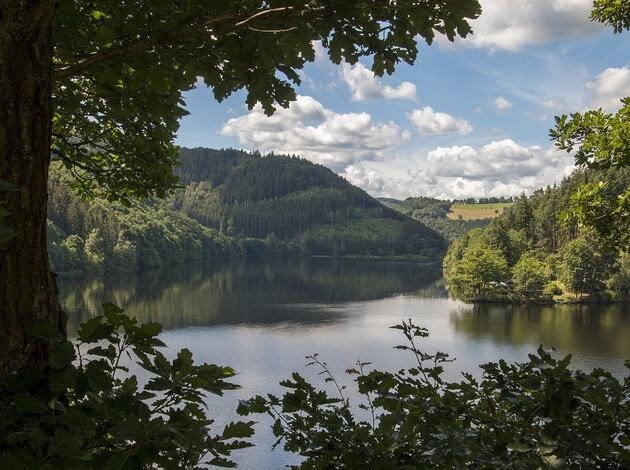 Image source: pixabay.com
Taking through diverse landscapes of waterbodies, plains, and forests the Eifel Trail has a motto that goes, "Where rock and water accompany you"! Now if this does not get you going, the wild daffodils blooming through the spring and the aroma of warmly fragrant herbs surely will. Out and about wilderness this indeed one of the best hiking trails in Germany. Billeted in the Eifel National Park this trail is in fact much more than just a hike!
Difficulty level: Moderate
Distance: 313 kilometers
Tip: The 86-kilometre Wildnistrail is the best bet on this route
10. Rheinsteig hiking trail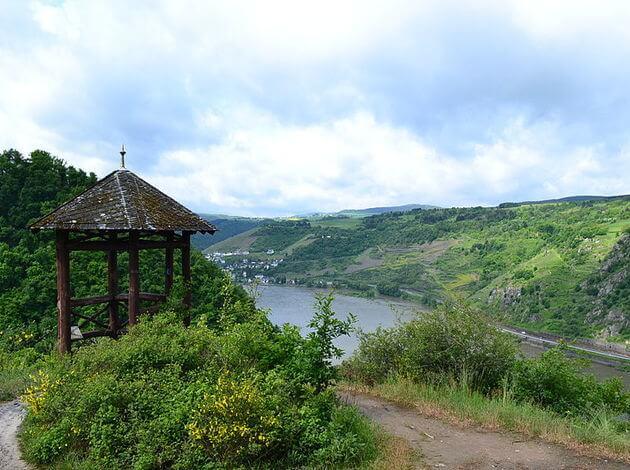 Image source: maxpixel.freegreatpicture.com
And last but not the least, the trail often referred to as the "Grand Canyon of Romanticism", the Rheinsteig hiking trail offers you the opportunity to explore the grounds of the Rhine Valley. Stretching at a distance of 320 kilometers, you can choose where you want to begin and end the hike, given its well-marked routes. However, bear in mind that this hike requires a considerate amount of fitness and endurance.
Difficulty level: Moderate to difficult
Distance: 320 kilometers
Tip: the vineyards en route, are great for a pit stop
A hike to any of these is sure to set you in the right mood for the coming days!
Featured image source: wikimedia.org