10 Best Hotels In Dubai To Stay
* Disclosure: This post may contain affiliate links, which means we may receive a commission if you click a link and book something (there is never any extra cost to you for using these links).
Dubai's popularity as a shopping and tourism hub has grown more fiercely over the years than probably a barrel of wildfire under the King's Landing. With its lavish malls, ever-rising infrastructure and availability of all brands under the sun, Dubai has created a niche for itself in the tourism world. The trend of various movies like Fast & Furious 7 and Mission Impossible 4 have also aided in increasing this constant buzz.
Now, if you are planning on touring the 'City of Gold' very soon, then just go through this list of some of the best hotels in Dubai for families and couples alike which will prove to be very affordable but will pamper you with all possible luxuries:
1. Al Khoory Executive Hotel, Al Wasl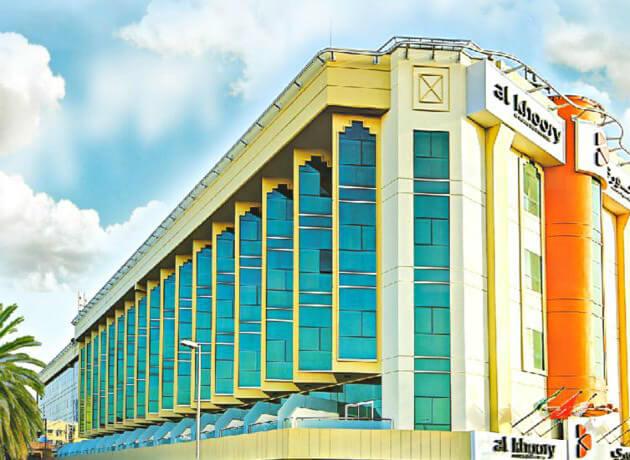 The Al Khoory Executive Hotel is located on the fabulous Al Wasl road close to several prominent landmarks. All major attractions are just a short walk or a small drive away. The in-house restaurants cater to almost all type of cuisines, ranging from delicious breakfasts, snacks to lavish dinner spreads. Also, a close proximity to Dubai International Airport makes this hotel very convenient for a stay.
Nearby Attractions: Burj Khalifa, Dubai Mall, Dubai Zoo, Jumeirah Public Beach and Wild Wadi.
Price for 2: Starts from 88 USD
Explore : Dubai Itinerary 5 Days
2. Centro Barsha - by Rotana
If shopping is the primary reason for your visit to Dubai then the Centro Barsha is the perfect fit for you. It is located in the Al Barsha neighborhood which is famous for clothes and luxury brand shopping. The metro station is hardly a few hundred meters from the hotel, thus making accessibility simple. The hotel has a rooftop terrace and pool which will help you get that perfect tan you were looking out for.
Nearby Attractions: Ski Dubai, Wild Wadi, Madinat Jumeirah, Palm Islands Jumeirah
Price for 2: Starts from 120 USD
3. Premier Inn Dubai International Airport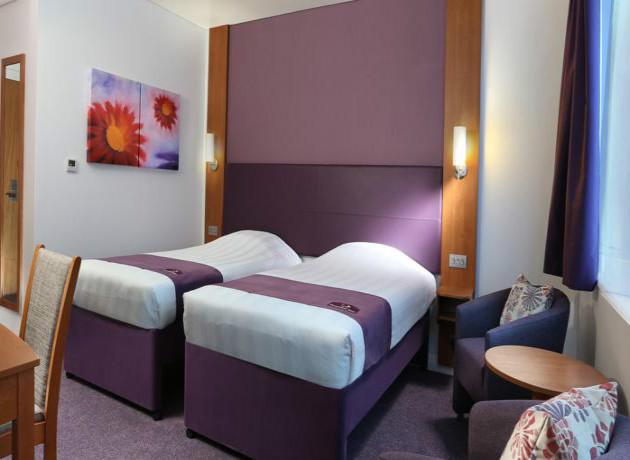 The Premier Inn Hotel in Garhoud can probably be considered as one of the best hotels in Dubai, closest to the Dubai International Airport. The airport is in fact just a 5-minute drive from the hotel, so you never have to worry about missing out on your flight. And if you are worried that the city will be inaccessible, be relieved to know the hotel runs a free shuttle service to all popular attractions in the city.
Nearby Attractions: Al Bastakiya Quarter, Gold Souk, The Dubai Mall
Price for 2: Starts from 107 USD
4. Rove Downtown Dubai
The Rove Downtown Hotel is located bang in the centre of Downtown Dubai. This location makes it perfect for experiencing Dubai in its full splendor. The world's second largest shopping centre, the Dubai Mall is a short walk away, there are great shopping outlets and eateries in the Downtown area and even the hotel boasts of a great restaurant cum café called The Daily Downtown Dubai. The best part is the splendid view of the Burj Khalifa from the rooms.
Nearby Attractions: The Dubai Mall, Souk Al Bahar, Burj Khalifa
Price for 2: Starts from 93 USD
5. Arabian Park Hotel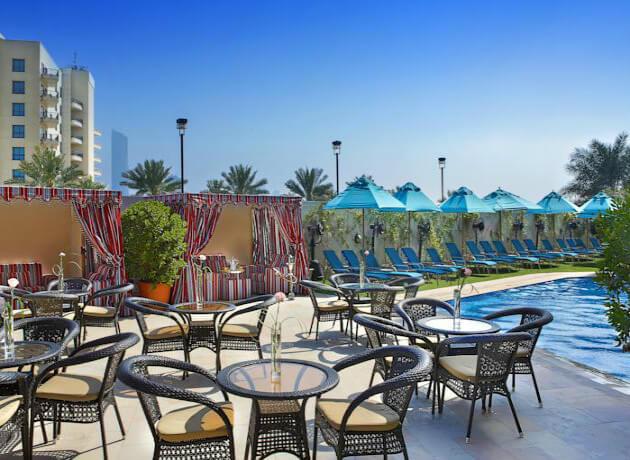 The Arabian Park Hotel is an excellent choice for tourists who don't want to spend too much on their accommodations, but still would like to enjoy all the basic amenities. The spacious rooms come with over-sized balconies providing splendid views of the magical Dubai city. Complimentary shuttle services are also available for a variety of popular attractions for you convenience.
Nearby Attractions: WAFI Mall, Al Bastakiya Quarter, Souk Al Bahar, Dubai WTC
Price for 2: Starts from 58 USD.
6. Novotel Suites Dubai Mall of the Emirates
If affordable luxury is what you are after, then it does not get any better than the Novotel Suites in the Al Barsha area. The area is synonymous with luxury brands and shopping outlets for clothes. The rooms are excellently furnished and boast of a number of state-of-the-art amenities. An in-house library and games room are also available.
Nearby Attractions: Mall of the Emirates, Wild Wadi Water Park, Ski Dubai
Price for 2: Starts from 120 USD
7. Radisson Blu Hotel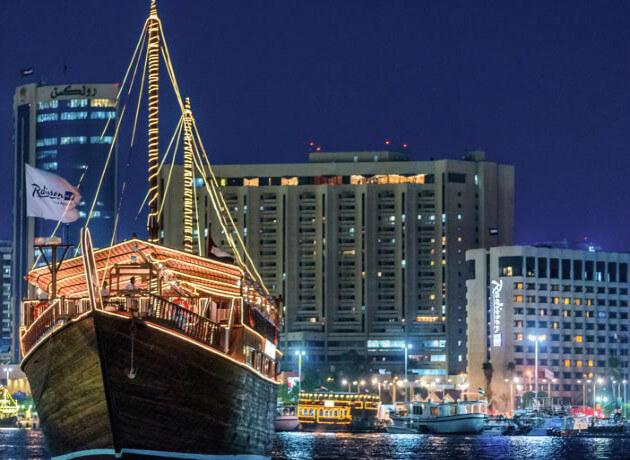 The ultra luxurious Radisson Blu Hotel is located in the busy business and leisure neighborhood of central Deira. The excellent location of this property ensures stunning views of the Dubai Creek from the rooms. You can find almost all popular international brands in the vicinity, which makes the location ideal for shoppers. The hotel apart from providing lavishly furnished rooms also has live music with cocktails and even dinner cruises are served on a traditional Arabic dhow boat.
Nearby Attractions: Dubai Deira Creek, Gold Souk, Fish Roundabout, Al Fahidi Fort
Price for 2: Starts from 151 USD
8. Grandeur Hotel Al Barsha
The Grandeur Hotel is very centrally located in Dubai so that it is easily accessible to the Dubai Free Zone, fabulous shopping malls and various top-notch beaches. The well-done rooms come with marble furnishings and various in-house restaurants are suited to fulfill all of your culinary demands. The best part is that the hotel also features live music and performances by artists specially flown in from India!
Nearby Attractions: Wild Wadi Water Park, Ski Dubai, Madinat Jumeirah, Public beach
Price for 2: Starts from 95 USD
9. Atana Hotel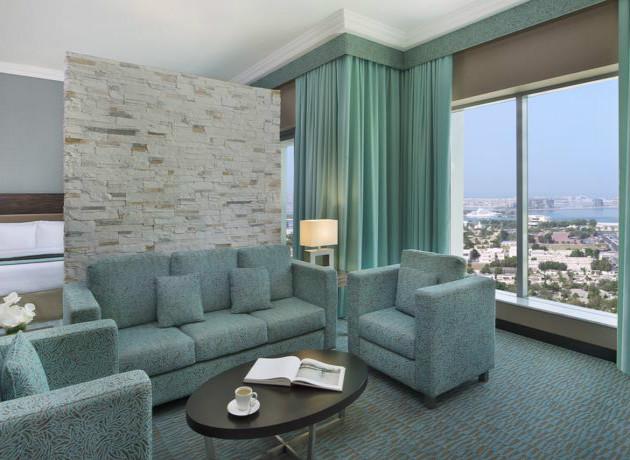 The 4 star Atana Hotel is at a superb location for those looking out to explore the shopping avenues and beaches of Dubai. Inside the hotel, the staff ensures that all the guests are well pampered and taken care of. With the well-furnished rooms, complimentary shuttles and a variety of in-house restaurants, your stay here is bound to very comfortable. At this rate, the Atana Hotel is one of the best hotels to stay in Dubai!
Nearby Attractions: Dubai Marina, Jumeirah Beach, The Palm Jumeirah, Dubai Internet City
Price for 2: Starts from 109 USD
10. Flora Al Barsha
Located on the popular Sheikh Zayed Road, the Flora hotel is as marvelous from the inside, as it looks from the outside. All major attractions and landmarks are commutable on foot. The rooms are spacious, have a royal view and the great in-house restaurants serve a number of mouth watering dishes. A Moroccan bath is also present in the property.
Nearby Attractions: Jebel Ali Free Zone, Jumeirah Beach Residence, Dubai Miracle Garden, Global Village
Price for 2: Starts from 116 USD
Here is a sample itinerary that you can follow during you stay here if you want some ideas for things to do in Dubai! Check and follow this one out or just make a brand new one for yourself! The choice is all yours!
So wait no more! Plan your grand Dubai Trip as soon as you can! If we have missed out on any other great hotels in Dubai, then do tell us by writing in the comments section below!