10 Spectacular Hotels in Kashmir
GRISHMA RAJ
UPDATED Aug 08, 2017
8.8K Views
Touched and nourished by Mother Nature herself, Kashmir is one of the most exotic places in the world to get lost in the bliss of nature. The beautiful scenery and mildly astonishing weather are fit for the kings, and promises a royal feeling like no other. Being a tourist magnet for years together, this place is filled with hotels and resorts to welcome guests and pamper with best of amenities. Here are the top ten hotels in Kashmir for you to stay in making your Kashmir vacation a top notch experience that you will cherish for life!
10. Saboo Resorts

Image Source: Booking.com
When you feel like setting your soul free by taking a leisurely walk in the villages of Leh in Kashmir, or just lie under the sky watching the stars, Saboo Resorts offers you the tranquillity and peace! Built under the concept where tradition and luxury meets, Saboo Resorts offers you a lot of activities and a luxurious stay.
9. Royal Dandoo Palace of Houseboats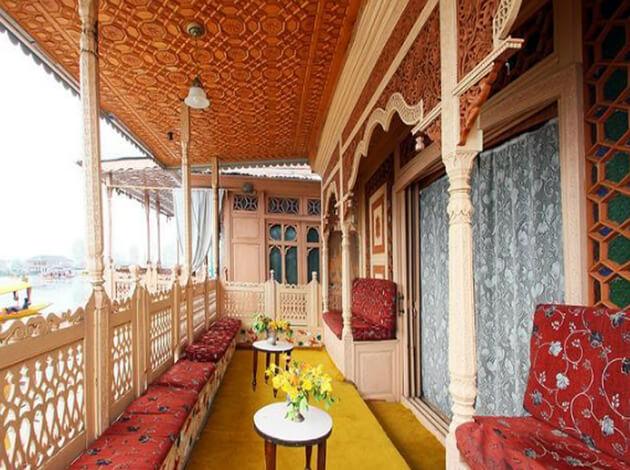 Image Source: Booking.com
How about spending your vacation in a floating palace? Immerse yourself in the resplendent beauty of the Dal Lake while enjoying royal comforts. The lapping waters and the swaying of the boat will serve as the sweetest lullaby that puts you to sleep at night. Located at Nehru Park, Dal Lake Srinagar, The Royal Dandoo Palace of Houseboats is an excellent choice to spend your vacation in Kashmir.
8. The Vintage Gulmarg

Image Source: Booking.com
If you are a person who loves elegance and luxury, then The Vintage Gulmarg is your obvious choice! Nestled amongst the Himalayas in Gulmarg, The Vintage Gulmarg impresses with its state of art interiors, its rich heritage, and fabulous facilities. Once you are at The Vintage Gulmarg, replenish yourself at their spa which offers a wide range of services to suit your needs.
7. The Lalit Grand Palace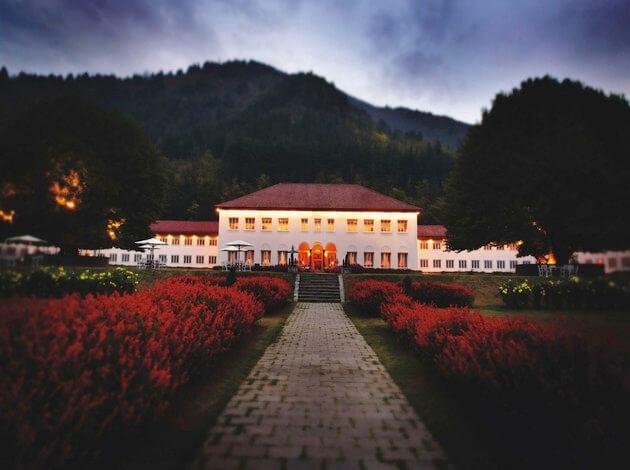 Image Source: Booking.com
Waking up to the breathtaking view of the Dal Lake tops in the checklist of to-do's while vacationing in Kashmir. The Lalit Grand Palace is just a few minutes away from the airport and is easily accessible to tourists. Experience luxury at its finest in this beautifully restored palace of Maharaja Pratap Singh.
6. Bloomingdale Hotel

Image Source: Booking.com
Relish the beauty of the Kashmir Valley at its finest at a place that is a home away from home! Bloomingdale Hotel is located centrally in Srinagar and is just a two-minute walk from the Dal Lake. Bloomingdale offers you a highly personalized service making you feel at home without compromising a bit on your privacy!
5. Hotel Grand Mumtaz- Srinagar

Image Source: Booking.com
Are you looking for a hotel that offers you the best accommodation, food and other amenities all at one place? Then Hotel Grand Mumtaz- Srinagar is tailor made for you! With well-appointed deluxe, executive and presidential suites, this hotel has nothing but the best to offer. Located in a prime area in Srinagar, Hotel Grand Mumtaz is indeed a place to be!
4. Forest Hill Resorts

Image Source: Booking.com
Located in a scenic location of Pahalgam, Forest Hill Resorts has the best comforts of home and opulence in one place. The standard and deluxe room caters to all your in-house needs and offers a scenic view of the surroundings for you to sit back and relax. Come along with your family and spend a splendid vacation amongst the snow capped mountains!
3. Khyber Himalayan Resort & Spa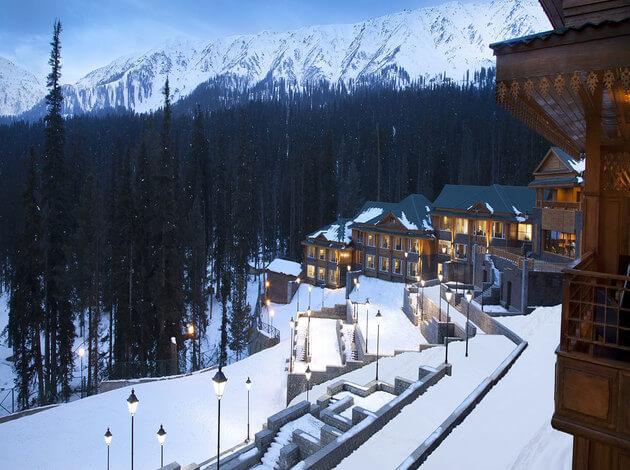 Image Source: Booking.com
Located at a walkable distance from Gulmarg Gondola ropeway, The Khyber Himalayan Resort & Spa is a spectacular place to stay! Adorned with the art and architecture of Kashmir, this luxury resort is a haven for tourists who love to learn more about the Kashmiri culture and lifestyle. Khyber Himalayan Resort & Spa, in short, offers you attractive rooms to stay, delicious food to relish and a fully equipped spa to refresh!
2. Hotel Mirage

Image Source: Booking.com
Right at the heart of the city, Hotel Mirage is strategically located to be easily accessible from the major tourists spots in Srinagar. This exquisite hotel is a family friendly place which provides enough comforts for a memorable stay. The unique things about the stay is that it is to the best of your comfort at an affordable price. One can savour in lip smacking kashmiri in the backdrop of the hotel's amazing lawn.
1. The Heritage By Heevan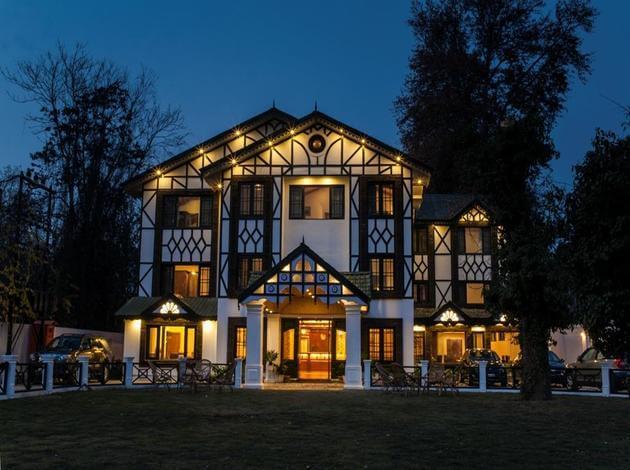 Image Source: Booking.com
Enjoy your stay in a place that is a perfect blend of artistic excellence of Kashmir and modern aesthetics. Just 15 minutes away from the airport, The Heritage Heevan is located at Shivapora BB. Cantt, a centrally located area in Srinagar. Make your stay comfortable and rejuvenating with tastefully decorated rooms at The Heritage Heevan. The brilliant facilities and the incredible ambiance ensures a memorable stay with an aim to bring back the guest every time they visit the enchanting Kashmir.
Truly ethereal, aren't they? Well, choose your best from the above hotels and flock to the paradise where nature lures mankind with its utmost beauty!
Also Read:
Places to visit in Jammu and Kashmir