25 Best Indian Souvenirs That You Must Buy!
* Disclosure: This post may contain affiliate links, which means we may receive a commission if you click a link and book something (there is never any extra cost to you for using these links).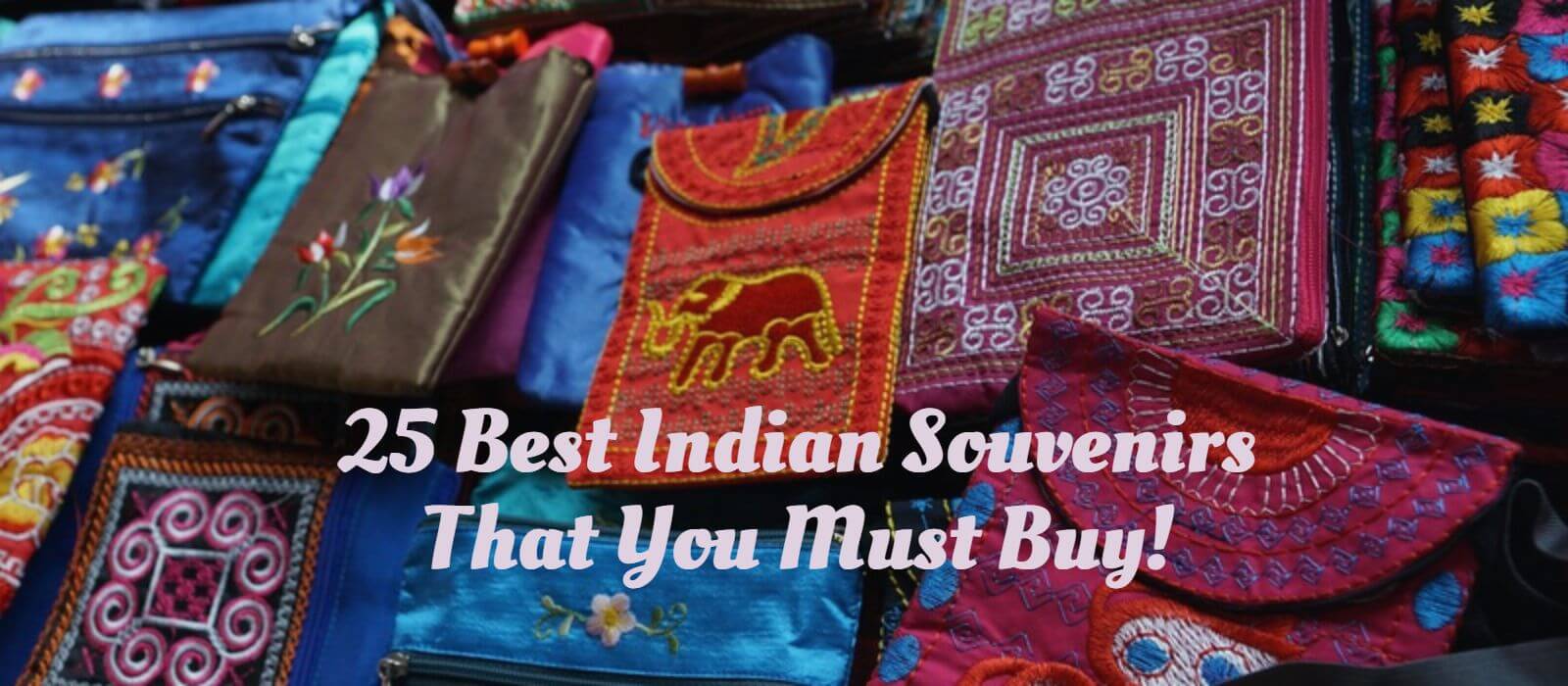 When you visit India, a riot of colors, smells and sights welcome you. India has the ability to touch you and move you in a whole new way that you never imagined possible. How then, can you ever do justice to this magnificent land in the form of a few small Indian souvenirs?
In this blog, we listed the best souvenirs from India that make excellent gifts for your friends and family. These products are native to India and are difficult to find anywhere else in the world.
1. Indian Spices
Nowhere in the world do spices smell so fresh and aromatic as in India. There are lot of spices you will find but to name a few you can look out for Clove, Curry powder, Saffron, Ajwain, Fenugreek, Cumin, Cardmom, Tamrind powder and many more. Kerala still produces the best whole spices in the world and it will be a shame if you didn't take some back with you. Check out list of The Commonly Used Indian Spices
Tip: Spices stay fresh for a long time if stored well.
2. Indian Pickles
Indian pickles are spicy, tangy and sweet all at the same time. In every state of India you will find different variety of Pickles. You can buy from cucumbers pickles to chicken pickles while in India. This is unique food souvenir you can take with you at very less price. Choose the pickles with proper packaging while buying. If packaging is leaked the oil in pickle could spoil other stuff from your baggage. Know are pickles good for you?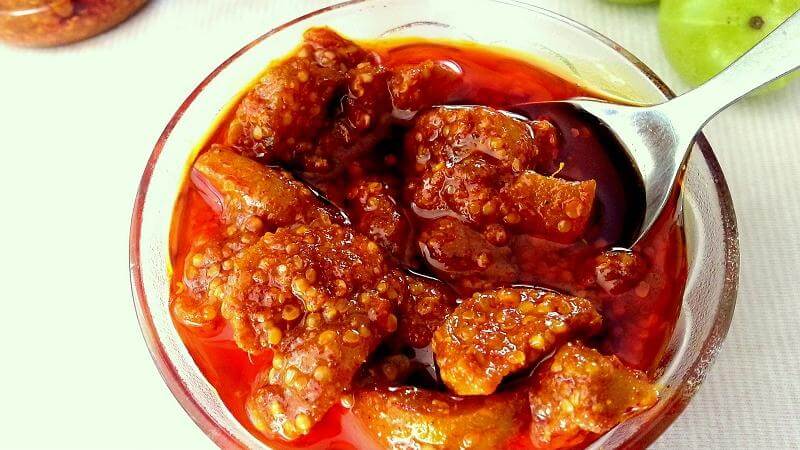 Tip: Check with your airline if they are allowed entry in your country.
3. Tea Powder
You've loved Indian tea since before you visited India. Here is your chance to replicate it at home. Buy the spice powder that is usually used in making tea by most households in India. A great way to tread through a winter day!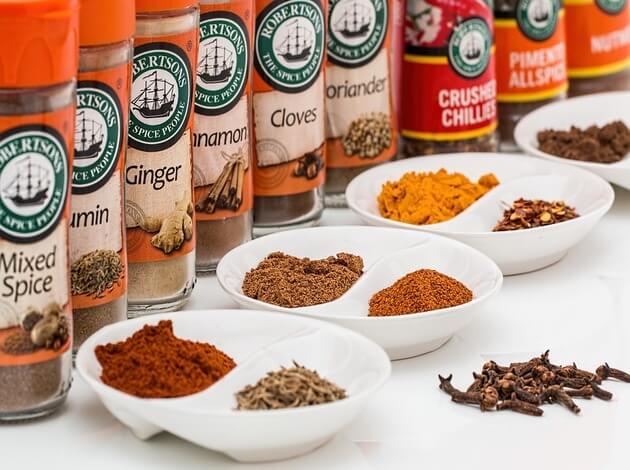 Tip: Checkout the various brands of tea available. You can choose the one that smells the best to you.
Try this: Authentic Recipe to make the best tea
4. Indian Sweets
Indian Sweets are nothing like the desserts you will try in any other part of the world. From mango to pistachio to cottage cheese, they are made of many ingredients and the variety you find here is simply baffling. Take home a box of authentic Indian sweets as the perfect, inexpensive gift for your friends. Region-wise List of sweets in India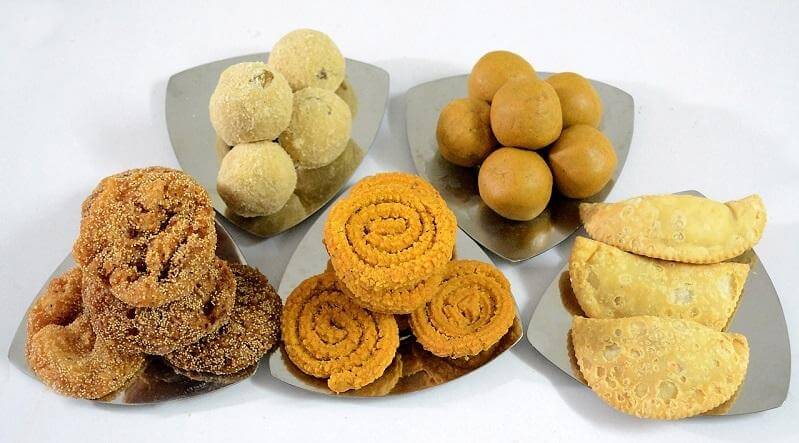 Tip: Buy sweets that have high shelf life, like the ones made of cashews.
5. Ayurvedic Products
Ayurveda needs no justification. It has cured small to big diseases for millennia and draws its knowledge from ancient scriptures. Take along some ayurvedic products for your hair, skin or body. There are different herbs, Shampoos, soaps, incense sticks, room fresheners, scents which you can buy. Here are some Ayurvedic product gift ideas.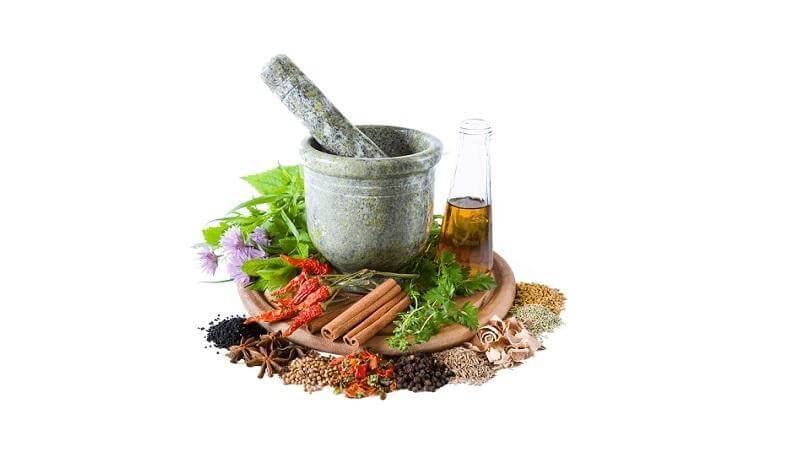 Tip: Check with your dermatologist if you suffer from any allergies.
6. Saffron and Walnuts
The spices of saffron and nutrient-enriched walnuts are the perfect souvenirs every tourist should buy from Kashmir. This goodness of Kashmir is also great when it comes to giving Indian gifts for foreign friends. This last for long duration so you can buy more if you like it.

7. Pashmina Shawls
Popularly known as cashmere in the rest of the world, Pashmina is the fabric woven in the cold environs of Kashmir. The warmth brought about by this fabric is unbeatable, and so is its softness. This is an inexpensive traditional Indian souvenir foreigners buy when in India. You may find cheap replicas of this fabric in the world, but Kashmir still holds the patent for the most authentic Pashmina shawls.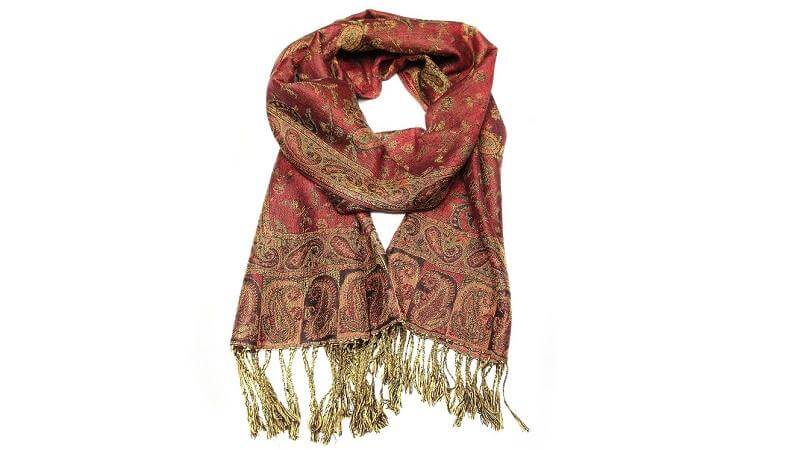 8. Paithani Silk Saree
Though India is home to hundreds of different types of hand-woven sarees, hand-woven Paithani is the best souvenir for wedding. Paithani sarees from the town of Yeola, Aurangabad will steal your heart with its vibrant kaleidoscope-colored designs. Buy this lovely traditional Indian gift and carry the vibrant essence of the country back home. How to identify original Paithani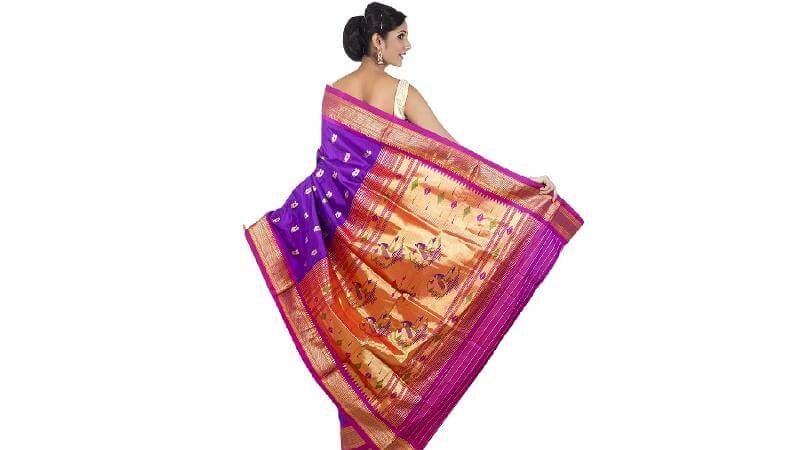 Tip: Aurangabad, Yeola, Pune are the best places to buy Paithani Sarees.
9. Assamese Silk
Assam is very well known for its silk production. The fabrics are absolutely gorgeous and are often woven with gold and silver threads. Buy a scarf or a jacket made of Assamese silk to make an impression back home.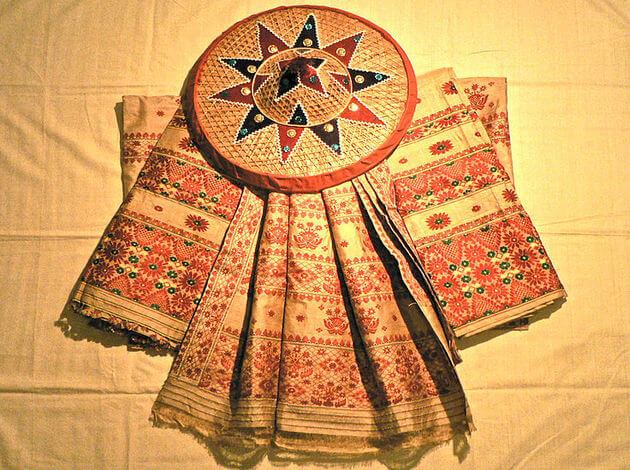 Tip: Buy some fabric and get your outfit tailored to your liking.
10. Indian Earrings
Indian gold markets have evolved over the centuries and are full of jewellery items that combine traditional and modern designs today. You can buy a pair (or two) of gold or silver of Kundan jewellery earrings. These are the perfect traditional Indian gifts that can suit all age groups.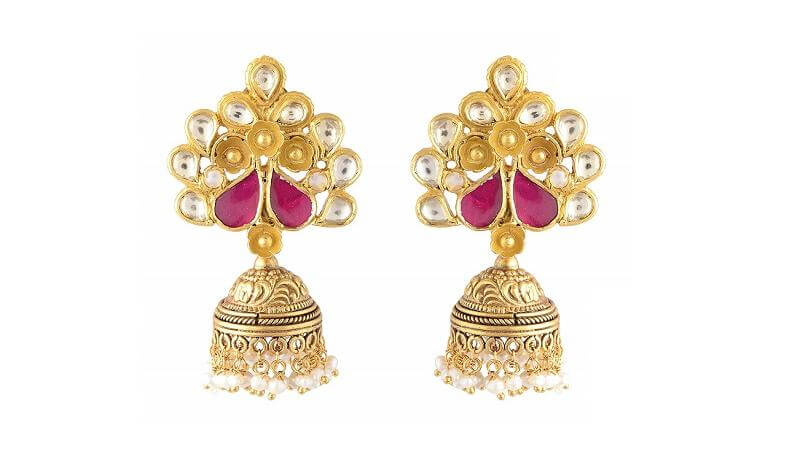 PC: Earings
11. Bangles
This traditional ornamental Indian Jewellery is a perfect Souvenir for women. Different types of bangles are easily available in different parts of India. Bangles are available in different materials from glass to Gold. Be a little careful while carrying glass bangles in your baggage.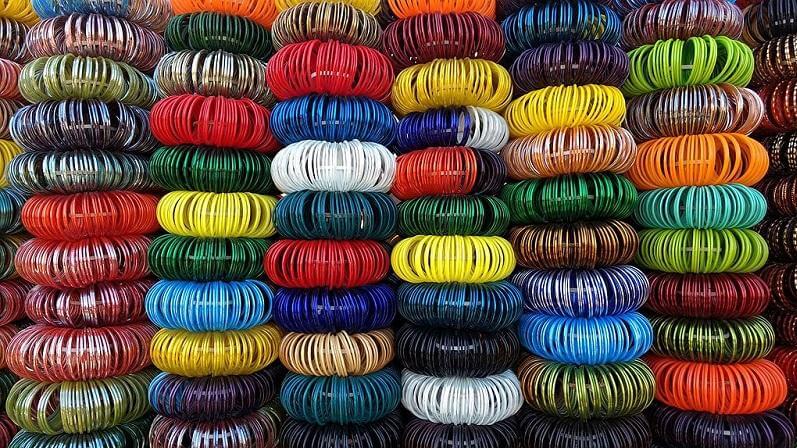 12. Pearls
Apart from diamonds, pearls also have a strong fascination for women all over the world. If you are looking for souvenir for girlfriend or loved ones Pearls are the best. You can either buy the pearls or various pieces of jewellery made using them. Know everything about pearls here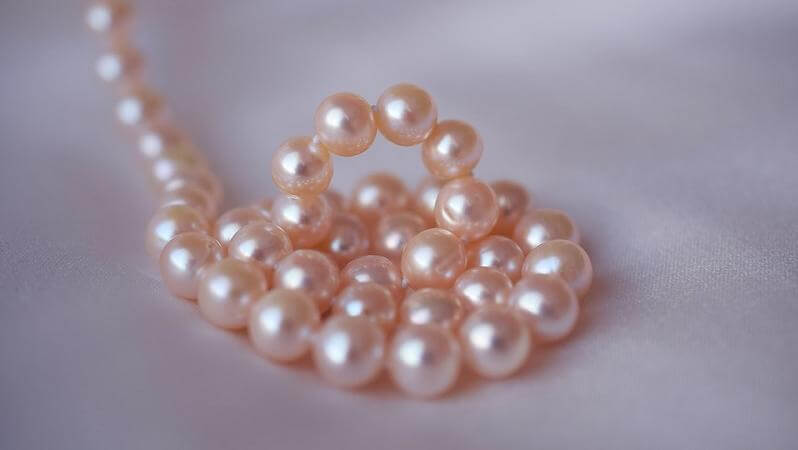 13. Mojari
Also called as Jutti or Nagra, the Mojari is a stylish footwear from north India, especially worn in the state of Punjab. If you have already bought a traditional Indian attire, match it with a colorful trendy mojari and complete the ethnic look. Mojari is one of the cool things from India that comes with great looks and comfort. Offer a handmade Panahi Punjabi Mojari to your friend, and it will be the best gift from India. The best and authentic ones can be found on the streets of Punjab or Dilli Haat.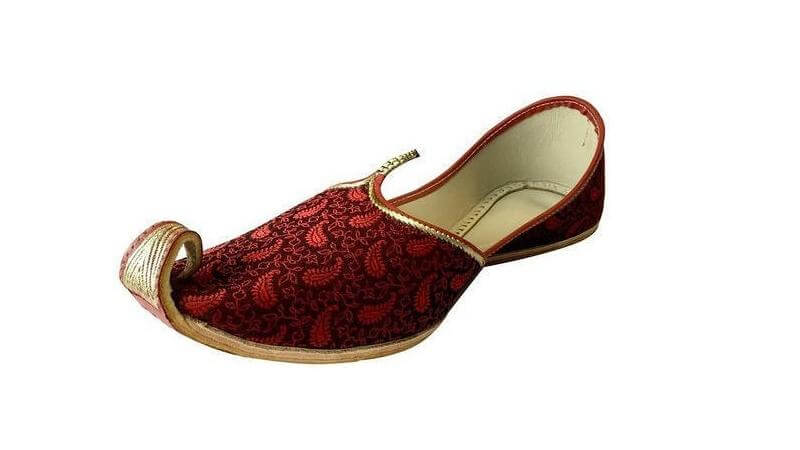 14. Indian Puppets
Kathputlis, as they are called, are incredibly cute and chances are that you caught a show or two of these on your visit here. They usually come in couples and make for great wall hangings. The best ones are from Rajasthan.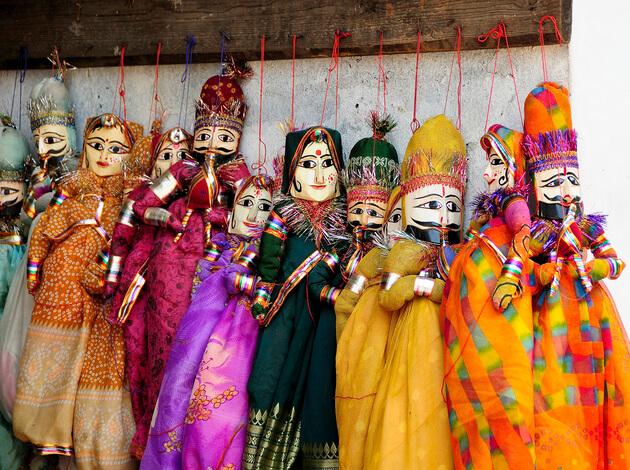 PC: Roberto Faccenda/flickr.com
Tip: They sell for very cheap on the street side markets in Rajasthan.
15. Kondapalli Toys
These colorful toys have been around for many years. The Kondapalli toys are made of wood and ceramic and have carved a niche of their own in the beaten souvenir market. They generally resemble gods or goddesses and are traditionally made by women during festivals.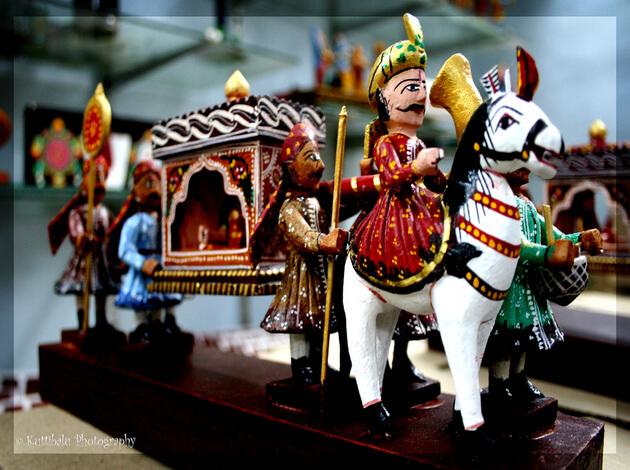 PC: Balamurugan Natarajan/flickr.com
Tip: Buy the bobble-head dancing women.
16. Sandalwood Carvings
When you are in Mysore or Kerala you will be tempted to buy Sandalwood carvings. These are easy to carry and beautiful Indian souvenirs. Demand for authentic carvings at these places in Mysore.
17. Dhokra Art
Expand your collection of artworks from the country by adding some Dhokra art products. These brass objects, often in the shape of animals and graceful figurines, are very catchy and exclusive to the tribal art of Jharkhand.
You will find Dhokra objects in the form of metallic animals, bowls or even religious images.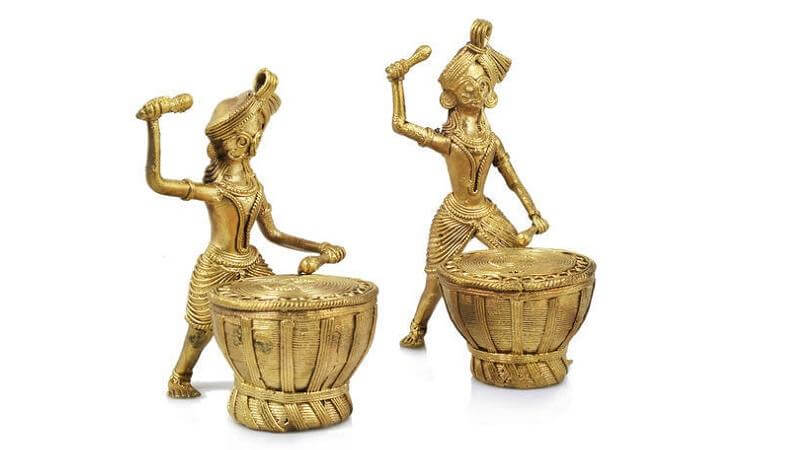 18. Bidri Items
Splurge in the gorgeous black and silver metalware made in the town of Bidar in Karnataka. These Bidri objects are perfect for gifting and can add a special glow wherever you place them. Each of the items are crafted by hand and cast a royal feel in any normal setting.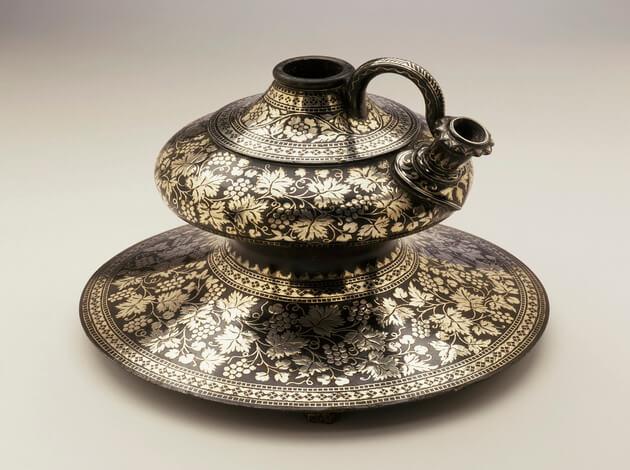 PC:Ashley Van Haeften/flickr.com
19. Tanjore Paintings
Dating back centuries, the Tanjore form of painting is intricate and rare. The vivid colors and glittering gold will remind you of all the temples and palaces you visited in India. You can buy small and big size Tanjore paintings in Chennai in Tamil Nadu and Kerala.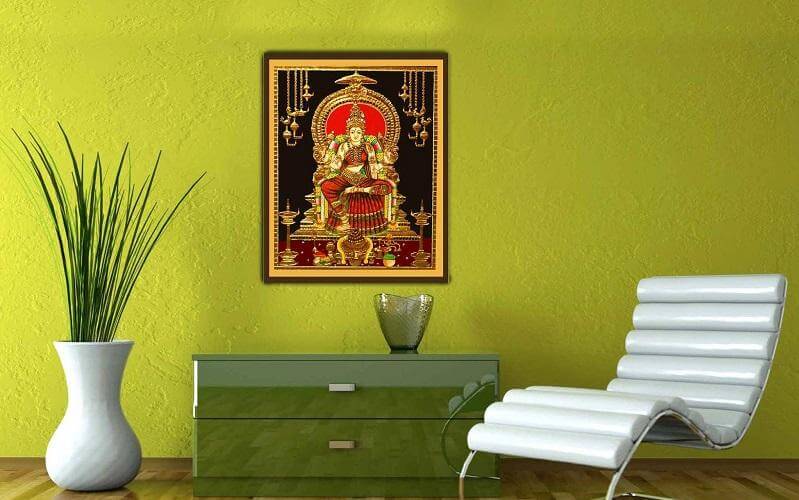 PC:Tanjore Paintings
Tip: Tamil Nadu is the best place to buy these paintings
20. Kutch Embroidered Cushions
The embroidery from the Kutch region of Gujarat is vibrant and detailed. These cushions will look vivacious against the backdrop of your monotone sofa back home. This is a very easy to carry gift and do not require a lot of space.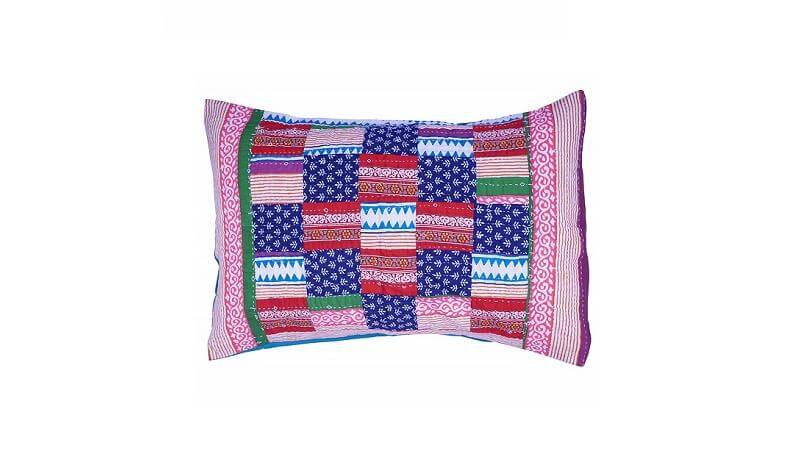 Tip: Buy from small boutiques rather than handicraft emporiums.
21. Handloom Carpets
Indian carpets are radiant, rich and way too cheap for something so pretty. There are a number of shops selling them and the competition only means that you will get a good bargain if you fight for it. You can opt for soft and foldable mats which are easier to carry.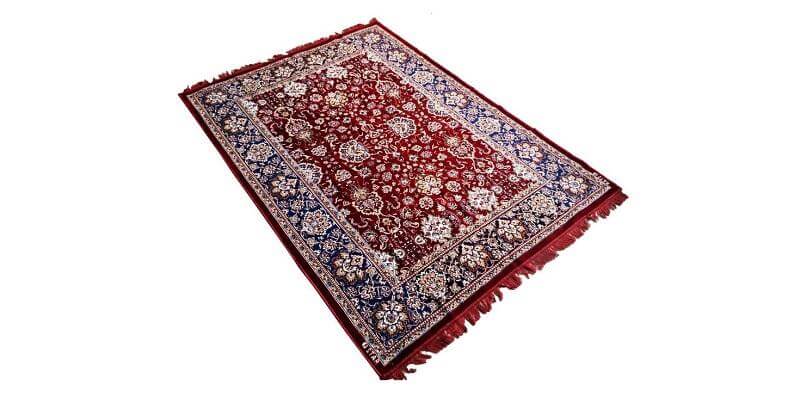 Tip: Buy traditional Indian colors and prints
22. Indian Storybooks and Epics
If you are looking for somewhat are good inexpensive souvenirs from India book is one alternative. The Indian epics like Bhagavad Gita, Ramayana, Upanishads or Vedic discourses all available in different languages. There are a lot of books like Panchatantra, Akbar Birbal which are the tales for children. These books are available as comics in different languages.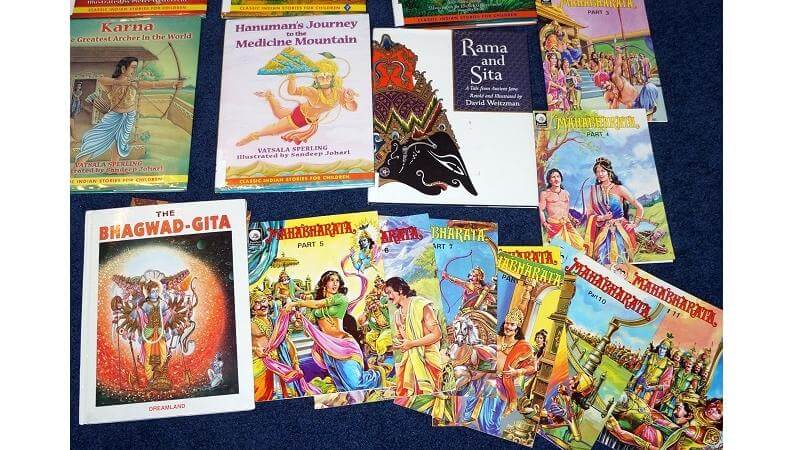 23. Indian Classical Music
Indian Classical music is unlike anything you have ever heard. The flute and sitar instrumentals will pull at your heart strings every time you hear it. Buy a CD for yourself or a close friend. If you're feeling adventurous, you can even buy a typical Indian musical instrument as a souvenir.
Tip: Don't forget to listen to a sample of the music you are buying. Fusion sounds good too.
24. Stone Carved Products
Stone carved vessels and household objects from Manipur are extremely sturdy and beautiful, yet very hard to find even in India. Despite being made from stone, these objects are shiny and decorated with crazy patterns.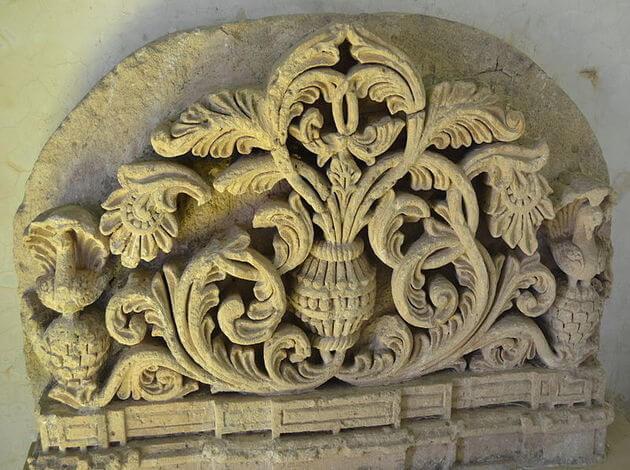 PC: Wikimedia
25. Terracotta Indian Handicrafts
Terracotta takes many shapes and sizes in India. From pots and pans to toys, terracotta souvenirs are very Indian and rustic. You can even buy wall hangings and chimes made of terracotta that can be bought at really reasonable rates all over the country.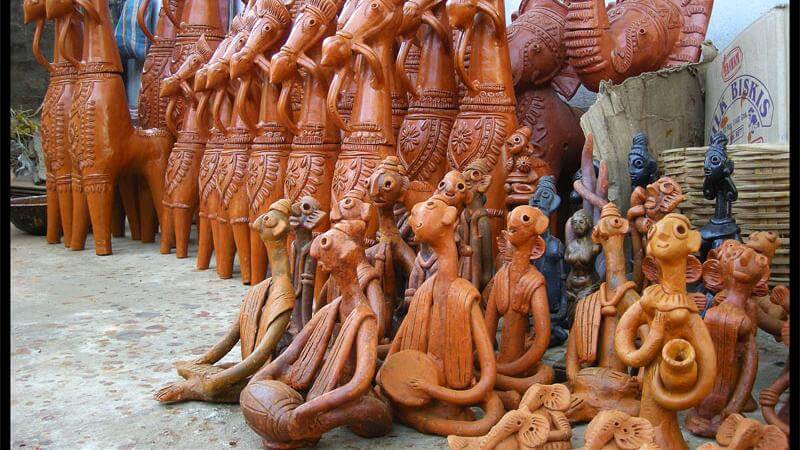 Tip: The big malls and shops will rip you off for these. It is best to buy them on the street.
Hope you found some clues to your questions like What is best to buy in India? What are good inexpensive souvenirs from India? and Where to buy Indian souvenirs?
Although memories are the best souvenirs to take back from a trip, these gifts will make thoughtful souvenirs for your home and friends.
Frequently asked questions before shopping in India
Q. What are good inexpensive souvenirs from India?

Pickles, Masala tea, bangles, wooden toys, spices, kurtas, sandlwood carvings are some of the best and inexpensive souvenirs you can get in any part of India.

Q. Which city is best for street shopping in India?

Delhi, Mumbai, Jaipur, Lucknow, Ahmedabad, Bangalore and Pune are some of the cities where you can go for street shopping.

Q. What is the best gift from India?

It depends on which part of India you are in. If you are in North India you should buy Pashmina shawls, clothing, handicrafts, tea, jewellery items. If you are in southern India you should buy spices, ayurvedic products, silk sarees, sandlwood items, carvings, toys which are specialities.

Q. Can you bring spices back from India?

Yes. You can bring spices from India. When you are in Southern part of India you should buy spices specifically Kerala. You can buy cardamom, cumin seeds, cloves, mustard seeds, fenugreek leaves, and asafetida.

Q. What are a good gift options for a man from India?

You can buy kurtas, Jutis/chappals, scents, ayurvedic shampoos or creams, and jewellery items.

Q. What to buy from India for your girlfriend or woman from India?

You can buy silk sarees, pashmina shawls, bangles, jewellery items, bangles, earrings, and chappals.
Checkout these Tips for Buying, Bargaining and shipping souvenirs from India
Where to shop and what to buy?
Tips for Bargaining at Markets in India
Cheap Shopping Places in Bangalore