8 Best Islands in Maldives for Honeymoon
UPDATED Oct 12, 2018
12.5K Views
There is something iconic about Maldives which makes it an ideal honeymoon destination. An island country in the Indian ocean, Maldives is truly a paradise on earth. Even though this one is smaller in size than most of its Asian counterparts like Malaysia, India, Sri Lanka and Thailand, it'll definitely not disappoint you. The reason being, the number of attractions, the place offers. Surrounded by the stunning blue ocean, Maldives should be your top pick for the much-awaited, much-needed post-nuptial vacation. If you want to explore Maldives apart from the much-hyped Male, then there are many underrated gems which will assure a laidback honeymoon.
For your convenience, we at TripHobo have compiled a list of best islands in Maldives for your ultimate romantic getaway.
1. Thoddoo Island- For every fruit lover!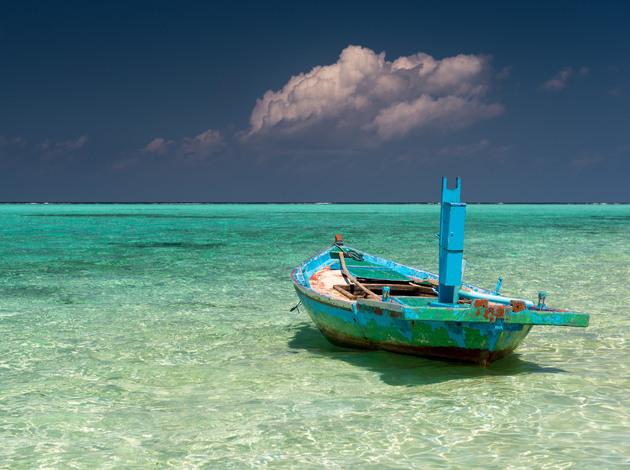 Source: Alessandro Capron/Flickr
Located about 67 km from the capital Male, Thoddoo Island is an oval shaped inhabited island known for its watermelon production. In fact, this is one of the
honeymoon destinations
which is an ultimate hotspot for the couples who want to explore the true old Maldivian style, then this one is a treat for you! Known for the vibrant streets, warm locals, beautiful locales and some delicious sea food, Thoddoo Island is a perfect place for those who want a honeymoon with a twist.
Get year around hotel deal with TripHobo Hotels. Book Now, Pay Later!
2. Hulhumale- Gateway to Heaven
This one is not that urbanely developed when compared to the central islands like Male. Hence, this just adds up to the beauty of this incredible place and makes it one of the most underrated islands in Maldives. If you want to opt for a place which is less crowded and at the same time, high on breathtaking locales, you know where you need to head to for your honeymoon!
Get year around hotel deal with TripHobo Hotels. Book Now, Pay Later!
3. Maafushi- The tropical island paradise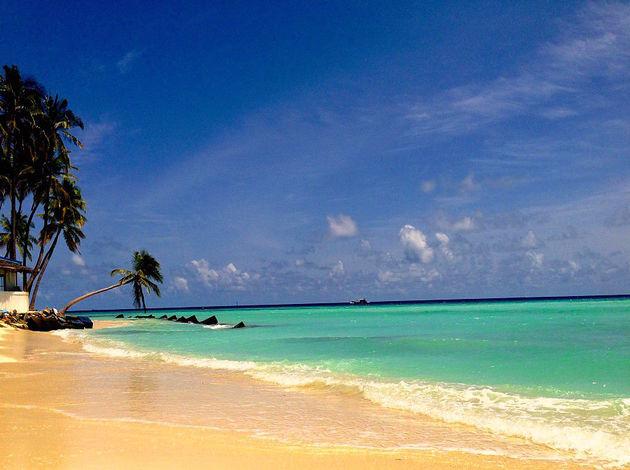 Source: Wikimedia
One of the most popular islands in the country, Maafushi is the place which is nothing short of a tropical paradise. Both of you will love it! The mesmerising scenes, sparkling blue ocean, great resorts and some awesome things to do. Maafushi has everything to make your honeymoon, an affair to remember. There are many luxurious hotels and resorts in Mussafah to make sure that your trip is comfortable. During you stay in Maafushi, you can indulge in some thrilling activities like snorkeling, picnic island excursions, and watersports.
Get year around hotel deal with TripHobo Hotels. Book Now, Pay Later!
4. Villingili- The only resort island in Maldives
Also known for being an island with the highest elevation, Villingili is the only resort island in the whole of Maldives. The resort named as Shangri-La's Villingili Resort and Spa is very popular and couples opt to spend some quality time together. A perfect place to cherish some intimate moments before you start your married life. On your stay here, enjoy the warm hospitality and just have a gala time! Both of you have an inclination towards adventure, then you can indulge in some water sports as well!
Get year around hotel deal with TripHobo Hotels. Book Now, Pay Later!
5. Vaadhoo Island- For an illuminating experience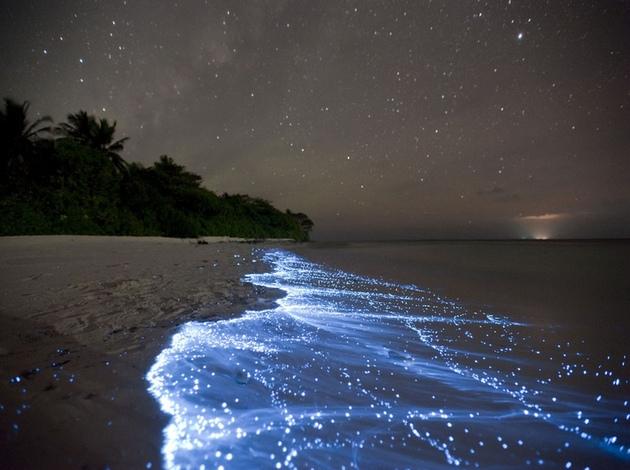 Source: Chris Robideaux/ Flickr
Spending your most precious time after the wedding vows is to get a unique experience. The sheer sight of watching an illuminating water at night is truly one of its kind. The only major thing we will suggest you and your partner is to live every possible moment and cherish it forever. Click pictures, soothe your eyes and make the most of it.
Get year around hotel deal with TripHobo Hotels. Book Now, Pay Later!
6. Ukulhas- The cleanest island in Maldives
Known prominently for being the cleanest island in Maldives, Ukulhas is one of the most beautiful places in Maldives and is prominently known for its culture. With people from different ethnicities, residing in this island, this is also one of the most tourist-friendly islands in Maldives. People from India, UAE, and Africa have made this island their home and are into tourism. Hence, if both of you love experiments, then Ukulhas will offer you plenty of opportunities to explore different cultures, food, and lifestyles other than the usual Maldivian style.
Get year around hotel deal with TripHobo Hotels. Book Now, Pay Later!
7. Asdhoo- One of the best islands in Maldives

Source: Wikimedia
Exhilarating scenes, stunning ocean views, clean beaches and warm people. Asdhoo has all the contents to be your ultimate hotspot for the much-planned honeymoon. The striking locales will definitely please your eyes and will add up to the entire experience. The hotels and resorts are comfortable and customised according to your preference. The restaurants serve multi cuisines in addition to the authentic Maldivian one.
Get year around hotel deal with TripHobo Hotels. Book Now, Pay Later!
8. Dhidhdhoo Island- Ultimate getaway for newly married couples
One of the largest islands in the country, Dhidhoo is also a favourite romantic destination among newly married couples. In addition to various hotels and resorts, the location of this island is in close proximity to other islands. You can make the most out of this island by trying out night fishing, which is also an important thing to do here. Take long romantic walks along the beach and cherish these intimate moments.
Get year around hotel deal with TripHobo Hotels. Book Now, Pay Later!
So, before planning your post-nuptial vacation, make sure that you've gone through this list and chalked out a plan to witness the natural wonder of Maldives, in every possible way!