Best Islands In The Bahamas
* Disclosure: This post may contain affiliate links, which means we may receive a commission if you click a link and book something (there is never any extra cost to you for using these links).
Many believe that in 1492, when Christopher Columbus arrived to San Salvador Island and saw that the surrounding islands where visible that day, he exclaimed "baja mar!" (low tide). As the legend goes, Columbus' proclamation was eventually transformed into "Bahama", which eventually gave the islands their name.
A hub for explorers, merchants, colonists, and invaders, the history of The Bahamas is long and engaging, but because of its magnificent enclaves, amazing underwater caves, and crystal clear waters, we've chosen this Caribbean paradise for our next escapade. Below you'll find a selection of the best islands in the Bahamas that cater to all tastes.
1. The Exumas

PC:Flickr
With more than 100 square miles and 365 cays, Exuma is a popular location to go yachting, sailing, or diving, and to explore caves and coral reefs. Divided into three main islands, the Exumas proper encompass Little Exuma and Great Exuma, which are connected by a bridge, and the Exuma Cays.
Frequently visited by Jackie Onassis because of their exquisite landscapes and secluded beaches, the Exumas have been a popular location for films, including James Bond's Thunderball and Johnny Depp's Pirates of the Caribbean. In fact, Depp himself owns a house there. But even if you can't afford your own villa in the Exumas, don't worry, as there are several great hotels you can stay including Tuquoise Cay on Little Exuma, Grand Isle Resort and Spa, and the more laid back Coral Gardens B&B.
How to get there: You can fly to the Exuma International Airport and then use ferry and "puddle hoppers" to move around the islands.
Get year around hotel deal with TripHobo Hotels. Book Now, Pay Later!
2. The Abacos

PC: Wikimedia
Located at the northern end of the Bahamian island chain, the Abaco Islands, like the Exumas, are made up of a series of cays which connect two main islands: Great Abaco and Little Abaco. Boasting six national park, they are a unique destination if you're looking to relax and immerse yourself in the splendor of natural surroundings. And if you plan to stay on the Abacos, we recommend you choose between Treasure Cay Beach Marina & Golf Resort, Lofty Fig Villas, or Abaco Club on Winding Bay.
How to get there: You can fly to either Marsh Harbour Airport or Treasure Cay Airport and then use ferry services to reach the cays.
3. Paradise

PC: Wikimedia
Formerly known as Hog Island and located off the shore of Nassau the capital city of the Bahamas on New Providence Island Paradise Island is a crown jewel of The Bahamas. The area offers a perfect blend of relaxation and entertainment, and being a stone's throw away from Nassau and its famous nightlife, Paradise Island is the perfect launching ground for a night on the town. Among the great selection of places to stay in The Bahamas, Paradise Island's Atlantis Resort is likely the most famous of them all, and in many ways Atlantis offers a world all its own. Cabbage Beach, with its enchanting sunset views, is right around the corner, but the best activities you can enjoy in this island are linked to the all-encompassing Atlantis Resort.
How to get there: Fly to Lynden Pindling International Airport and then use the daily ferry service from Nassau to Paradise Island. You can also walk or drive the short distance from Downtown Nassau to Atlantis Resort.
4. Eleuthera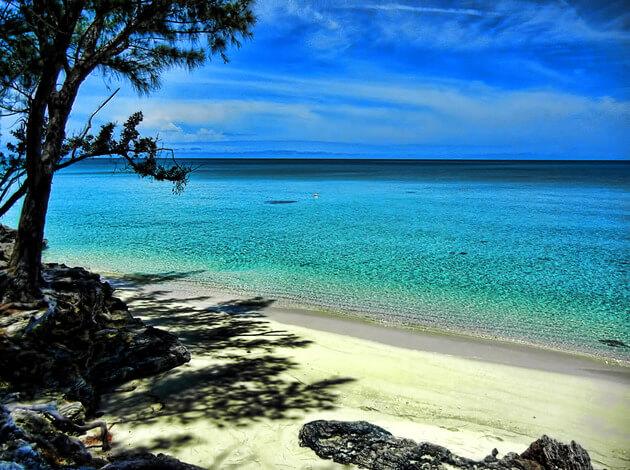 PC:
Wikimedia
Located east of Nassau, this thin and long island gets its name from the Greek word eleutheros (free), so one might say Eleuthera represents freedom.
And in fact, with its breathtaking coral reefs and pink sand beaches of the Spanish Wells, Eleuthera offers a genuine sense of freedom from the everyday world. Ranked among the 25 Sexiest Beaches in the World, this island has access both to the Caribbean Sea and the Atlantic Ocean. Eleuthera is also home to small quaint villages and great restaurants where you can taste its famous local lobster dishes. From great food to a magnificent nature preserve and beautiful rolling beaches, Eleuthera is a must-see among the Out Islands of the Bahamas.
How to get there: There are three airports that serve the island: North Eleuthera International Airport, Governor's Harbour International Airport, and Rock Sound International Airport. You can also reach Eleuthera via ferry from Nassau.
Whether you're looking for a laid-back holiday, an adventurous getaway, a luxurious escapade or simply a fun trip, the islands of The Bahamas offer plenty of options that will keep you coming back for more. And don't worry, because there will be always something left to visit every time you island-hop to a new locale.
You May also Like to Read
Best Islands to Live on for Families
Best Caribbean Islands to Visit In December