The Top 7 Most Beautiful Islands of Italy
* Disclosure: This post may contain affiliate links, which means we may receive a commission if you click a link and book something (there is never any extra cost to you for using these links).
What do you think when you hear the word, 'Italy'? We think about the rich cuisine, lovely wine and the beautiful islands. Italy is a European country which is best-known for its cuisine and culture.
We can identify Italy on a map because it looks like a shoe. We just started remembering our Geography lessons of how Italy formed a shoe in the map! While everyone wishes to go to Rome, Venice or Florence, our heart is stuck on the islands of Italy. They are absolutely charming and there are so many activities that you can indulge in!
Here are The Top 8 Most Beautiful Islands of Italy
1. Capri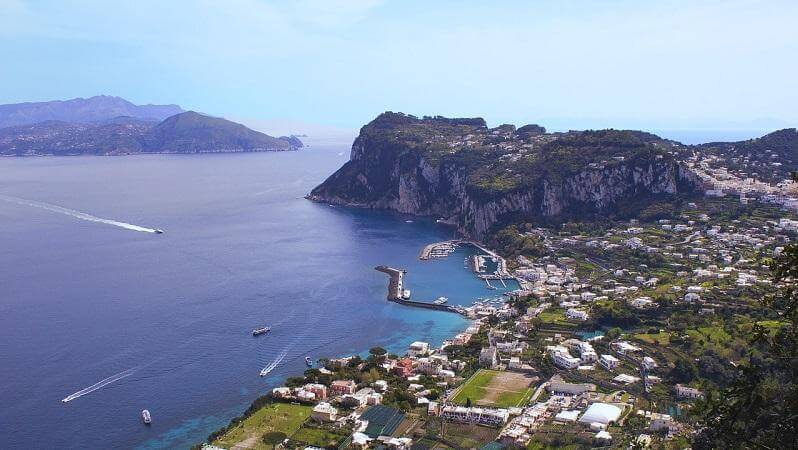 Capri is an island in the Bay of Naples and it is known for its scenic landscapes. It is a traveller's heaven because there are a number of hotels and shopping centre. While you are here, you would enjoy soaking in the view of the islands.
Even though it is an island, you would find designer clothing and shoes to the best handmade leather sandals.
As for the places to visit, you must go to Cave Grotto. This is located in Anacapri. The sea cave, Cave Grotto, is absolutely stunning. When the sun shines and enters the cave, the water sparkles.
If you are up for hiking, you must visit Monte Solaro. The peak here is the highest point of Capri Island. You will enjoy hiking here and soaking in the view from the top! It is breathtaking.
2. Lipari
Have you ever heard of Lipari Island? This is the largest of the Aeolian Islands and it falls in the Sicily region. Unlike other islands, this one is the busiest and most accessible island. There are four active volcanoes in Italy and one of them is here in Lipari.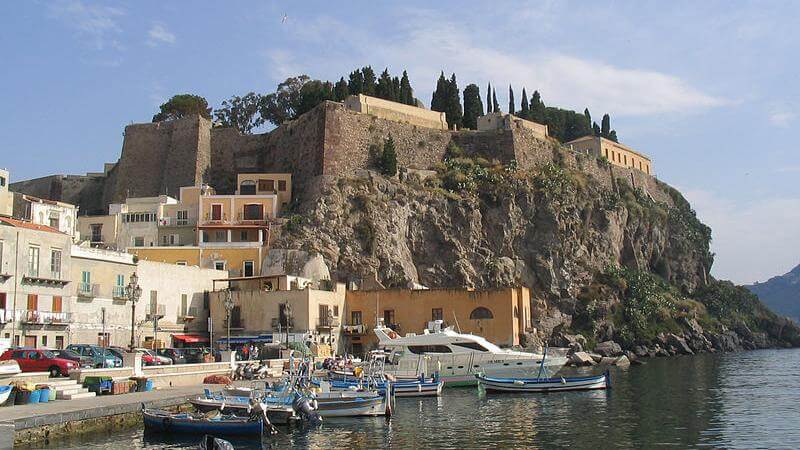 PC: wikimedia.org
While you are in Lipari, you can visit Marina Corta. It is a harbour and beach. You can pay a visit to Christ at the Lipari Cathedral. If history interests you, you can visit the Lipari castle ruins. There is a museum and you can also witness the artefacts. Additionally, you would enjoy the views from here.
Islands in Italy are all about the scenic views, good food and great company!
3. Ischia
Ischia is the volcanic island in Italy. It is located in the Gulf of Naples. The most important feature of this island is the hot springs which bubble up at the famous Maronti Beach.
Speaking of hot springs, you can visit Negombo where must enjoy a thermal bath. A thermal bath is considered to be good for your health. Most of the diseases come to an end after taking this rejuvenating bath! This is the magic of hot springs.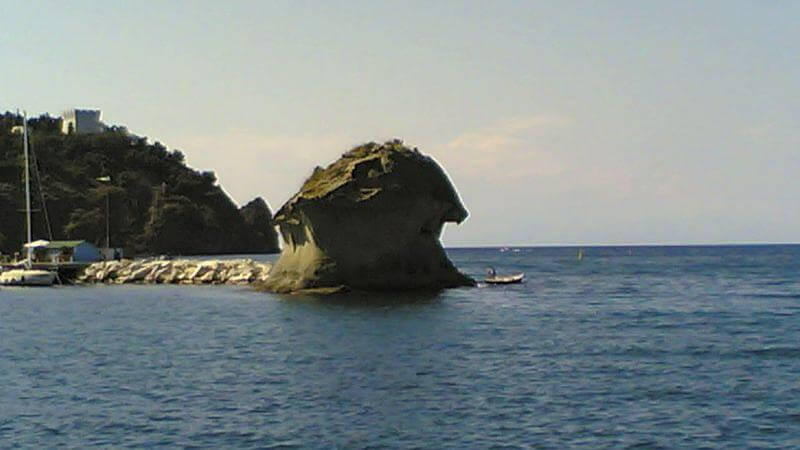 PC: wikimedia.org
If you wish to be close to nature, you can visit La Mortella. This is a beautiful garden and the most popular venue for concerts. It is a hillside garden which offers you a beautiful view and the water features would enthral you!
4. Elba
Elba is an island located in Tuscany. This island is known for its beautiful beaches. You will enjoy being here as there is a lot of natural beauty waiting to be explored.
While you are in Elba, you must check out Forte Stella. It is the lighthouse through which you can view the sea. Mount Capanne is the highest mountain in the Elba Island. If you are interested to see the most beautiful views, you must visit the Mount Capanne.
The best place to visit in Elba is Arcipelago Toscano National Park. There are hiking paths and you would find the most dramatic scenery from this point.
The park comprises of seven islands and you will find many geological formations here. Do pay a visit to this national park!
5. Panarea
Welcome to the small island! Even though it is a small island, it has so much to offer you! Do not go by the size of Panarea. Panarea is known for attracting fashionistas and you could also find luxury yachts parked in the waters.
This is a chic island and is known to be the most fashionable too! When it comes to things to do, you will find the most happening night life in Panarea. The beaches are worth the visit as they are surrounded by rocks which have a different colour. It just stands out and makes it look very picturesque.
Have you ever looked at postcard? That's the exact feeling you would get when you see the beaches of Panarea!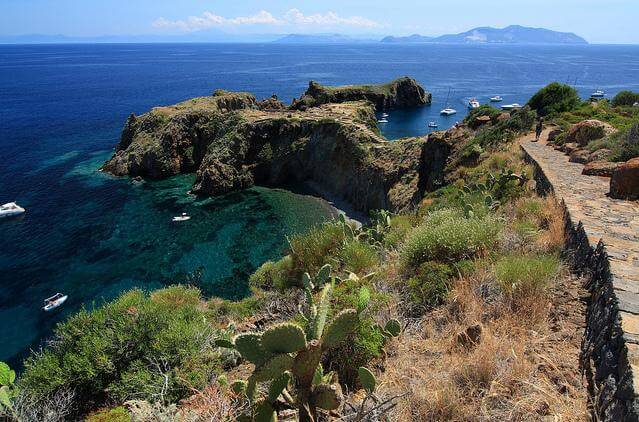 PC: flickr.com
If you are an explorer, you must try diving here. Diving is a famous activity on this island and there are many local diving centres, which would be happy to take you on a little tour of the sea. There is a popular shipwreck which can be seen before the dive. The local divers will guide you and show you the wreck. It is an once-in-a-lifetime experience for travellers!
6. Sicily
Sicily is a popular island and it is also the largest one. It is surrounded by small islands which means you will never have a dearth of things to do. While you are in Sicily, you must visit the Valley of the Temples, Teatro Massimo, Mondello Lido, Palermo Cathedral and Mount Etna.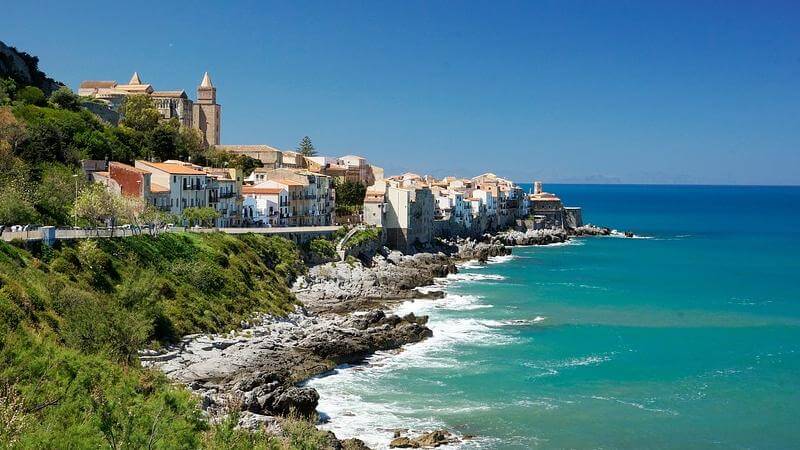 PC: pixabay.com
The shopping and drinking scene is popular in Sicily. You will enjoy being here and meeting the locals and people across the globe. You must enjoy the food and wine here. Since it has a balmy climate and lovely beaches, you and your family would enjoy staying here. Of course it is known for its wine, food, citrus fruits and also the Ancient landscapes.
7. Ponza
This is the island where the real Romans holiday! This island does not have airports and is only accessible via boat. This makes it an untouched island and not many tourists flock around this island.
You can take a ferry or boat to reach this island. The beautiful beaches would enthral you and you would definitely come back for more. There is a village here where you can find chirpy and colourful buildings. You will find lovely restaurants and cafes here to spend few hours and eat good food.
The sea view and the authentic Italian cuisine is something you cannot miss for the world! There are no 5 star hotels in this area. However, you can find family-run hotels which give you a warm feeling! If you are looking for an off-beat holiday, this island could be the best place for you!
Takeaway Advice for Keen Travellers
When in Italy, you must visit the islands because you would miss the true beauty of the country without seeing the charm of the several islands. Do enjoy the food because Italians are the best cooks in the world and they absolutely love their love.
There are vineyards in Italy where you can taste the finest wine. Just make sure that you cover all the great places in Italy! Tuscany is one such place where you can sip some wine and eat delicious food. The people are warm and they welcome you with open arms.
If you loved this post, do make it a point to share it with your friends and family. Also, do know that Italy is the place where you will fall in love all over again. Do visit the islands mentioned above! The beauty of Italy will captivate you forever.
You May also Like to Read
Most Romantic Islands in the World