Best Molecular Gastronomy Restaurants in the World
* Disclosure: This post may contain affiliate links, which means we may receive a commission if you click a link and book something (there is never any extra cost to you for using these links).
Since time immemorial food has been a centre point of interest to homo sapiens. We started off with hunting and consuming raw flesh to farming and then finally experimenting with spices and mixing and matching food items. Then came the use of certain kinds of equipments and itinerary that were used to cook. As our cooking style evolved, so did our food habits and our palette. With an evolved sense of taste and knowledge about our food and the means to cook it, we started experimenting with the various elements and food items in our cooking.
Today, wine tasting is actually a job. Chefs around the world take pride in cooking and presenting their food. Cooking is an art form which they believe appeals to all the senses. In all, the culinary sciences have evolved beautifully and magnificently, so much so that two food items of extreme opposite families can be brought together in a beautiful display of culinary nirvana.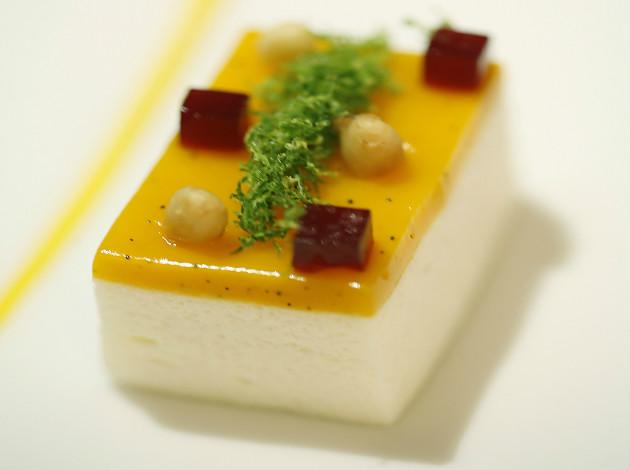 Molecular Gastronomy is a subdiscipline of food sciences that is essentially concerned with the investigation of the physical and chemical changes that occur during the amalgamation of different food products. This genre of culinary sciences includes three axis, namely- social, artistic and technical. It is a highly advanced form of dietary sciences which involves all the technical and scientific innovations and brings them together. It is to analyse the changes and reactions that food items take when heated, cooked or brought together in a certain fashion. Some off-beat reagents used to make a dish that is to be presented includes the use of liquid nitrogen and the use of dehydrators to prep a dish.
Though controversial and still not widely accepted, this branch of food sciences is definitely showing up and making its mark in the plates and palattes of restaurateurs and connoisseurs all over the world.
Here's a comprehensive look at the best molecular gastronomy restaurants that put molecular gastronomy into use to present their dishes.
1. Fat Duck, London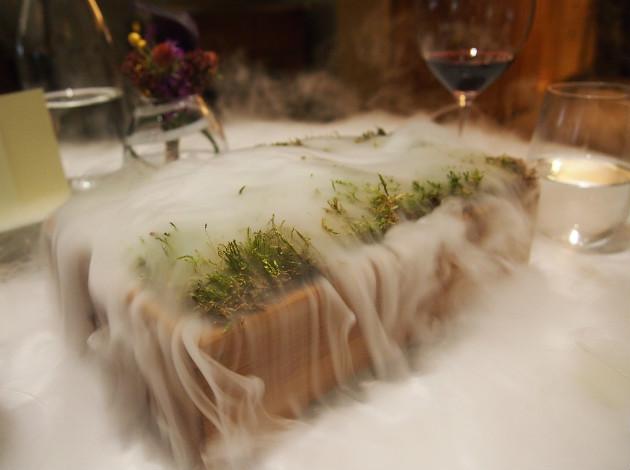 Photo by Mike Fleming
This exquisite fine dine restaurant is run by celebrity chef proprietor Heston Blumenthal. The speciality of the place is the triple cooked (in duck fat) chips, which has set a benchmark for all chips in general. There's the house-cured salmon and plump pork bangers, with silky smooth mash. This place is specifically curated to satisfy the demands of those looking for a new dining experience in all regality and class.
Address: High St, Bray, West Berkshire SL6 2AQ, United Kingdom
2. Alinea, Chicago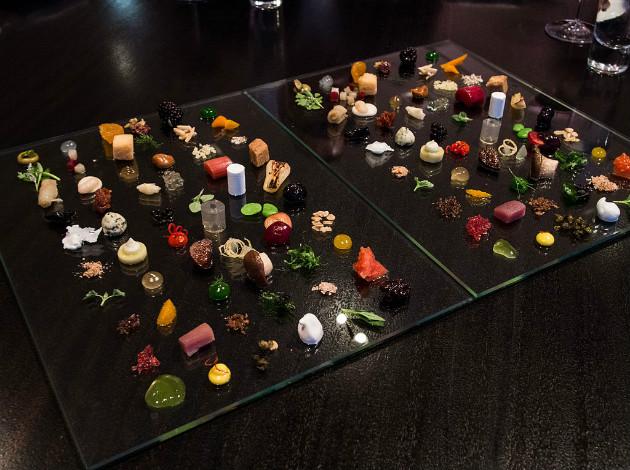 Photo by Edsel Little
Alinea is owned and headed by Grant Achatz, who is known for his unconventional cooking styles and breaking down of classic flavors. This place serves the stunningly beautiful, both in sight and taste lobster with saffron curry and milk chocolate tart with painted sauces. The place offers dishes and cuisines in specific shapes which inspire most interactive eating, with east west crossover.
Address: 1723 N Halsted St, Chicago, IL 60614, United States
3. The Bazaar, Los Angeles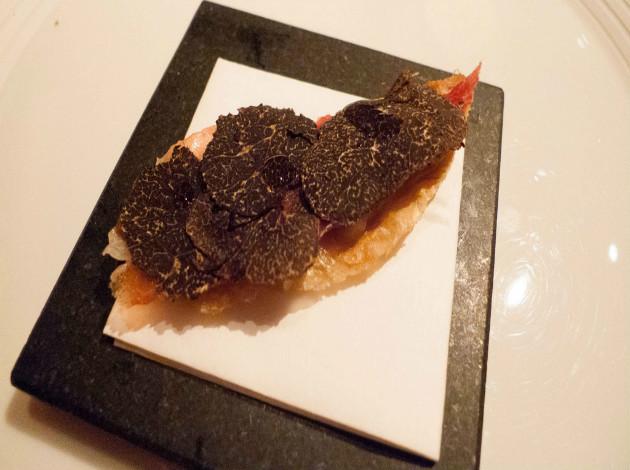 Photo by Ernesto Andrade

Jose Andres is the founder of this culinary heaven. The place serves the best Foie Gras in cotton candy and Philly Cheesesteak. The menu here is Spanish styled and is a combination of traditional and modern forms of cooking, embraced by molecular gastronomy. There's these unique techniques employed, not just to the main course menu, but to the cocktail menu as well, like the "New Way" Dirty Martini, which is a martini with olive brine air and olive spherification. I bet you're trying to figure out these molecular gastronomy recipes, but some of them are top secret!
Address: S La Cienega Blvd, Los Angeles, CA 90048, United States
Catching you off guard are the weirdest restaurants in the world!
4. Smitten Ice Cream, San Francisco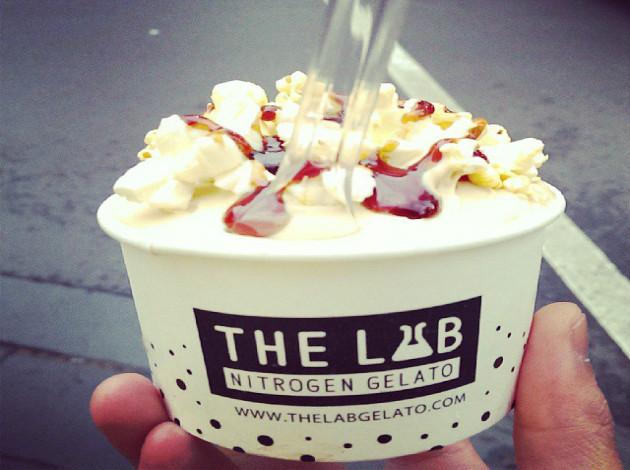 Photo by Adrian R. Tan

The founder of Smitten Ice-cream, Robyn Sue Fisher is an avid ice cream lover herself. She bought about this concept of instantly mixing the ingredients and whipping out ice-cream by the use of liquid nitrogen as she was averse to the use of emulsifiers and preservatives in the preparation of ice-cream. She collaborated with engineers to invent "Brrr" which is an amazing machine that churns out crystals of ice-creams. This place is known for its smoothest, densest and most flavorful ice-creams, sundaes and vegan pops.
Address: 432 Octavia St #1a, San Francisco, CA 94102, United States
5. Adara, New Jersey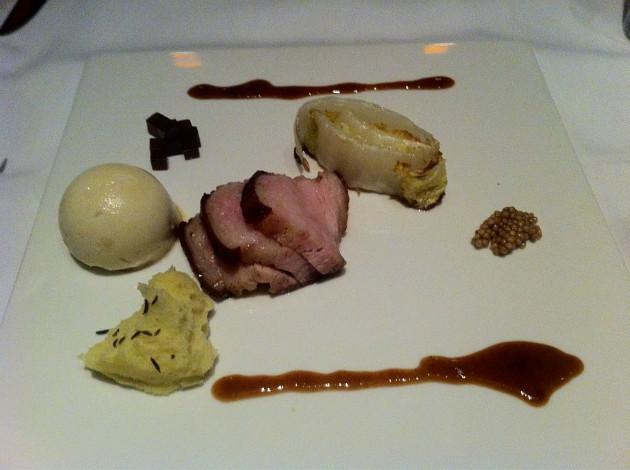 Photo by Jon K.
Chef Layton Han is the founder of Adara. This place is the most favorable one stop destination for a visit to the epicurean times and soothing of the senses. This place is known for its top notch service and an experience that is unmatched, each time. This place also specialises in modernist cuisine and is famous for its Olive Oil Gelato and Pork Belly.
Address: 77 Walnut St, Montclair, NJ 07042, United States
6. Rogue 24, Washington D.C.
R.J. Cooper is the accomplished chef of Rogue 24. He is the curator of "journey" dinners, which is a 24 course meal. He defines his cooking as a creative experience, wherein, he enjoys and cherishes his work. This aptly reflects on his menu and the setup of the restaurant too. The restaurant also offers The Progression, which is a 16 course menu and The Pre-fixe which is a 4 course menu. It's well known for its exquisite dishes like Air Dried Beef Heart and Raindeer Moss. These molecular gastronomy chefs have undergone training for years to give you these spread of delights!
Address: 922 N St NW, Washington, DC 20001, United States
7. wd 50, Manhattan- Lower East Side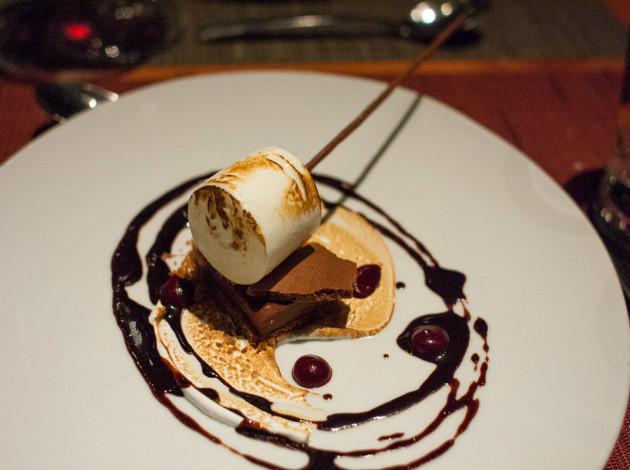 Photo by Krista

Former chef Wylie Dufresne is the owner of wd 50. He was one of the pioneers of molecular gastronomy in the US. The place offers wildly adventurous food, a treat to anyone looking to explore and delve deeper into modernist culinary. The exquisite cuisine of this place is known to make people believe that they can eat not just with their mouth, but with their eyes and ears as well. One revered dish of this place is the Foie-lafel, which is a coming together of foie gras and falafel.
The place shut down in 2014 due to a real estate construction.
Address: 50 Clinton St, New York, NY 10002, United States
8. Baume, Palo Alto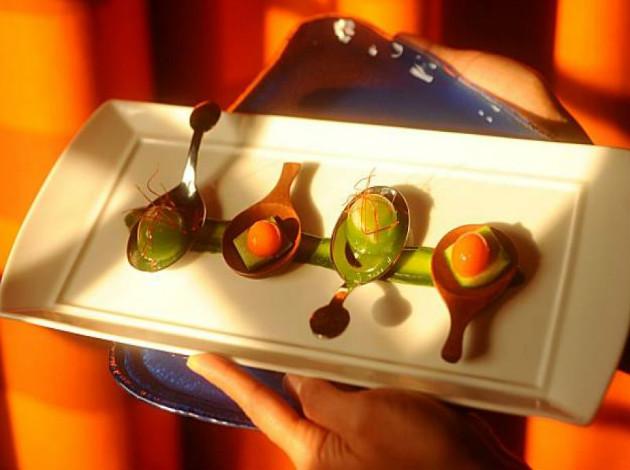 Photo by Noah Berger
This a classy french restaurant, owned by chef Bruno Chemel. Baume entered the Michelin guide in 2012 with 2 stars. It is studded in the heart of Silicon Valley, with orange and black walls graced with moody lights. The menu is thoughtfully put out with traditional french dishes in a new evocative distinct way with due implementation of molecular gastronomic techniques. The place is pretty ambitious both in its menu and outlook. The place has a unique way of serving fondue, wherein, in place of a regular cheese course, a little Beaufort and purple potato fondue with pink peppercorns are served along sides of compressed apple.
Address: 201 California Ave, Palo Alto, CA 94306, United States
9. El Celler De Can Roca, Spain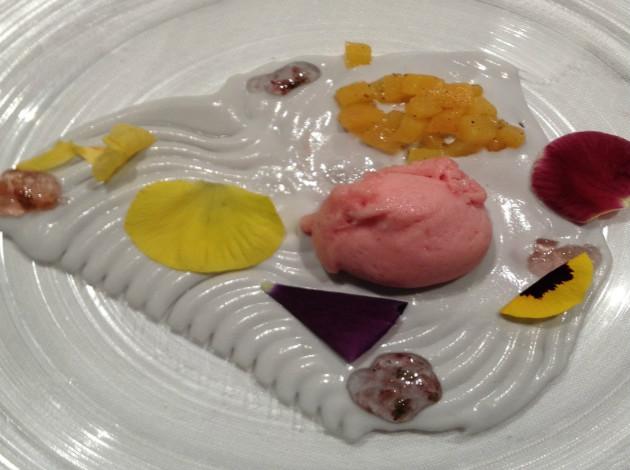 This fine dine outlet was opened by the Roca brothers, Joan, Josep and Jordi. This place has cut through the critics like smooth butter and stands tall with three Michelin stars. Hailed as one of the top two restaurants in the world, this place is a treat to the senses. The trio ventures into all kinds of creative pursuits with full use of their imaginations and an insatiable thirst for knowledge and culinary exploration that is unmatched. The interiors are glass walled and instantly offers a sense of calm and poise to the connoisseurs, at the same time challenging their gastronomic senses. It is just as considerate towards the traditional as it is of the avant garde. It is known for the excellent patisseries that they whip out and amazing combinations of wine that they serve. This has been consistently on the top list of best molecular gastronomy restaurants in the world. Happy chowing!
Address: Calle Can Sunyer, 48, 17007 Girona, Spain
Do visit these Michelin Star Restaurants in India
10. Noma, Copenhagen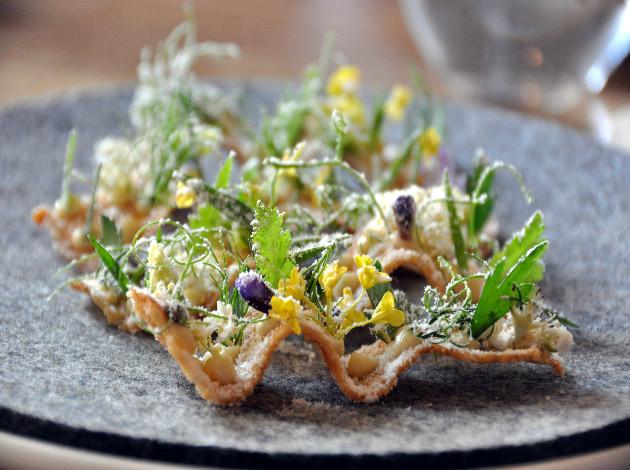 Photo by cyclonebill
Noma is run by chef Rene Redzpei, which is a two Michelin Star restaurant. This restaurant features just 12 tables but more than 5 dozen staff members. The modernist culinary art form is at its presentable best in this restaurant. It prides itself for adapting local food products and culture in whipping out a delectable meal. It is hailed as a world conquering Scandinavian restaurant, which aptly knows its place. Shimaebi Shrimp with flavors of Nagano Forest, literally meaning live shrimp sprinkled with Nagano ants is a famous, world renowned dish from this place.
Address: Strandgade 93, 1401 Kbenhavn K, Denmark
11. Osteria Francescana, Italy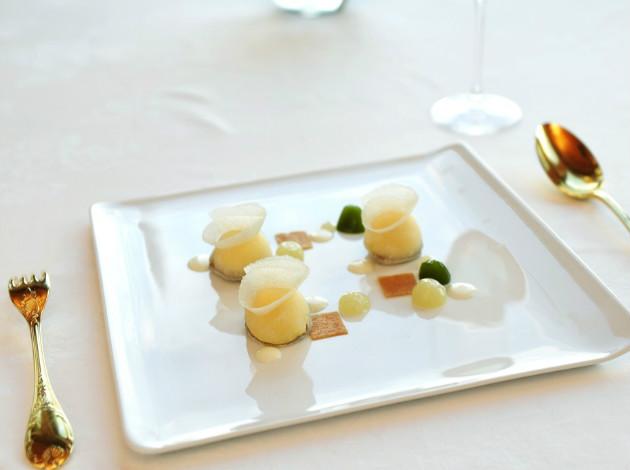 Photo by Tokyo Times
Massimo Bottura is the famous founder of this culinary heaven. The food he prepares here is authentically Italian and very ethnic in taste and flavors. The sensational menu experiments with the local seasonings which bring about an extraordinary effect. It is an amalgamation of local produce and products combined exquisitely to give out stunning beauty of dishes with the quintessential contemporary touch. This place displays some of the gorgeous contemporary artwork too. The famous rabbit macaron and the risotto cooked with veal jus is a famous speciality of this place.
Address: Via Stella, 22, 41121 Modena MO, Italy
12. Mugaritz, Spain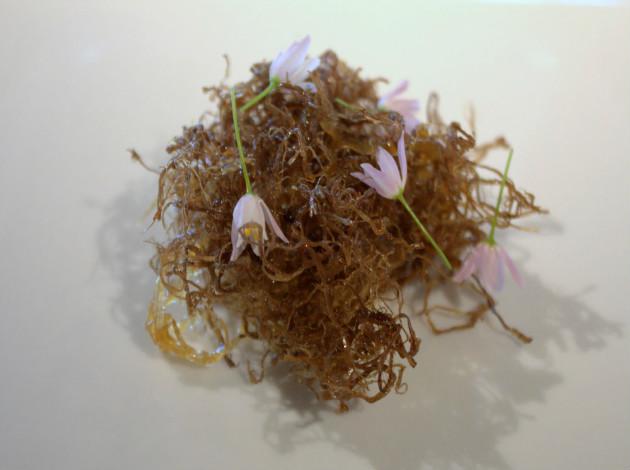 Photo by Krista
Founded by Andoni Luis Aduriz, here is an extraordinary locale that serves great food with the most exquisite of creative experiences and a culinary journey of its own. Hailed as one the finest restaurants in the world, it is a coming together of the founder's ethnicity in the postcard settings of the place. The most outstanding fact about the chef and the place is his attention to details. Ravioli with Leeks, foie gras and truffles is the most revered dish of this place. It tastes just as brilliant as it looks.
Address: Aldura Aldea, 20, 20100 Errenteria, Gipuzkoa, Spain
13. 1515 Restaurant, Denver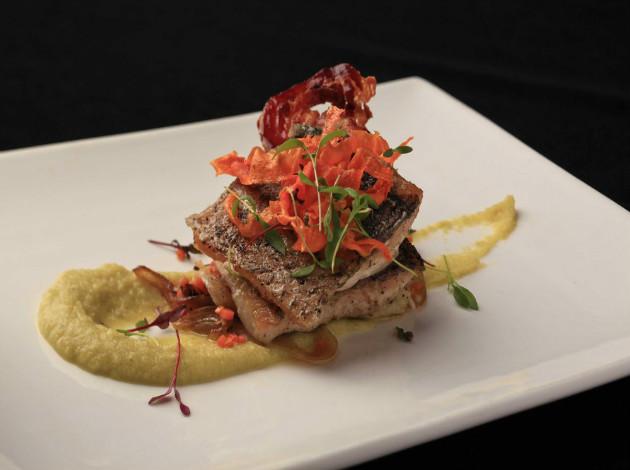 Source
This independent fine dine restaurant was established and owned by Gene Tang. This is one place which offers an amazing opportunity to try out the most distinctive flavors. It offers unmatchable fine dine experience by the implementation of molecular gastronomy techniques. Their evergreen seasonal menu offers great choices and tempts the senses as much as it pleases the palate. Also, their wine selection just adds to the heightened sense of culinary nirvana. Since its menu is mostly american, it's famous for its steaks.
Address: 1515 Market St, Denver, CO 80202, United States
14. Haven, Miami Beach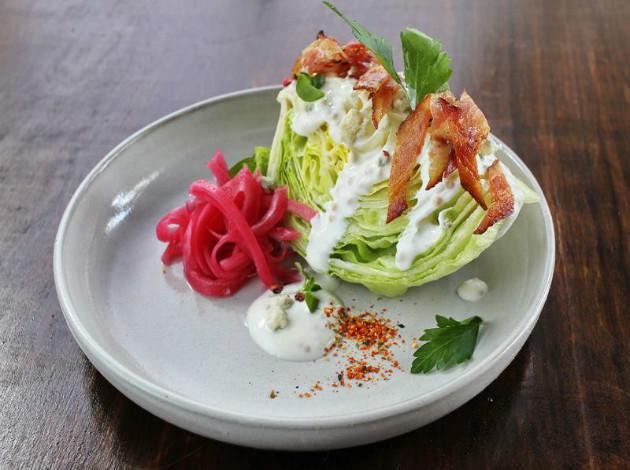 This is a hipster lounge, known for its delectable cocktails and the implementation of molecular gastronomy techniques. Founded by Ricardo Agudelo, it absolutely lives upto its name to offer an exquisite restaurant like no other. You'd be taken aback by the buzzing decorum of this place and may even get caught off guard. It's the one of its kind in the world hipster place which implements molecular gastronomy to prepare its meal. As is a well known fact, this place is famous for its smoky cocktails, the most revered being the "pop drop", frosty looking shiver and the creepy caviar. The cocktails set the mood and truly encapsulates the spirit of Miami.
Address: 1237 Lincoln Rd, Miami Beach, FL 33139, United States
15. Le Chateaubriand, Paris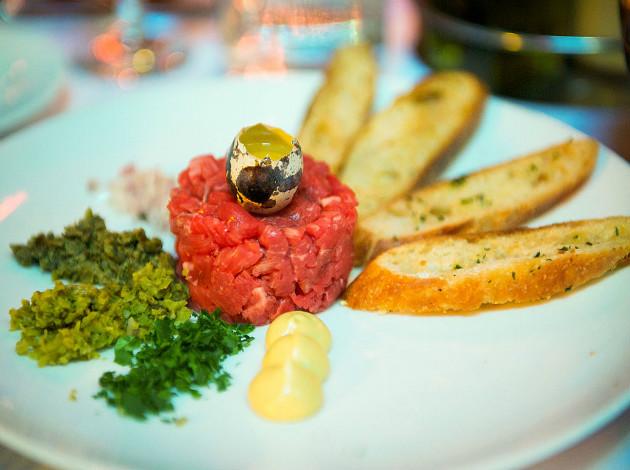 Photo by Mark Mitchell
This is a new wave bistro, appeasing the senses of all and sundry, headed by chef is Inaki Aizpitarte. This place offers an uptight service with a more relaxed approach and is a connoisseur in the bistro arena in terms of molecular gastronomy. It is one of the hottest restaurants in the world and has a rock n' roll image, which makes this place one of the most fabulous restaurants in Paris. It is an amazing blend of French, American and Latin American culinary influences, heralding with smaller plates and moving on to larger three course meals. The lineup of food items changes daily. Some of the most famous dishes include warm squid salad with sea asparagus and wakame powder or veal with almonds, curd, tomatoes and fennel.
Address: 75011, 129 Avenue Parmentier, 75011 Paris, France
Though scientific investigation has always existed in the field of molecular gastronomy, but it was mainly corroborated for the scientists. Today, with the advancement in techniques and methods of cooking, it has been simplified and brought in light for the cooks and chefs too.
This is a form of food sciences that could as well be termed as art, owing to its regards to the presentation and the unique style and reagents-cum-ingredients that is inculcated in its preparation. We feel that this form of culinary sciences, if explored and researched well, would prove to be quite a healthy, at the same time top-notch fine dine food art form! So which molecular gastronomy restaurant excites you the most?
You May Also Like:
Most Amazing Hotels in the World