Best Motels in the USA to Check in
* Disclosure: This post may contain affiliate links, which means we may receive a commission if you click a link and book something (there is never any extra cost to you for using these links).
For all those who are unaware, Motor+Hotel=Motel. Set along some of the well-known and lesser-known highways, we bring to you a list of motels in the USA that will make your roadtrip quite memorable.
1. Wigwam Motel, Arizona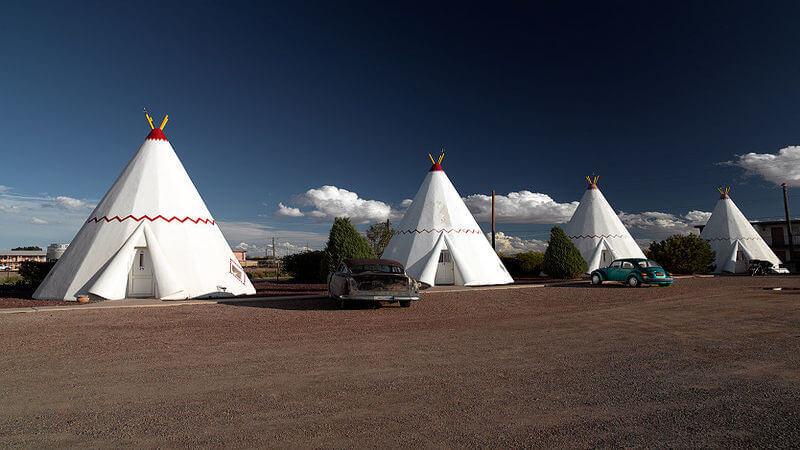 Image Source: Wikimedia Commons
Located on the historic Route 66, is the Wigwam Motel. The motel has fifteen teepee-like wigwams, and vintage cars are parked at the parking lot with neon signs. Quite a walk back in time for road-trippers.
Address: 811 W Hopi Dr, Holbrook, AZ 86025, United States
2. Dog Bark Park Inn, Idaho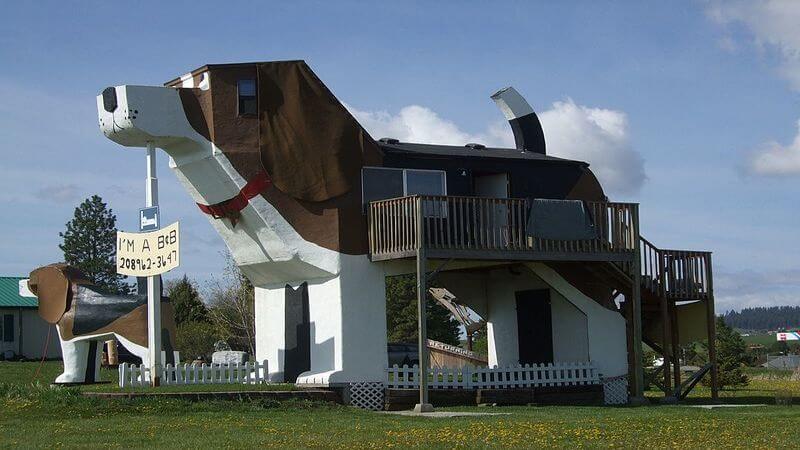 Image Source: Wikimedia Commons
Come stay inside the "largest beagle in the world". Along Highway 95, is a bed & breakfast inn, along with a gallery of chainsaw artists and owners Dennis Sullivan and Frances Conklin. There are around 26 dog carved dogs available for display here.
Address: 2421 U.S. 95 Business, Cottonwood, ID 83522, United States
3. The Red Caboose Motel, Philadelphia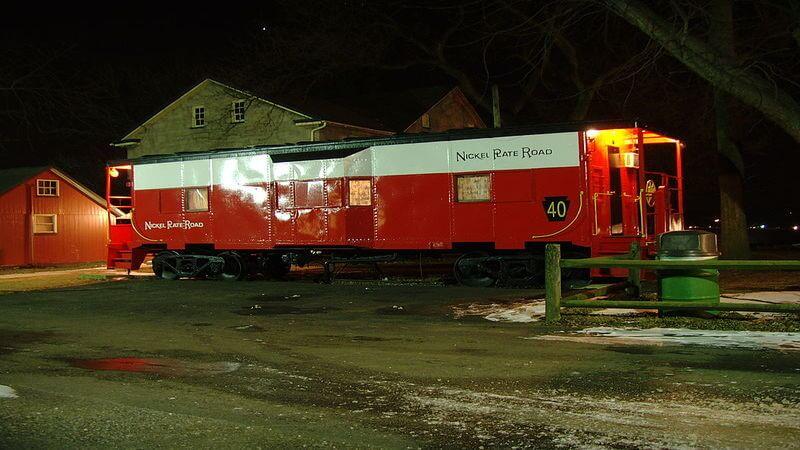 Image Source: Wikimedia Commons
Right in the middle of Pennsylvania's Amish country, is a unique motel experience, where road-trippers get to stay inside 40 historic train cars and cabooses. The motel also boasts of a zoo, buggy rides, a gift shop and a train country-style restaurant, spread over 10 acres of land.
Address: 312 Paradise Ln, Ronks, PA 17572, United States
Pan a trip to the USA with our hassle-free TripHobo Trip Planner!
4. The Shady Dell, Arizona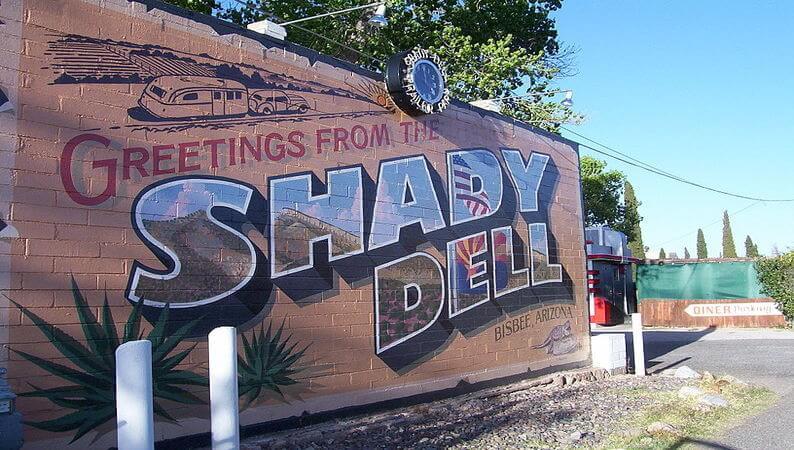 Image Source: Wikimedia Commons
Along Highway 80, is a world of vintage trailers. A very kitschy motel, you can set up camp here in one of the very many trailers for a classy living experience. Vintage radios playing programs from different era, television sets with only two colours, period books, and era-specific music, will all take you back in time.
Address: 1 Old Douglas Rd, Bisbee, AZ 85603, United States
5. Kate's Lazy Meadow, New York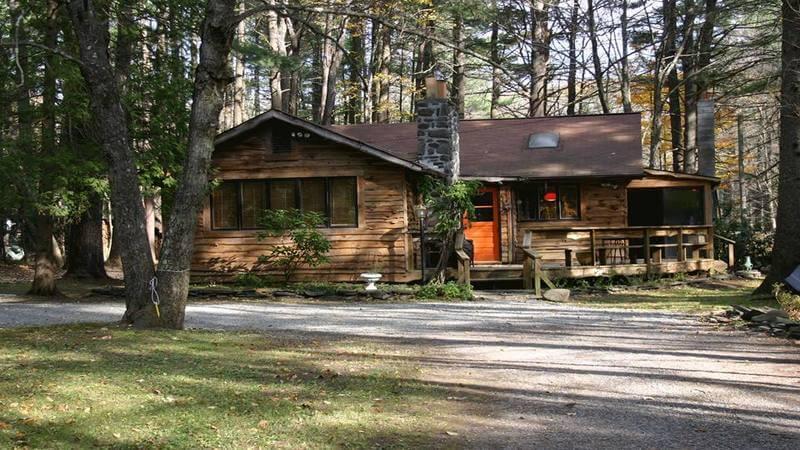 Image Source: Facebook.com
Heading upstate from New York City, is a very retro, very kitschy motor lodge co-owned by B-52's rocker Kate Pierson. With 50s themed rooms, the rustic cabins are a result Kate's version of cabin fever. The acid colors will indeed dazzle you here!
Address: 5191 NY-28, Mt Tremper, NY 12457, United States
6. Caliente Tropics Motor Lodge, California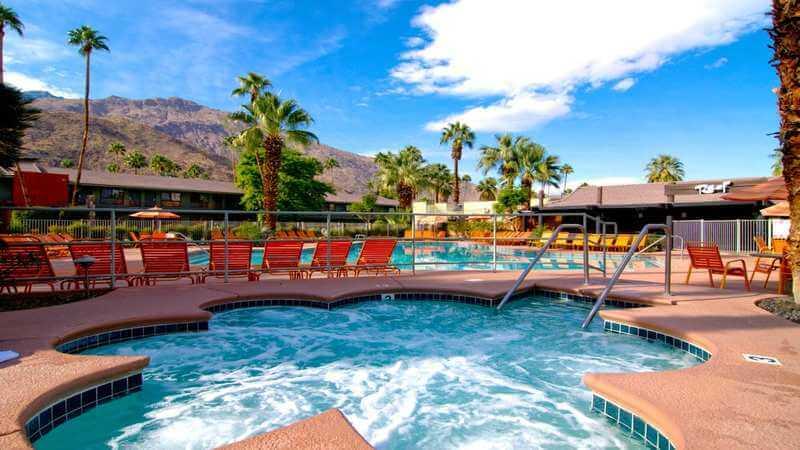 Image Source: Yelp.com
Another vintage motor lodge, that has been operational since 1964, brings to you an aesthetic tiki theme. Right in the heart of Palm Springs, this lodge has played host to the likes of Elvis Presley and Frank Sinatra. No need to head all the way to Hawaii, when you can experience it right here in California.
Address: 411 E Palm Canyon Dr, Palm Springs, CA 92264, United States
Want to know where to stop on a road trip to california?
7. Route 66 Motel, California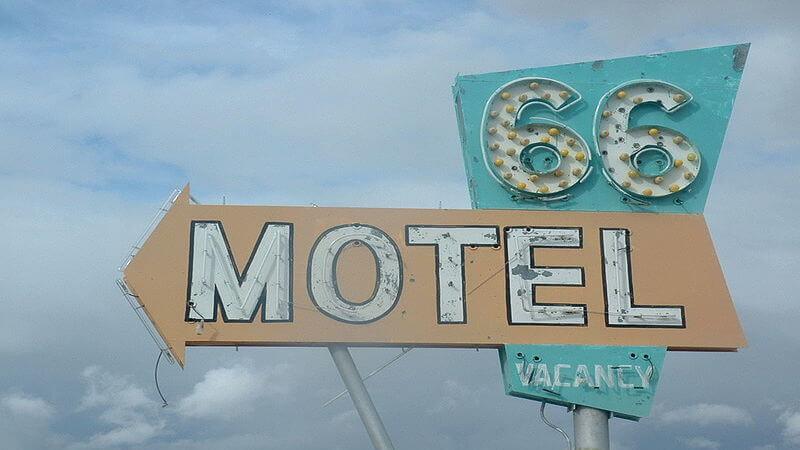 Image Source: Wikimedia Commons
This is a retro motel on Route 66, with a classic neon sign, so quintessential to American motels. Get a glimpse of the past in this motel on America's Mother Road, which has been open for business since 1922. You can also pick up some memorablia from the past to take back home.
Address: 195 Main St, Barstow, CA 92311, United States
8. The Stanley Hotel, Colorado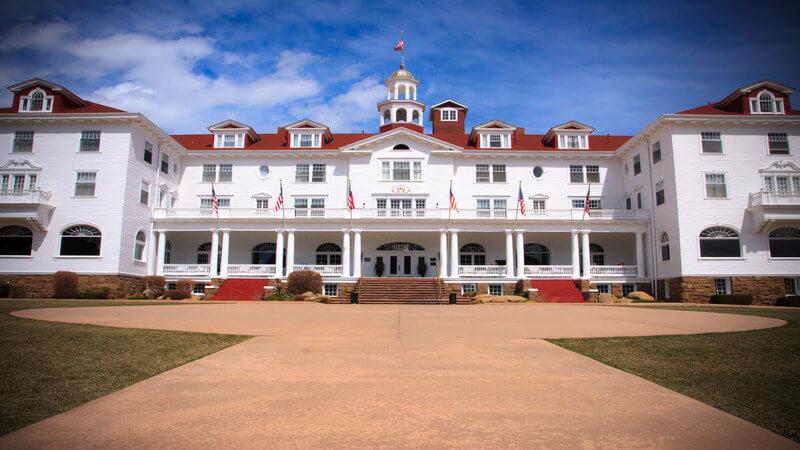 Image Source: sean hobson/flickr.com
For all fans of 'The Shining', come and dare to stay in the motel that inspired Stephen King to pen down one of his best horror books. Listed on the National Register of Historic Places, the structure displays a a Colonial Revival architecture. Take a guided tour and learn more about the history and supernatural aspect of this iconic motel.
Address: 333 E Wonderview Ave, Estes Park, CO 80517, United States
9. South of the Border Motel, South Carolina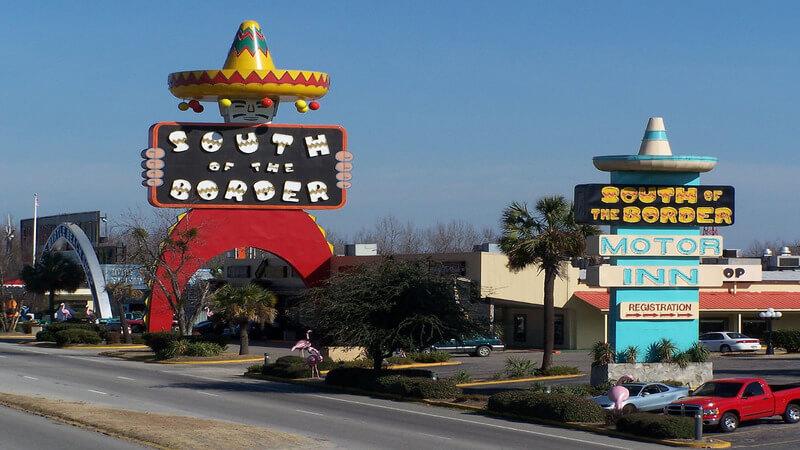 Image Source: Jim/flickr.com
Want a feel of Mexico while on Interstate 95? Just pull over at the South of the Border Motel. Started as beer stand, the motel has grown to have a miniature golf, a wedding chapel, a reptile lagoon and a 200-foot-tall sombrero observation tower.
Address: 3346 US-301, Hamer, SC 29547, United States
10. The Clown Motel, Nevada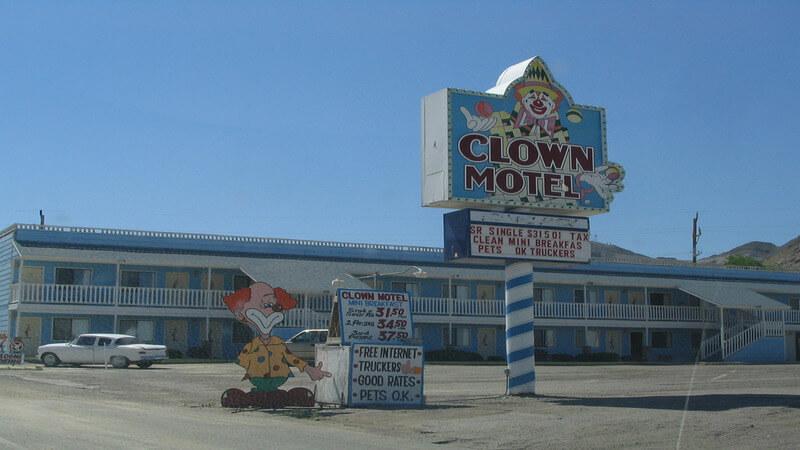 Image Source: Ken Lund/flickr.com
Head in here only if you don't have Coulrophobia. Off Highway 95, is a motel dedicated entirely to clowns, with a collection of different kinds of clowns displayed on their shelvews, as well, as clown themed rooms. Providing shelter to truck drivers and tourists for decades now, the Clown Hotel is definitely a unique experience, but not for the faint-hearted.
Address: 521 N Main St, Tonopah, NV 89049, United States
Here are some Unique Things You Did Not Know About Nevada
11. Madonna Inn, California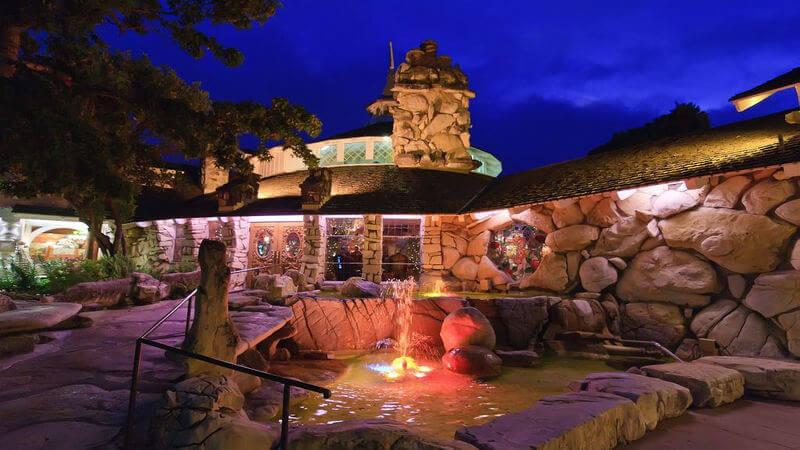 Image Source: Rian Castillo/flickr.com
Pull over from Highway 101, and you will come to this classically beautiful and pink world at Madonna Inn. With each room themed fancily, they even have quirky names like 'Yahoo', 'Love Nest', 'Old Mill', 'Irish Hills', 'Cloud Nine', 'Caveman Room', 'Bridal Falls' and the likes.
Address: 100 Madonna Rd, San Luis Obispo, CA 93405, United States
12. Best Western Movie Manor, Colorado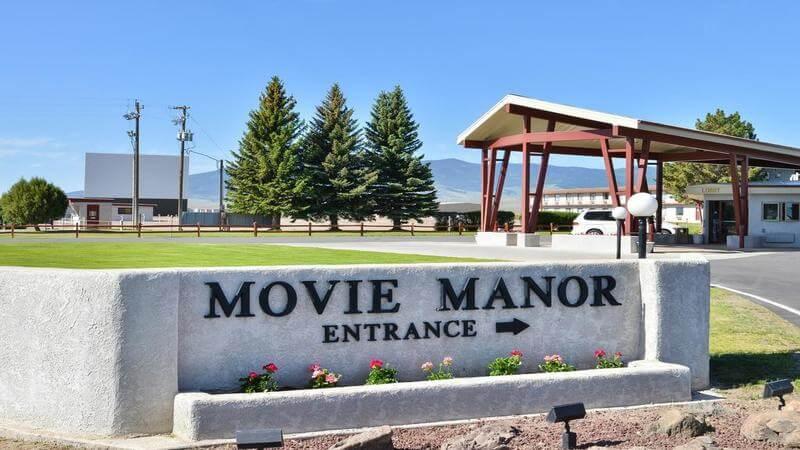 Image Source: Booking.com
Wish to watch a movie on a big screen, while on the road? Head to Best Western Movie Manor, in Monte Vista, which combines a drive-in movie theatre with a motel. Just pull back the curtains of your room and voila! You have your movie right outside your window.
Address: 2830 US Highway 160 W, Monte Vista, CO 81144, United States
Get slashed prices for motels and hotels with TripHobo Hotels!
13. Stovall's Space Age Lodge, Arizona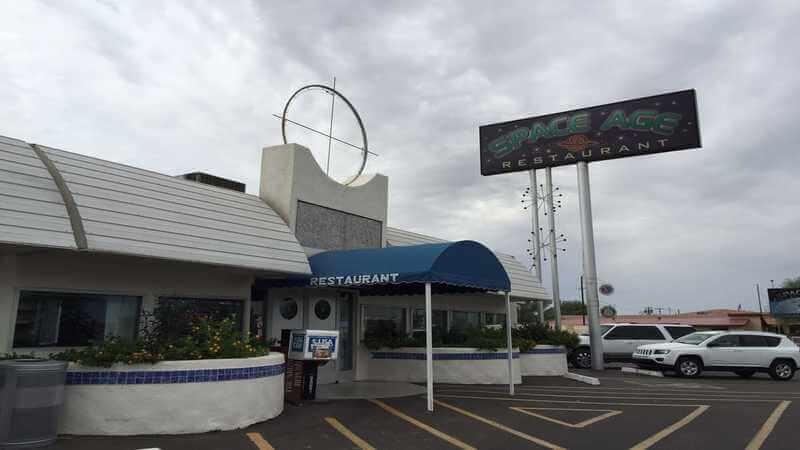 Image Source: Yelp.com
For all those who dreamt of going to space, check in to Stovall's Space Age Lodge. With a flying-saucer-topped lobby, you can get autographed pictures of astronauts and murals of space flight history.
Address: 401 E Pima, Gila Bend, AZ 85337, United States
14. Little A'le'Inn, Nevada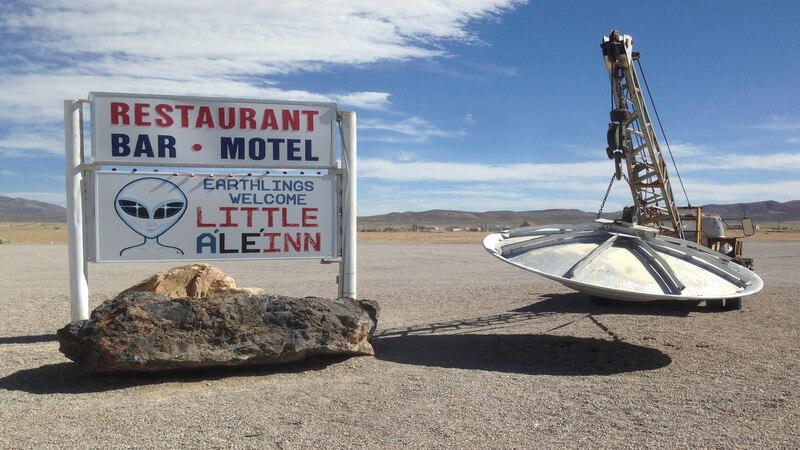 Image Source: Alan Levine/flickr.com
Located along the Extraterrestrial Highway, is a small motel for visitors to Area 51. Offering trailer-style accomidations, the alien themed motel sells UFO and Area 51 related merchandise, like maps, posters, toys and an extraterrestrial favourite "Alien Burger".
Address: 9631 Old Mill St, Alamo, NV 89001, United States
15. Spin and Margie's Desert Hideaway, California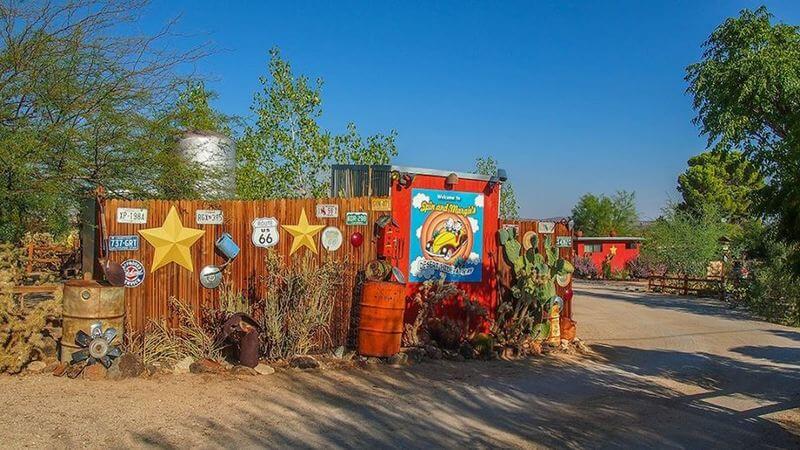 Image Source: Facebook.com
This quirky Western-themed motel is a colourful way to make your stop while on the road. With a cartoon-inspired decor, is as peaceful as it can get, along with a stunning landscape to add to the experience.
Address: 64491 Twentynine Palms Highway, Joshua Tree, CA 92252, United States
16. Steve Alford All-American Inn, Indiana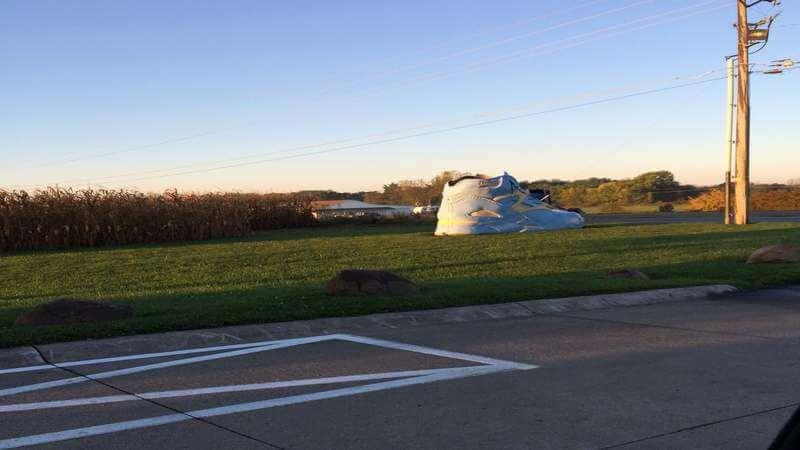 Image Source: Yelp.com
Basketball star Steve Alford has definitely made it hard for people of his hometown New Castle, hard to fill in his shoes, or in this case, just one shoe. A sneaker, the size of a car, designed after the star's own, adorns the front of this humble motel. You can also collect some basketball memorablia while you're here.
Address: 21 Executive Dr, New Castle, IN 47362, United States
17. Wildwood Inn Tropical Dome and Theme Suites, Kentucky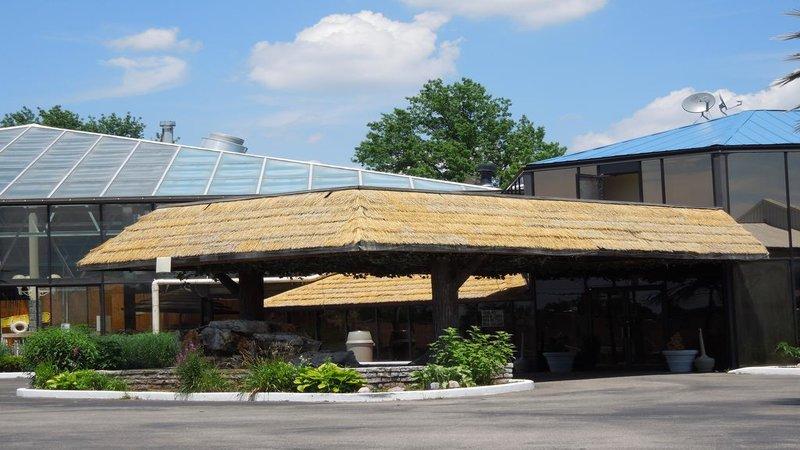 Image Source: Booking.com
Experience Africa at this uniquely themed motel. Designed as a faux African village, the rooms are like African huts set around the pool, which also has a waterfall and whirlpool. And for a more indigenous experience, you can always check into their cave rooms.
Address: 7809 US-42, Florence, KY 41042, United States
18. Breakers Inn, California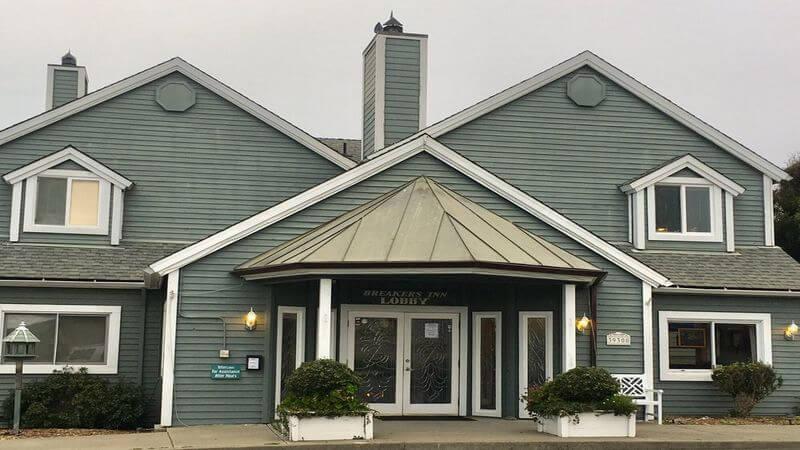 Image Source: Yelp.com
For those on the road, pull over at Breakers Inn, for a room with a view of the Pacific Ocean and Gualala River. Built along State Route 1, this motel offers 28 rooms that have been individually designed, along the themes of Sweden, Canada, England, Holland and such others.
Address: 39300 S Highway 1, Gualala, CA 95445, United States
19. Caribbean Motel, New Jersey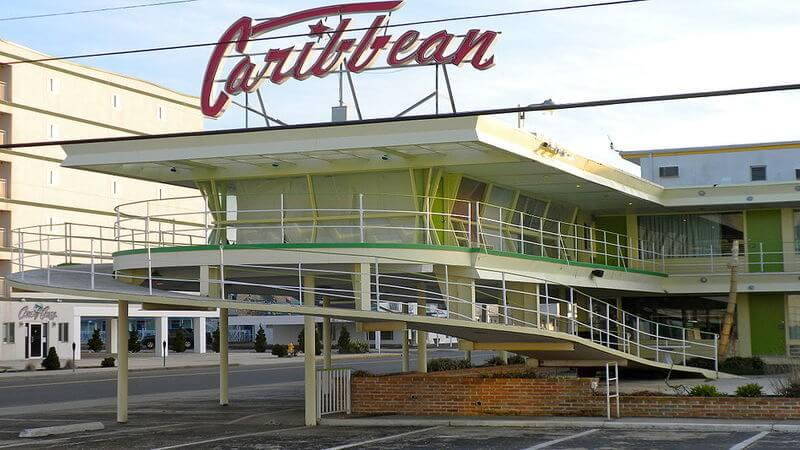 Image Source: Wikimedia Commons
A historic hotel, built post World War II, the Caribbean Motel was considered quite groovy back in its days, thanks to its crescent shaped pool, levitating ramp and canted glass walls. It also had one of the biggest neon signs ever seen in Wildwood Crest. Restored back in 2004, the motel now displays decor based on 50s movies, going along the Caribbean theme.
Address: 5600 Ocean Ave, Wildwood Crest, NJ 08260, United States
20. El Trovatore Motel, Arizona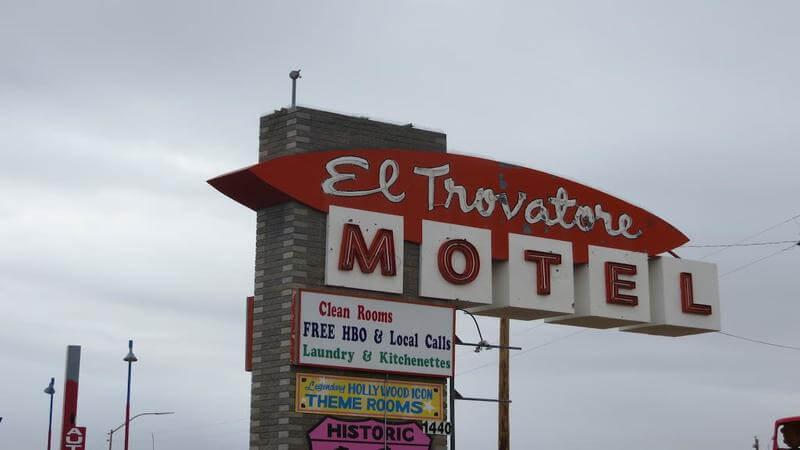 Image Source: Booking.com
Anothe classic Route 66 motel with a 100 foot long neon sign, is the El Travatore Motel. The rooms here are all themed after Hollywood icons, this motel is one of the few motels remaining that were built pre- World War II, in Kingman.
Address: 1440 E Andy Devine Ave, Kingman, AZ 86401, United States
21. Jupiter Hotel, Oregon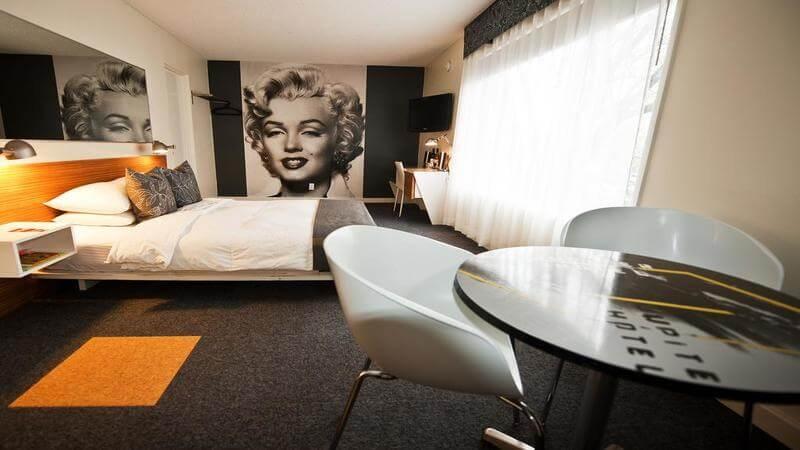 Image Source: Booking.com
This converted motor lodge from the 1960s, is refurbished into a 'cultural boutique hotel'. With minimalistic and swanky decor, this motel is best for young travellers as it is cool enough, but pocket friendly at the same time.
Address: 800 E Burnside St, Portland, OR 97214, United States
Get out of the room and check out the things to do in Portland!
22. Don Q Inn, Wisconsin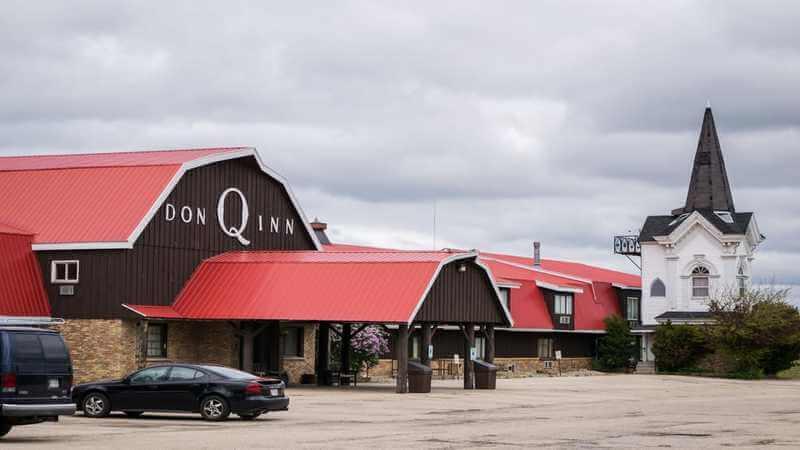 Image Source: Yelp.com
A barn-style motel, Don Q Inn provides room based on different fantasies. Fantasy rooms like 'Caesar's Court', 'Casino Royale', 'Jungle Safari' and 'Sherwood Forest' are all decorated by paintings and murals as per the theme.
Address: 3658 WI-23 Trunk, Dodgeville, WI 53533, United States
23. El Rancho, New Mexico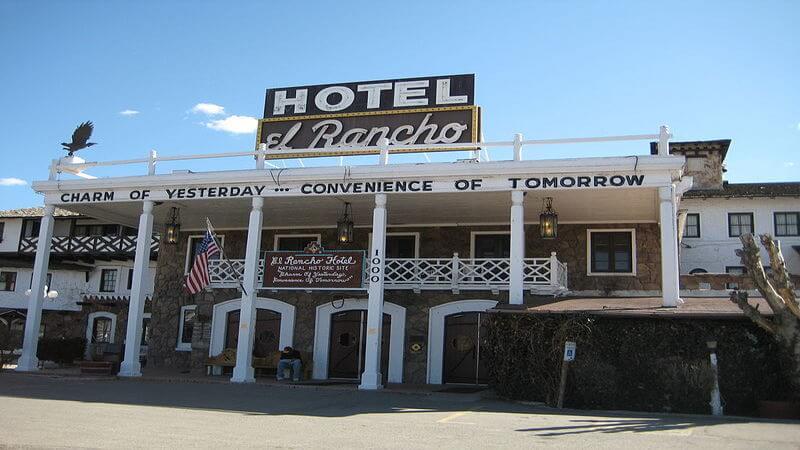 Image Source: Wikimedia Commons
This landmark motel off Route 66, has provided shelter to American icons like Ronald Reagen. A simple and classical western-inspired decor, along with wagon-wheel headboards, is what adds charm to the place.
Address: 1000 East 66, Gallup, NM 87301, United States
24. El Bonita Motel, California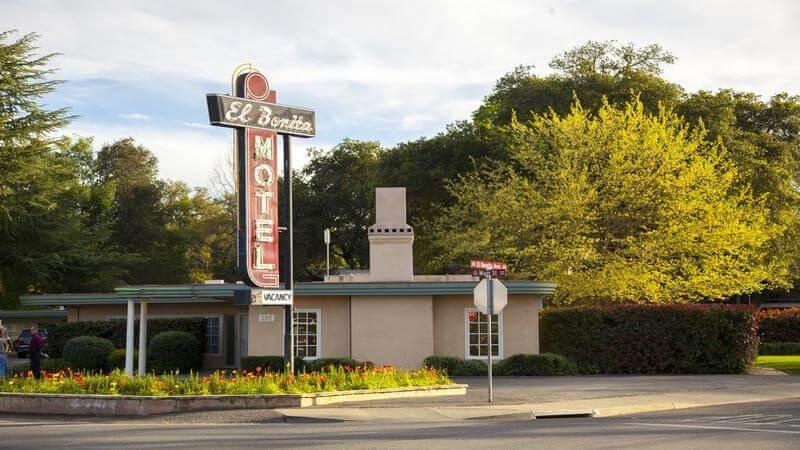 Image Source: Booking.com
What started as a religious retreat in the 1940s, this art deco hotel in the middle of Napa Valley, brings together the past and present beautifully. Enjoy a relaxed stay, while taking a break from being behind the wheel.
Address: 195 Main St, St Helena, CA 94574, United States
25. Blue Swallow Motel, New Mexico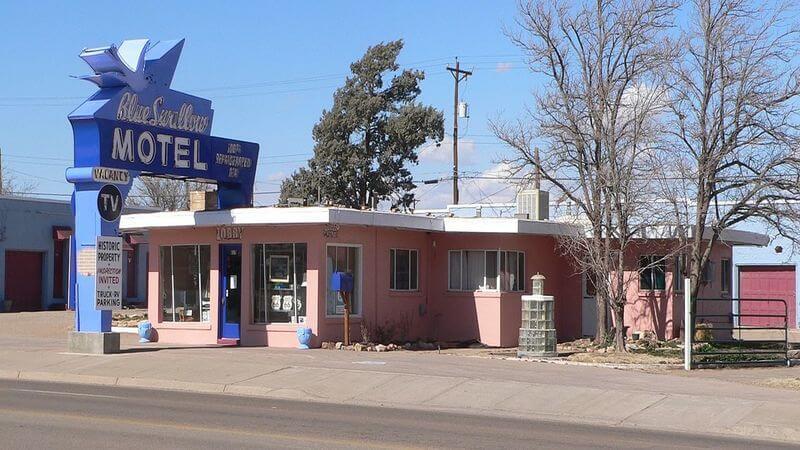 Image Source: Wikimedia Commons
A large neon sign with a fluttering Blue Swallow, invites you to this motel on the classic Route 66. Claiming to provide '100% refrigerated air', this motel has been providing accomodation to motorists since 1939. The vintage lighting, period furniture and rotary dial phones, all add in to the retro charm.
Address: 815 E Rte 66 Blvd, Tucumcari, NM 88401, United States
So next time, you are all tired from being behind the wheels, check into these motels for a unique on-the-road experience.
You may also like: