10 Best National Parks in UK
* Disclosure: This post may contain affiliate links, which means we may receive a commission if you click a link and book something (there is never any extra cost to you for using these links).
The thought of UK's National Parks always reminds me of what Alan Watts once said, "If you go off into a far, far forest and get very quiet, you'll come to understand that you're connected with everything." Experience sprawling beauty miles away from cities and witness the Kingdom's environmental wonders hiking around graceful trails or camp under the celestial skies.
Thousands of people travel to the UK each year but majority of them stick to the capitals. To remind you of UK's unstirred beauty we bring to you 10 best National Parks in UK the beauty beyond the borders.
1. Exmoor National Park, England

PC: Wikimedia Commons
Once a Royal forest and hunting ground, the Exmoor National Park exhibits uninterrupted calm. Valleys, farmland, moorland and woodland together comprise its landscape, and the incredible coastline and plunging cliffs only add to the beauty of the park.
Highlights:
Take a seashore Safari and indulge in Rockpooling
Exmoor was the first place in Europe to be designated a Dark Sky Reserve, rent those telescopes and be lost in the dreamy land of stars
Trek through the Valley of the Rocks
Explore the Dunster Castle built in the 13th century
2. Cairngorms National Park, Scotland

PC: ian_woodhead1/flickr.com
The largest National Park in Great Britain, Cairngorms National Park has gorgeous forest paths, stunning mountain views, an abundance of wildlife and a copious amount of distilleries and friendly villages. With everything in plenty including activities, the park makes your visit every bit worthwhile.
Highlights:
Go Skiing and snowboarding on CarinGrom Mountain during the season
Indulge in white water rafting, kayaking and canoeing on the river Spey
Explore the wildness under the guidance of the rangers. The park's Ranger Services run various activities for groups
Also Read: Best road trips in UK
3. Brecon Beacons National Park, Wales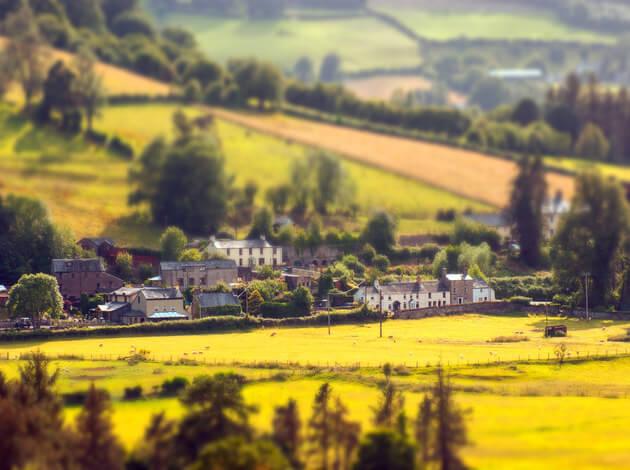 PC: Phil Dolby/Flickr.com
Great scientific quality, cultural and historical interests teamed with stunning sceneries and numerous activities make the Brecon Beacons National Park an impeccable escape for just about anyone.
Highlights:
Explore Europe's largest cave network
Indulge in mountain biking, parascending and hand-gliding among other
Spend the night stargazing at some of UK's darkest skies
4. Pembrokeshire Coast National Park, Wale

PC: Wikimedia Commons
While most visitors head straight up north when visiting Wales, they don't realize what they are missing in the South. The Pembrokeshire National Park located in the coastlines of South Wales is everything that dreamy getaways are made of. Gorgeous coastal walks, lazy days by the beach and a plethora of activities await you here.
Highlights:
Walk along the award-winning Pembrokeshire Coast Path
Spot a seal pup on Ramsey Island
Indulge in Coasteering
Also Read: Best natural wonders of Europe
5. Lake District National Park, England

PC: Wikimedia Commons
The largest national park in England, the Lake District National Park comprises of 16 lakes, six natural reserves, and 150 peaks, making it drop down gorgeous. If that was not all, you'll find numerous other water bodies called 'tarns' encircled by mighty mountains and wooded valleys; the exquisite waterfalls, blossoming meadows and more are everything we would go back for.
Highlights:
Visit William Wordsworth's first home near Grasmere
Cruise through the Lake Windermere the largest lake in Lake District
Indulge in standup Paddleboarding on Buttermere
6. Northumberland National Park, England

PC: geograph.org.uk
Panoramic landscapes with progressing hills, vibrant moorland and an unsmooth coastline are everything that defines this park. The Northumberland house ancient castles, market towns and seaside villages that you will enjoy exploring.
Highlights:
Explore Hadrian's Wall in Northumberland, built in 122 AD to mark the northmost border of the Roman Empire
Traverse through the remains of Bronze Age burial sites at Turf Knowe in the Breamish Valley
Check Out: Best Places for Camping in UK
7. Dartmoor National Park, England

PC: Simon Vogt/Flickr.com
If mysterious forests, extensive moorland and gushing rivers is your idea for a great weekend getaway, the Datmoor National Park offers it all. Located in one of the warmest parts of the country South Devon, this place is an excellent choice for people interested in a mix of history and outdoor recreation activities.
Highlights:
Take part in Letter Boxing hikers on this moor leave letters and postcards along the trail and the next person to discover the site, collects the postcards and posts them
Participate in backpacking and sleeping wild under the clear skies of Datmoor
8. North York Moors National Park, England

PC: Wikimedia Commons
Amidst colourful moors and breathtaking stretches of North Sea coastline is how you like to spend your weekends, the North York Moors National Park should be your first choice. Zigzagged walking paths and biking trails and over 800 km of trails, you know you are in for a treat the moment you enter the park.
Highlights:
Explore the Helmsley Castle built in the 12th century
Indulge in Husky trekking and rock climbing
Go rockpooling, beachcombing and on cliff-top walks at Robin Hood's Bay
Check Out: Famous Caves in England
9. Snowdonia National Park, Wales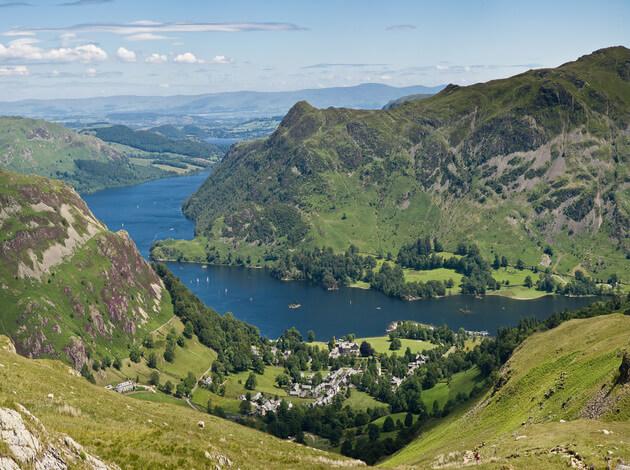 PC: Wikimedia Commons
Snowdonia National Park with its stunning landscapes, breathtaking waterfalls, nine mountains and various villages is one of the most stunning destinations in the UK. Enjoy your short breaks/ day outings with family and friends or plan an activity holiday to the place and you won't be disappointed.
Highlights:
Trek Mount Snowdon, the highest peak in Wales
Cycle through the Mawddach Trail, a leisurely nine-mile stretch
Explore the Sygun Copper Mine or Llechwedd Slate Caverns that are dated back to the Victorian Age
10. Loch Lomond and the Trossachs National Park, Scotland

PC: john mcsporran/flickr.com
If you are a fan of the winters and the wilderness that comes with it, The Loch Lomond and the Trossachs National Park is your best bet in the UK. Located in the northern region of Scotland this park has plenty of multi-day walks and other fun activities to offer
Highlights:
Trek through the West Highland Way the famous long-distance footpath in Scotland
Participate in water-based activities like sailing and fishing in the more than 50 flowing rivers in the vicinity
Climb the famous Arrochar Alps and Glen Croe
This was just a glimpse of what you are missing if you haven't visited any of UK's national parks. Right from cycling to horse riding, rock climbing to paragliding, kayaking to rockpooling, each of UK's national parks has something exceptional to offer. So go out there, and have fun, while the English sun is out; we're all well aware, it doesn't stay long!