15 Cities to Celebrate New Year in Europe 2019
* Disclosure: This post may contain affiliate links, which means we may receive a commission if you click a link and book something (there is never any extra cost to you for using these links).
So, here is a list of 15 Cities to Celebrate New Year in Europe 2019 for a memorable party.
London
Gdansk
Stockholm
Lisbon
Vienna
Rome
Istanbul
Brussels
Edinburgh
Paris
Prague
Berlin
Dubrovnik
Reykjavik
Amsterdam
1. London - The Best City for Your New Year Sojourn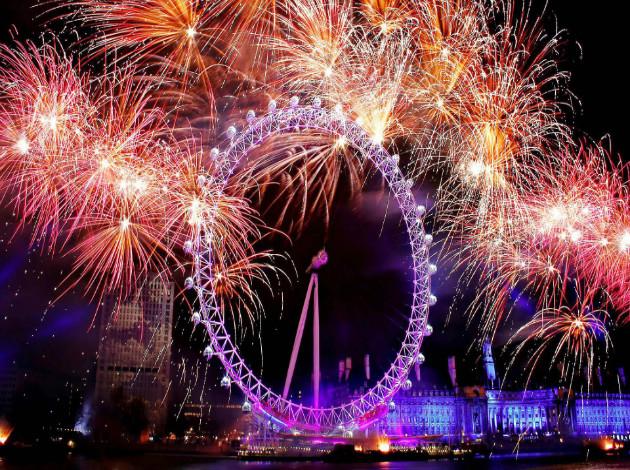 Image Source: wallpapercave

Where? The London Eye, South Bank, Tower Bridge
Why?
When it comes to New Year's Celebrations, London has to be on the top. The whole city literally lights up with neon and the high spirits of people who come here to bid adieu to the passing year. From Thames embankment to Big Ben or to the Tower Bridge, the whole city seems like a fairy tale world with color of the sky camouflaging due to fireworks. Feel royal with a visit to Winter Wonderland at Hyde Park and, on New Year's Day, watch the annual parade, which features a procession of the Queen's horses, among others.
So pick up your best roof top bar and see how the sky sets ablaze with spectacular London fireworks as it takes a turn from one year to another. Check out the best things to do in London on Christmas and New Year.
2. Gdansk - Known for its Distinctive European Charm

Image Source: Robert Young/FlickrFlickr
For your 2019 New Year celebrations, Gdansk will prove to be an ideal destination as the city exudes its distinctive character and charm. Walk over the colorful facades of Long Market and see the city all lighted like Disneyland for a memorable new years eve celebration. Take a stroll through the narrow, cobbled streets of the Main Town, to wonder at red-brick churches that are strewn around its historical thoroughfares for a dream like experience. Course through the various concerts and fireworks spots to welcome the new year with a bang.
3. Stockholm - Get Ready for the Party Trumpets

Image Source: Visit-Sweden-Pro
Save 4%

Save 8%
Where? Skansen open-air museum
The way Swedes celebrate their new year eve is something worth witnessing. As the dusk ensues, most of the streets and corners get crowded by revelers who wish to celebrate this festival amidst other people. Party trumpets and fireworks play a cacophony of sights and noises making you feel like being in a dizzy state of mind. Most of the bars and pubs remain open till 4 or 5 am resulting in dazzling nightlife and merriment scattered around the city of Stockholm. There is a tradition of live broadcast from the Skansen open-air museum in Stockholm, as the bells chime and a New Year's verse of British Poet Lord Alfred Tennyson is solemnly sung by the Swedes.
4. Lisbon - Unique New Year Traditions and Festivity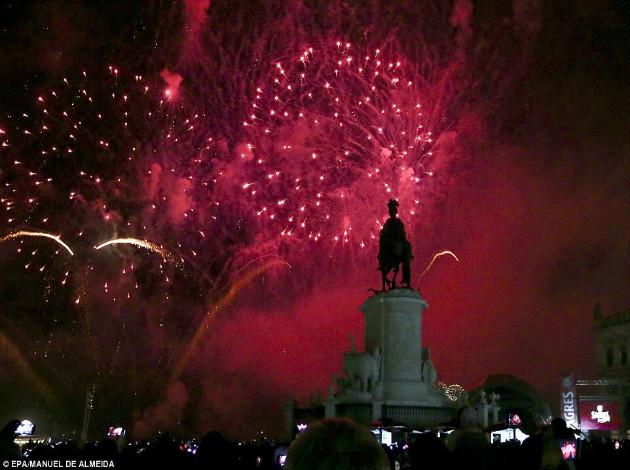 Image: Manuel De Almeida/DailymailAlmeida/Dailymail
The Portuguese tradition makes Lisbon one of the choicest destinations for celebrating new year in Europe. On the Eve of New Year, the locals wear blue underwear, while initiating the midnight ritual of raisin eating. They eat around 12 raisins that signify 12 months and as per the tradition, if you eat them all and keep some cash in your back pocket, good luck and wealth are supposed to ensue. And outside, you will see thousands of people crowding the city main streets and public squares to celebrate and welcome the New Year. From fireworks to music, the city immerses deep into revelry and merry making.
5. Vienna - the Musical City of Europe

Image Source: Pbs.org
One of the main attractions on this day is to take a stroll through the New Year's Eve Trail that will lead you to the Old City. Mulled wine is usually the drink of choice for this crowd. And as soon as the bell strikes to midnight, spectacular fireworks overshadow the skies over Wiener Prater fair.
6. Rome - Best Place to Spend New Year in Europe

Image Source: neigesdantan/Flickr
7. Istanbul - Known for Glittering New Year Fireworks

Image: Wikimedia Commons
Straddling between Europe and Asia, between past and present, the Turkish city of Istanbul looks ravishing during New Year. One of the most picturesque place to visit in Istanbul on the New Year Eve would be the banks of Bosphorus where you can see waters gleaming and reflecting the fireworks that light up the sky. There are street parties, masquerades, stunning river cruises, rooftop bars to make your day and night immortal in every sense. If you like crowds and want to gamble on fair weather, then maybe the Nişantası or Kadıköy street party is your cup of tea. For quieter place, try to celebrate New Year's Eve at an establishment with a rooftop terrace or close to the Bosphorus shores.
8. Brussels - Enter the Colourful City on New Year Eve

Image Source: thenews.coop
9. Edinburgh - For that Chilly New Year's Eve

Image Source: Dailymail
There is no doubt that you will have to spend a freezing night in Edinburgh if you are planning to spend your New Year here. But, won't that be a fun? On 30th December, crowds fill up the streets with the spectacular Torchlight Procession that looks like a river of fire gliding from the historic Royal Mile to the son et lumiére and fireworks finale on Calton Hill. Reach the Edinburgh castle to spot the world-famous Edinburgh Hogmanay Midnight Fireworks on the ramparts turning the colors of the sky with music and live DJ in the backdrop.
10.Paris - The Most Magical City of Europe

Image Source: Classicmpr.org
If there is one city that looks truly magical during the New Year's Eve, it would be Paris, the ultimate glamour capital of the world. The best place to have gourmet cuisine, indulge into shopping and some casual flirtations, Paris stands at the top. One of the foremost attractions, Eiffel tower gets all lighted up to amaze and bewitch people. You can also visit Montmarte for excellent views of fireworks without the crowd. My favorite one would be to book a dinner on the cruise and glide through the illuminating city for an unforgettable experience. On New Year's Day, the Grande Parade de Paris caps off the celebrations.
11. Prague - A Blend of Beauty and Festivity

Image Source: desktopimages.org
One of the most beautiful cities of Europe, Prague looks simply astonishing on the eve of New Year. "The city of hundred spires" is the famous hub for party goers and roisterers. You will definitely find a number of drinking spots that invite people with various schemes and entertainment programs. The best way to witness the immortal beauty of this city is to sit somewhere near the banks of the Vltav to see the ravishing fireworks that light up the whole landscape.
Celebrations also commemorate the creation of the present day Czech state (1 January 1993), with intake of bubbly Bohemia Sekt, the Czech version of Champagne.
12.Berlin - Best Party Destination in Europe

Image Source: Nordenergi.org
Where? Brandenburger Gate, Victory Column
Why?
Even otherwise, Berlin enjoys the status of being the party destination of the world, and the same stands true for this day as well. Atleast a million visitors gather at the Brandenburg Gate to welcome the new year and to bid good bye to the one that has gone. A visit to Berlin during this time means a walk through "Party Mile", a 2-km stretch between Brandenburg Gate and the Victory Column to witness the fun stages, party tents, light and laser shows.
The Berlin "pancake run" is a classic since 1978. The race covers a course over 6.3KM or 9.9KM, and both are two-third trail and one-third asphalt. The shorter course leads over Berlin's highest peak called Teufelsberg (121m/360ft.), whereas the longer course runs over the Teufelsberg plus a little shorter one called Drachenberg (99m/300ft.).
13. Dubrovnik - For that Balmy New Year Celebration

Image Source: youtube
Let us move to some soothing location to usher in the new year. From Croatian performers to sunkissed beaches, this place mesmerizes you to the level of being in trance. The weather remains mild and sunny for you to soak in the beauty of the new year. Festivities in Dubrovnik center on Stradun, the city's main street, where you will come across bars, local people and epicurean revelers. This is a perfect getaway for those who like quaint party destination for their new year eve.
14. Reykjavik - Extend Your Festivities

Image Source: Jonathan Hood/FlickrFlickr
What makes Reykjavik a distinct travel destination for new year eve is that it has prolonged nights to sustain the party swing during this time. Reykjavik receives only 4 hours of sun on New Year's Eve, which lengthens the festival of lights. Starting with community bonfires to decorating all the corners, the city immerses in festive spirits at its utmost. You can head to Perlan or Landakotskirkja church in order to enjoy the best views of the city. Plenty of small, private parties keep things hopping, and bars and clubs remain open well after midnight.
15.Amsterdam - the Most Happening City of the World

Image Source: Kroszk/flickr
The most happening city of the world appears ever more stunning during the New Year's Eve. You will come across many random street parties filling the spaces between large, organized revelry in public places like Rembrandtplein, Nieumarkt, Museumplein and Dam Square. Outdoor concerts add a certain zing to the city, making it look livelier. And of course, there are many bridges in Amsterdam to watch the skies changing colours. Grab the typical Amsterdam's delight- a glass of champagne and some fried treats (like oliebollen, viamse frites and bitterballen) from the street vendors, for a true immersion in the festive spirit.
So where would you like to head for your midnight New Year's revelry?